Guns and Gear
.22 Magnum Pistol: What's Available In Semi-Auto (2023)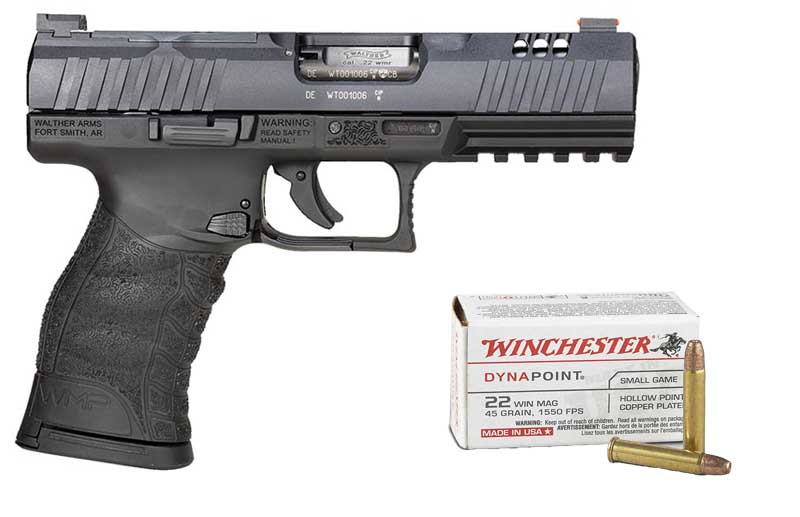 Updated 4/11/2023
The .22 Magnum pistol is a rare bird, but we pick four top options in the caliber to satiate even the most finicky rimfire fan.
Are These The Best .22 Magnum Pistols?:
A semi-automatic .22 Magnum pistol … cue crickets chirping. Popular as the souped-up rimfire cartridge has proven over the past 60 odd years it's never really conquered the pistol market. Revolvers, those chamber in what's properly known as the .22 Winchester Magnum Rimfire (.22 WMR), shooters have them coming out their ears. But pistols tread on hen's teeth territory.
What's the deal? There's a couple of things at play stacking the deck against the widespread production of .22 Magnum pistols. More than anything, the cartridge poses a tricky proposition. Rimmed cartridges are notoriously finicky in box magazines. Load them incorrectly—that is, hitch a rim behind another rim—and you're managing a failure to feed. Jam-o-matics aren't a load of fun, even if they deliver more punch to their destination.
If that isn't enough, the .22 Magnum is a high-pressure cartridge that doesn't play nice with straight blowback systems. Instead a delayed blowback operation is required to function properly. The task is tall in a pistol, requiring elegant engineering. This leads to the next big issue—cost.
Inherently, given a delayed blowback operation is more mechanically complex than a straight blowback, it cost more to engineer, manufacture and QC. Faced with this, the suits crunching numbers at gun companies have a simple refrain: Screw it, make a .22 LR pistol! If they're ambitious, maybe they'll roll the dice on a .22 Magnum revolver. Grimace if you must, but their calculus isn't skewed.
Plus guns chambered for standard-bearer .22 LR not only cost less up front, but also in the long run. Savvy shoppers (in normal times) pay a dime or less per trigger pull of .22 LR; for .22 Magnum, they're ponying up nearer to a quarter per pop. That adds up—particularly for plinking and pleasure shooting. Given these factors, it's almost a wasteland when it comes to .22 Magnum pistols … almost.
There are some notable exceptions and we picked out four semi-autos that have what it takes to scratch the magnum-rimfire itch. But, be warned, the world isn't exactly awash in options. So, as your mother most likely told you on more than one occasion, beggars can't be choosers.
---
Get More .22 Magnum Info:
---
.22 Magnum Pistol Options
Rock Island Armory M1911 A1 XT
With a fraction of the fanfare it deserved, Rock Island launched its XT line a little over a year ago. Yet, the pistol deserves credit, it delivers on all accounts—affordability, dependability and, above all, accuracy.
No surprise from the Filipino company that made its bones with economical 1911s, its .22 Magnum pistol cuts the same figure and has the same feel. The similarities stop there. The XT is a top-ejector affair, somewhat reminiscent of a Beretta 92, with a unique two-piece barrel design that's part of the pistol's delayed blowback operation. It sounds complicated, but honestly is a fairly straightforward system that pays dividends. Not only does it run like a top, but it makes for a trimmer, more manageable gun.
The XT has a real sporty feel to it and would do well in a competitive setting. The flattop Pro model would make an interesting option for this, with its full-length Picatinny rail on top of the slide. Certainly, the pistol's configuration lends it to self-defense, though, the caliber might not be anyone's first choice. And even though it's light, the XT is too large to make it a backup option.
Rock Island XT Specs (Base Model)
Caliber: .22 Magnum
Barrel Length: 5 inches
Overall Length: 8.54 inches
Weight: 40 ounces
Magazine: 14 Rounds
MSRP: $599
armscor.com
---
Kel-Tec PMR-30
When the Kel-Tech labs unleashed this Frankenstein's monster around a decade ago, it was met with—to be honest—furrowed brows. What exactly was the angle of the plasticity, futuristic-looking .22 Magnum pistol? Not easily categorized, the new-wave heater nonetheless shouldered its way on the market, if for no other reason than sheer, unadulterated firepower. There aren't many problems that can't be solved with 30 rounds on tap.
Yes, for those unfamiliar with the PMR-30, that's its hook—capacity. Which, when you put your mind to it, makes this fairly difficult to classify pistol quite useful for many applications. Backwoods insurance policy, rucksack's best friend, inconspicuous truck gun—in essence, Jack-of-all-trades. Perhaps its most agreed-upon role is as a bug-out bag pistol.
Next to firepower, the PMR-30's lightweight is its greatest asset. Even fully juiced it doesn't weigh much more than a centerfire duty pistol. And for all its idiosyncrasies, the pistol is easy and comfortable to run, even delightful. It fits the hand well, boasts a snappy trigger and, thanks to Hi-Viz sights, is relatively quick on target. Overall, it offers a lot for someone in the market for something a bit different, but functional.
Kel-Tech PMR-30
Caliber: .22 Magnum
Barrel Length: 4.3 inches
Overall Length: 7.9 inches
Weight: 14 ounces
Magazine: 30-round
MSRP: $495
keltecweapons.com
---
Excel Accelerator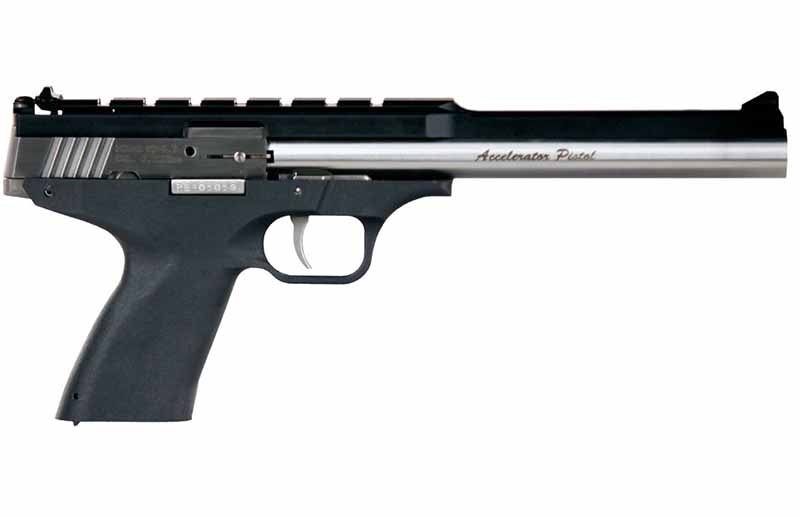 No, ultra-accurate .22 Magnum pistols haven't gone the way of the dodo. Quietly, niche manufacturer Excel has continued this once popular-vein of rimfire handgun with the Accelerator—a true mammoth of this class. No seriously, it's a big piece—54 ounces!
Much of this is thanks to the heart of the Browning Buckmark-esque pistol, an 8-inch stainless-steel bull barrel that dang near needs a blow torch to heat up. Surprisingly enough, even with the sheer amount of firetube, the gun balances well in the hand and doesn't prove front-heavy. Partly, this is due to plenty of frame reward and how Excel positions the grip, with a fair amount of slide hovering over the hand.
Excel offers some interesting design points on the Accelerator, from a Weaver-style rail on the slide to magazines with an assisted loading system. But the one that sticks out like a goiter is the charging handle. Don't laugh until you try it. While many might write it off a garish, it's plum handy and fast if you're running an optic up top.
Excel Accelerator
Caliber: .22 Magnum
Barrel Length: 8.5 inches
Overall Length: 12.88 inches
Weight: 54 ounces
Magazine: 9-round
MSRP: $618
excelarms.com
---
Walther WMP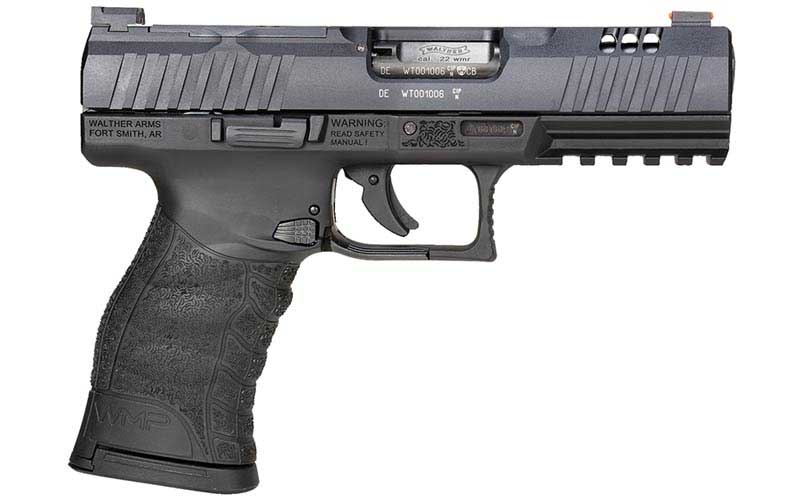 New for 2022, the WMP or Walther Magnum Pistol came as a bit of a surprise. It's certainly on the more "tactical" side of handguns due to its inclusion of features like an optics-ready slide, and that isn't typical of .22 Magnum pistols.
The WMP is a full-size, polymer-framed handgun with a 4.5-inch barrel and 15-round magazine capacity. It has a typical accessory rail on the underside and an optics-cut slide on top. The front sight is also fiber optic. The pistol is fully ambidextrous as well, in part thanks to its unique Quad release mechanism that features both a traditional button mag release and a Walther-style paddle release on each side.
These features combine to make the WMP a very versatile pistol, just like the cartridge it fires. With its optics-ready slide, it could be used in competition, for pest control or just for having a blast at the range. Regardless of your reason, this new release is undoubtedly one of the best .22 Magnum pistol designs on the market.
Walther WMP
Caliber: .22 Magnum
Barrel Length: 4.5 inches
Overall Length: 8.2 inches
Weight: 27.8 ounces
Magazine: 15-round
MSRP: $549
waltherarms.com
---
Editor's Note: Adam Borisenko contributed to this article.
Read the full article here