Guns and Gear
Best Affordable .308 Rifle Options For The Hunt (2023)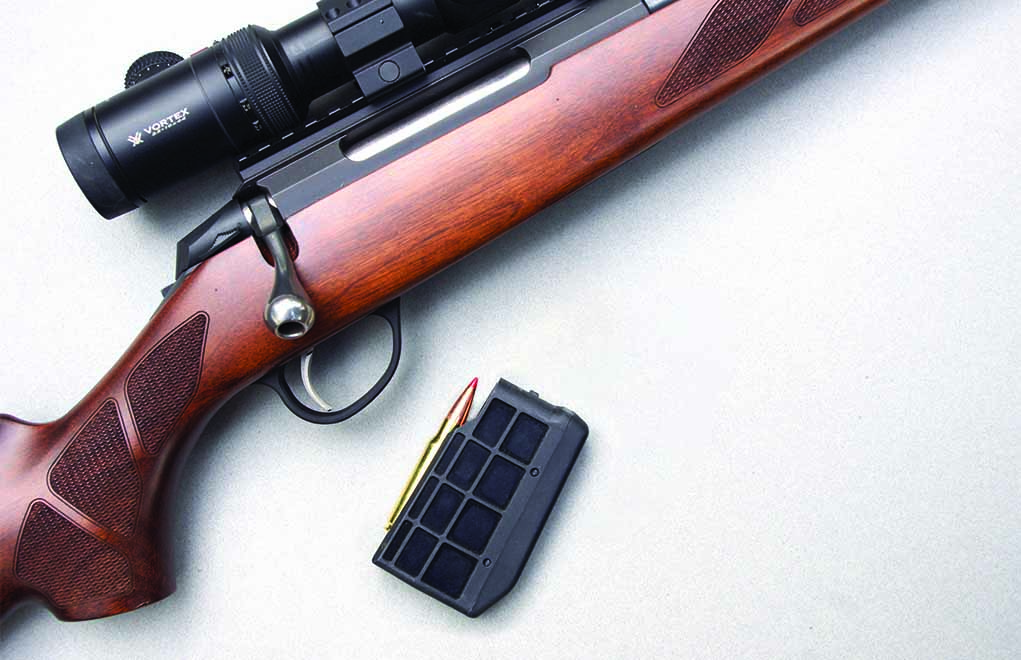 Updated 4/3/2023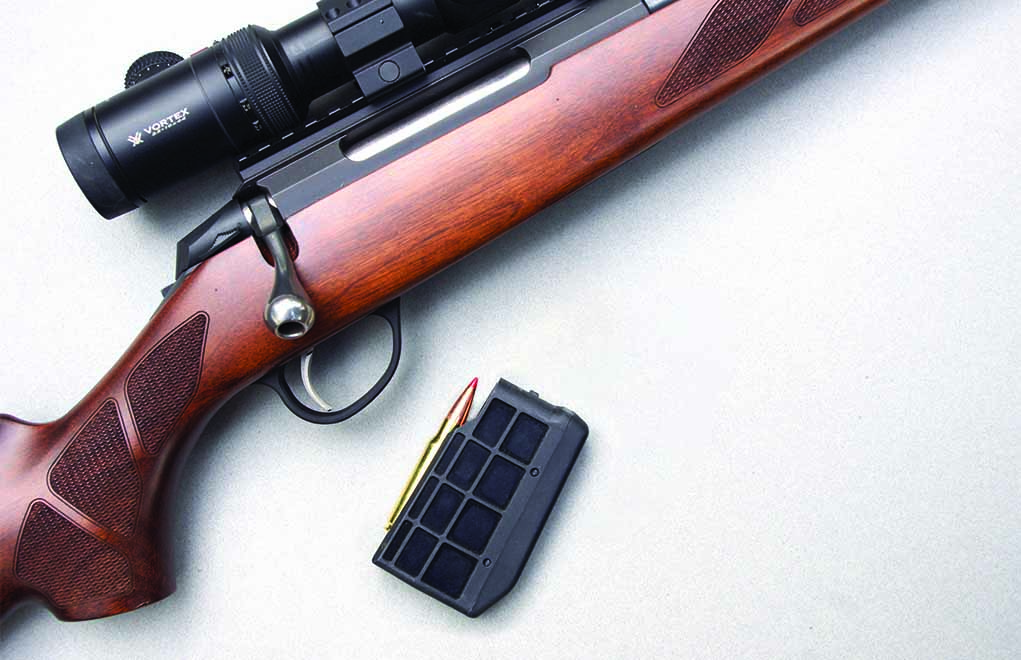 When it comes to North American game, is there any cartridge with more flexibility than the .308 Winchester? OK, it's kissing-cousin the .30-06 Springfield is right up there, but we're splitting hairs. From predators to bull moose and everything in between, the tried-and-true .30-caliber gets the job done accurately and reliably. Which is why there is no shortage of .308 rifles tailored for taking game on the market.
From top-shelf to bargain basement, nearly every manufacturer has an option chambered for the cartridge. Which, if you happen to have a yen for a .308 hunting iron, is a blessing and a curse. A blessing, because if you aren't choosey you can simply saunter down to your local gun retailer and buy one that fits your budget. Even the ultra-cheap blue-light specials aren't bad, by and large. However, it's a curse, because if you're a bit more selective—especially if you have tight purse strings—it takes research to find the exact .308 rifle to fill your heart's desires.
We're catering to the second type of rifleman in this .308 rifle buyer's guide. The bloke who doesn't have a king's ransom to drop on a gun, but wants a hunting rifle that will last a lifetime (maybe more), shoots lights out and has—dare we say it—a touch of class. Tough, yes. Impossible, no.
Searching out these some what rare rifles, we set out the following parameters:
Well made—as we said, it should last a lifetime.
Accurate—it's got to be an MOA shooter or dang close.
Production—it's currently made.
Less than $1,250—unfortunately, as prices rise across the board, what is considered "affordable" does as well. That said, plenty of these rifles can still be bought for less than $1,000, even if their MSRPs are listed as higher.
Not the easiest categories to fill out, but we believe we've rounded up some prime candidates.
Best .308 Rifle Options For Hunting
Ruger Hawkeye Compact

The first of two rifles with Mauser-style extractors—rare in this tier of firearms. Yes, push-feeds have more than proven themselves hunters, but in rugged terrain, with a trophy on the line, we don't blame those who desire the insurance of controlled feed. Amazingly, given its walnut stock, the Hawkeye Compact is among the lightest .308 rifles in the guide, tipping the scales at mountain rifle 5.7 pounds. Certainly, its 16.50-inch barrel is to thank for this. And while the abbreviated bore trims down the .30-caliber's ballistic potential somewhat, the rifle still delivers at ethical hunting ranges. Other notables, cold hammer-forged barrel, 4-round internal box magazine and excellent Ruger L6 trigger, which breaks around 3.5 pounds.
MSRP: $1,249, ruger.com
Savage 110 Hunter

Long ago, Savage Arms proved a tack-driving rifle is within reach of every shooter. It still does today with the superbly executed Model 10 Trophy Hunter. The .308 rifle (among other short-action cartridges) boasts a rock-solid action and barrel, both machined from forged bar stock. The material not only allows extremely tight tolerances, but also outfits hunters with a gun as rugged as the terrain they hunt. The Model 10 boasts a few extras most find attractive, chief among them Savage's fully-adjustable AccuTrigger and detachable box magazine. Also, a nice stick of walnut with very positive checkering adds to the gun's functionality and aesthetics. For the price, the Model 10 over-delivers.
MSRP: $849, savagearms.com
Remington 700 SPS

So, we did say we were shooting for a touch of class. Admittedly, the SPS misses this mark wider than any other 700. However, it's still a beauty where it counts. The Model 700 action set the standard for strong and reliable push-feed actions, becoming foundation of a majority of precision shooting rigs today. The shortcoming of this .308 rifle is mainly its looks, wearing a none-to-attractive synthetic stock with rubberized grips. And while it might not provide a platform for hair-splitting accuracy, the stock is solid enough to keep you on target in the field. In .308, the rifle is outfitted with a 24-inch barrel and weighs in at a very manageable 7.5 pounds.
MSRP: $850, remington.com
Browning X-Bolt Hunter

Browning offers a more affordable line, the A-Bolt. But with X-Bolt options such as the Hunter more than economically priced, it's difficult to see why you'd compromise. Browning takes no chances with the rifle's accuracy potential, with all X-Bolt barrels button-rifled, air gauged, hand chambered and lapped in the company's proprietary process. Add in the barreled action is expertly epoxy bedded into a Grade I walnut stock, well, you have a top-shelf .308 rifle. It's a fast shooter too, with a terse 60-degree bolt throw that doesn't interfere with the scope. A few of the 22-inch barreled rifle's other assets include a 4-round center-fed rotary magazine and Browning's three-lever Feather Trigger.
MSRP: $1,099.99, browning.com
Tikka T3x Hunter

Tikka remains an underappreciated commodity in the U.S. market, but its stock has risen in the past decades. Mainly thanks to precision shooters who want to save a buck. But hunters would do well to get the Finnish gunmaker on their radar. Out of the box, few rifles match the T3x Hunter's performance—from well thought out ergonomics to perhaps one of the best production triggers on the market. Accuracy, however, is what steals the show. The T3x action is to thank, with plenty of material to stiffen it up and a two-lug bolt to ensure a strong lockup. Did we mention a Sako-style extractor—not quite as robust as a Mauser, nonetheless reliable. Space precludes detailing too much more on this .308 rifle, but safe to say few are disappointed taking a Tikka on the hunt.
MSRP: Not published, but average street price is $949, tikka.fi/en-us
---
Learn More About The .30-Caliber:
---
Zastava LK M70

Disclosure, I'm biased for Zastava. I hunt a vintage Interarms import made by the Serbian company (the Mark X) and still marvel at what it offers. The M70 is pretty much the same rifle, which is essentially a Mauser '98. Perhaps the most affordable controlled-feed rifle on the market, hunters aren't compromising with Zastava. Certainly, it's a little rougher around the edges than one from Mauser proper. But it still proves a class act. One of the more interesting aspects of this .308 rifle is its trigger options. There's three: single-stage, single double-set, and two trigger double-set. The latter two offer nearly a hair-trigger break, helping improve the rifle's accuracy potential.
MSRP: $799, zastavaarmsusa.com
Howa 1500 Hogue

Howa's one of those companies that's been around for a spell that everyone just discovered. The Japanese barreled-action maker's stock has risen, in particular, thanks to the precision shooting world. Though, the irons are dang good hunters too. The Hogue model is among the most affordable .308 rifles from the company. In addition to the precision Howa 1500 action and cold hammer-forged barrel, the iron comes outfitted in Hogue's comfortable and rugged Overmolded stock. A real enhancement for an hunting gun, thanks to its grippy rubber coating. It's an accuracy enhancer too, pillar bedded and free-floating the barrel. Tack on Howa's two-stage HACT trigger and you certainly have a rifle that can put meat on the table.
MSRP: Starts At $579, howausa.com
Bergara B-14 Timber

Despite flirting with the buyer's guide's ceiling, it's difficult not to consider the Bergara B-14 a value in every sense of the word. Even a bargain, considering what the Spanish-American company brings to the table. And that is perhaps one of the best barrels on the market. Extremely uniform and held to minuscule tolerances, the 20-inch button-rifled fire tube is engineered to print cloverleaves. Matched with the B-14 action, pillar bedded and epoxied in the inlet, the .308 rifle might be a hunter, but it has a precision rig's heart. It's a looker too, with a nice piece of walnut for the stock—Monte Carlo, by the way. Interestingly, the standard Timber comes with an internal 4-round box magazine, but this can be upgraded to a removable box magazine if you so desire.
MSRP: $1,149, bergara.online/us/
CZ 600 Lux

In 2021, CZ-USA announced that the famed CZ 527 and 557 series of bolt-action rifles would be discontinued and replaced by the company's new CZ 600 series. The most traditional and affordable model of which is the CZ 600 Lux.
To give it a classic hunting rifle look, the 600 Lux features an oil-finished and checkered Bavarian-style walnut stock, but several modern innovations have been implemented to provide more modern functionality as well. This includes a 60-degree bolt throw for fast and smooth cycling, an oversized wooden bolt knob and a 2-position safety that is incredibly quiet. It also features a fiber optic front sight, is ready to accept Remington 700-pattern scope bases and in .308 Winchester, it feeds from a 5-round detachable box mag. If that isn't enough to impress you, then also consider that each rifle also comes with a sub-MOA accuracy guarantee and a threaded muzzle that's ready to accept suppressors. The CZ 600 Lux is the complete package.
MSRP: $999, cz-usa.com
S&W MP10 Sport

OK, we're bending a few rules on this last rifle. It costs a bit more than our limit and doesn't reek of the traditional definition of class. So what? The MP10 Sport is about as affordable, well made and reliable AR-10 hunter as you can find. Boasting a 16-inch barrel (with 5R rifling), the Sport excels as a nimble brush gun, but it's no slouch at reaching out with the medium contour offering excellent harmonics. Ambidextrous controls makes it lefty-friendly, not always the case with hunters or all ARs. And a mid-length gas system does its part in taming down some of the 8-pound .308 rifle's recoil. Fairly barebones from there—A2 flash hider, 6-position stock, polymer handguard, Picatinny optics rail—the AR is nonetheless a performer.
MSRP: $1,129, smith-wesson.com
Mauser M18
Wait! A Mauser on an affordable .308 rifle list? Sounds crazy, given even the vintage war-weathered irons run a pretty penny nowadays. But with the introduction of the M18 a few years back, the iconic German manufacturer put out among one of the best budget hunters on the market today. Don't walk into the M18 expecting a stripped-down version of the company's M98; despite being a Mauser creation the rifle is sans the definitive oversized claw extractor. Instead, it's the popular and cost-effective detachable-magazine feed, three-lug fat bolt. It's smooth and reliable, and mates up airtight with the M18's semi-open action. Married to the hammer-forged 20-inch barrel, the system is arguably one of the most accurate hunting irons out there—much more than is needed to put meat on the table. The stock is what you'd expect, synthetic, but not the type of plastic that looks like it was fished from the recycling bin. And overall it's stiff, making for a solid platform for repeatable accuracy. Though little things, such as the plastic trigger guard, leave something to desire, overall you get more than your money's worth with the M18.
MSRP: Not published, but average street price is $949, mauser.com
Read the full article here