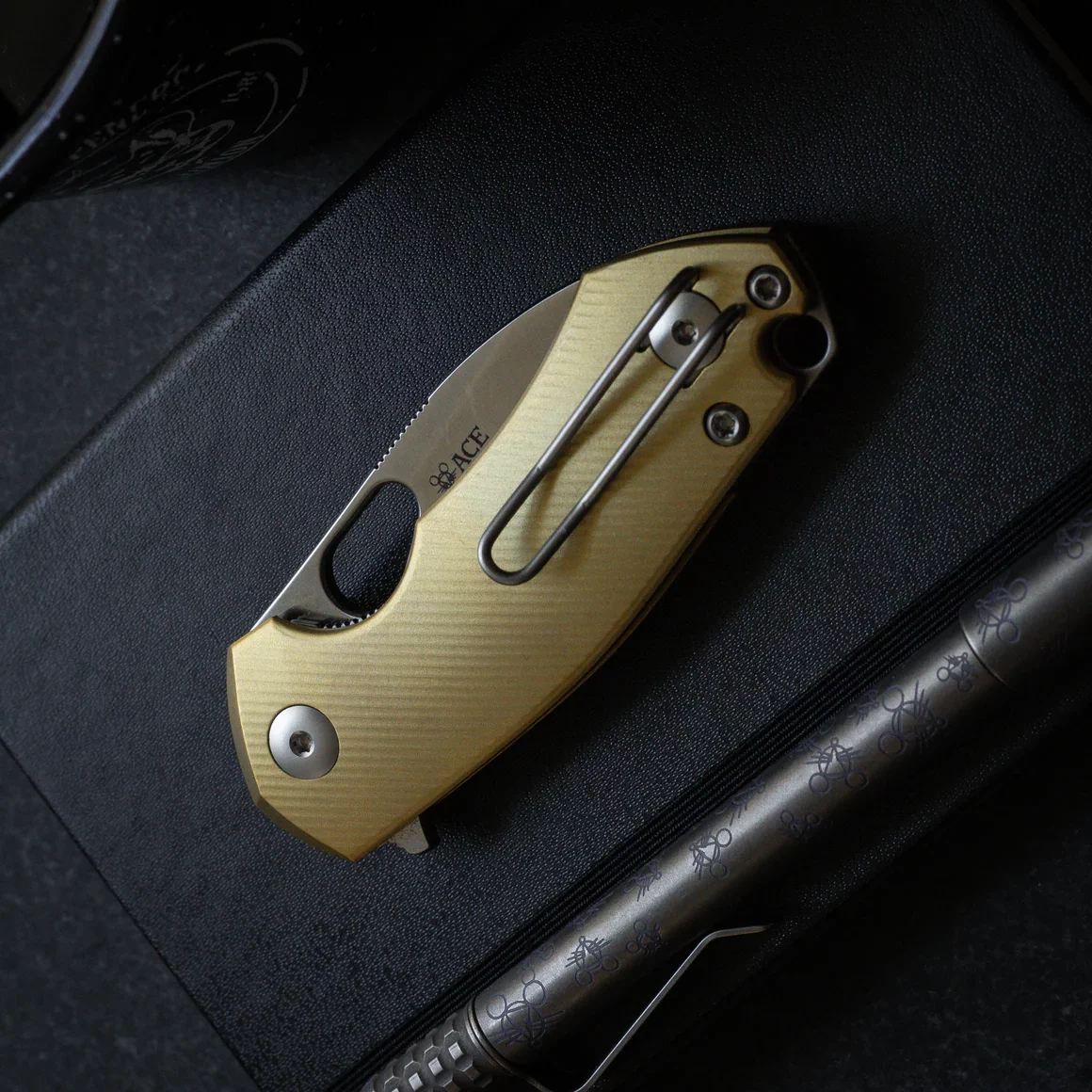 The GiantMouse catalog continues to swell with a new version of the Riv, this time around with a liner lock and a switch to MagnaCut blade steel.
The Riv design is nearly three years old; the original, frame lock model released in December of 2020. Like all GiantMouse designs, it impressed with its sleek Jens Anso/Jesper Voxnaes looks, but it also took the (tiny) crown for being the smallest folder the company released so far, with a compact 2.44-inch blade. It screamed EDC, of course, and the ELMAX blade steel (not to mention the modified wharncliffe blade shape) were well-suited to that role.
Virtually none of the Riv's dimensions have been altered on this update, so everything that could be said about the original can be said about this new generation. The liner lock means that the style element (always part of the appeal with GiantMouse designs) can really take center stage, as both front and back scales will match now, whether they're made from Micarta or Brass. The weight on the Micarta liner lock Riv is about the same as the frame lock model at 2.5 oz.; meanwhile the Brass variant here is actually a bit heavier, since it has an entire extra scale's worth of brass; GiantMouse lists the weight at 4.2 oz.
ELMAX is, without a doubt, a very good steel; it never garnered the kind of widespread use and general acclaim of other super steels in its generation like S35VN or M390, but earned its stripes over years of service in many different knives from many different manufacturers. However, the fact that these new liner lock Rivs are made from MagnaCut instead of ELMAX will, we think, be the main draw for potential buyers, even over the revised locking mechanism. The appearance of MagnaCut here is no surprise, as GiantMouse has embraced the steel wholeheartedly, with many different models (including the recent Jagt) made with it.
The Riv LL, as GiantMouse calls it, is available now.
Knife in Featured Image: GiantMouse Riv LL
---
The information provided by KnifeNews.com (the "Site") is for general recreational purposes only. The views and opinions expressed on the Site are those of the author or those quoted and do not necessarily reflect the views of any entities they represent. All information on the Site is provided in good faith, however, we make no representation or warranty of any kind, express or implied, regarding the accuracy, adequacy, validity, reliability, availability, or completeness of the information on the Site. Under no circumstance shall we have any liability to you for any loss or damage as the result of the use of the Site or reliance on any information provided. Your use of the Site and your reliance on any information on the Site is solely at your own risk.


Read the full article here