Guns and Gear
HEVI-Shot Ammunition Releases .410 Gauge HEVI-XII Waterfowl Loads
HEVI-Shot Ammunition returns with yet another new waterfowl offering in-season for anyone looking to change up what they're shooting at ducks and geese. This newest selection is for the small gauges hunters out there as they have produced some new .410 gauge HEVI-XII waterfowl loads. HEVI-Shot's .410 Gauge HEVI-XII waterfowl ammunition is alloyed and loaded in Sweet Home, Oregon in 25-round boxes with an MSRP of $99.99 each.
HEVI-Shot Ammunition @ TFB:
If you are a recurring buyer of HEVI-Shot Ammunition, you already know that HEVI-XII ammo is known for hitting harder over longer distances. Their pellet material features a phenomenal density of 12 grams per cubic centimeter (g/cc) – 53.8% more dense than steel! This alone doubles your downrange energy on birds. Shooters can drop 3 shot sizes for the same lethality with 28% more pellets on target.
Sweet Home, Oregon – November 1st, 2023 – HEVI-Shot is proud to release two new product line additions to its HEVI-XII Waterfowl lineup. The new load options are 410 bore, 1/2-ounce, 3-inch, in shot size No. 5 or 7, with a muzzle velocity of 1,250 feet-per-second (fps). HEVI-XII is the original 12-g/cc density, tungsten alloy recipe from HEVI-Shot. These new products are now shipping to dealers and are available.

"Everyone that has shot HEVI-XII has fallen in love with it, and now they can appreciate it in 410 shotguns," said HEVI-Shot product manager Scott Turner. "HEVI-XII outperforms steel in every category. Smaller and more dense pellets penetrate deeper with more lethal pellets in a tighter pattern compared to shooting steel loads."
If you are one of those small gauge hunters who is still pursuing some geese and ducks this fall, this new HEVI-Shot Ammunition offering of 410 Gauge HEVI-XII could be something that tips the scales in your favor. More dense patterns coupled with more energy down range could be the key to your future success. As always, let us know all of your thoughts about HEVI-Shot in the Comments below! We always appreciate your feedback.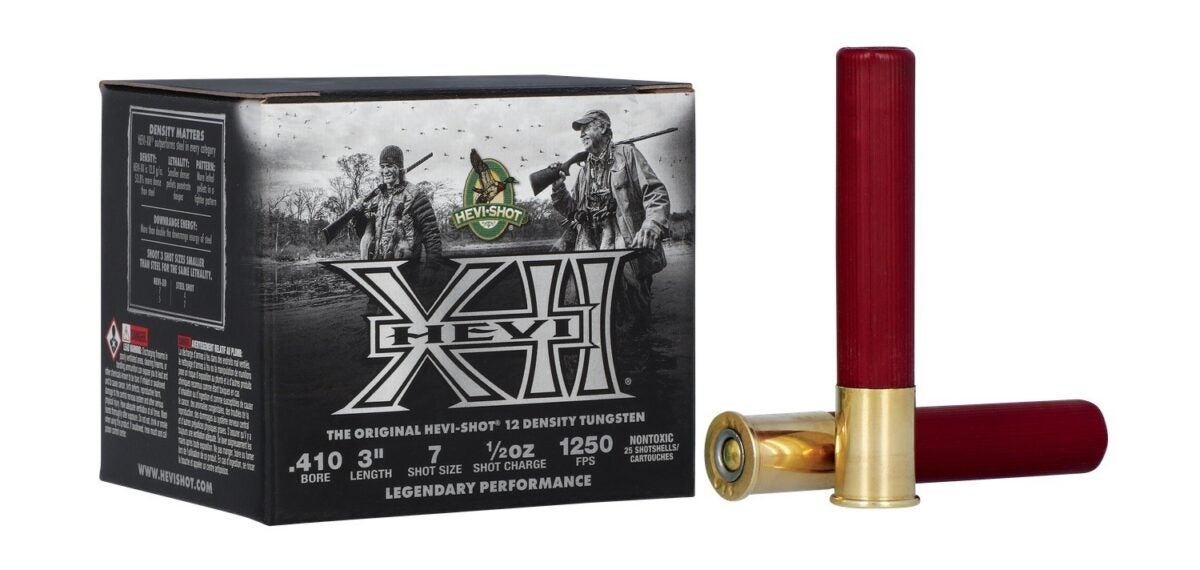 ---
---
We are committed to finding, researching, and recommending the best products. We earn commissions from purchases you make using the retail links in our product reviews. Learn more about how this works.
Read the full article here