What if I told you a perfect scope for intermediate to long-distance shooting with a 5.56 or .308 caliber AR rifle exists?
The Leupold Mark 5HD 2-10x30mm riflescope is all new and checks all the boxes with nearly no shortcomings. It can be used close, and then you can turn the locking zero resettable turrets to hit your target at extended ranges. In our experience, other low power variable optics (LPVO) struggle with a blurry image when doing this. 
[Be sure to read What Is an LPVO Scope? for additional information on these scopes types.]
Where to Start
We started out mounting this optic on a Springfield Armory Hellion in 5.56 and mounted with the Leupold Mark 4 cantilever mount. The Mark 5HD 2-10X is a first focal plane (also known as front focal plane or FFP) scope and features a 35mm tube with a 30mm objective lens. The 35mm tube is a unique feature when compared to other LPVO's that allows for more than enough elevation and windage adjustment. 
The scope has exposed locking turrets for adjustment, and our particular model features Mil adjustments with Leupold's TMR or tactical milling reticle. Personally, I prefer MOA-based scopes, and Leupold also offers this scope with that option. The TMR reticle model is offered in illuminated and non-illuminated versions.
The Mark 5HD line of scopes from Leupold are built, designed and tested for hard use by the most discerning tactical or competition shooters. The Mark 5HD 2-10 is far from an entry level scope, with a starting price at $2,000, but it is sure to last you a lifetime.
Glass Quality of the Leupold Mark 5HD 2-10×30
The Leupold Mark 5HD scopes are well known for having some of the very best glass, and this 2-10X is no exception. The glass is crisp, clean and bright, no matter the light conditions. Color fidelity is without flaw, as is edge-to-edge clarity. There is nothing negative to say about the glass quality on the Mark 5HD 2-10. It is simply the best Leupold offers, and better than many others in its category.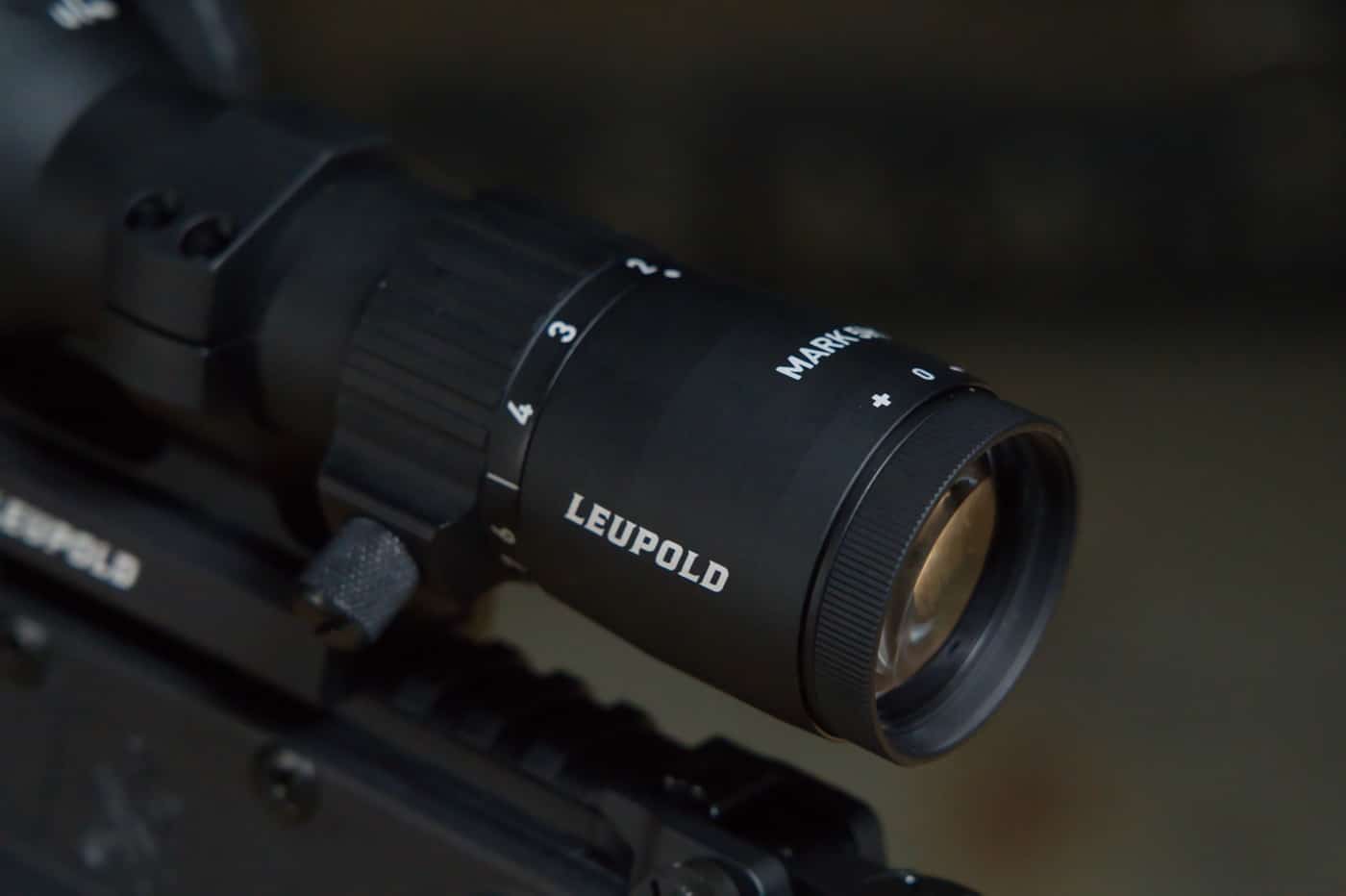 In regards to light transmission, Leupold has created quite the name for itself when it comes to light-gathering capabilities, and the "Professional Grade Optical System" on this Mark 5HD is no exception. Seeing its optical power in person is a sight for sore eyes. When picking an LPVO for your duty or defensive rifle, this competes for the best glass available. 
Windage, Elevation and Focus Adjustments
We see a departure from other LPVOs or comparable scopes when it comes to the turret system on the Mark 5HD 2-10X. With an adjustable parallax focus, all targets between 75 to 800 yards will be in focus. The adjustable parallax separates it from even the most expensive 1-10X scopes, which can struggle with blurry images at distances exceeding 400 yards.
The windage and elevation adjustments are very tactile and audible. The windage knob is capped and does not have a zero lock, but is resettable to zero with a stop. The elevation knob is exposed and very large. It features a push-button locking system with a resettable zero stop. Additionally, it has a travel indicator, meaning the more revolutions you make with the turret, an indicator will pop up on top of the turret to show you have made one full revolution past your zero setting.
The elevation dial features 30 MILs of adjustment in 0.1 MIL increments, and the windage is 10 MILs. These numbers are remarkable, and likely due to the large 35mm tube. Simply put, if you run out of adjustment before cartridge limitations on your rifle, I would be surprised.
How Does It Function?
Name a brand and model scope with a similar zoom ratio, and I have likely used it. So, I will keep it simple — it's one of the nicest, if not the nicest, 2-10X scopes I have ever used. The turrets are spot on, the focus adjustment is perfect, the glass quality is superior, and then the subtle afterthoughts for a serious professional end user are on the scope.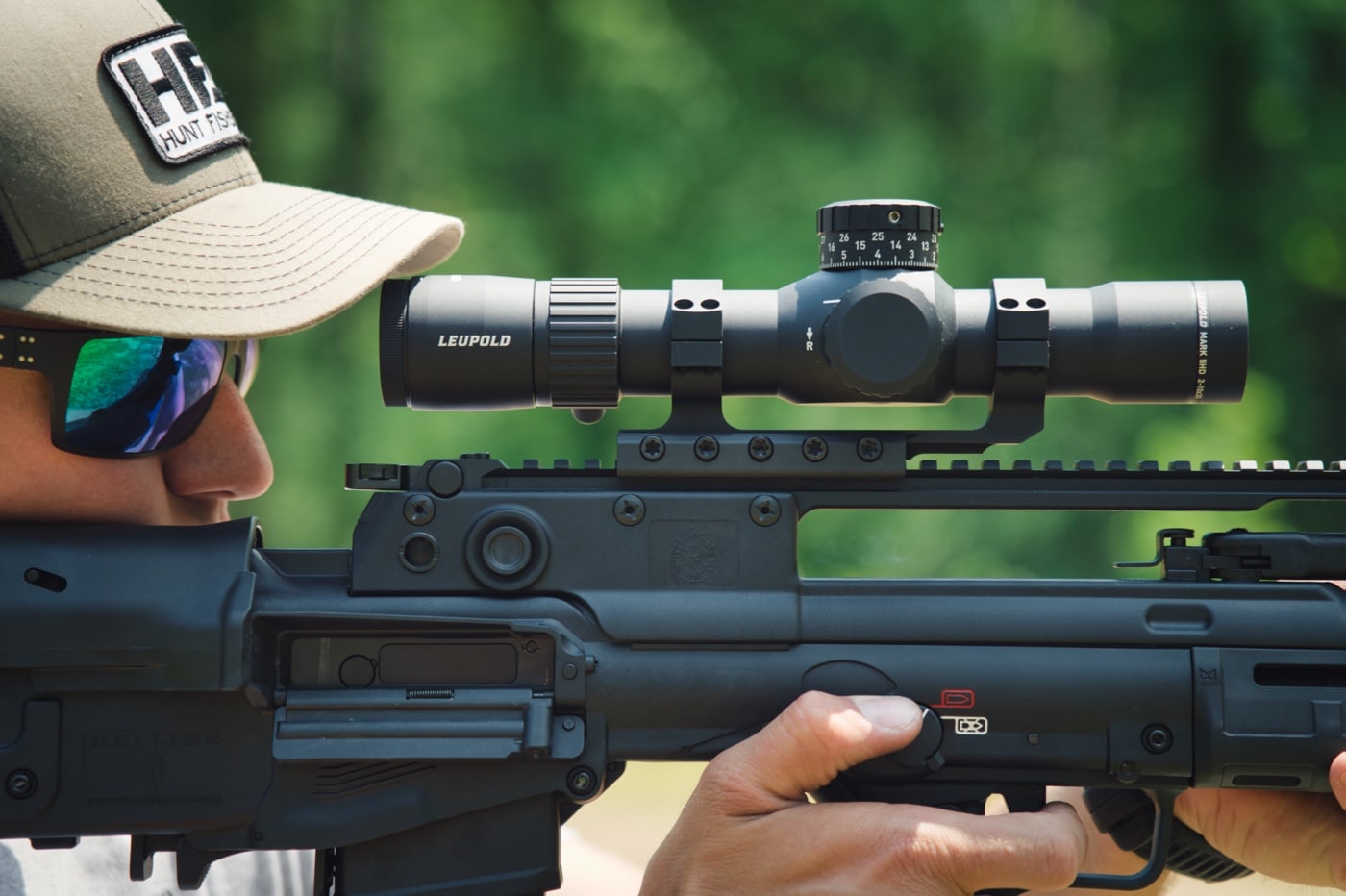 This starts with the magnification adjustment and integrated throw knob or lever. The magnification adjustment is not too stiff or too light to bump off; they're just right. At 2X, the scope handles like an above-average prism scope, but with exceptional eye relief. Crank it up to 10S, and it's like using a higher-magnification precision rifle scope where the only limitation is the shooter.
Unlike many scopes, the eye box is forgiving no matter what the magnification is set at. The eye box on a scope like this is important, and the Mark 5HD 2-10 won't be handicapping anyone's abilities due to its forgiving eye box. 
Closing Thoughts
The Leupold Mark 5HD 2-10 scope seeks to be a designated marksman's dream, and I think it delivers. It could clear a room and then deliver a precise shot at 800 yards without skipping a beat. It's built like a tank, lightweight, full of adjustment and optical power, and has glass that rivals the most highly regarded premium scopes on the market.
Leupold knocked it out of the park for someone looking for an end-all, be-all intermediate to long-distance rifle scope. I love nitpicking scopes when I review them, and it doesn't have any negatives. But, you have to pay for that kind of quality, which is reflected in the price tag.
On top of all this, it has Leupold's lifetime guarantee, backed by a renowned reputation and being made in the USA. What more do you need?
Editor's Note: Please be sure to check out The Armory Life Forum, where you can comment about our daily articles, as well as just talk guns and gear. Click the "Go To Forum Thread" link below to jump in and discuss this article and much more!
Join the Discussion
Featured in this video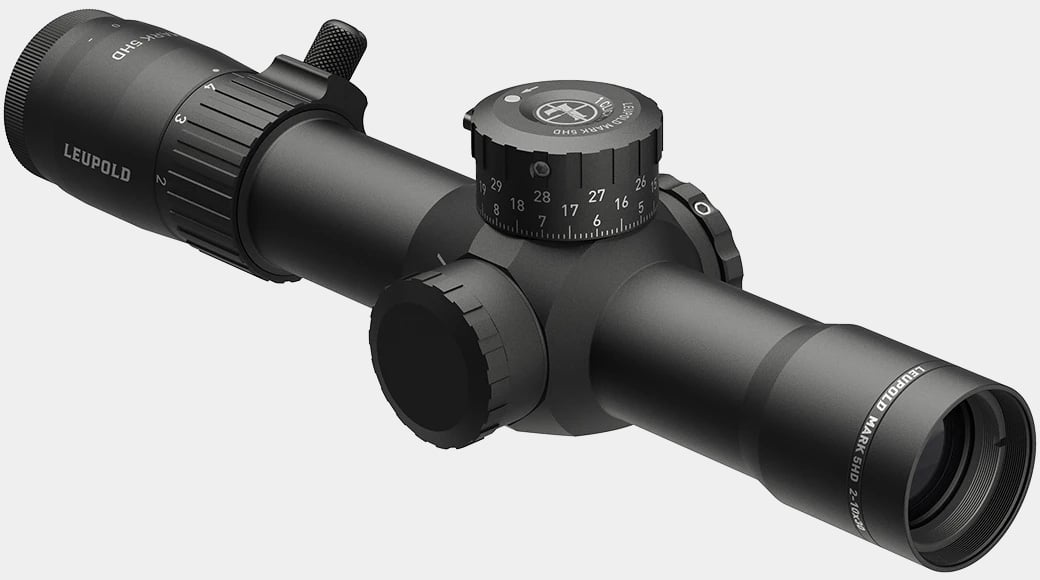 Leupold
Mark 5HD 2-10X30 M5C3 FFP TMR
556NATO

Hellion™
Series
Read the full article here