Guns and Gear
Review: Springfield Armory Desert FDE XD-M Elite 4.5" OSP 10mm
Few things are as personal as finding the right handgun for your needs. From personal defense to hunting, finding the perfect pistol is a deeply individual pursuit. Let me introduce you to one of the newest options on the market that is worthy of your time for consideration.
The Springfield Armory XD-M Elite 4.5" OSP 10mm FDE is an advanced, high-performance firearm designed for the modern shooter who demands precision and unfailing reliability. Engineered to deliver superior shooting performance, the new pistol offers a range of features, is chambered in 10mm and is finished in a distinctive Desert Flat Dark Earth (FDE) color.
During my testing, this gun performed exceptionally well. Based on this, I trust the gun and recommend you take a look for yourself to see if it offers the features you are seeking.
Overview of the New
XD-M

Elite

In my opinion, the new gun is a premier pistol in Springfield Armory's XD-M Elite line. It has many of the advanced features common to this pistol family while adding a subdued finish and one of the more powerful handgun cartridges available in a semi-auto. Its OSP (Optical Sight Pistol) configuration allows for easy optics attachment. All these features combine to make this an exceedingly capable handgun.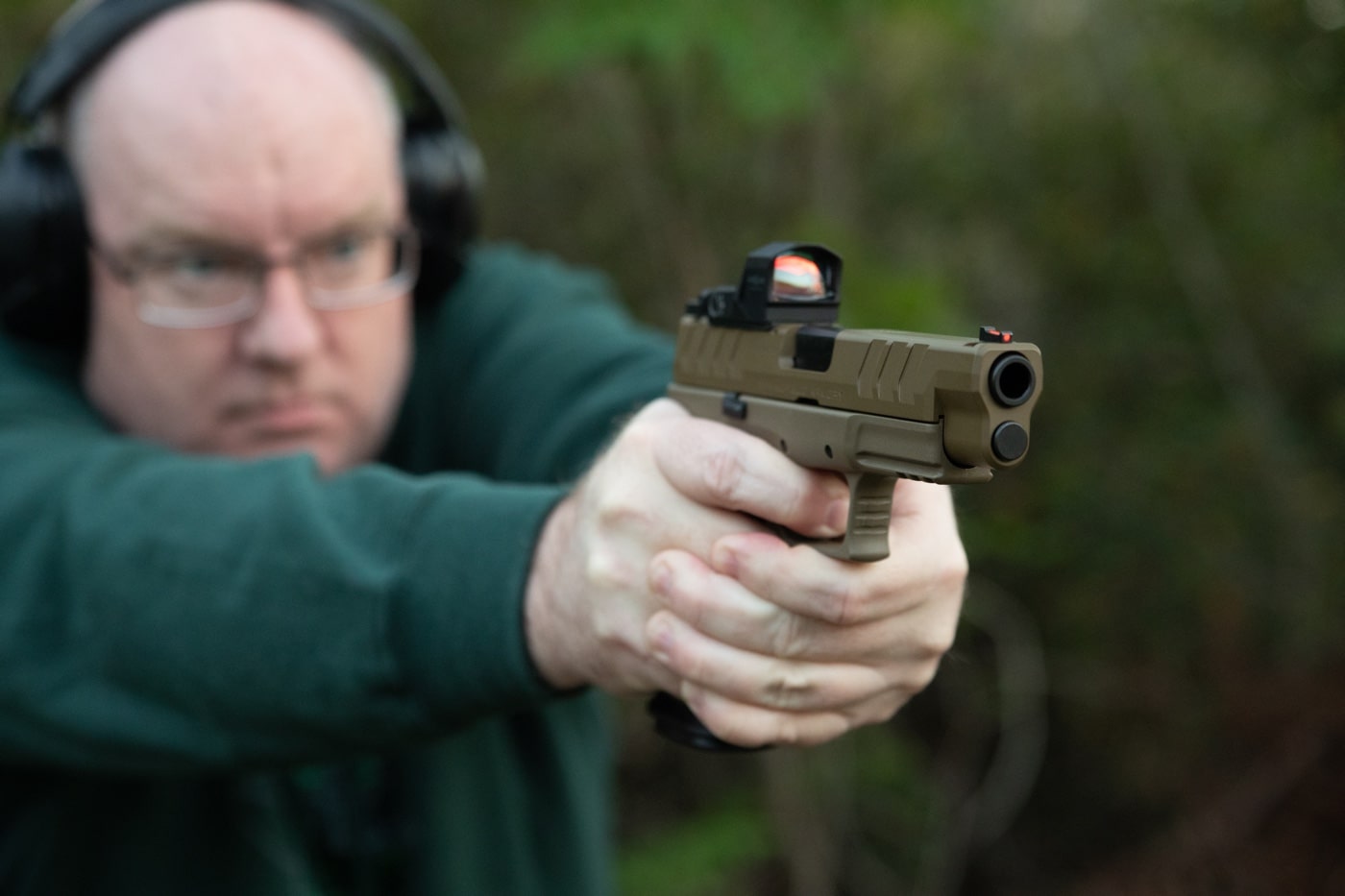 Let's take a closer look at some of this gun's defining features.
Chambering
The 10mm cartridge is known as being powerful — suitable for defense, bowling pin competitions and hunting. Nevertheless, I have always found it to be relatively easy to control in a well-built pistol.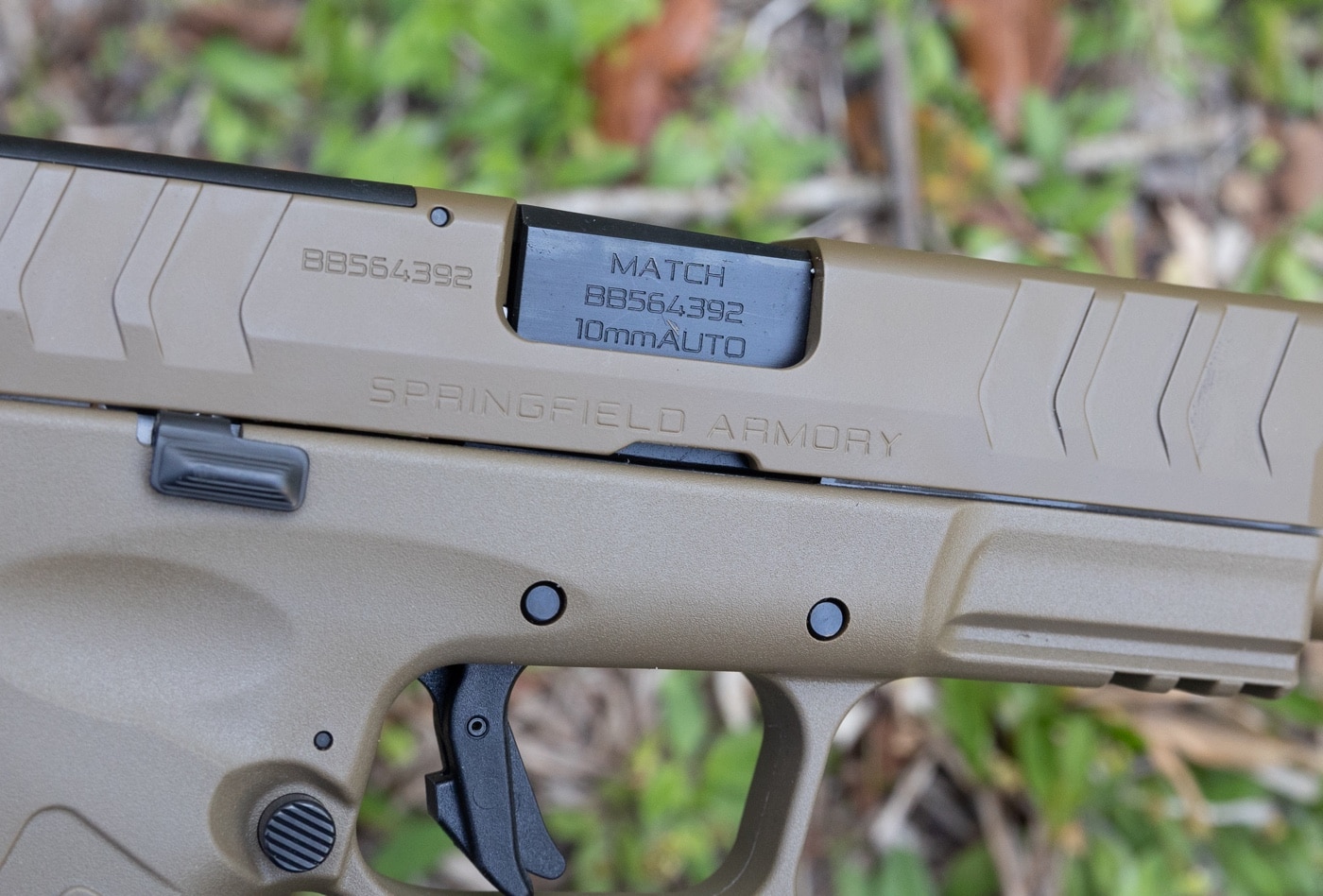 The power makes it a versatile round, capable of being loaded to levels well beyond the .45 ACP. It's ideal for maximizing stopping power out of a handgun. While many people think of this in terms of personal or home defense, the same power is useful for humane harvesting of deer and other game animals.
Barrel
Standard is a match-grade barrel. It is made of hammer-forged steel with a Melonite finish. At 4.5", the barrel makes for an overall length of the pistol a size that can still be concealed. Yet, it is long enough for the rounds to achieve effective velocity.
Sights and Optics
You have two choices with this pistol: the factory sights or a red dot sight. For my money, the sights Springfield Armory includes on the gun are some of the best factory sights available. The front sight is a red fiber optic rod that is very visible.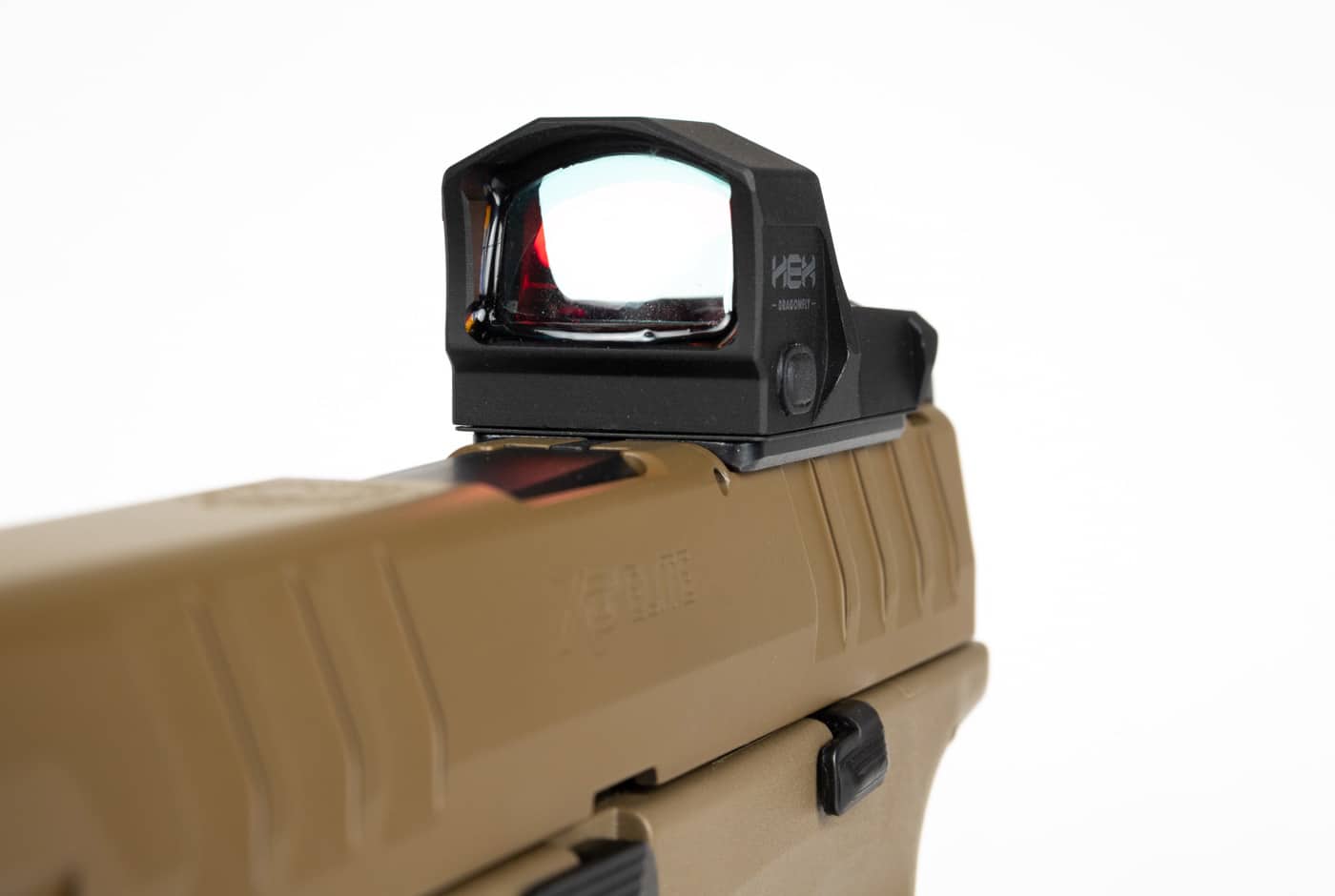 When the sights are aligned, the front fiber optic drops neatly into the wide U-notch rear sight. Called the Tactical Rack U-Dot, the rear sight allows the eye to quickly pick out the front sight for rapid, accurate shot placement.
While the standard sights are excellent, the pistol is an Optic Sight Pistol (OSP) model that allows for the mounting of red dot sights. A range of different optics will work on the XD-M Elite with available adapter plates, and I tested the gun with the HEX Dragonfly red dot. With the mounting plate, it took just a couple of minutes to install.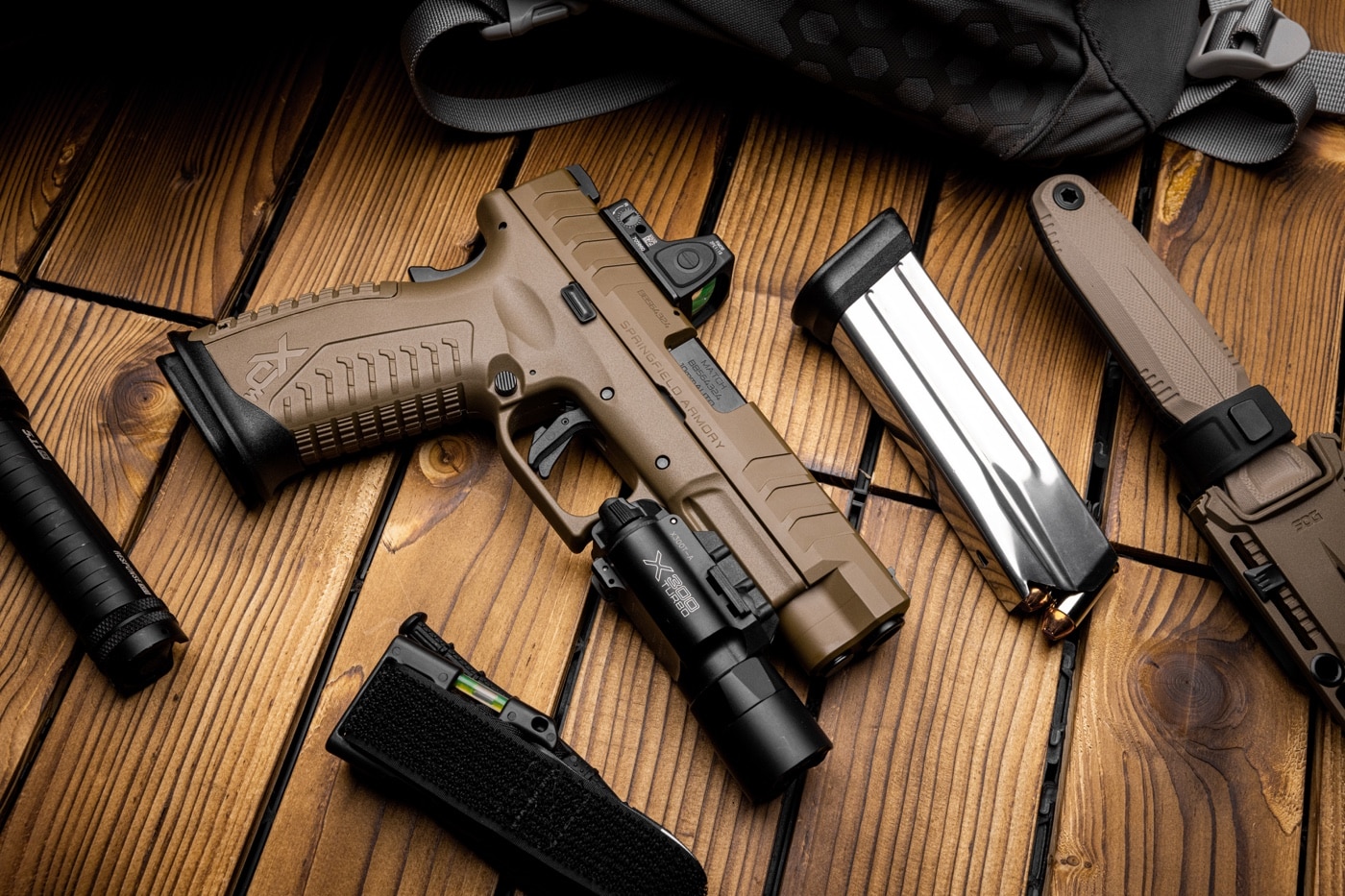 Grip Frame
Springfield did a good job with the XD-M Elite frame. The grip fills my hand well with the standard backstrap. Additional backstraps are included to optimize the gun-to-hand fit.
Along both sides of the pistol are recessed cuts for the trigger finger. These cuts help place my finger pad perfectly on the META trigger. I've found this improves my consistency with accuracy from the draw.
Aggressive block-type checkering on the frame works well to give my hands good purchase on the gun. I live in Florida where even the winters can be warm and humid. Hands sweat easily — especially when you are out on the range running some training drills. That grenade-like grip helps me keep a firm hold on the gun.
Magwell
The XD-M Elite line uses a removable magwell. As it ships, this gun is fitted with a "short" magwell that helps funnel a magazine into the gun during a reload. If you've never been under severe stress while shooting, you may not realize how much your fine motor skills are degraded. The simple act of sliding a magazine home can be tough when your body has adrenaline coursing through it. A flared magwell like this helps ensure you maximize reload efficiency. Matching up with the extended magwell is an extended-capacity 16-round magazine. Two are included with the pistol.
Ambidextrous Controls
It doesn't matter which half of your brain is dominant: the XD-M Elite is set up for you to run. All of the controls on the Elite pistols are ambidextrous. Not "swappable" but truly ambidextrous. The slide stop and the magazine release work on both sides right out of the box.
Perfect Bear Gun?
Brown and black bear threats are real for many hunters and outdoorsmen — especially in the remote areas of Alaska and the Northwest. I've spent a lot of time outside, and I've always known the importance of being prepared for the unexpected. That includes threats from large predators.
A bear attack can happen in the blink of an eye, and you need a reliable firearm that can stop a charging bear in its tracks. You also need a proven caliber that can deliver enough thump to hit with authority. I believe this pistol offers both.
As discussed on the site previously, the 10mm is an adequate defensive round against bears. I say "adequate" as all handgun cartridges are suboptimal against North America's largest predators when compared to rifle loads. But with the gun's excellent reliability, you have fast access to 16+1 rounds of bear repellant.
Range Testing
When I finally got the Springfield Armory XD-M Elite 4.5" OSP 10mm Desert FDE in my hands, I was eager to take it out for some range testing. Here are three things I learned during this process:
First, the gun proved reliable. With more than 500 rounds downrange, I experienced no malfunctions with any of the loads. That included 100 rounds of self-defense hollowpoints.
Secondly, accuracy was impressive. While the XD-M Elite pistols often deliver great accuracy, this pistol proved exceptional. At all ranges — from 3 to 25 yards — the accuracy and precision were great. With all ammo, 1" groupings were pretty common.
Finally, the recoil and muzzle flip were completely controllable. For me, the 10mm is strong, but not overwhelming. It feels on par with a .45 ACP, not the "90mm Magnum" that some internet trolls would have you believe.
The bottom line is that it offers dependable performance. Based on my testing of this and other XD-M Elite pistols, this handgun is one of the best values in defensive pistols available today. And when it came time for me to put down the pistol after testing it, I knew that, if need be, I could count on it for any reasonable defensive use I might have.
Ammunition Data
While at the range, I measured the following shooting data:
| | | | |
| --- | --- | --- | --- |
|  Ammunition | Velocity | Energy | Best 3-Shot Group |
| Blazer Brass 180-grain | 1,201 fps | 576 ft-lbs | 1.0" |
| Nosler 180-grain JHP ASP | 1,155 fps | 533 ft-lbs | 0.7" |
| Nosler 200-grain JHP Defense | 1,012 fps | 455 ft-lbs | 0.5" |
Group size is measured in inches and is best of three-shot groups and fired from a bag rest at 15 yards. Velocity is shown in feet per second and is the average of five rounds at 10 ft. fired across a Competition Electronics ProChrono chronograph.
Final Thoughts
The Springfield Armory XD-M Elite 4.5" OSP 10mm Desert FDE Pistol is an impressive handgun that lived up to all my expectations. In terms of performance, the accuracy was exceptional. Additionally, I found the trigger was crisp and smooth. Reliability was bulletproof.
Overall, my impression of the Springfield Armory XD-M Elite 4.5" OSP 10mm Desert FDE Pistol is favorable; from construction quality to handling characteristics, this gun really excels in all areas. With such solid performance and customizability at an affordable price point, it's easy to see why so many people have chosen this pistol as their go-to choice for home defense or concealed carry purposes.
Editor's Note: Please be sure to check out The Armory Life Forum, where you can comment about our daily articles, as well as just talk guns and gear. Click the "Go To Forum Thread" link below to jump in!
Join the Discussion
Featured in this article
10mm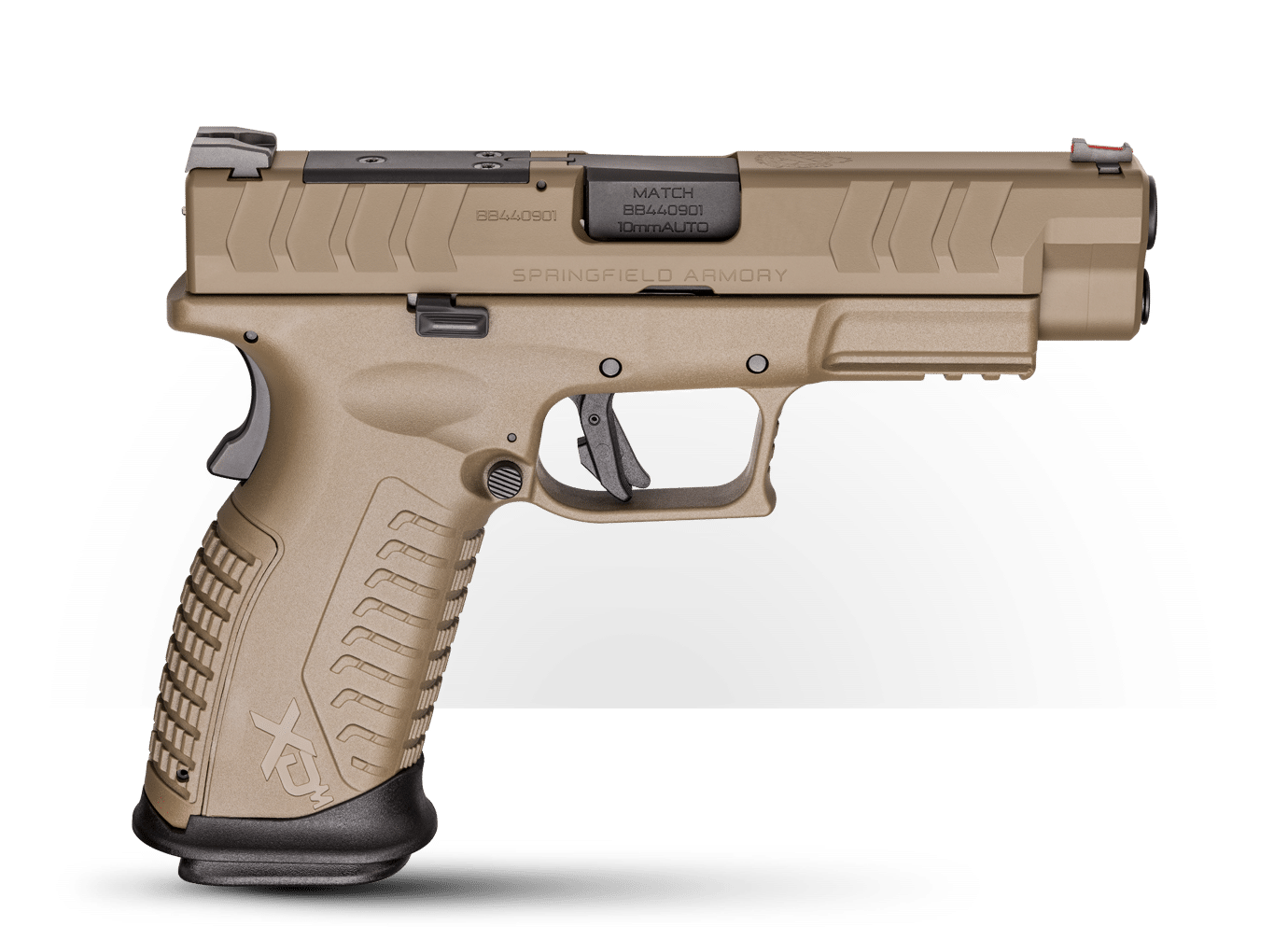 XD-M®
Elite 4.5″ OSP™
Blazer
Brass 10mm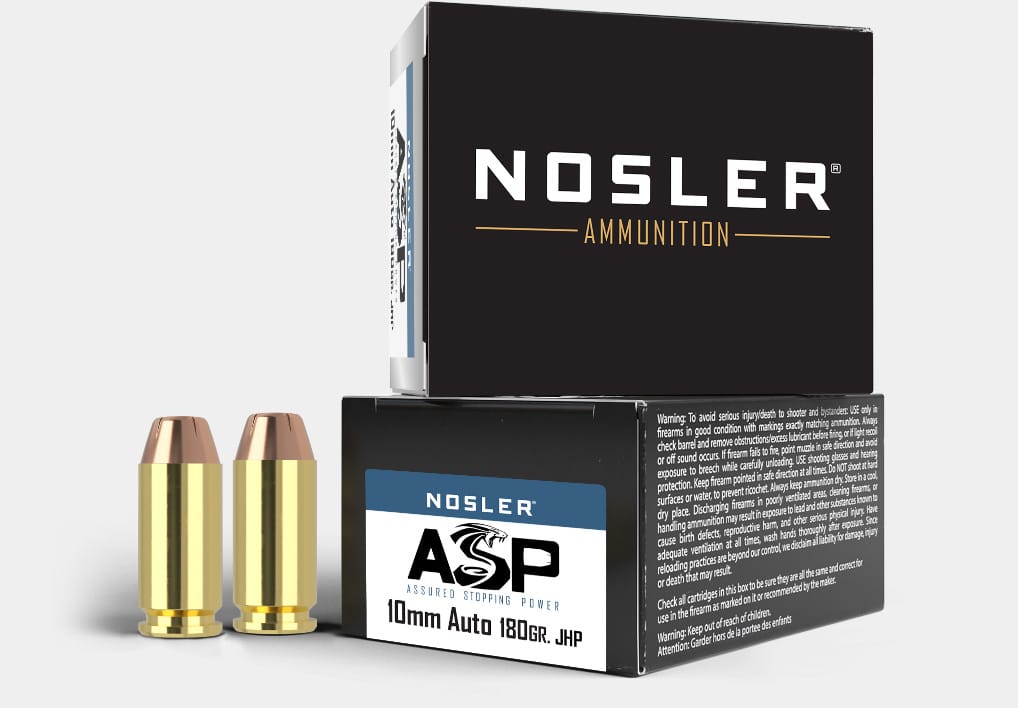 Nosler
10mm 180gr JHP ASP
Nosler
10mm 200gr JHP DEFENSE
Read the full article here