Guns and Gear
SIG P365 Rose Review: The Pistol's Petals And Thorns
The New SIG P365 Rose is more than a pistol angled to arm women. It's a complete firearms system.
SIG Sauer released one of the first truly revolutionary handguns we've seen in a long time with the SIG P365. A new genre of handgun, the micro-compact, was born, and since then the rest of the handgun industry has been scrambling to release a micro-compact of their own as SIG churns out more and more variants of the hit P365.
Today, we're going to take a look at one of the newest additions to the P365 lineup, the P365 Rose (the P365-380 Rose to be exact), a special edition of the gun that includes some accessories and extra features tailored for women looking to get started with concealed carry.
Is SIG just pandering to the growing market of female gun owners, or has a major industry player finally released something that actually addresses the needs of women without a lot of firearms experience who are looking to defend themselves?
Let's find out.
Not Another Pink Gun
When I heard that SIG Sauer was releasing a version of the SIG P365 designed specifically for women, I was immediately intrigued. 
Being a woman, particularly one who has made a career out of educating gun owners, and also being a big fan of the P365, it was like a delayed Christmas gift when the January SHOT Show announcement was made debuting the new P365 Rose, and the overall Rose program.
The Rose program is, in essence, a female-focused starter kit for women looking to carry a gun for the first time. What we saw at SHOT was a sharp-looking gun, with sensible accessories for a first-time gun owner, and it came paired with some training videos by the greatest female shooter of our time, Lena Miculek. 
A lot of what I do is helping new shooters learn to protect and defend themselves, particularly women (who historically get overlooked a bit by the wider firearms industry), so I was absolutely giddy with excitement.
I was also nervous and a bit cautious. Bordering on suspicious even. 
So much of what gets marketed to women who want to get into firearms is just…a pink gun. Just a pink version of whatever small concealed-carry gun is already selling well, with no consideration for any of the challenges that are inherent with a woman trying to get into firearms for the first time. 
Would the Rose P365 and the Rose program be more of the same? I was very keen to find out. 
A Rose By Any Other Name
With the Rose Program, I'm happy to say that SIG has not just slapped some pink Cerakote on the P365 and called it a day. There are two models in the Rose line at the time of writing, including the P365-380 Rose and the P365-XL Comp Rose.
Functionally, the guns are identical to the base P365 models which is fine as far as I'm concerned. 
Both guns have stellar reputations and are as well-designed as anything on the market right now. Both are flawlessly reliable, accurate, easy-to-shoot and come with the increased micro-compact capacity that made the original P365 such a success. 
The Rose edition upgrades consist of some very elegant-looking rose gold accents on the trigger, slide release, takedown lever, backplate and safety, which add a bit of class to an already good-looking gun. 
There's also a nicely color-matched Rose edition logo on the slide, and a rose in the stippling on the grip too. All in all, the Rose upgrades bring a touch of additional interest to an otherwise fairly plain polymer-framed pistol, which is great, but that's not the whole story.
The bigger draw is actually the Rose program itself and the accessories that come with it. 
What's In The P365 Rose Box?
On the accessories front, you get two standard 10-round magazines, one flush-fit and one extended, as well as a magazine loader, all of which are also included with the standard versions. 
With the Rose kit, you get some additional goodies in the form of 5 inert training rounds and a Vault-Tek Lifepod quick-access safe. The safe is perfectly sized, as it's large enough to accommodate the gun, accessories and ammo, but small enough to remain portable and easily fit on a nightstand.
The last thing you get is, I think, the most important. In your box, you'll find a little note from Lena Miculek which is very sweet, but it also gives you access to a series of videos that go over the basic use of a firearm. This includes everything from safety, loading, racking the slide and all of the other little things that a beginner needs to know.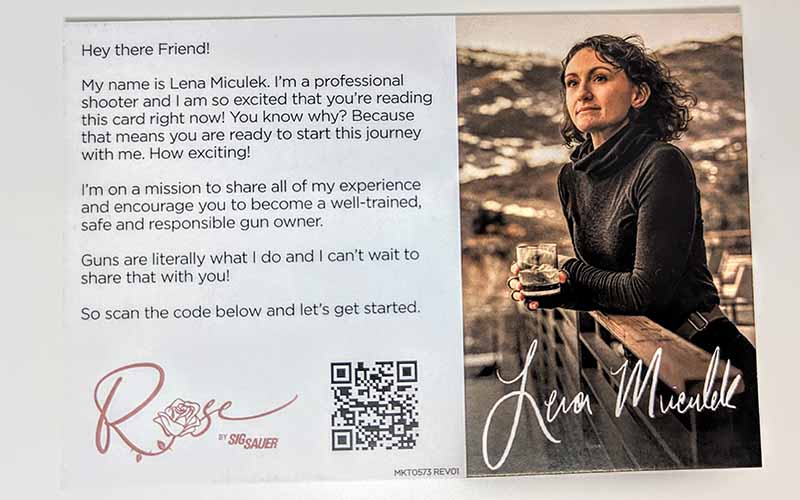 There are shooting drills, advice on drawing and holstering, as well as important info on choosing a holster, all taught by 8-time world champion Lena Miculek, a woman the NRA calls "The world's greatest all-around female shooter."
She's also the daughter of Jerry Miculek and Kay Clark-Miculek, legendary world champion shooters themselves, and she's been winning major competitions since she was a child. 
You'll also get access to the Rose Community on Facebook, which is currently sitting at a little over 5,000 Rose-edition owners and climbing every day. This group is full of women learning from each other and sharing information, and Team Sig, including Lena, is very active in the group. 
All of this gives anyone who buys a Rose edition P365 a solid foundation with their new handgun, a foundation that many women can feel a bit lost without. None of this will entirely replace an in-person concealed carry class, but that's not the goal. 
The goal is to give women who buy into the Rose program the information and training they need to feel confident taking that class. To give Rose owners the foundation they need to feel comfortable with their new gun so that they can learn and grow as gun owners on their own.
A few videos (more are in the works) and a Facebook group may not sound like a lot to someone who grew up with firearms or who already has some training. To the woman that's looking for protection but doesn't have someone in their life to get them started with firearms, it's a huge step up. 
The real power of the Rose program is not the prettied-up gun, or in the dummy rounds, or the nice Rose-branded case…it's in the community, and the training led by the most accomplished woman in the world of shooting sports. 
The Rose program provides an often-missing bridge between buying a handgun, and knowing enough about carrying one to be safe, as well as where to go to find additional training and advice on things like choosing a holster, legal concerns, and other info that armed citizens need to be aware of. 
The gun is great, but it's really the included access to the Rose program that makes the package so incredibly valuable to women looking to concealed carry for the first time. 
But of course, we can't just talk about the Rose program without looking at the gun itself. 
Overview of the SIG P365-380 Rose
Specs & Features:
Caliber: .380 AUTO
Capacity: 10+1
Overall length: 5.8 inches
Overall height: 4.2 inches 
Overall width: 1.1 inches
Barrel length: 3.1 inches
Sight Radius: 4.9 inches
Weight (w/magazine): 15.7 ounces
If you're familiar with the standard P365 or P365-380, there's not a lot new here mechanically or functionally. It's the same size as the standard P356-380, and the 9mm version too for that matter. 
You have an overall length of just under 6 inches, and a height of just over 4 inches, making this a very compact gun. I have size small hands and I can get most of my pinkie on the grip with the flush-fit magazine, which is great. 
All in all, the micro-compact form factor makes for a very shootable gun, and the longer-than-average sight radius (for the overall size) is a big part of that. The P365 line also has a phenomenally low bore axis, which makes the gun less "snappy" than other pocket-sized pistols. 
And of course, the 10+1 capacity is an enormous improvement over the tiny 9mms and .380s of just a few years ago where you typically got a 6+1 capacity and were grateful for it. Well, the days of having the same capacity as a revolver are over. 
In a situation where you might have to deal with multiple attackers, that extra ammo can be a lifesaver and, it has to be said, a gun for inexperienced shooters should have as much ammo on board as possible. 
No one has ever died because they had too much ammo in their gun, at least not that I'm aware of. 
Up top, you get XRAY3 Day/Night sights to help with shooting in low-light scenarios, as well as a Nitron-coated slide that is cut for a SIG RomeoZero optic. Conveniently, SIG has a matching Rose edition of that optic for you as an upgrade if you want it. 
You can also get various mounting plates to mount any appropriately sized optic that you might want, and there's a rail for a light underneath that you can take advantage of as well.  
Taking The P365 Rose To The Range
When we took the gun to the range, it was business as usual for the P365 line. It shot well, better than it has any right to for a pistol this size to be perfectly honest. The trigger pull is a little long, but very crisp and with a quick and tactile reset.
The sights are wonderful, and I had no problem using them in low-light situations (even with my bad night vision). Groupings amongst the folks I took to the range varied, with the best coming in just under 1.5 inches at 15 yards. 
Everyone, myself included, found the recoil to be super manageable, even by .380 standards. The aggressive stippling helps you get a very positive grip, which is always nice on such a small gun. And hey, the stippling is a laser-engraved Rose which, while not a practical benefit, is very sharp looking. 
The one issue we did have is that the magazine springs were a little stiff at first, but leaving them loaded overnight fixed the issue completely. 
I have seen some people in the Rose groups have issues with "limp wristing" (not really an accurate term) causing ejection issues, but this is more an issue with a new shooter and the .380 cartridge itself than any issue with the gun.
If you find your Rose not ejecting with authority, make sure it's lubed correctly, and then check your grip to make sure the gun is held securely. If you aren't gripping it tightly, the gun can fail to eject or fail to go back into battery. 
Other than that, this is a truly excellent gun that has been elevated by the care and attention SIG and Mrs. Miculek have put into the accessories and training that come with it. 
And it looks like something a sexy femme fatale would carry in a Bond film, which doesn't hurt either.
Parting Shot
For a long time, there hasn't been a great way for many women to get into carrying a gun for self-defense without them having to do a lot of research (while filtering out the garbage info out there) and figure things out on their own.
Now, with the SIG Rose line, women looking to protect themselves have a well-designed and welcoming path to becoming safe, responsible gun owners with the ability to defend themselves effectively. 
For years, I've gotten questions from women new to carrying a gun about what gun to buy, what holster to get, where to find training, and how to be safe with their new purchase. And for years, I've responded with a handful of guns and holsters, lists of blogs and trainers to look into and articles about safety and how to drill.
The next time I get asked, I might just say "Check out SIG's Rose program." and leave it at that.
---
More Info For The Armed Woman:
Read the full article here