Guns and Gear
Springfield XD-M Elite 4.5″ Tactical OSP 9mm Review
By any measure, the Springfield Armory XD-M Elite 9mm OSP Tactical is an impressive handgun. I recently received one in for review, and I can definitively say: this semi-automatic pistol delivers potent performance. Chambered in 9mm, the gun is perfect for law enforcement officers, competition shooters and for anyone interested in self-defense. In this review, I cover the gun's features and get it on the range for reliability and accuracy testing.
If you're unfamiliar with the Springfield brand, you're missing out on some of the best firearms being made today. A family-owned business, the company offers everything from classic 1911-style pistols all the way through to thoroughly modern AR-style rifles and a hunt-ready bolt-action rifle. The company is well-known for building reliable firearms; in my experience, this XD-M Elite 9mm is no exception.
Design and Features of the
XD-M

Elite

At its core, the XD-M Elite is a polymer-framed handgun with a proven striker-fired system. As the name suggests, however, the XD-M Elite is more than just a "basic" modern handgun.
The first thing that jumps out to me about the XD-M Elite series is the grip frame. The ergonomic grip is visually striking, and it fully fills your hand. Springfield also designed the gun with interchangeable backstraps that allow you to get the best fit for your hand. Three different inserts allow you to swap them around to find the right size for your hands. The grip texture works in concert with the adjustable grip size to lock the gun in for a solid hold while shooting. 
As with the original XD line, the Springfield Armory XD-M Elite line uses a grip safety. It has a more pronounced "bump" at the rear to ensure a positive disengagement when you grasp the pistol to fire. Mine worked flawlessly in both dry firing and range testing.
As part of the "Elite" treatment of the XD-M, Springfield includes a removable "standard" magwell funnel on this pistol. This device is designed to help channel your magazine when reloading under pressure. This flared magwell also works in concert with a new lengthened 22-round steel magazine.
As this is an optical sight pistol (OSP) model, the forged steel slide is machined to accept an optic with the appropriate mounting plate. I ran a HEX Dragonfly on mine, but you can drop nearly any pistol red dot on the gun. Several available mounting plates make adding a red dot an easy affair.
Springfield includes suppressor-height iron sights on the pistol. Dovetailed into the slide, the sights are high enough to co-witness them through many optics and over an attached suppressor. Springfield elected to go with plain black sights with serrated faces that produced no glare in the time I spent with the pistol. They provide a crisp sight picture — especially in bright light conditions. The front sight nestles perfectly within the rear sight for precision shots. 
Springfield Armory offers this pistol in both black and Desert FDE finishes. In black, the slide has a Melonite treatment. For the Desert FDE gun I tested, the slide had a Cerakote finish. It's my experience that both treatments are incredibly durable. You just need to select which color you prefer.
One of my favorite Springfield XD-M Elite features is the META trigger. META stands for "Match Enhanced Trigger Assembly", and it has a flat face with an overtravel stop. The META trigger is one of Springfield Armory's enhancements to the original XD-M line that classifies this gun as an Elite model. Frankly, it's one of the best factory triggers on the striker-fired market today. The XD-M Elite I tested had a crisp 5.5-6 lb. trigger pull that felt much lighter to me than its measurement suggested.
The XD-M Elite line uses top-grade barrels. The model I am reviewing uses a match-grade, threaded barrel. The muzzle of the barrel extends beyond the face of the slide and is threaded .5×28 for the easy addition of a sound suppressor. A thread protector comes standard from the factory. I should note that the barrel's total length is 5.28", but the overall gun's configuration is in the 4.5" gun pattern.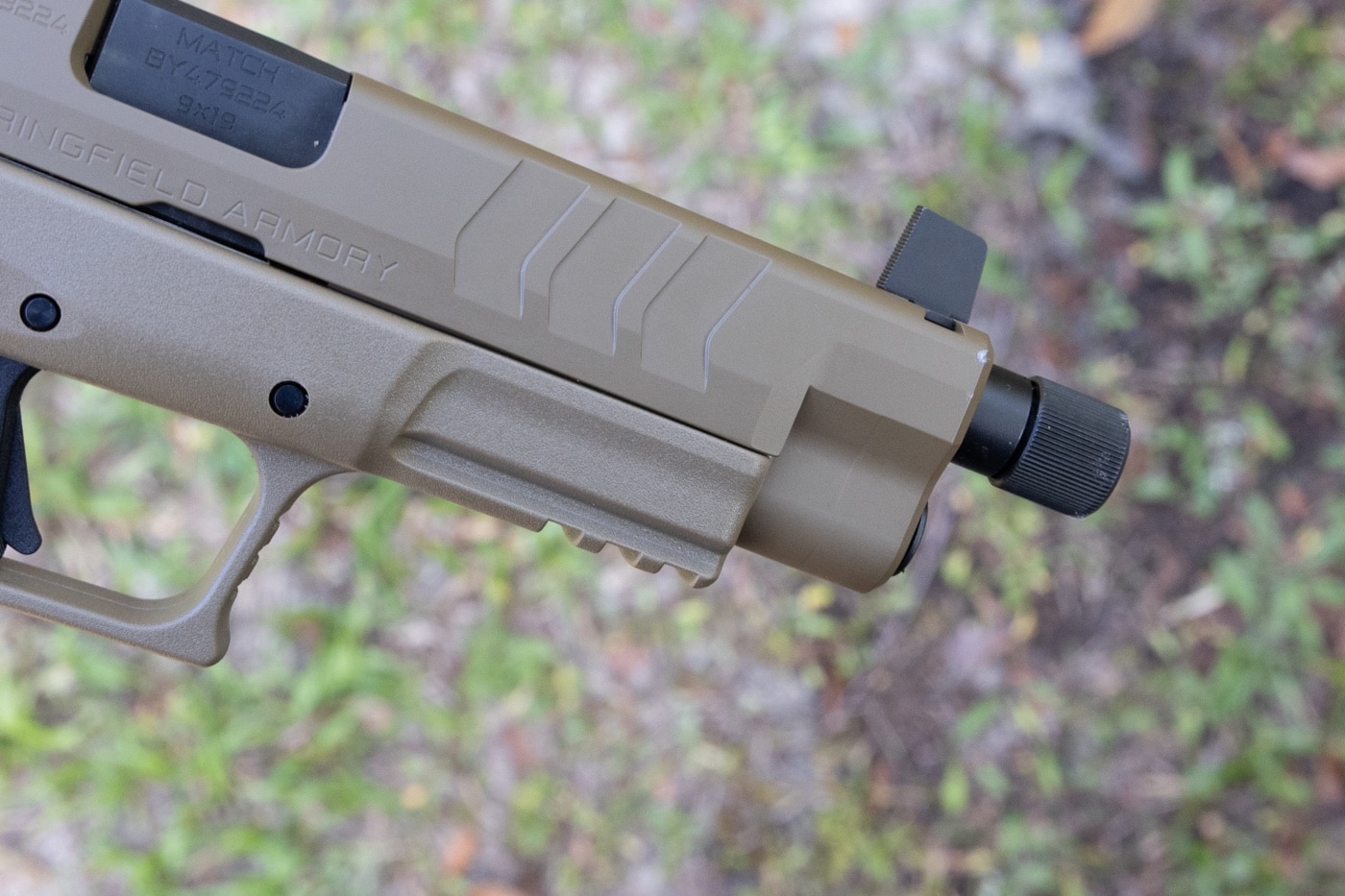 Built into the dustcover portion of the frame is a strip of Picatinny rail. This rail allows you to attach a laser or flashlight such as the Surefire X300. This is especially beneficial if you use the gun for home defense or are a law enforcement officer. Just be sure to carry a handheld flashlight in addition to any weaponlight you might attach to your pistol.
Additional Elite enhancements to the XD-M include an ambidextrous slide lock (that, with the ambidextrous magazine release make the gun very southpaw friendly) as well as enhanced slide serrations for even better purchase.
A Word on Magazine Capacity
The Springfield XD-M Elite 9mm OSP Tactical holds a very respectable 22 rounds in its magazine. This is one of the more generous capacities in a handgun. For a police officer or armed citizen, this gives you an ample supply of ammunition.
Springfield Armory also offers extended 35-round magazines for the XD-M Elite 9mm family. These extended capacity magazines extend below the bottom of the pistol by a significant margin. For my own use, I prefer to stick with the standard 22-round magazines. However, the extended 35-rounders could be fun during an afternoon of shooting.
Specifications 
| | |
| --- | --- |
| Chambering | 9mm |
| Barrel | 5.28", threaded .5×28, Melonite finish |
| Overall Length | 8.6" |
| Weight | 30 oz |
| Sights | Suppressor height front and rear, optics ready |
| Grips | Integral polymer |
| Action | Striker-fired |
| Finish | Black, Desert FDE |
| Capacity | 22+1 |
| Additional Features | Ambidextrous slide stop and magazine release, threaded barrel, two included magazines, loaded chamber indicator, removable magwell |
| MSRP | $733 |
Range Time
Other factors such as size, cost and chambering are all part of the purchase decision. However, the most important aspect of a defensive firearm is performance. Is it reliable? Is it accurate? How does it feel in your hand?
For me, this pistol fits naturally in my hand. It looks a touch big, but the fit is darn near perfect. People with big hands will have plenty to hold onto, while those with smaller hands can handle it just as well.
I found the textured grip ensured a secure hold, even with sweaty hands. This allowed me to maintain positive control over the gun during recoil. The gun's recoil what quite manageable with even the most powerful defensive loads.
During testing, I found the slide release and magazine button were well placed, allowing for natural engagement when needed.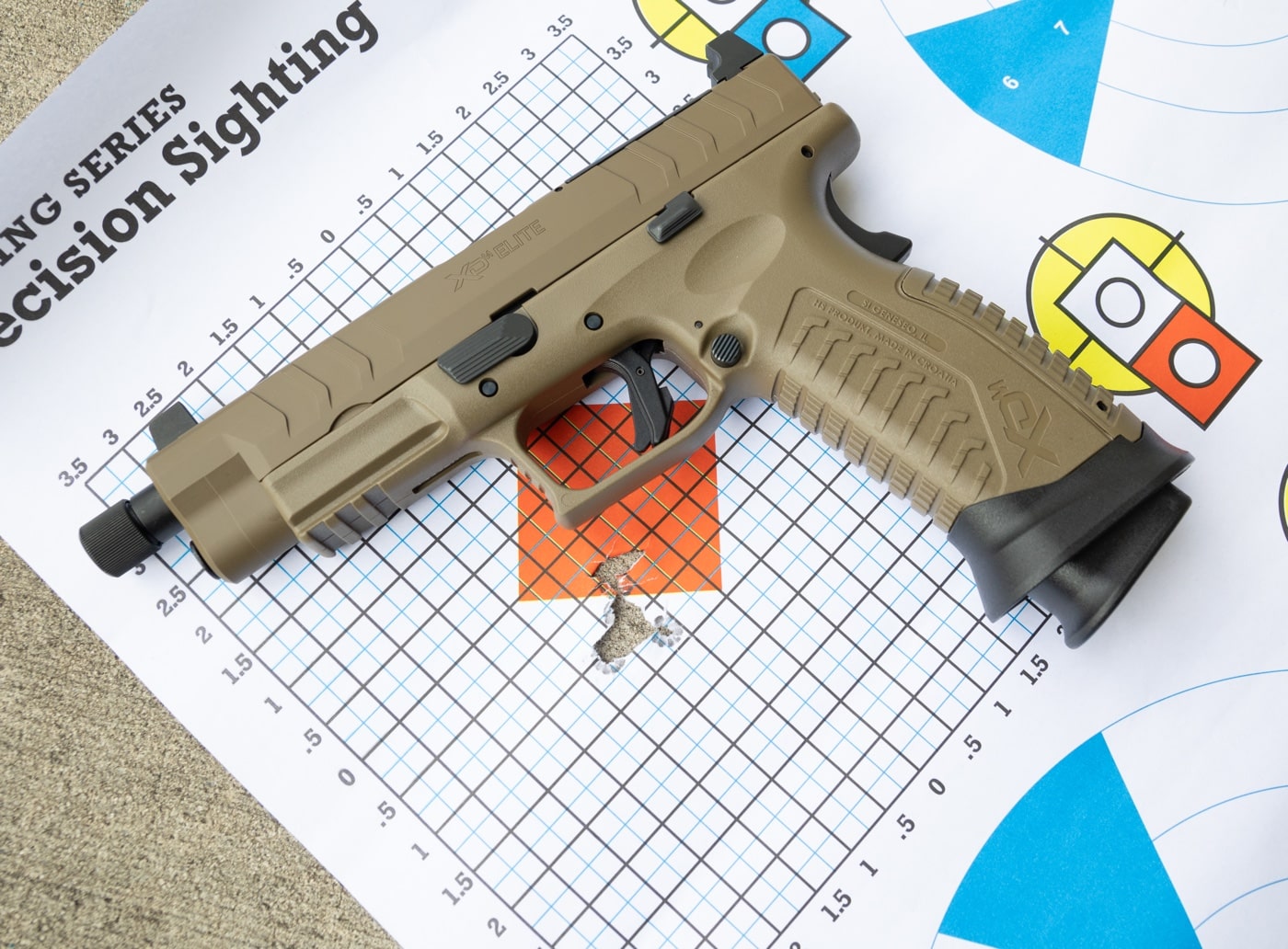 During my range time, I shot a bit more than 400 rounds through the pistol without a single problem. I find that this level of reliability is typical for the XD-M Elite line. I own a 10mm version of the gun and have shot many of the others in the current catalog. All work well. In fact, a few years back The Armory Life contributor Clay Martin powered through 10,000 rounds of 10mm Federal Hydra-Shok in a torture test of the XD-M. He had no problems, either.
Simply put, these guns are reliable. Always test a gun on the range before relying on it, but once you've confirmed it runs right, I suspect you will be in for a lifetime of uneventful service with one of these.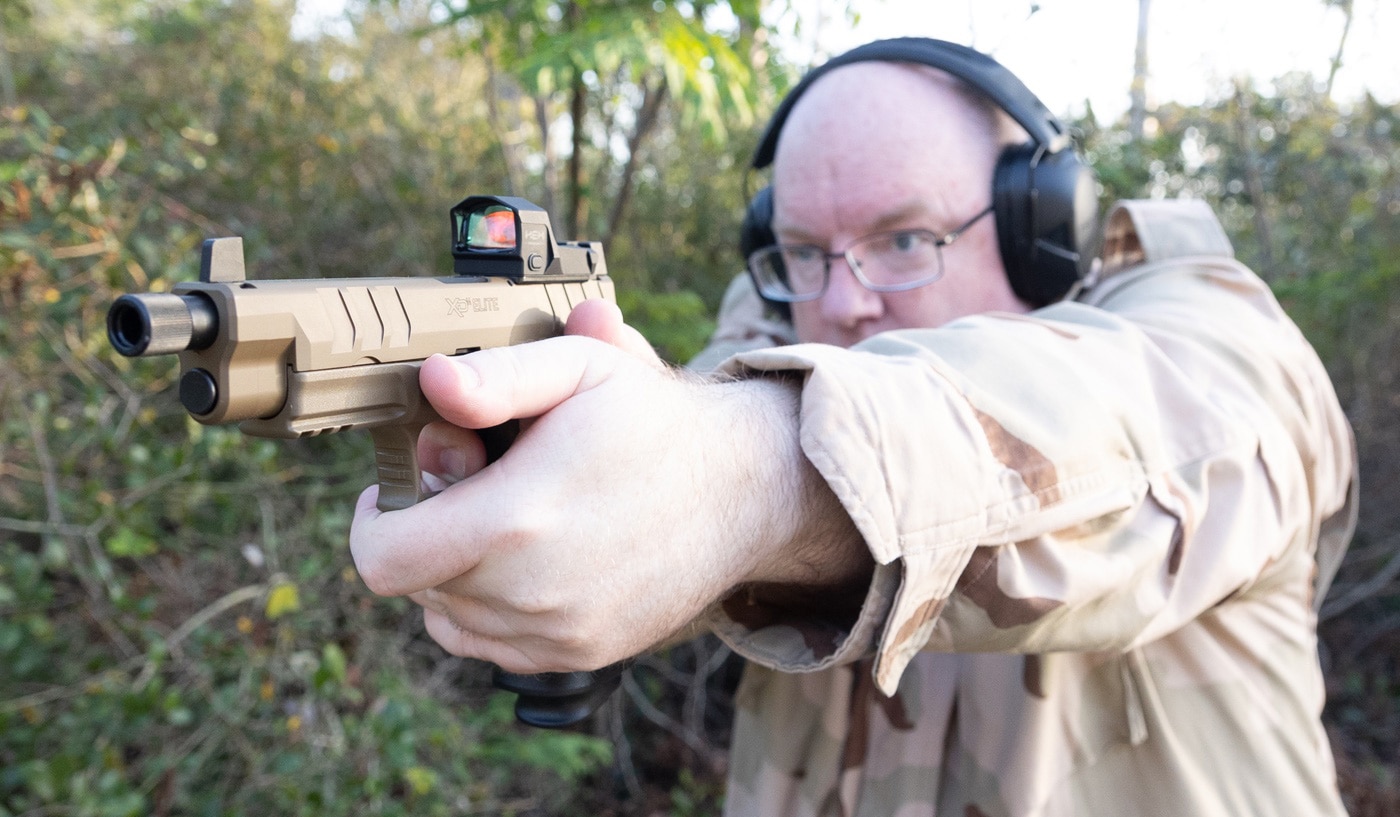 In my testing, I ran FMJ from Blazer and defensive hollowpoints from both Federal and Speer. In addition to running well, it also shot quite well. I was able to manage a tight 1.6" group at 15 yards with Federal HST 147-gr. jacketed hollowpoints.
Field Stripping and Cleaning the
XD-M

Elite Tactical OSP 

For anyone new to firearms, the field stripping and cleaning process may seem like a significant challenge. However, for most pistols the process is straightforward and quick to master. In fact, the XD-M Elite family is quite easy to take apart for cleaning. Reassembly is even easier. While no tools are required for disassembly, I recommend using a soft towel or purpose build gun cleaning mat for the process.
Be sure to unload the gun prior to starting any work. This includes removing the magazine, locking the slide open and physically checking to make sure no ammunition is in the chamber of the pistol. I also recommend removing all ammo from the work area to ensure no accidents happen.
Follow the disassembly directions in the user manual. Steve Horsman of Springfield Armory also made a field stripping and cleaning the XD-M video. It's a thorough video that new shooters can follow along as they clean their XD-M Elite. I highly recommend checking it out.
Springfield
XD-M

Elite 9mm Tactical OSP Verdict

This Springfield XD-M Elite 9mm is a great gun. It's packed with features that make it an excellent choice for self-defense, duty carry or competition. Based on my use and my background as a retired law enforcement officer, I can say it's 100% reliable, most likely durable enough for years of use and more than capable as a duty of defensive pistol. 
While suitable for defensive carry, it's obviously not ideal for concealed carry due to its size. However, in a duty-grade or tactical role, it can excel. The gun is equipped with features to make it ideal for suppressed use. A full-size frame holds 22-round magazines standard, and the OSP-cut slide allows for fitting a standard-sized red dot optic. These all make the pistol quite capable for home defense or tactical use.
And, I think the MSRP of $733 is a very fair price for a reliable pistol that is loaded with so many features. There is no upcharge for the Desert FDE version over standard black, so grab the color of your choice without financial penalty. I know I'll be buying this one! 
Editor's Note: Be sure to check out The Armory Life Forum, where you can comment about our daily articles, as well as just talk guns and gear. Click the "Go To Forum Thread" link below to jump in!
Join the Discussion
Featured in this article
9mm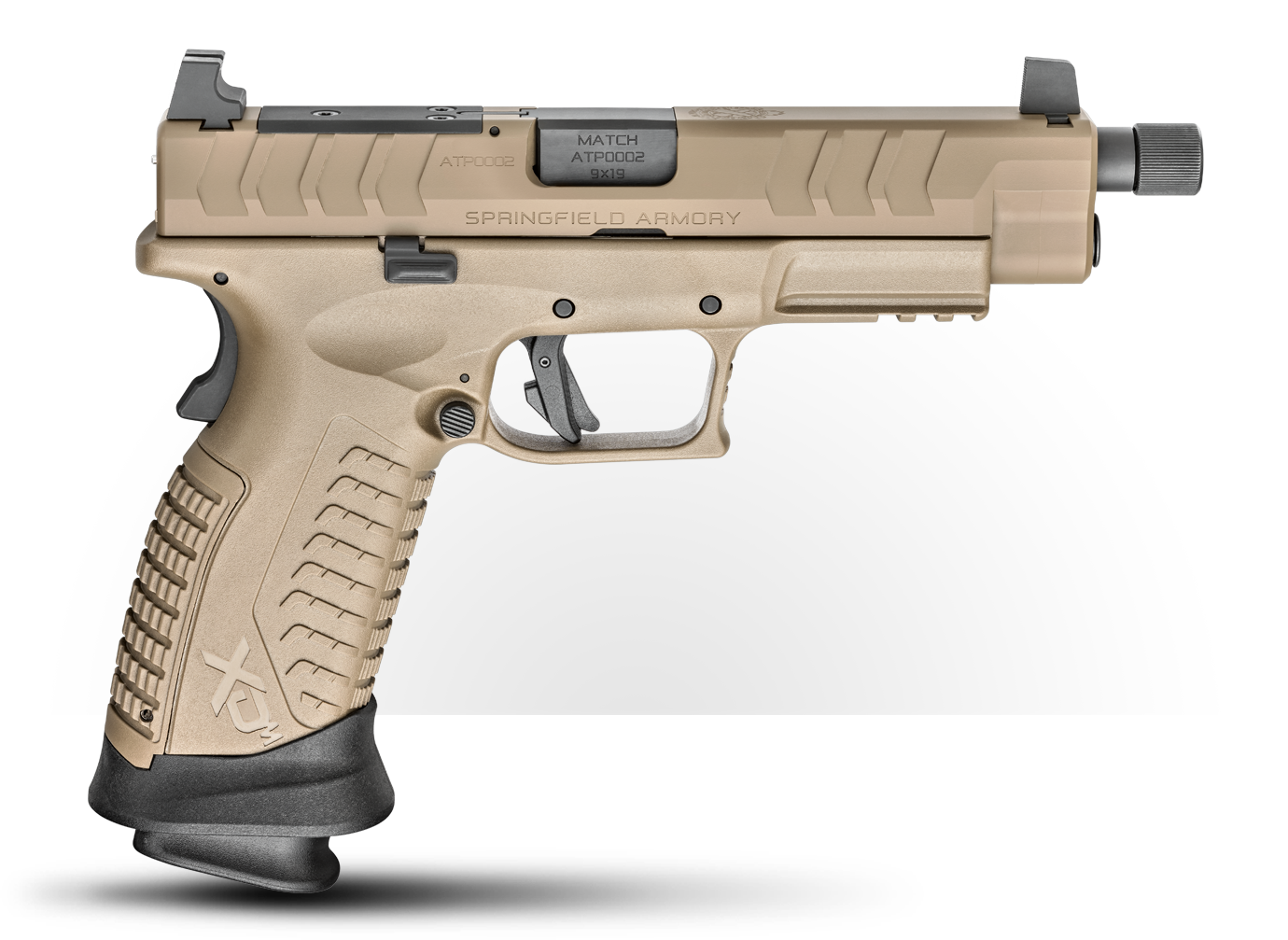 XD-M®
Elite 4.5″ OSP™ Threaded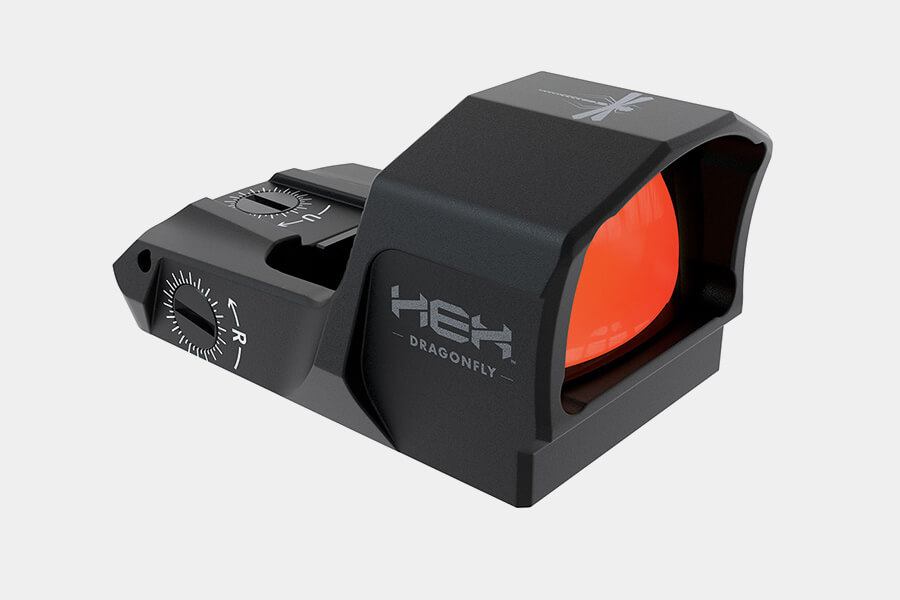 HEX
Dragonfly
Read the full article here