The author takes a look at Smith & Wesson's X-Frame revolver line, including the new .350 Legend model.
Twenty years ago, Smith & Wesson regained its place as the proprietor of the most powerful commercial revolver cartridge on earth. I say regained to note that Dirty Harry's famous words detailing the .44 Magnum as the most powerful had been overshadowed by the .454 Casull in the Freedom Arms Model 83 single-action revolver a few years after Mr. Callahan's classic line. Stating the .500 S&W cartridge is powerful is akin to mentioning King Kong was just an ape.
In a revolver, the .500 S&W is an awesome handful of force capable of pushing 500-grain bullets well over 1,400 fps. This mention of bullet weight and velocity is merely one example of the cartridge's strength: There are several factory offerings of lighter bullets at even higher velocities. I currently have a half-dozen different loads from Buffalo Bore Ammunition (375 to 500 grains) sitting on my shelf, each capable of cleanly dispatching the toughest of the tough, and Hornady's good 300-grain FTX load is no cream puff.
Smith & Wesson's engineers and gunsmiths developed a new, larger revolver frame to harness all of this pressure, velocity and recoil in a wheelgun. Following the company's tradition of categorizing their revolver frames with letters (small to large), like J-, K-, L- and N-frames, the behemoth engineered to house the 1.625-inch case of the .500 S&W cartridge was christened the "X-frame."
.460 S&W And The Model 460
A couple years after the .500 S&W saw light, S&W teamed up with Hornady to add the smoking .460 S&W cartridge to the X-frame line. The .460 became the fastest production revolver cartridge, pushing a 200-grain bullet to 2,200 fps. This powerhouse, contrived of lengthening the .454 Casull case to 1.8 inches, opened the distance door to handgun hunters looking to extend their horizons with a powerful revolver.
A buddy of mine bought one of the .460 revolvers right after they came out, and we couldn't wait to try it. We were surprised to find the recoil of the super-fast cartridge in the big X-frame, with its muzzle brake and 8.38-inch barrel, was quite manageable. I have a photo of my wife from that time period shooting the big revolver with a two-handed hold while she casually busted small boulders. I won a turkey at the annual turkey shoot in Sanderson, Texas, one year shooting the .460 for a round of Border Patrol Polo.
For those unfamiliar with it, BP Polo entails each contestant being assigned an empty tin can at a distance, say 20 yards. You get six shots at your can, and the shooter whose can travels farthest wins the bird. Placing a .45-caliber slug at a blistering 1,500 mph at the base of the can will send it flying, I can assure you. There was no worry of ricochets at this particular range, as it sits at the base of a huge limestone bluff.
Multiple Variations Of The Big X
At the appropriate distance, with the correct bullet, there's nothing that cannot be taken with the .500 S&W and .460 S&W. These are hard-hitting, powerful rounds. The full-sized hunting configurations of these revolvers add a bit of a challenge to carrying them in the field.
Sitting in a blind or a brush pile at the edge of a clearing is one thing … spot-and-stalk hunting, hiking through rugged mountains, sliding down steep-sided arroyos or maybe even standing knee deep in a stream teaming with salmon in the land of the great bears is altogether different. Whatever the handgun necessity of the day is, S&W has tailored the X-frames to fit your various needs.
Along with standard models, Smith & Wesson also offer Performance Center Models. Their handy, 3.5-inch barreled 460XVR, and the similar 500 HI VIZ, are good-looking five-shooters that weigh 58.8 and 56.8 ounces in easier-to-carry sizes compared to their full-grown siblings, which range from 71 to 99.1 ounces in weight. That's 4.4 to 6 pounds of wheelgun for the big boys.
I see these short guns as perfect for the outdoorsman wanting a super powerful double-action revolver in an easy-to-carry configuration. The same goes for the 4-inch gun. For those who don't bat an eye at packing the biggest of the big into the woods—some so large they have sling swivels—they have you covered as well. With additional barrel lengths ranging from 7.5 to 14 inches, and added features like optic rails, muzzle brakes, various barrel contours and heck, you can even mount a bipod on one of them—options abound for the discerning shooter.
The 350 Legend And The 350
In 2019, S&W brought out their Model 350 in the new 350 Legend, aimed specifically at the deer hunting market in straight-walled-only cartridge country. The cartridge is compiled of a 1.71-inch rimless case, launching .357-caliber bullets generally weighing from 124 to 180 grains around 2,000 fps, give or take. Phil Massaro expertly likens the .350 Legend to the proven .35 Remington for a ballpark cartridge comparison.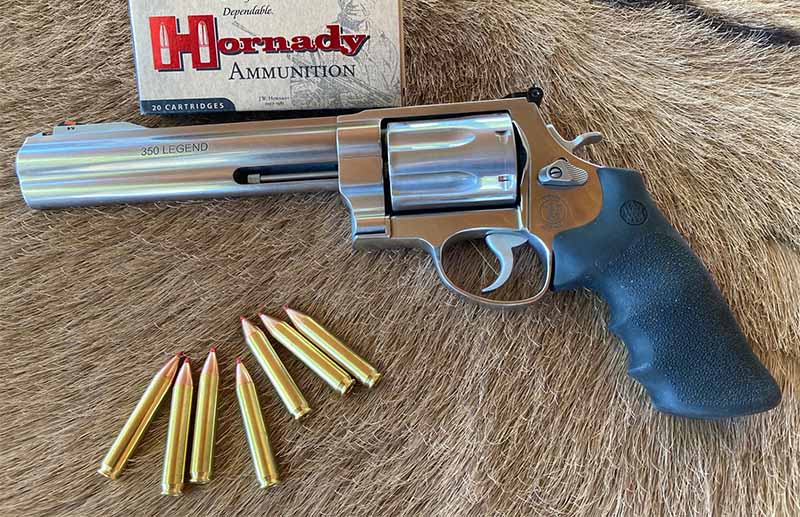 Unlike the big-bore clan of the X-frames that chamber five cartridges, the 350 has room to chamber seven in the beefy cylinder. For this rimless case, you either clip it or pick it, meaning you load your rounds via the moon clips provided with the gun … or pick them out of the chambers after firing, as there's no rim for extraction. The moon clips are easy enough to load, and I found giving the case a slight turn when pressing the cartridge into the clip enabled pretty simple loading.
Removing the empties from the moon clip can be a bit of a pain. I used a pocket screwdriver to flip the empties out from the "rim" side. On the topic of a small screwdriver, it'd be wise to keep something similar, or maybe a dowel rod, handy in case you need to tap out a case when not using a moon clip. I didn't experience a case sticking in a chamber, but it could happen.
Gun Specs
No two ways about it: This is a big revolver. It weighs in at 71.5 ounces, is 1.92 inches wide, 6.37 inches tall and has a 7.5-inch barrel. Fit and finish of this stainless-steel revolver are excellent, and the single-action trigger breaks crisp at just over 4 pounds. Plus, the double-action pull is very smooth. The front sight is a red ramp, and the rear adjustable has a white outline. The long barrel on this hefty handgun lends itself to being well balanced for handling and off-hand shooting.
Sending 'Em Downrange
Recoil is marginal in the 350, and two of the three different loadings tested were plenty accurate. While waiting on Hornady test ammo to arrive, I picked up a couple boxes of ammo because I couldn't wait to shoot this revolver. Shooting from my Ransom Steady Rest at 25 yards, Winchester's "Target and Practice" 145-grain FMJ load clustered seven rounds into a 1.99-inch group.
This particular gun didn't care for Browning's 124-grain FMJ load, printing a cylinder full of them in a group the size of my hand. When Hornady's 165-grain FTX load recently came in, I returned to the range and fired seven rounds in a 2.3-inch group from a seated, tripod-supported rest.
The only problem I experienced firing this gun, and it's really more of a mention on my part, was occasional stinging of something hitting my face during firing. I assume it was from the port at the end of the barrel. Always wear protective glasses when shooting—an occasional sting to the cheek really drives that point home.
The big X-frames are hunting guns, plain and simple, and I tip my hat to the folks at S&W for remembering us handgun hunters—there are many. For hunters interested in taking up the sport of handgun hunting and are smitten with the big-framed Smith, the 350 is a good place to start. This model offers a heavy-duty double-action revolver platform in a cartridge that's flat-shooting and fully cable of taking medium-sized game.
This combo of the X-framed 350 Legend would be great for deer, pronghorn, feral hogs and maybe even an aoudad ram at the proper range. The axis stags are in roar this time of year (May) in the Texas Hill Country, and this revolver and round would be a good candidate to slip up on one of those big, beautiful spotted deer. They not only make a great trophy, but axis meat is delicious as well.
It's easy for me to say that the 350 Legend will do most any reasonable job it's asked, and it's plenty accurate. I still prefer my revolvers with open sights, but I'm certain one could tighten groups and increase some distance with a good scope or red-dot, if so inclined.
Truthfully, I'm not a group shooter. I think they're fine for choosing a load, showing what a particular brand or load of ammunition will do. But for all practical purposes, an appropriately powerful load with the proper bullet that will hit nearest the intended mark on the first shot is what I'm looking for. If an open-sight revolver will produce consistent fist-sized groups at 25 yards and will more often than not keep a cylinder full of ammo in a normal-sized paper plate or, better yet, a dessert plate at 50 long steps from field positions, I'm ready to go hunting.
Most guns today with good ammo will group well enough for this prerequisite. The bigger requirement lies with the shooter. We have to practice, both dry and live fire, to ensure we don't let our handgun or, most importantly, the game animal down with poor shooting on our part.
Having said all this, the S&W 350 and Hornady's 165-grain FTX load are ready for the field.
Editor's Note: This article originally appeared in the August 2023 issue of Gun Digest the Magazine.
---
More On Hunting Revolvers
Read the full article here