If you have been reading or hearing "LPVO" recently, you are not alone. This term is becoming quick commonplace in the shooting realm. But, you might not know what it is, and whether or not you need one.
LPVOs, or low-power variable optics, offer a combination of speed and downrange accuracy for your rifle. In my opinion, they just might be the ideal optic for an AR or similar rifle if you need it to perform equally well in both short- and long-range situations. Many people feel they are also ideal for competition and defense scenarios.
What Is an LPVO Scope?
Also known as a low power variable optic, an LPVO is any riflescope with a modest magnification range. Typically starting at a true 1x (no magnification) the scope magnification increases to a highest magnification of 4x to 10x. Most LPVOs offer a magnification range of 1-4x or 1-6x. While 8x and 10x scopes are becoming more common, many shooters prefer a maximum magnification setting of 6x or less.
Compared to hunting riflescopes and competition riflescopes with higher initial magnifications and increased high-power magnification ranges, an LPVO has a lower magnification power range. But remember, that's its strength.
A Do-All Variable Optic?
You could argue that the LPVO is a compromise since it has the qualities of a red dot reflex sight for close target acquisition and a magnified riflescope for longer shots when precision is needed. The LPVO is kind of a jack of all trades capable of close-up, fast-action shooting, but is also well-suited for mid-range distances like out to 400 or 500 yards. Many people consider them ideal for carbines.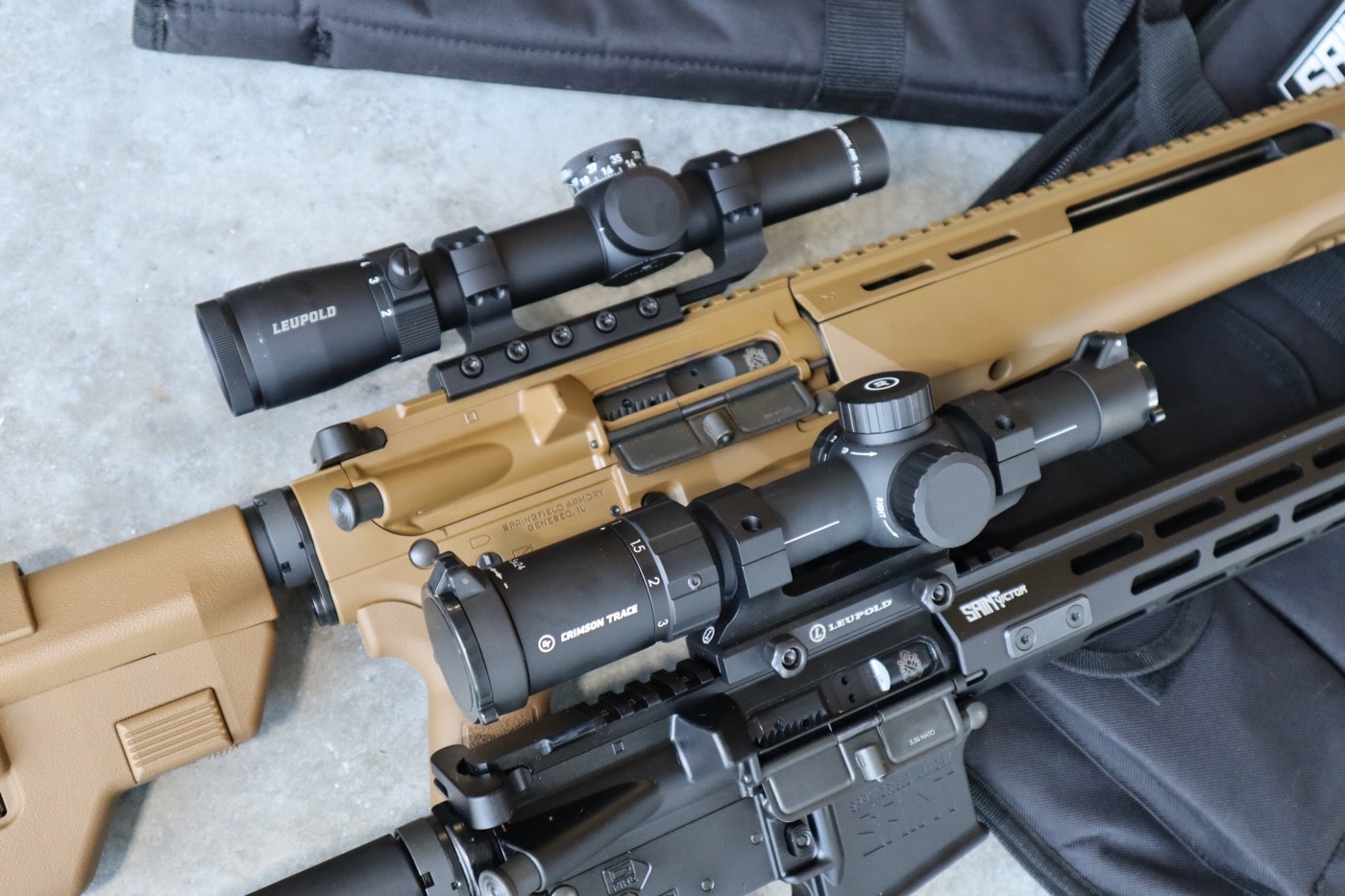 Compared to a traditional scope, a red dot is better at close quarters, quick shots. It's quick to acquire the target and fast with follow-up shots. A red dot sight becomes a liability when the target is farther away as it loses precision. When a precise shot needs to be made, a magnified riflescope is in its element.
A low-powered variable optic can do the job of both a red dot sight and that of a magnified optic.
LPVOs Better Than a Red Dot?
Some of you might be wondering, is the LPVO is better than a red dot sight? I'll share my thoughts. The red dots and holographic sights will often have the edge when it comes to super-fast, close-quarters situations. They are fast on target, and if you shoot with both eyes open, you don't get that tunnel vision effect you can have with a riflescope. So, it is easier to scan your field of view.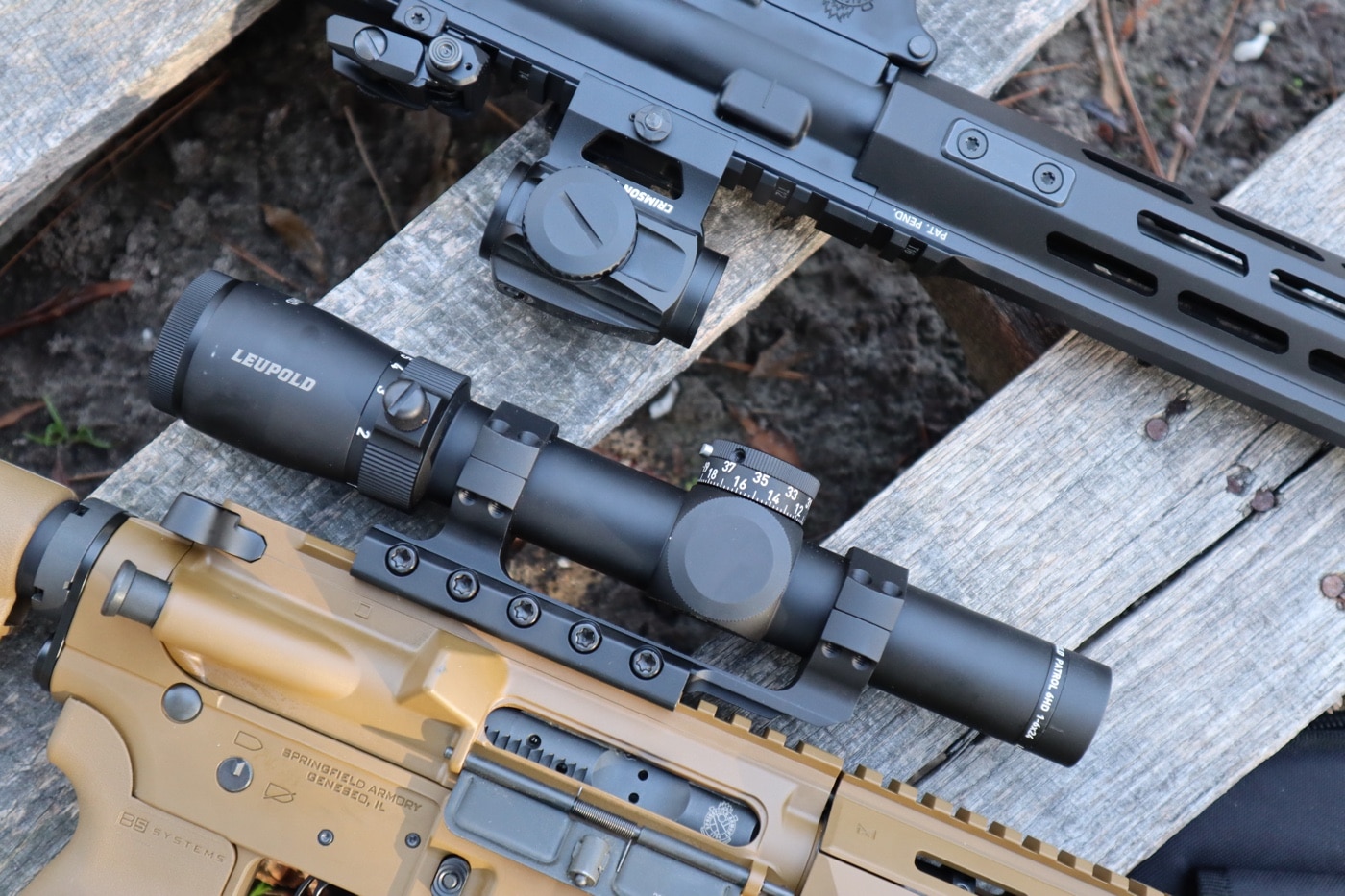 An LPVO at 1X power can certainly compete in these same situations as a red dot with similar success. Learn to aim with a riflescope with both eyes open to be more aware of your surroundings.
Red dot reflex sights do have an edge in size and weight. Generally, they have a smaller footprint and weigh less than a riflescope. They also have unlimited eye relief, which is why they can be faster on target than a traditional scope. Many reflex sights also feature multiple reticle options that the user can scroll through. With a riflescope, you are stuck with one reticle. Red dots are less expensive compared to a riflescope and that fact may play into your equation for the optimal carbine optic.
A downside to most red dot-style optics is that they need a battery. No power, no reticle. A set of BUIS (back up iron sights) is a must if you go the red dot sight route. BUIS can keep you in the game instead of a red CR2032 sidelining you.
The lack of magnification can also make them a liability for longer range. I have regularly used a Crimson Trace CTS-1000 with a 2 MOA dot reticle. For close work, it's a dragon, but its slaying power diminishes as the distance to target increases. If the target is small, the 2 MOA dot can obscure the target.
I've had the opportunity to work with some top-shelf red dots/reflex sights like EOTech, Aimpoint, Trijicon, Meprolight and others. I don't feel at a disadvantage except when there are a few football fields of distance between me and the target. 
LVPOs are larger and heavier and cost more for high-quality glass. The trade-off for the increased size includes magnification and reticles that work with or without a battery. They also work better in low-light conditions because the objective lens is usually larger than a red dot optic. Yet, an LPVO can still match a red dot for close-range work.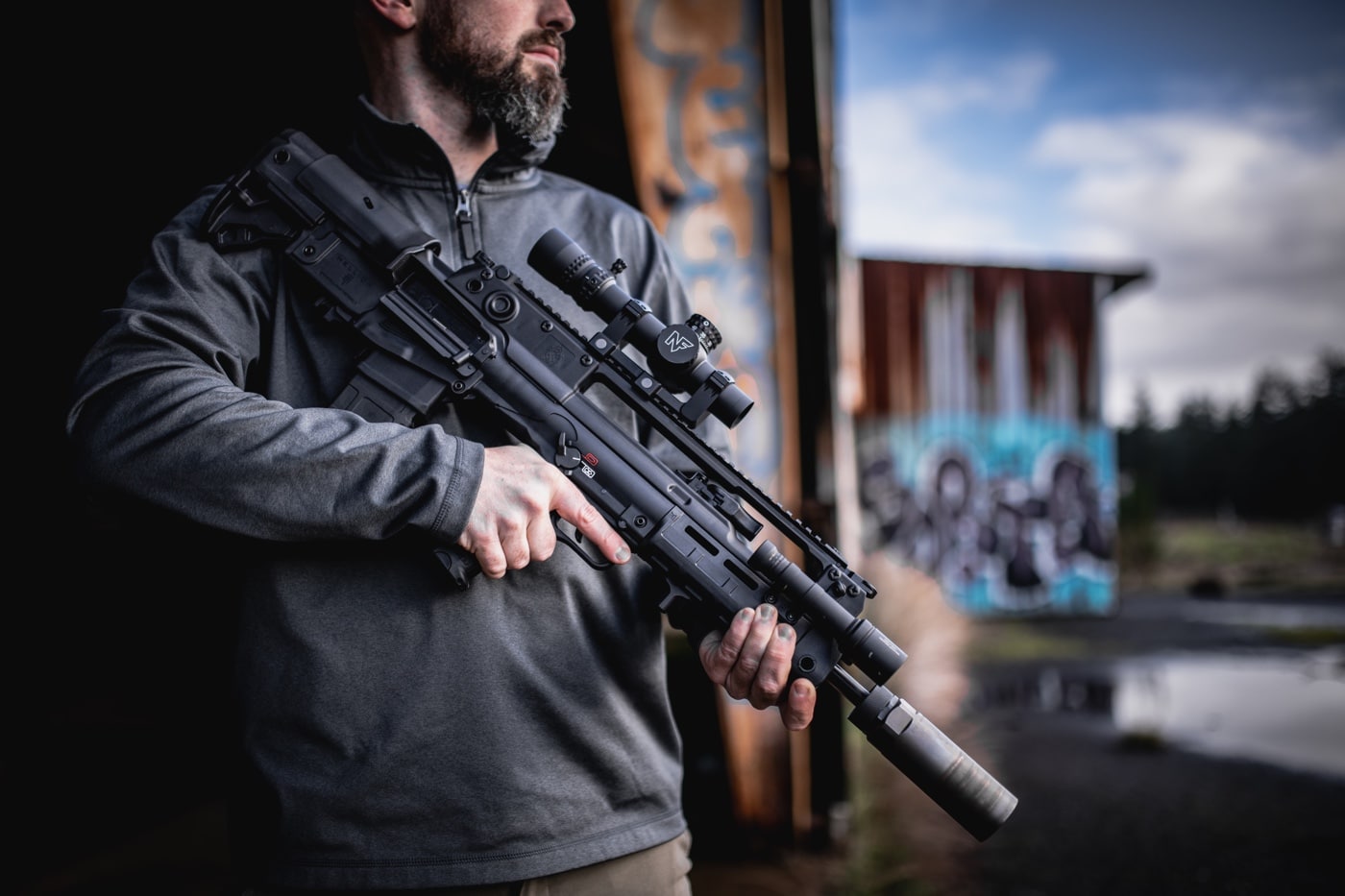 LVPO scopes I've used include models from Steiner, Leupold, Bushnell and others. They all work; it all comes down to a matter of preference. Keep in mind that LPVOs come at a variety of price points. The best LPVO might be the one that meets your needs (such as home defense) but sticks within a reasonable budget. Companies like Vortex and Primary Arms are making high-quality LPVO models that won't cost a ton of money. 
3-Gunner's Choice
I've hunted whitetail deer in thick woods with a Leupold Patrol series scope for years on my AR15 rifle chambered for the 6.8 SPC cartridge. It works fantastically well when the deer is anywhere from 25 to 100 yards away.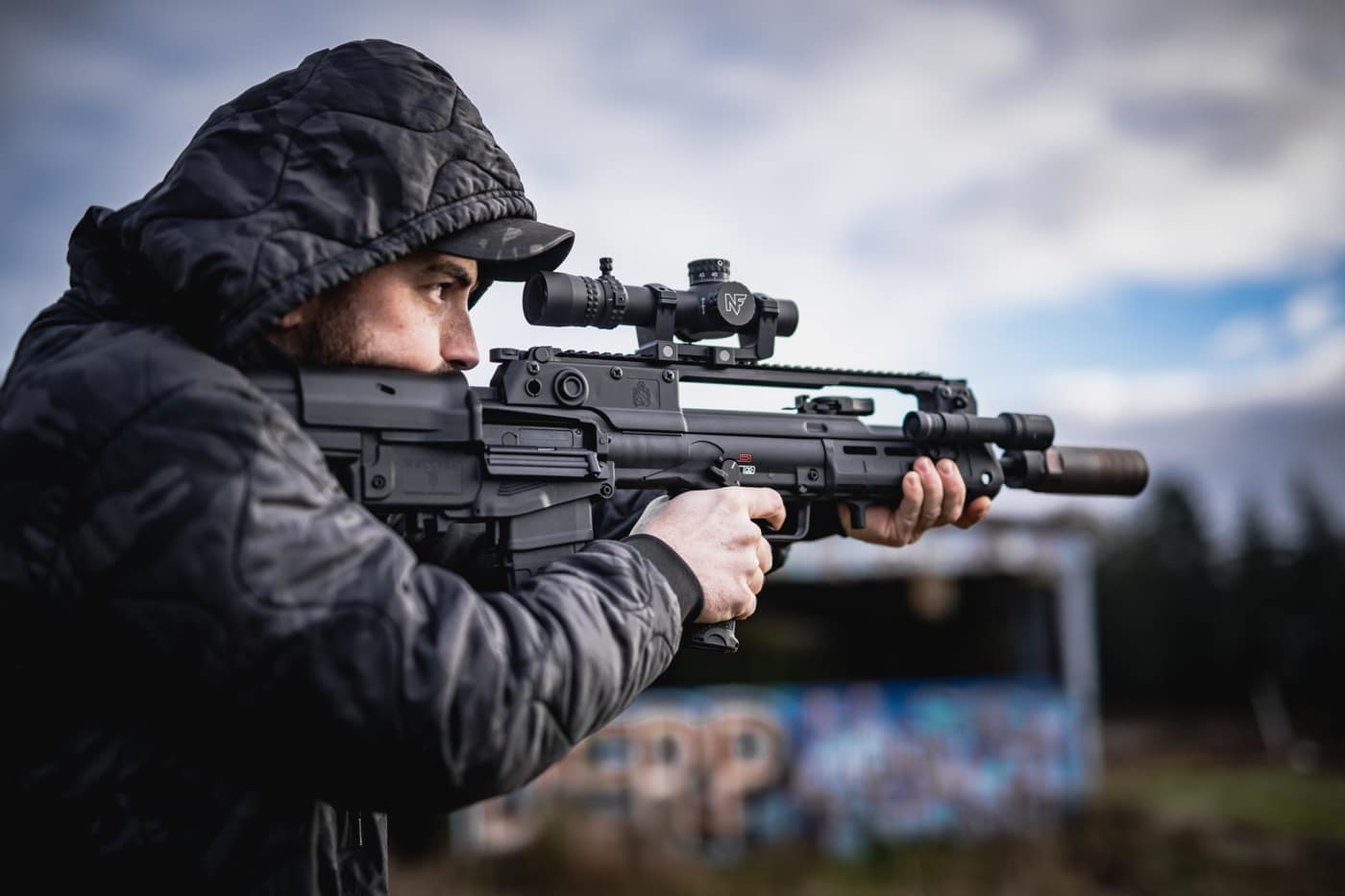 To be honest, I've killed a fair number of pigs and deer using a red dot. I just prefer the versatility of a low-power riflescope.
Competition shooting is a good gauge of how well your shooting gear works. Look at 3-Gun competitions and you'll see LPVO are very popular because they perform like a red dot and have magnification. That balance means better performance. Many 3-Gunners install a throw lever on the magnification ring so going from 1X for close range to 6X for 200 yards is fast.
There is some debate in the shooting community regarding the preference for first focal plane or second focal plane design for LPVOs. While some like the optical characteristics of FFP better, others say you are adding weight and reducing the size of your eyebox without gaining much. 
Which One Is the Best?
Both the red dot and LPVO have earned a place on AR rifles and other carbines. Many people prefer a red dot sight — some solo, while others like to have a magnifier complementing the optic. In my case, however, I like the versatility of a low-power variable optic. It provides very fast close shots with substantially improved long-range accuracy.
Also keep in mind that while many people are looking for a LPVO for an AR-style rifle, the same scopes work very well on lever action carbines and bullpup-style rifles. 
Editor's Note: Please be sure to check out The Armory Life Forum, where you can comment about our daily articles, as well as just talk guns and gear. Click the "Go To Forum Thread" link below to jump in!
Join the Discussion
Featured in this article

SAINT®
Series
556NATO

Hellion™
Series
Read the full article here