Prepping & Survival
Sonic Boom Over DC As NORAD Scrambles F-16s To Intercept "Unresponsive" Private Jet That Crashed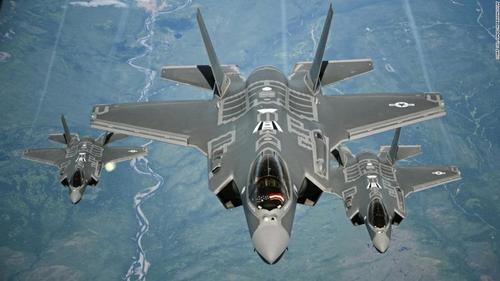 This article was originally published by Tyler Durden at ZeroHedge. 
On Sunday afternoon, NORAD scrambled two F-16 fighter jets to intercept an unresponsive private jet that breached highly restricted airspace in Washington, DC. The private jet crashed shortly afterward in mountainous terrain in Northern Virginia.
BREAKING: A small Cessna plane flew over a no fly zone in Washington, D.C. unresponsive this afternoon.

– F16's were then scrambled to intercept the unresponsive aircraft.

– The Annapolis Office of Emergency Management confirmed that a sonic boom was caused by the F16s.

— Brian Krassenstein (@krassenstein) June 4, 2023
"In coordination with the Federal Aviation Administration, NORAD F-16 fighter aircraft responded to an unresponsive Cessna 560 Citation V aircraft over Washington, D.C., and northern Virginia on June 4, 2023," a statement from NORAD's Continental U.S. Region said.
NORAD's fighter jets "were authorized to travel at supersonic speeds and a sonic boom may have been heard by residents of the region," according to the statement. Residents across the region were startled by the loud noises.
🚨#WATCH: As a dc resident captured the Sonic boom on a home security camera

📌#Washington | #DC

Earlier this evening, incredible video was captured on a home security camera showing a loud sonic boom which was caused by fighter jets that quickly took off to intercept an… pic.twitter.com/NYyRpcQPoy

— R A W S A L E R T S (@rawsalerts) June 4, 2023
"During this event, the NORAD aircraft also used flares — which may have been visible to the public — in an attempt to draw attention from the pilot," NORAD said.
"The pilot was unresponsive and the Cessna subsequently crashed near the George Washington National Forest, Virginia," it added.
#BREAKING Images you'll only see on @nbcwashington, a Cessna Citation business jet crashed into a Virginia mountain side, fighter jets scrambled from Joint Base Andrews could only watch as the incapacitated pilot descended from 30K feet #BreakingNews @TomLynch_ @charlienbc pic.twitter.com/A9XszAt66N

— ʙʀᴀᴅ ꜰʀᴇɪᴛᴀꜱ (@Chopper4Brad) June 5, 2023
ABC News reported four people were aboard the private jet that had initially taken off from Elizabethton, Tennessee, and was headed for Long Island MacArthur Airport in New York. However, when the private jet approached Long Island, it continued at an altitude of 34,000 and made a U-Turn towards DC.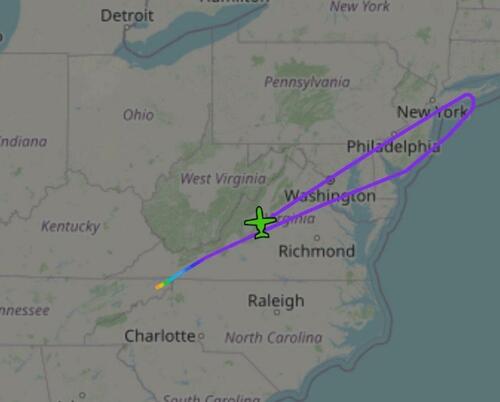 Axios received an emailed statement from Virginia State Police spokesperson Corinne Geller, saying, "No survivors were located" at the crash site near Montebello.
Flightradar24 spokesman Ian Petchenik told Bloomberg that the plane disappeared from its tracking system, plunging at about 20,000 feet per minute.
The question remains: What caused the private jet to crash?


Read the full article here