Prepping & Survival
Watch: US Navy Drone Boat Fires 'Kamikaze Drones' In Exercise Amid WW3 Threats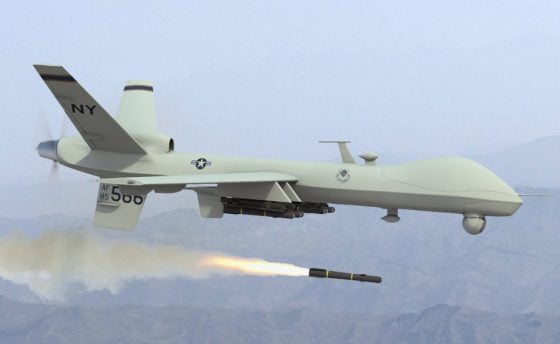 This article was originally published by Tyler Durden at ZeroHedge. 
The US Navy revealed it had recently conducted a live weapons firing exercise in the surrounding waters of the Arabian Peninsula using an unmanned vessel equipped to deploy loitering munitions – drones designed to self-destruct upon striking a target – which successfully eliminated a mock enemy target.
The exercise was called "Digital Talon" – and performed by the US Naval Forces Central Command (NAVCENT) on Oct. 22. It involved unmanned surface vehicles (USVs) and loitering munitions. The service said the exercise "constituted the first use of lethal munitions from USVs in the Middle East region."
A video released by the Navy shows NAVCENT's Task Force 59, the Navy's first Unmanned and Artificial Intelligence Task Force, firing loitering munitions, or "kamikaze drones," from the USV. The drones with a built-in munition (warhead) struck a simulated hostile forces target in the waters of the Arabian Peninsula.
U.S. Naval Forces Central Command (NAVCENT) is advancing lethality and the combat capabilities of unmanned surface vehicles during Exercise Digital Talon in international waters @US5thFleet, Oct. 23. During the exercise, NAVCENT's Task Force 59, the Navy's first Unmanned and… pic.twitter.com/N9jkv4vpeM

— U.S. Central Command (@CENTCOM) November 2, 2023
"We are focused on the operational application of new, cutting-edge unmanned systems and artificial intelligence technologies," Vice Adm. Brad Cooper, NAVCENT commander, wrote in a statement.
Cooper continued, "Last month, we integrated 12 different unmanned platforms with manned ships for 'manned-unmanned teaming' operations to conduct enhanced maritime security operations in the waters surrounding the Arabian Peninsula."
The exercise comes as the Navy enhances surveillance and security around the Strait of Hormuz, where at least 20% of the world's oil (nearly 17 million barrels a day) plus 18% of liquified natural gas transits daily.
Iran has shown hostility in the region against commercial and military vessels transiting the strait – also, tensions between Israel and Hamas risk sparking a broader conflict throughout the Middle East.


Read the full article here