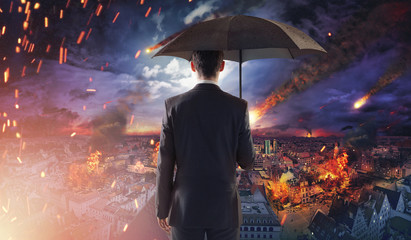 This article was originally published by Michael Snyder at The End of the American Dream. 
All over the United States, major cities are descending into a state of chaos.  Every day, more migrants come pouring through our wide open borders and arrive in our inner cities, and many of them end up joining gangs or selling drugs.  Meanwhile, more of our young people get hooked on drugs with each passing day.  In the worst areas, you can see hordes of them literally staggering around like zombies because they have been drugged out of their minds.  All of this addiction is fueling an unprecedented homelessness crisis.
In fact, the Wall Street Journal is reporting that homelessness in the United States is growing faster this year than ever before.  In this sort of environment, it should be no surprise that violent crime is absolutely exploding all over the nation.  If you choose to wander the streets of America's hellish inner cities, you are literally taking your life into your hands, because a violent predator could literally be around the next corner.  Unfortunately, we are still only in the very early stages of this crisis.  It will inevitably get even worse in the months ahead as economic conditions deteriorate even more.
Despite the increase in the urban population, urban areas, defined as densely developed residential, commercial, and other nonresidential areas, now account for 80.0% of the U.S. population, down from 80.7% in 2010.
So what is happening to our inner cities directly affects most of us.
Even if you don't live in a very densely populated area, there is a good chance that you work in one.
Many years ago, I actually worked right in the heart of Washington D.C., and even though I had a few close calls I generally felt safe.
But now everything has changed.
Crime is rising so fast in our capital city that even members of Congress are giving people advice on how to "minimize the risk of being victimized"…
House Administration Committee Chairman Bryan Steil, (R-Wis.) on Monday warned would-be visitors to Washington, D.C. of rising crime in the nation's capital and advised people how to respond to criminal acts and to minimize the risk of being victimized by violence like carjackings.

The District of Columbia is currently struggling to contend with increased criminal activity that has many questioning the safety of living in the city at all. Compared to this point in 2022, data from the D.C. Metropolitan Police shows that homicides are up 28% and on pace to reach their highest levels in more than 20 years. Robberies, meanwhile, are up 67%. Residents have testified to increasingly driving for short distances due to fear of going outside.
This is how bad things have gotten.
We can't even maintain law and order around our most important government institutions.
At this point, the violence has escalated to such levels that even the Mexican consulate is warning about "a significant increase in crime in areas previously considered safe"…
Amid the crime wave, the Mexican consulate in Washington, D.C., has warned its citizens that "The city of Washington, D.C. is experiencing a significant increase in crime in areas previously considered safe. Take precautions. In an emergency, call 911."
When one of the most crime-ridden nations in modern history feels compelled to issue a warning about violence in your city, you know that you have a problem.
On the west coast, homeless encampments are sprouting like mushrooms.
Earlier today, I learned that one has even popped up right in the middle of Beverly Hills…
The homeless population has been growing out of control in California, and it was only a matter of time until the epidemic began spilling into the wealthier areas of the state.

Well, it appears that day has finally arrived, as a homeless encampment has emerged in swanky Beverly Hills. Adding to the irony, the homeless tents are located right in front of The Altman Brothers' office, which is featured on the popular show "Million Dollar Listing" on Bravo.
Needless to say, the wealthy people who live in the area are not pleased about this one bit…
How would you feel if a bunch of homeless people decided to camp out on your front lawn?
I am sure that you would not be thrilled either.
But many of these people desperately need help.  Housing is now more unaffordable in the U.S. than it has ever been before, and this is creating a tremendous amount of hardship.
A lot of those who are homeless would love to have homes of their own if they could afford them.
Of course, it is true that there are a lot of addicts among the homeless too.
And when it is time to go to the bathroom, many of them will go wherever they decide it is convenient.
In Denver, one businessman has had enough.
He took some human feces that had been deposited in front of his business and he dumped it on the steps of the Denver City and County Building…
While Mayor Mike Johnston says addressing homelessness is his number one priority, a Denver businessman says he's had it with the homeless going number two wherever they want. In what he calls an act of civil disobedience, Jon Caldara dumped human poop that he found outside his business on the steps of the Denver City and County Building on Monday.
Video of Caldara's "protest" has now been seen by thousands of users on Twitter.
This is genius!!

A Denver businessman, Jon Caldera says he's had it with the homeless going number two around his business. In what he calls an act of civil disobedience he dumped human poop that he found outside his business on the steps of the Denver City and County Building… pic.twitter.com/tn1kSCQeVj

— I Meme Therefore I Am 🇺🇸 (@ImMeme0) September 26, 2023
In addition to human feces, Caldara says that he also has to clean up "vomit and urine and syringes and used condoms" on a regular basis…
He says at least twice a week security cameras catch a homeless person defecating outside his business or worse.

"We have to clean up vomit and urine and syringes and used condoms and feces. We didn't cause the homeless problem in Denver but we have clean up after it," Caldara said.
I can definitely understand why he is so upset.
I am sure that you wouldn't want to deal with such nonsense either.
But this is our country now.
It has become a very filthy place, and it has also become a very violent place.
Over the last 24 hours, video of a particularly violent assault in the Bucktown section of Chicago has made headlines all over the globe…
A horrifying video has emerged showing the moment that an innocent man is jumped by two opportunistic muggers on a Chicago street in broad daylight in the latest disturbing crime to occur in the Democratic-led Windy City.

The incident occurred on Monday in the Bucktown section of the city.
The man who was brutally assaulted was just minding his own business.
That was his first mistake.
If you are going to live in a core urban area in America today, you have to constantly be mindful of your surroundings.
He should have never been walking down those streets by himself, and when he heard someone rapidly running up behind him he should have known that trouble was coming.
Never relax in Chicago. pic.twitter.com/hQEUFpWW6C

— Ian Miles Cheong (@stillgray) September 26, 2023
According to the Chicago Police Department, robberies in that particular area of the city are up almost 100 percent since 2019…
'Disturbing as hell. Could be me. Violent crime is out of control in Chicago. Lawless, these people. Heartless and lawless. No consequences. This poor man was just minding his own business, and his life will never be the same after this kind of attack,' another commenter said.

Chicago Police Department statistics show that robberies are up nearly 100 percent from 2019 in the Bucktown neighborhood and up 53 percent from 2022.
Not too far from Chicago, you can find the ruins of the once-great city of Gary, Indiana.
YouTuber Peter Santenello recently dared to visit Gary, and he encountered residents that are "terrified to walk down the streets at night"…
He spoke to residents who described being terrified to walk down the streets at night out of fear of being robbed – or even shot – and showcased an array of decaying buildings and abandoned homes, raising the question of how the once-bustling city that was the home to over 200,000 people turned into a vessel of drugs, violence, and murder, which now has a population of a mere 69,000.
I admire his courage.
It takes guts to go into the heart of Gary all by yourself.
One local resident that he spoke to says that she has been robbed more times than she can count…
'In Gary, you gotta watch your back,' another resident warned. 'When you go into a store, you gotta watch your purse.

'They'll follow you around the store to see what you got. Pick pocketers, stuff like that. They stole from me I don't know how many times.'
But even in the midst of all the misery, you can still find remnants of Gary's glory days…
Sadly, countless other cities are going down the exact same path as Gary.
In 2023, stores and other businesses are being shut down in droves in crime-ridden communities all over the nation.
For example, Target just announced that they are shutting down nine more stores "because theft and organized retail crime are threatening the safety of our team and guests"…
Target said Tuesday that it will close nine stores in major cities across the country, citing violence, theft and organized retail crime.

The company will close one store in New York City's Harlem neighborhood, two locations in Seattle, three stores in the San Francisco-Oakland area and three more in Portland, Oregon. The discounter said it will shutter the stores for good on Oct. 21.

"We cannot continue operating these stores because theft and organized retail crime are threatening the safety of our team and guests, and contributing to unsustainable business performance," Target said in a news release.
Just a few years ago, it would have been unthinkable for a major retailer to come out and make a statement like that.
But now everybody can see that our country is coming apart at the seams all around us.
And thanks to Joe Biden and his minions, conditions are getting worse with each passing day.
They are allowing vast numbers of migrants to pour across our wide open borders, and many of them end up in our core urban areas.
In New York City, officials are planning to spend more than a billion dollars "on hotel rooms for immigrants for three more years"…
New York City is planning on spending a staggering extra $1billion on hotel rooms for immigrants for three more years.

The city's contract with the more than 100 hotels-turned-shelters, which was supposed to end this year, will now end in August 2026 and cost a total $1.365 billion – almost five times the original price tag of $237 million.

The new cost does not include other facilities turned into shelters such as the tent shelters set up in the McCarren Recreation Center in Queens or the Island Shores Assisted Living in Staten Island.
A billion dollars is a lot of money.
But it won't be nearly enough.
The Big Apple has already run out of room to put people, and more migrants are constantly showing up.
I would say that we are setting the stage for a societal meltdown of unprecedented size and scope, but the truth is that such a meltdown has already begun.
Decades of very foolish decisions are catching up with us in a major way, and the chaos that we are going to witness in our inner cities during the months and years ahead will shock the entire world.
Michael's new book entitled "End Times" is now available in paperback and for the Kindle on Amazon.com, and you can check out his new Substack newsletter right here.
About the Author: My name is Michael and my brand new book entitled "End Times" is now available on Amazon.com.  In addition to the new book I have written six other books that are available on Amazon.com including "7 Year Apocalypse", "Lost Prophecies Of The Future Of America", "The Beginning Of The End", and "Living A Life That Really Matters". (#CommissionsEarned)  When you purchase any of these books you help to support the work that I am doing, and one way that you can really help is by sending copies as gifts to family and friends.  Time is short, and I need help getting these warnings into the hands of as many people as possible.  I have also started a brand new Substack newsletter, and I encourage you to subscribe so that you won't miss any of the latest updates.  I have published thousands of articles on The Economic Collapse Blog, End Of The American Dream, and The Most Important News, and the articles that I publish on those sites are republished on dozens of other prominent websites all over the globe.  I always freely and happily allow others to republish my articles on their own websites, but I also ask that they include this "About the Author" section with each article.  The material contained in this article is for general information purposes only, and readers should consult licensed professionals before making any legal, business, financial, or health decisions.  I encourage you to follow me on social media on Facebook and Twitter, and anyway that you can share these articles with others is definitely a great help.  These are such troubled times, and people need hope.  John 3:16 tells us about the hope that God has given us through Jesus Christ: "For God so loved the world, that he gave his only begotten Son, that whosoever believeth in him should not perish, but have everlasting life."  If you have not already done so, I strongly urge you to invite Jesus Christ to be your Lord and Savior today.


Read the full article here