Tactical
10 Best Lever Action Rifles of 2023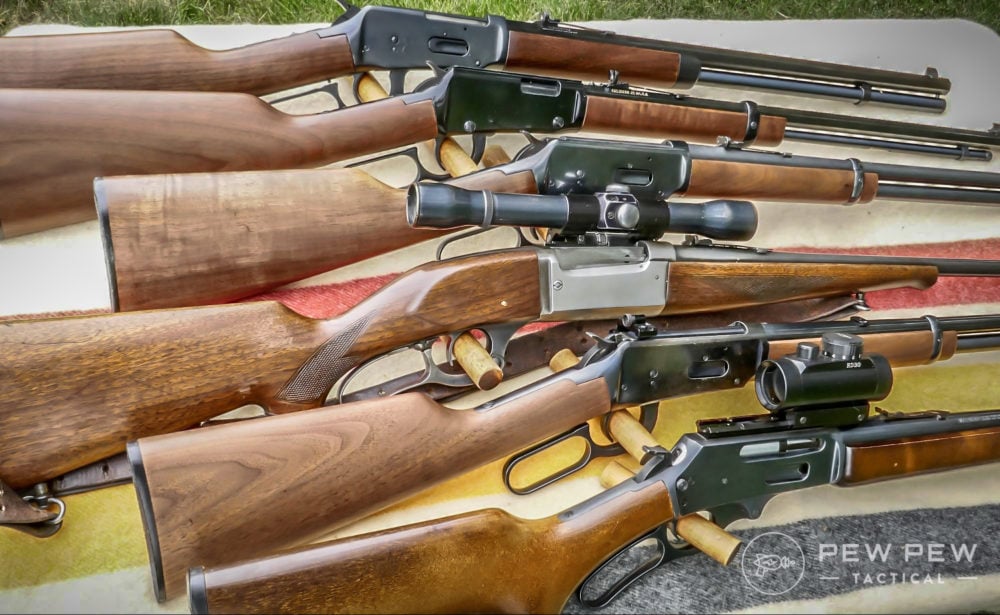 I grew up on Western films and series, so few things have been as iconic to me as single-action revolvers and lever-action rifles.
Let's be honest; who saw Young Guns or Tombstone and didn't want to run around cleaning up the bad guys with a badge and a rifle?
Today's uses for these classic rifles look very different, but the lever-action rifle is still a beloved firearm with many applications for gun owners.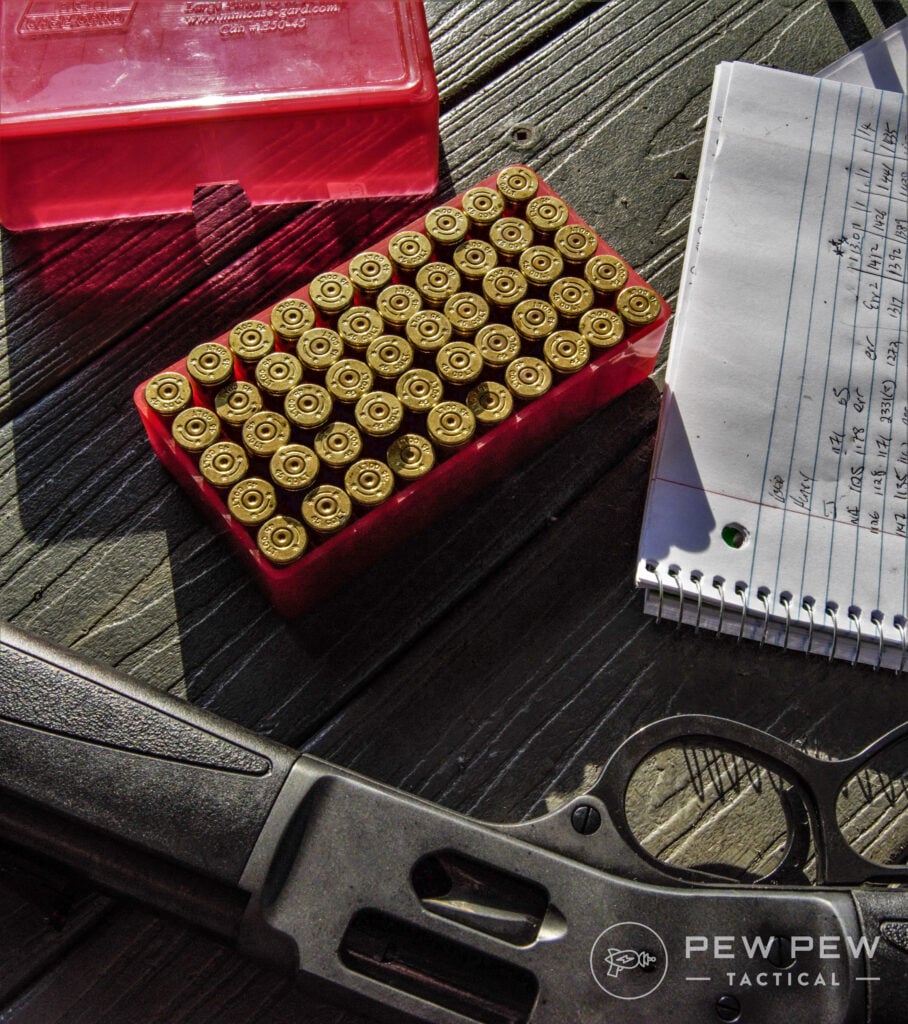 So, what makes lever-actions stand out amidst the sea of options in the firearms market?
Well, we're going to talk about that today. I'll run you through why these guns stood the test of time, and I'll even throw some options your way if you're in the market for one.
Summary of Our Top Picks
Table of Contents
Loading…
Why Lever-Actions?
With a ton of firearms on the table, why would anyone choose a lever-action?
For some, like myself, it's nostalgia.
Seeing and holding these guns brings back memories of childhood and the heroes of yesteryear.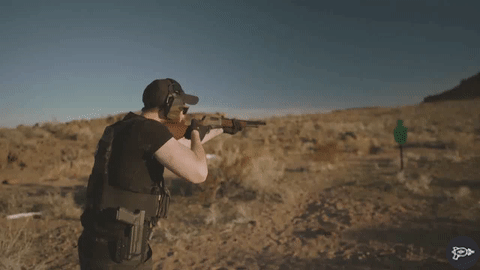 For others, these guns serve as a practical solution. Hunters find that lever-action rifles are an excellent choice for different landscapes and game types where speed matters.
There are also many collectors out there with lever-action showpieces, some rich with history, others unique in their aesthetics.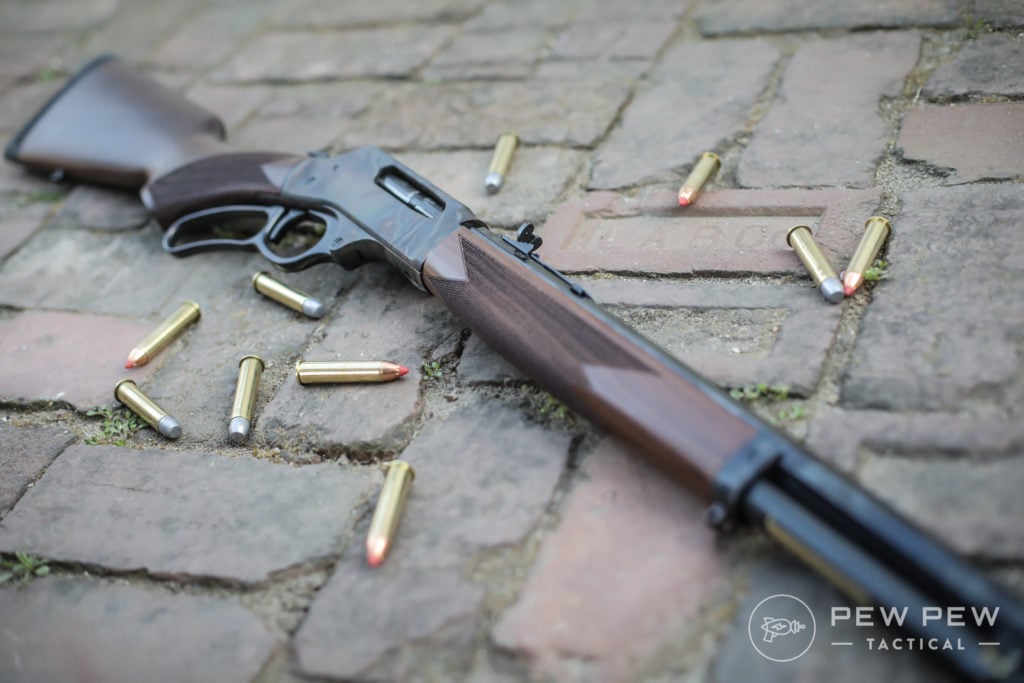 These have weathered the test of time and don't appear to be going anywhere soon.
The Big Three
Three big names dominate the lever-gun market, each with slight differences and a variety of options.
So, let's take a look at the companies that are renowned for lever-actions.
Henry Repeating Arms' rifles date back to 1860, when they established the first patent for a lever-action repeating rifle.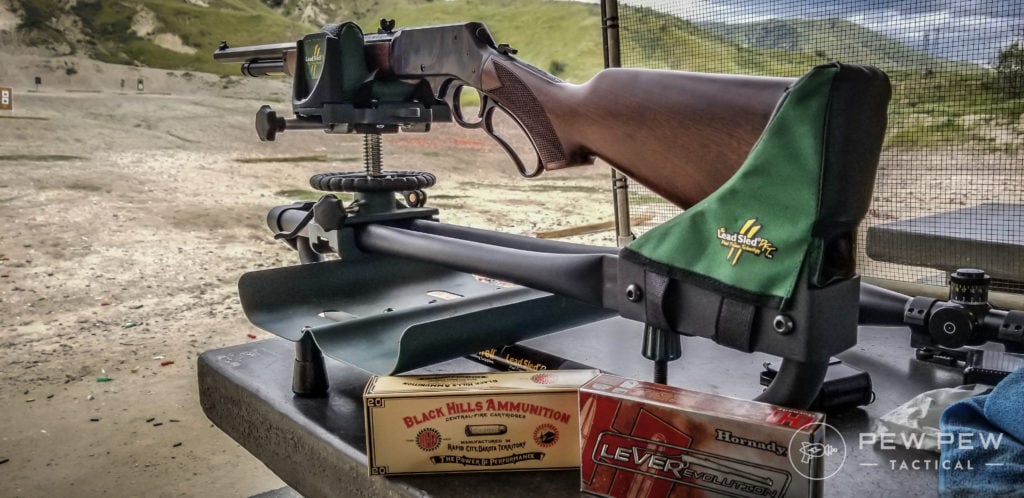 In 1996, Louis Imperato and his son bought the trademark to the Henry name and began producing rifles inspired by the original Henry rifle designs.
Today, their goal is to produce well-crafted, classic firearms that are affordable for all.
Every gun is "Made in America, or Not Made at All."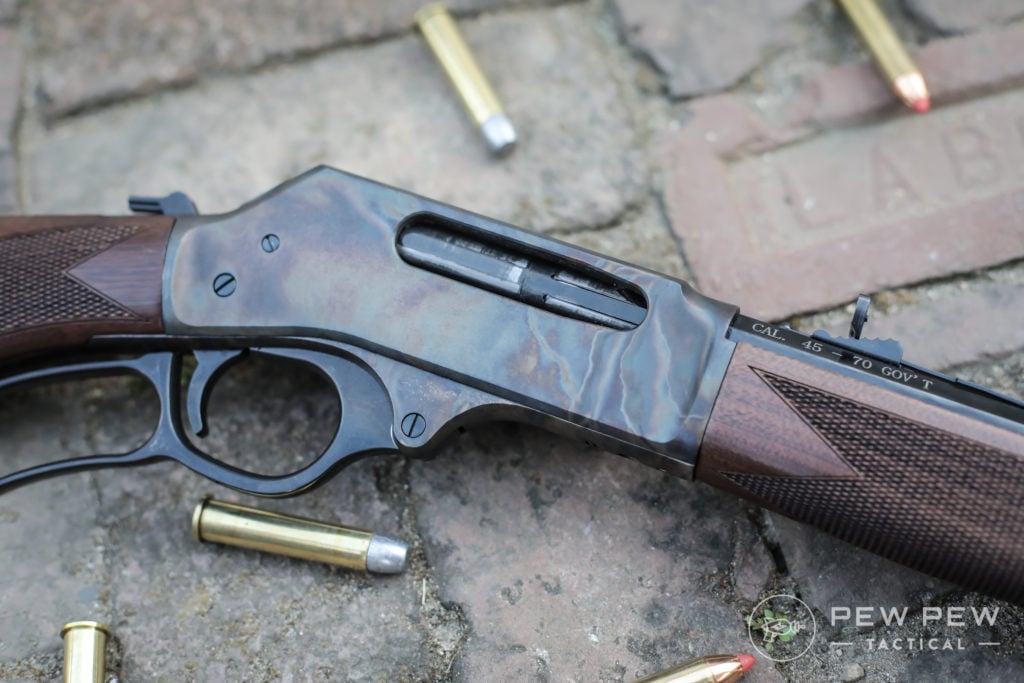 Henry rifles are high-quality, reliable guns that feature several different styles, options, and calibers to suit the needs of a broad base of customers.
On the other hand, Marlin Firearms has more than 150 years of continuous production. The company started in the late 1800s.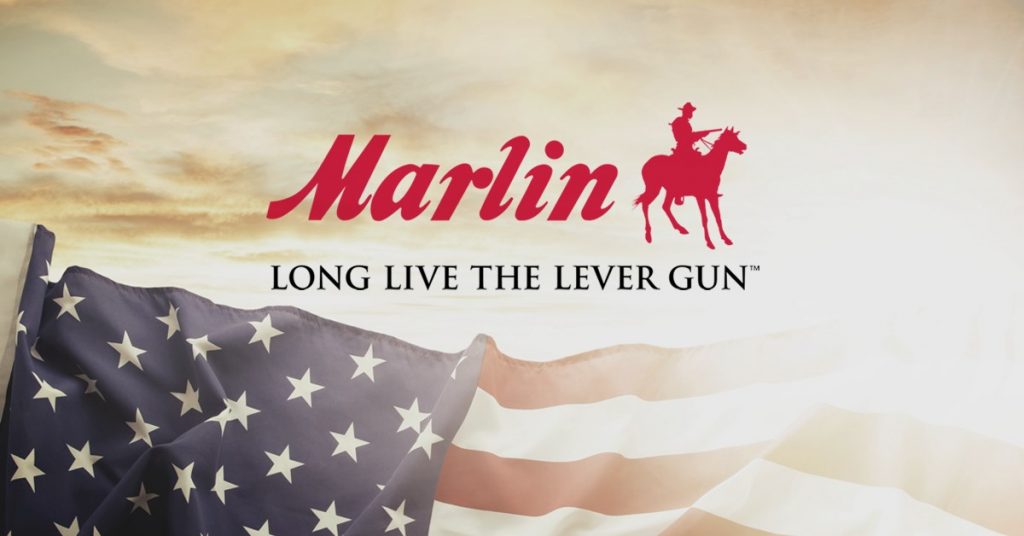 Though they have changed owners a couple of times, and the quality of some of their products has been questioned as of late, their lever-action rifles have continued to be excellent quality, dependable guns.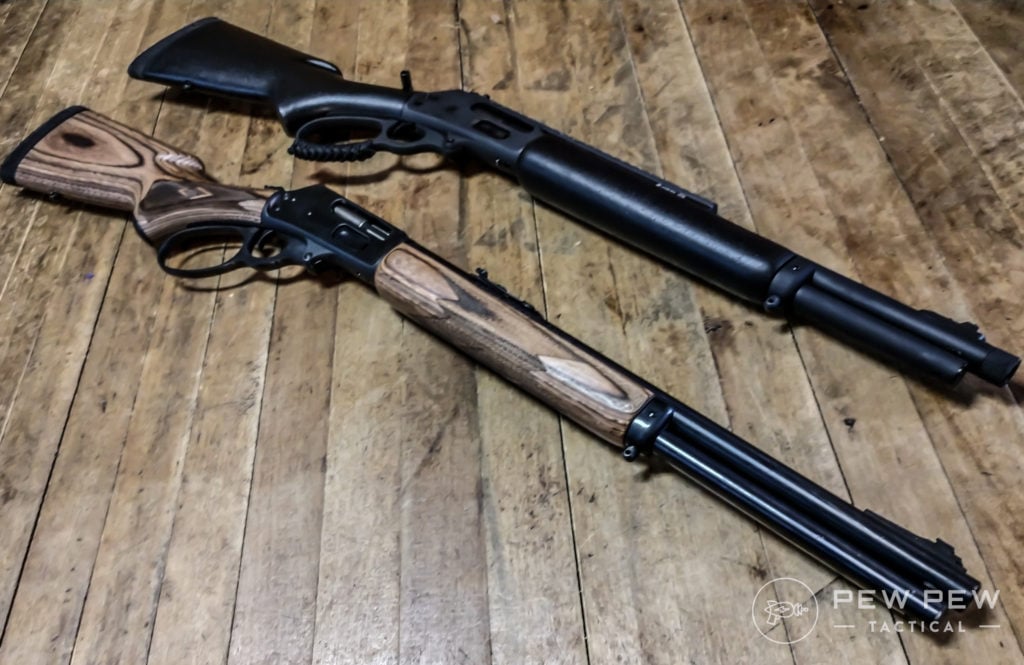 Some form of the Winchester Arms company has been around since the mid-1800s.
Started by legendary gun makers Horace Smith and Daniel Wesson (yes, of Smith & Wesson fame), their first version of the company was Volcanic Repeating Arms.
The "Volcanic" lever-action rifle was an improved design over the Volition Repeating Rifle of 1848.

Fast forward 10 years, both Smith and Wesson left the company, and Oliver Winchester and John Davies purchased the rights.
In 1866, they produced the first version of the Winchester Rifle.
The model 1873 was dubbed "The Gun That Won the West" due partly to its use of the new .44-40 Winchester Center Fire round.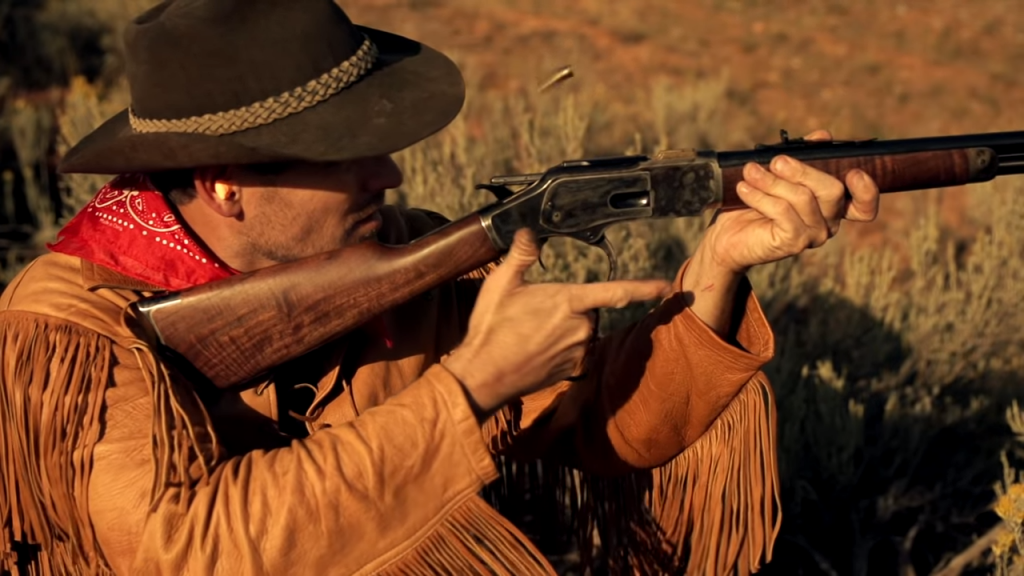 Versions of some of their earliest guns, albeit with updates to design and function, are still available from Winchester today.
So, with that said, what are some models you should consider if a lever-action is on your buy list?
Best Lever-Action Rifles
1. Henry Repeating Arms X Models
The X Model line of rifles from Henry takes the classic feel of the lever-action and adds modern tweaks to it.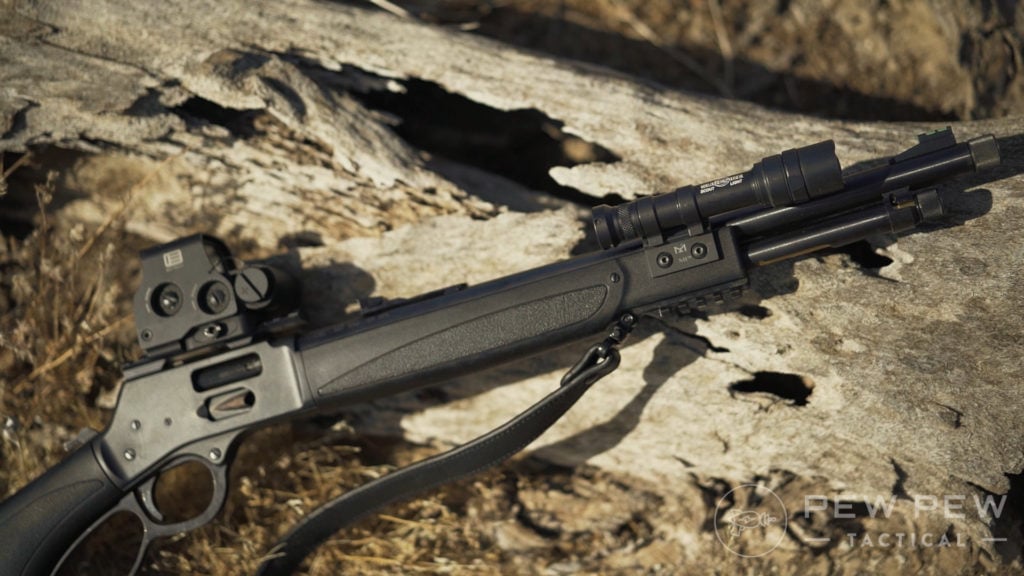 Available in .30-30, .410 shotgun, .45-70, or the Big Boy (.45 Colt, .357/.38 Special, .44 Mag/.44 Special), each X Model features synthetic furniture, a Picatinny top rail, M-LOK slots on the forend, and a rubber recoil pad on the buttstock.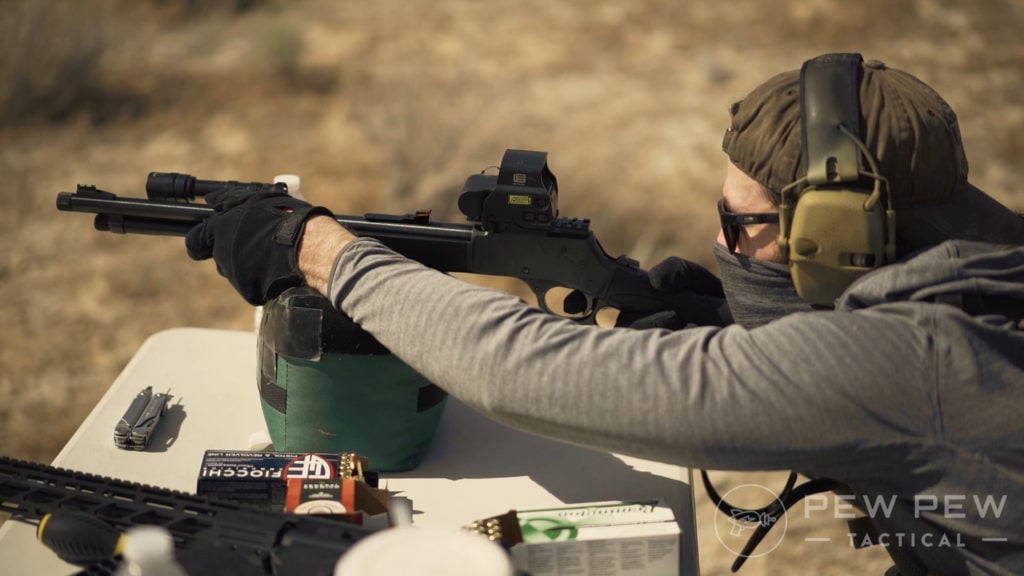 A blued steel barrel with a threaded muzzle allows for a suppressor on any of the models, and fiber optic sights round out the package.
Best Tactical Lever Action
1041
at Guns.com
Prices accurate at time of writing
Prices accurate at time of writing
Want more Henry X action?
Check out our full review or see the video review below!
2. Winchester Model 94
This rifle is part of a legacy.
John Moses Browning designed the original Model 1894 to use the then new .30-30 smokeless cartridge.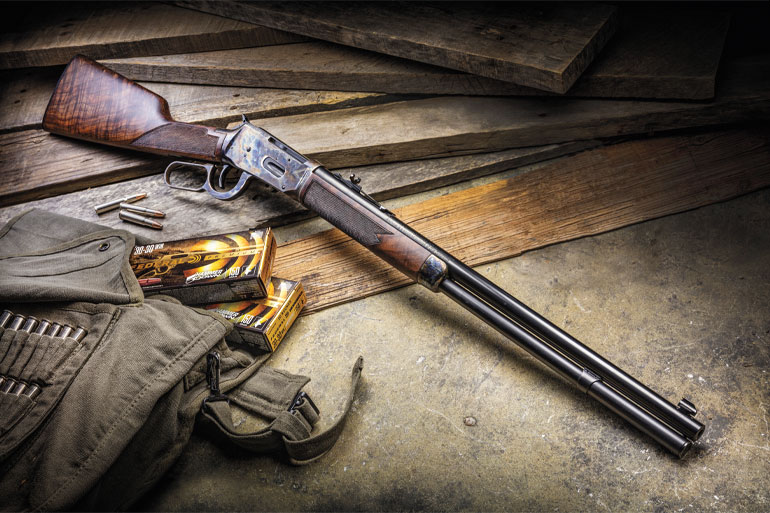 This gun radiates sentiments of that lineage…steel and wood, just as Browning would have wanted it.
Today's version does have button rifling for increased accuracy and round locking bolt trunnions to help smooth out the lever-action.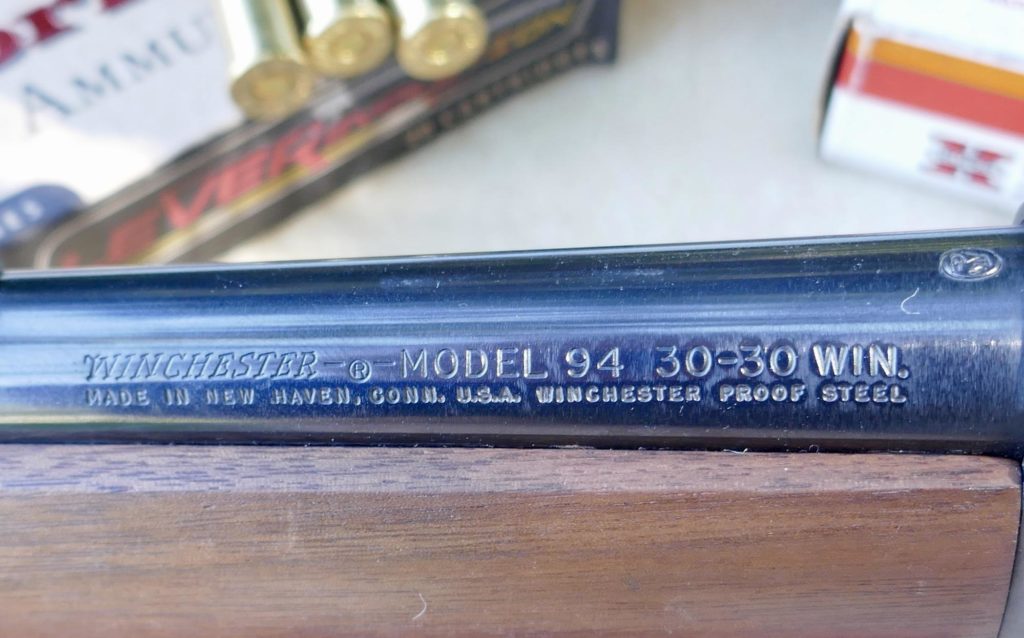 But otherwise, it remains reminiscent of the original.
Few guns are as comfortable to operate as the Model 94 with its slightly radiused lever and smooth cocking action.
Six current production versions are available, each with a slight tweak to the original design, but all sleek and appealing.
Best Classic Lever Action
849
at Guns.com
Prices accurate at time of writing
Prices accurate at time of writing
3. Marlin Model 1894
The 1894 is the first flat-topped, side-ejecting receiver on the market for lever-action guns.
Marlin's patent dates back to August 1, 1893, and though it evolved to include some modern improvements, the spirit of the gun remains the same.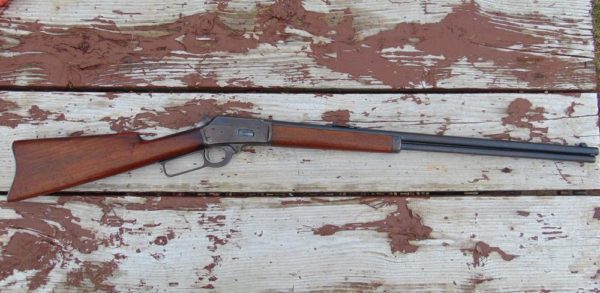 The Marlin 1894 is available in 12 different configurations, determined by caliber, ranging from .357 Magnum/.38 Special up to .32 H&R Magnum.
All versions include a black walnut, straight grip stock, with most sporting some form of adjustable sights.
1099
at Guns.com
Prices accurate at time of writing
Prices accurate at time of writing
What do you think of the Marlin? Let us know by rating it below.
4. Henry Repeating Arms Big Boy
The Big Boy models of Henry rifles focus on handgun calibers, with many available in 16-inch or 20-inch barrels.

Big Boys also come in each finish and style that Henry offers, from Case Hardened side gates to Steel finishes and the X models.
They also come in your choice of .45 Colt, .357/.38 Special, .44 Magnum/.44 Special.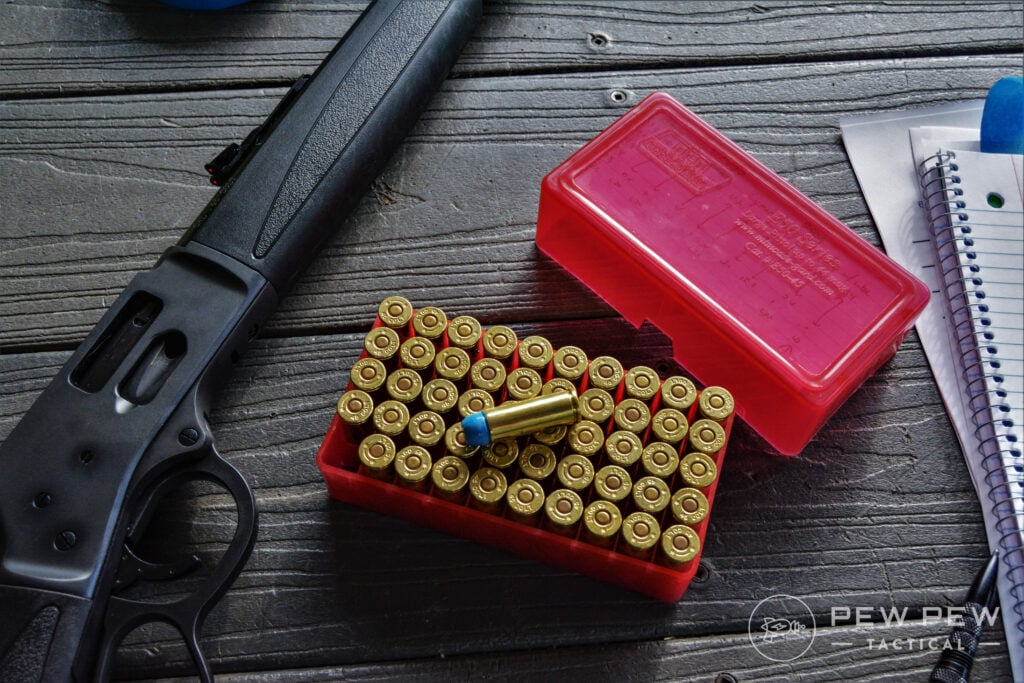 Barrel finish, sight setup, and lever-style will all be determined by the model and size (long or short) of the Big Boy you select, but any model will be rugged.
899
at Kygunco
Prices accurate at time of writing
Prices accurate at time of writing
5. Marlin Model 336
The 336 is a legend amongst deer hunters, and for good reason.
Since its release in 1948, two calibers have endured with this model — .30-30 and .35 Remington.

The 336 is an updated version of the Model 36, improving the gun with features like an open ejection port machined into the receiver, a chrome-plated breech bolt, and an improved extractor.
One of the unique things about the Model 336 is that it is designed for easy disassembly and can be cleaned from the breech, unlike many other lever-actions.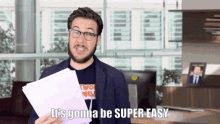 Several versions are still available, with Ruger producing more under the Marlin name.
Most models will sport a 20-inch barrel with a walnut grip stock and full-length tube magazine.
Best for Deer Hunting
1299
at Gunprime
Prices accurate at time of writing
Prices accurate at time of writing
6. Winchester Model 1873
This rifle is as close as you can get to stepping back in time to the late 1800s.
Featuring the same oil-finished walnut stock and 20-inch round barrel, little has been done to modernize the 1873. Frankly, it doesn't need it.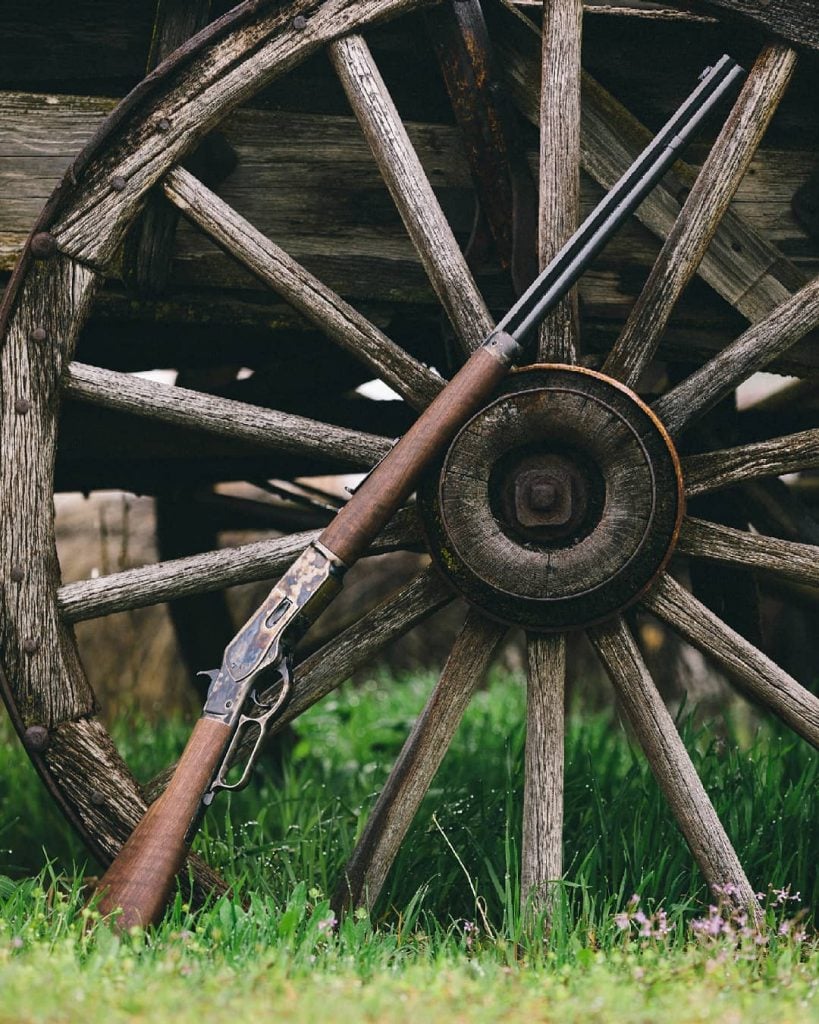 Available in some pistol calibers that would have been seen on the frontier, the Model 1873 comes in everything from true blue frontier guns to slightly modified sport shooting versions.
There is even a carbine variant if you need to shoot from horseback!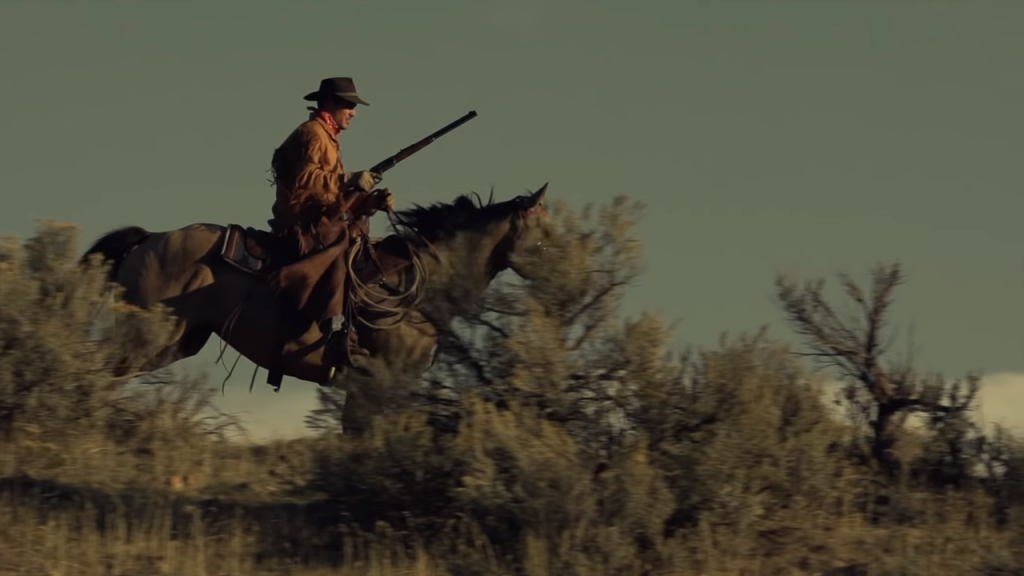 Find the model and caliber that best suits your needs, and hold on for the ride. These genuine pieces of Americana are still some of the best rifles on the market.
1249
at Gunprime
Prices accurate at time of writing
Prices accurate at time of writing
7. Henry Repeating Arms Golden Boy Rimfire
The Golden Boy is an ideal gun for plinking or use on small game, whether the shooter is an experienced rifleman or a younger child shooting for the first time.
Henry's full-size Golden Boy is crafted with a 20-inch blued barrel and outfitted with an American walnut stock, brass buttplate, and Brasslite receiver.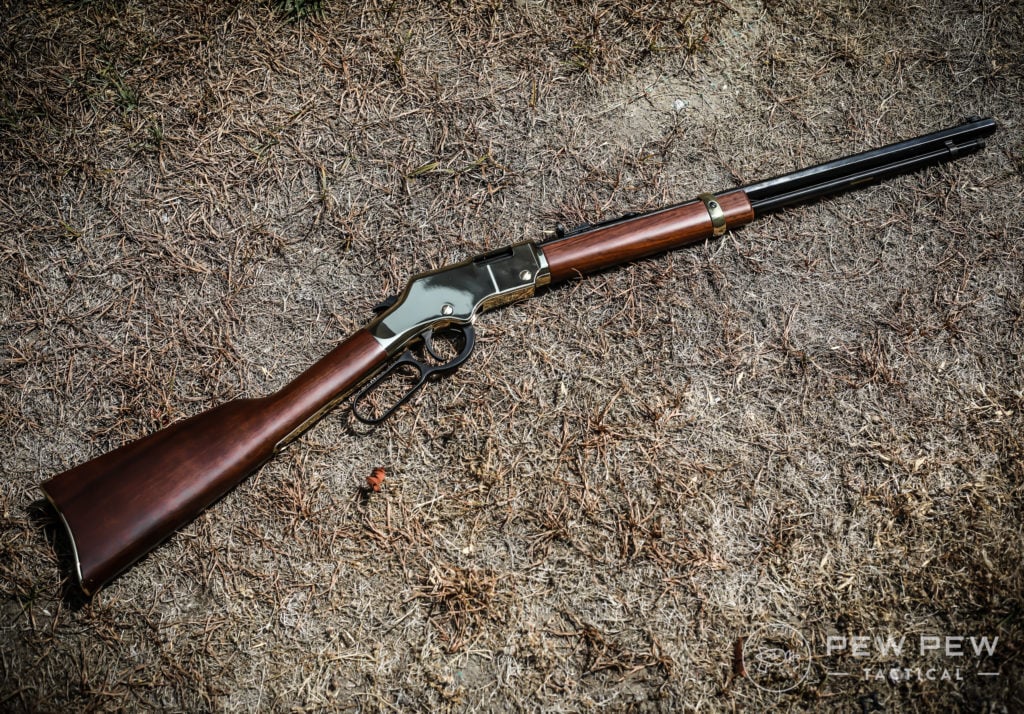 It is available in three rimfire calibers, .22 (short, long, long rifle), .22 Magnum, and .17 HMR.
Pricing on the Golden Boy line is extremely modest, making it the go-to gun for many beginner shooters.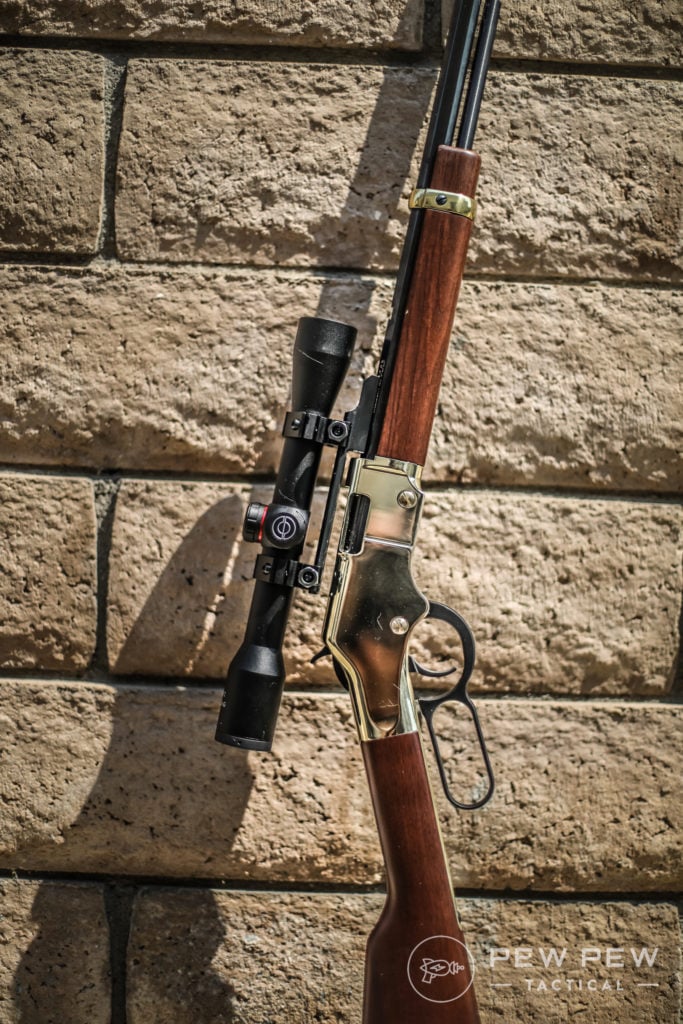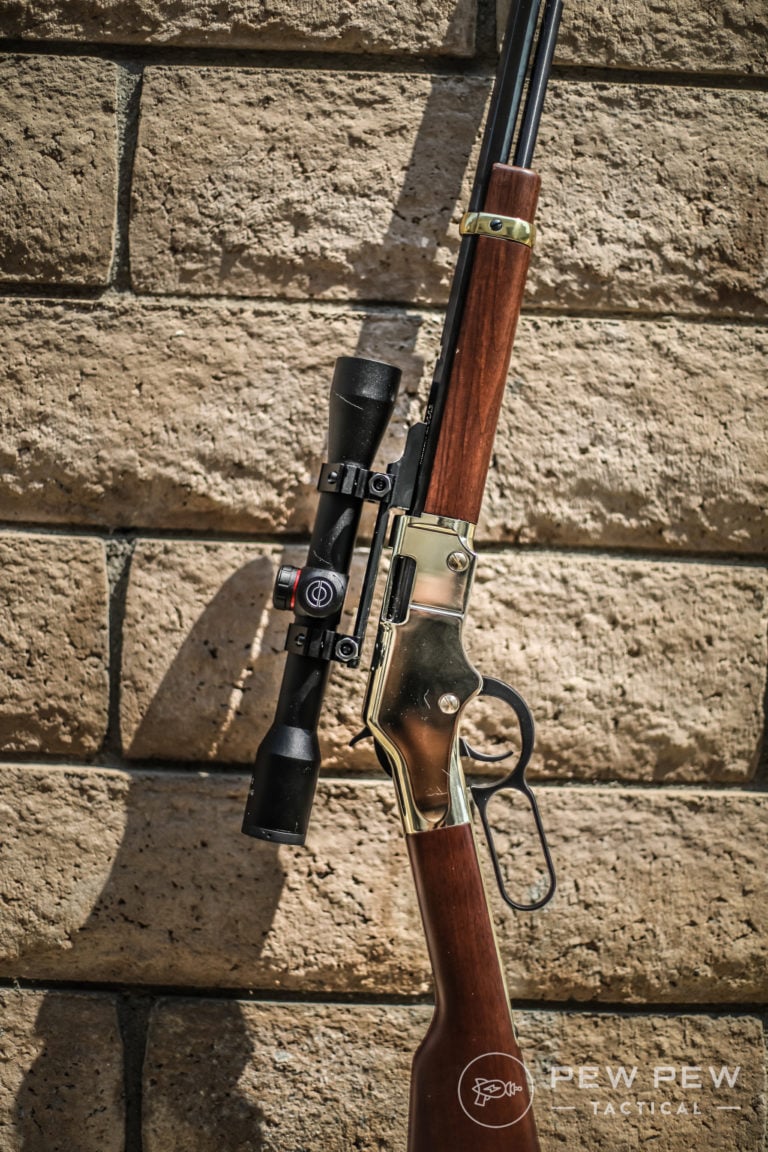 The youth version features a smaller barrel and length of pull, making it slightly lighter and compact.
Handle one for yourself, and you'll see what it was the first rimfire rifle to win Guns & Ammo's rifle of the year.
Best for Beginners
499
at Gunprime
Prices accurate at time of writing
Prices accurate at time of writing
Make sure to read our review on the Golden Boy!
8. Marlin Model 1895
This model is a tribute to the past with a touch of the modern.
Working off the design of the 336, the Model 1895 pays homage to the Model of 1895, produced from 1895 to 1917.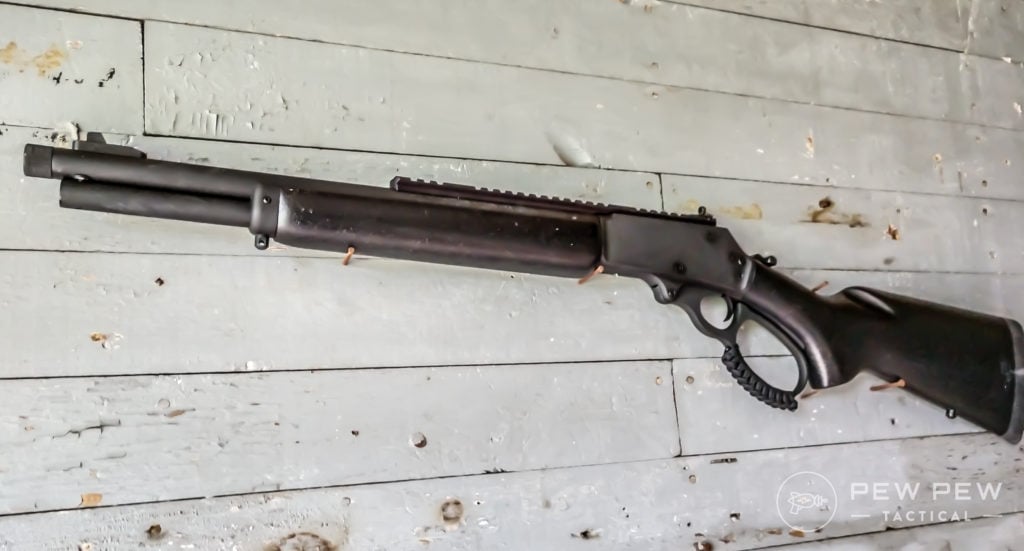 The Model 1895 comes chambered in .45-70, designed to be the first choice of anyone needing to put down bigger game in a hurry.
Several different finishes and styles are available. My personal favorite is the 1895 SBL with a stainless finish and grey laminate stock.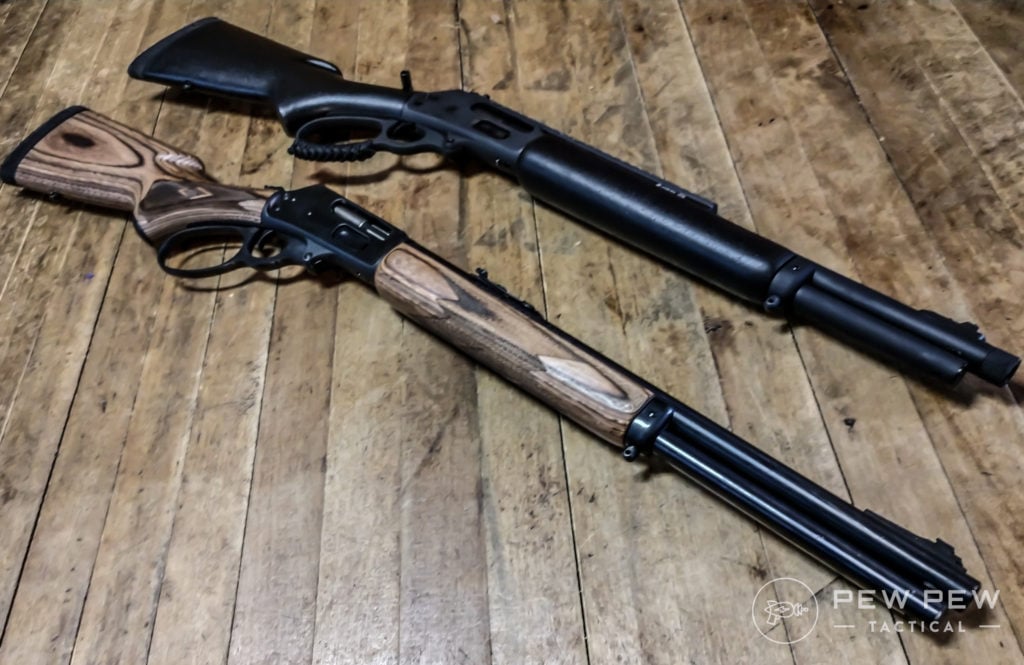 Both the SBL and dark variants feature a flat-top Picatinny rail. So, if you plan to add some optics, look for one of them from the jump.
See our review of the Marlin Model 1894!
9. Henry Repeating Arms All-Weather Lever Action Side Gate
All Henry rifles are tough, but the All-Weather line is built to be used and abused.
Built from materials like stainless steel and hard chrome plating bonded to steel, these guns take the finish to the next level.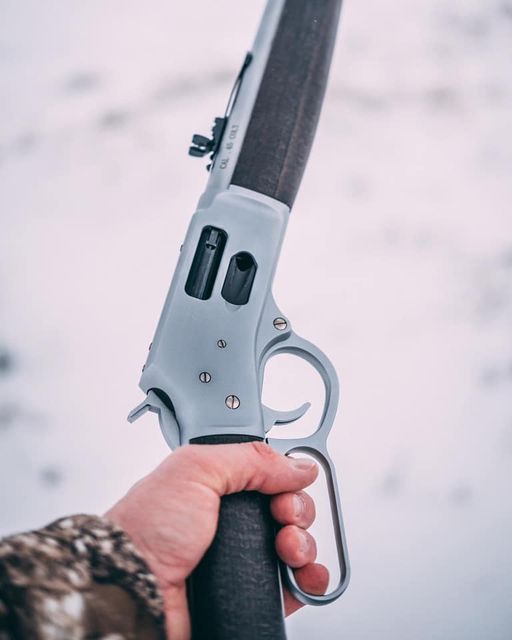 They can be used in just about any environment someone is likely to encounter in their day-to-day life.
Two caliber choices are available — .30-30 or .45-70.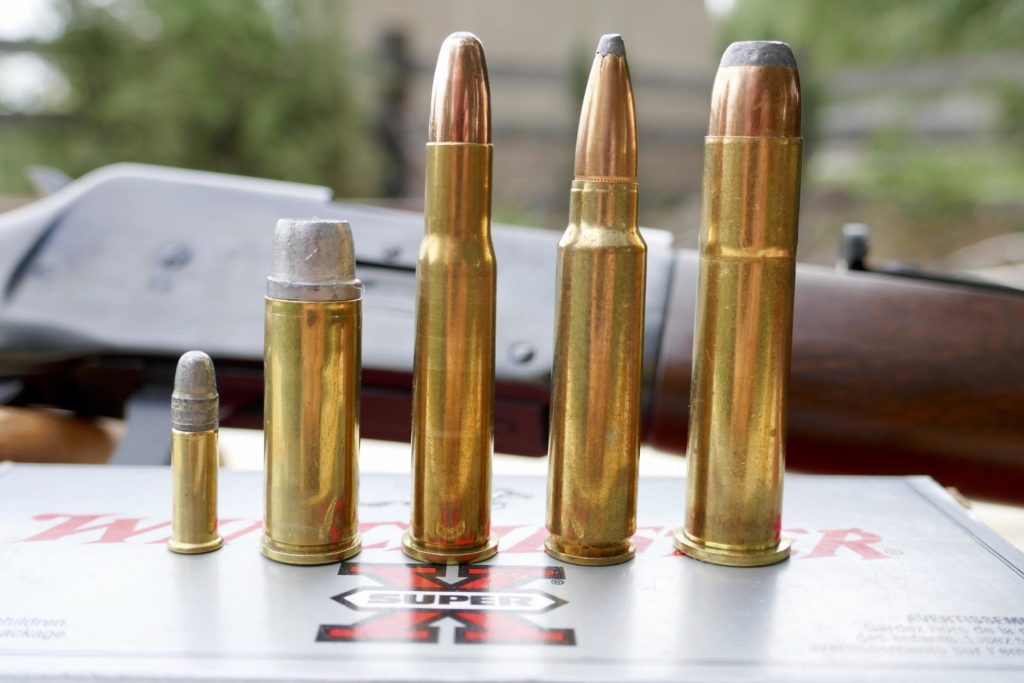 You will be hard-pressed to find a more durable lever-action rifle on the market today.
Most Durable
1058
at Kygunco
Prices accurate at time of writing
Prices accurate at time of writing
10. Winchester Model 1892
Another gun produced by John Moses Browning, the Model 1892, is used most often in modern Cowboy Action shooting events.
For over 125 years, it has been the go-to rifle for some of the biggest names in history and on screen alike.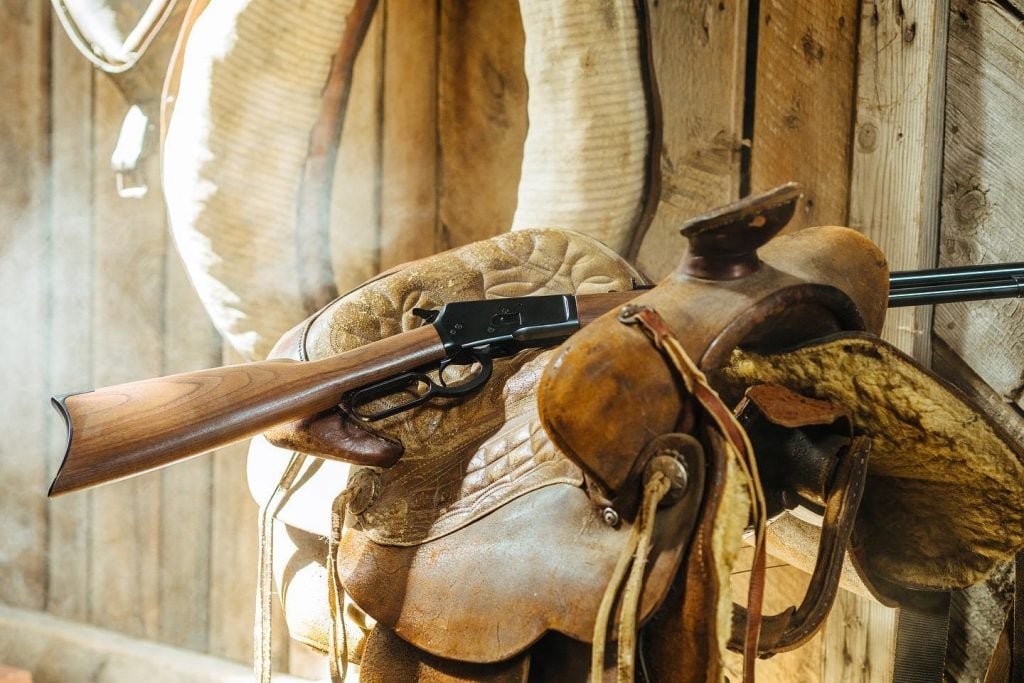 John Wayne, Chuck Connors, Annie Oakley, and many more trusted a version of this rifle, and you should as well.
This is one of the lighter guns on the list and yet has insanely low recoil to make it one of the easiest to handle.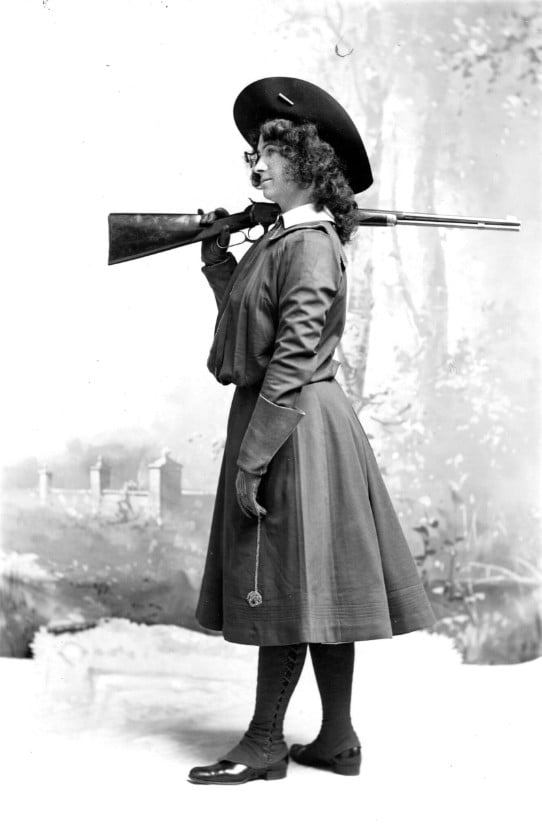 Available in several pistol calibers and six different styles, the Model 1892 is a gun that you shouldn't waste time second-guessing.
Best for Cowboy Action Shooting
2316
at Guns.com
Prices accurate at time of writing
Prices accurate at time of writing
Final Thoughts
Lever-actions have seen a resurgence of popularity in the last 20 years, and I, for one, am glad.
These iconic guns evolved with the times, but not so much as to forget where they came from.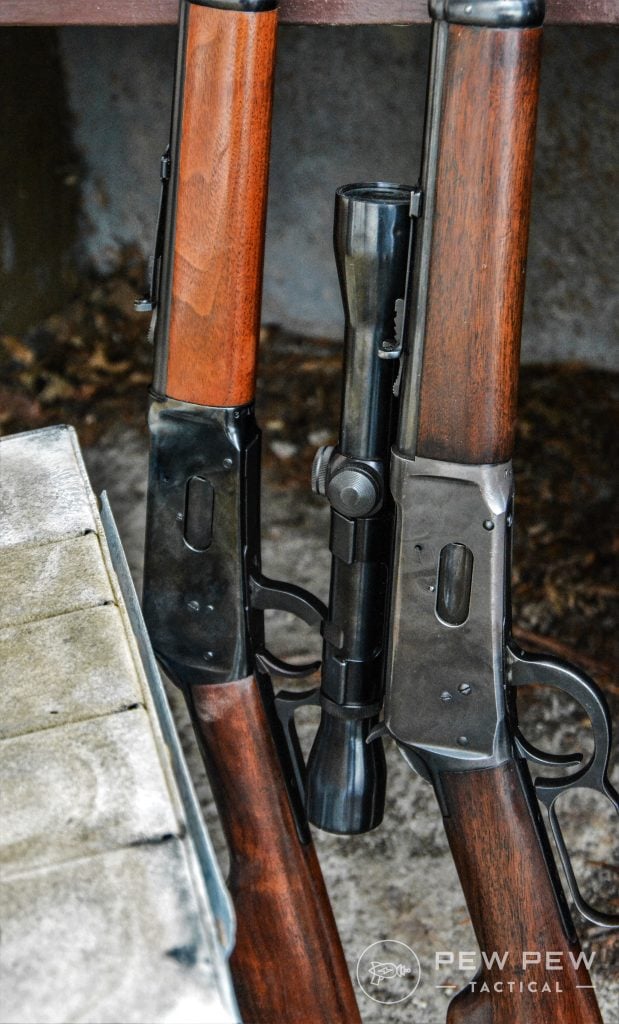 Figure out what caliber and style will fit you best, slap on your hat and duster and get ready to mount up.
Stick to a gun that offers good quality and a great reputation behind it — you won't be left looking for much more in the way of a long gun.
What's your favorite lever-action? Let us know in the comments below. Ready to hit the Wild West? Check out Cowboy Action Shooting: Ultimate Guide to get in on the action, or just watch some of our favorite guns in Famous Western Movie Guns.
Read the full article here