Tactical
15 Top Axes, Tomahawks, Hatchets & Machetes [2023]
It doesn't matter much whether you're trying to survive the aftermath of a hurricane, an earthquake, a massive flood, an extreme blizzard, or a volcanic eruption—once you've bugged out to your safe zone, you are probably going to be heating large quantities of water over an open fire. Once that fire is going, you are going to equally need the tools to feed it 24/7 for days on end. Around the world, the primary means for this has long been basic axes, tomahawks, hatchets, and machetes. Axes, tomahawks, and hatchets have served Americans as combination tools and weapons from the earliest days of European settlement. Machetes have performed much of the same functions in the lusher vegetation of Central and South America.
The modern bushcraft and backcountry survival movement has given birth to a wide range of models designed to fill this need. Here are a few of the more interesting axes, tomahawks, and hatchets we have found.
Camillus Camtrax 3-in-1 Hatchet
There is a never-ending argument among experienced woodsmen on whether a hatchet or a saw is the most useful bushcraft tool. Well, why not carry both? Camillus' Camtrax 3-in-1 Hatchet combines a folding saw, hammer, and chopping blade all into one handy tool.
Edge length: 2.75 inches
Saw length: 7 inches
Overall length: 12 inches
Steel: Stainless titanium
Handle: Glass-filled nylon
Sheath: Molded nylon
MSRP: $69.99
camillusknives.com
Camillus Carnivore Inject 18″ Titanium Bonded Machete
The Camillus Carnivore Inject 18″ Titanium Bonded Machete was designed to cut, dig, saw, chisel, and field dress in any scenario. The 12″ blade's Titanium Bonding treatment yields a blade up to 3 times harder than untreated steel for decades of use. Included with the Carnivore is a molded sheath and a removable 5-inch trimming knife.
Edge length: 12 inches
Overall length: 18 inches
Steel: 420 Stainless Steel Blade
Handle: Acrylonitrile Butadiene Styrene (ABS)
Sheath: Ballistic nylon
MSRP: $39.99
camillusknives.com
Condor Golok Machete
This is one of Condor Tool & Knife Jungle expert Joe Flower's designs. Its robust walnut handle is especially useful when working in heavy vegetation where just setting your cutting tools down can be a serious safety hazard.
Blade length: 14.5 inches
Overall length: 20.5 inches
Weight: 30.7 ounces
Steel: 1075 High Carbon Steel
Handle: Walnut
Sheath: Hand Crafted Welted Leather
MSRP: $114.38
condortk.com
Condor Cloudburst Axe
Yet another of Joe Flower's designed from real-world experience tools, the Condor Tool & Knife Cloudburst is a very practically sized chopper for pack and canoe use.
Edge length: 5.8 inches
Overall length: 23.1 inches
Weight: 43.4 ounces
Steel: 1060 High Carbon Steel
Handle: Burnt American Hickory
Sheath: Hand Crafted Welted Leather
MSRP: $109.18
condortk.com
CRKT Woods Chogan T-Hawk
The CRKT Woods Chogan T-Hawk has a sturdy hickory handle, hot forged blade, and hammerhead ready to be put to work off-grid. The 1055 carbon steel head is strong and retains a sharp edge for years of use. If you find yourself needing to chop firewood or hammer in tent pegs, the Chogan T-Hawk is for you.
Edge length: 3.5 inches
Overall length: 19 inches
Weight: 31.84 ounces
Steel: 1055 Carbon Steel
Handle: Tennessee Hickory
MSRP: $60.00
crkt.com
Estwing Black Eagle Tomahawk Axe
The Estwing Black Eagle Tomahawk Axe was designed to be a backwoods companion thanks to its dual axe and pointed tip head. The Black Eagle is American-forged in one piece out of genuine American steel and the handle is wrapped in rugged leather.
Edge length: 2.5 inches
Overall length: 16.25 inches
Weight: 28 ounces
Steel: American steel
Handle: Genuine leather
MSRP: $60.04
estwing.com
Estwing Hunter's Axe
The Estwing Hunter's Axe is an excellent choice for die-hard hunters thanks to its highly visible orange handle and incorporated 2.75-inch gut hook. The axe is made of sturdy but lightweight U.S. steel with a powder-coat finish. The patented Shock Reduction Grip® prevents hand fatigue after long days in the field. Included is a durable nylon sheath with a sharpening stone in its own built-in compartment.
Edge length: 3 inches
Overall length: 14.25 inches
Weight: 27.2 ounces
Steel: American steel
Handle: Orange Shock Reduction Grip®
MSRP: $69.36
estwing.com
Fiskars 18″ Hatchet
The Fiskars 18″ Hatchet has a razor-sharp, rust-resistant hardened steel blade with a titanium coating to withstand years of hard outdoor use. The contoured Softgrip® handle was made using an intelligent texture pattern that accommodates a variety of tasks, from close-cut precision work to jobs that require swift chops. This hatchet also includes a sharpened blade curve for quick pull-cuts.
Edge length: 9 inches
Overall length: 18 inches
Weight: 29.6 ounces
Steel: Hardened steel with titanium coating
Handle: Softgrip®
MSRP: $65.99
fiskars.com
Gerber Bushcraft Hatchet
The Gerber Bushcraft Hatchet boasts an ergonomic design to reduce weight and improve grip for hard use. Its blade features a machined relief design for deeper cuts. What's more, the Bushcraft Hatchet offers a gear storage compartment that is water-resistant and can store small essentials such as paracord or a firestarter.
Edge length: 5.5 inches
Overall length: 15.25 inches
Weight: 38.4 ounces
Steel: Black powder-coated steel
Handle: Rubber overmold
MSRP: $70.00
gerbergear.com
Gerber Downrange Tomahawk
The Gerber Downrange Tomahawk has gifted us with a survival trifecta: an axe, a hammer, and a pry bar in one device. The 420HC Cerakote™ steel body withstands all manners of use and the G-10 handle provides a sure grip while you work.
Edge length: 3.5 inches
Overall length: 19.27 inches
Weight: 36 ounces
Steel: 420HC Cerakote™ steel
Handle: G-19
MSRP: $330.00
gerbergear.com
Hultafors Qvarfot Felling Axe
If you've ever envied the life of a Scandinavian lumberjack, then this is the axe for you. The Hultafors Qvarfot Felling Axe is hand-forged and made from Swedish steel in the forge at Hults Bruk, a tradition that goes as far back as 1697.
Edge length: 3.5 inches
Overall length: 26 inches
Weight: 30 ounces
Steel: Swedish steel
Handle: American Hickory
MSRP: From $128
hultafors.com
Lansky Fire Fighter Battle Axe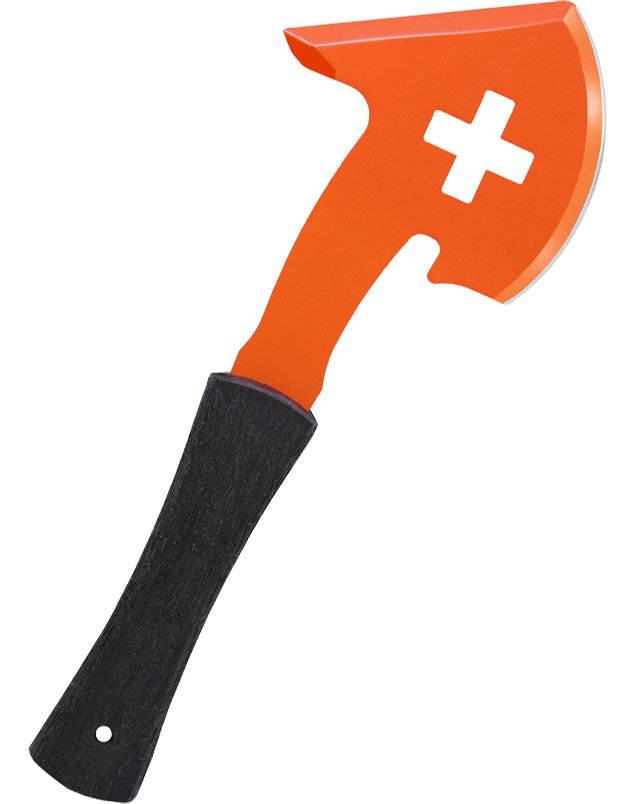 The designers at Lansky teamed up with several professional firefighters to create the Lansky Fire Fighter Battle Axe. The 1075 tool steel axe includes a hose wrench, a gas valve wrench, a pry bar, and a non-slip handle that is insulated to 10,000 volts. The axe can also bear loads up to 600 lbs.
Edge length: 5 inches
Overall length: 15.25 inches
Weight: 28.8 ounces
Steel: 1075 tool steel
Handle: Polymer
MSRP: $75.95
lansky.com
SOG Jungle Primitive Machete
The SOG Jungle Primitive Machete sports SOG's hardcased black coating that's ready to take on heavy use in the field. Its molded Kraton handle features a Digi-Grip for optimal gripping power. The serrated edges can be used as a saw and the blunt end of the handle can act as a hammer.
Edge length: 9.5 inches
Overall length: 15.3 inches
Weight: 14 ounces
Steel: 8Cr13MoV steel
Handle: Kraton
MSRP: $59.95
sogknives.com
Spyderco Warrior Hawk
Designed by none other than Laci Szabo, the Spyderco Warrior Hawk seamlessly blends ergonomics and real-world use of a tactical tomahawk. The Warrior Hawk is not just a tomahawk, but a battle buddy. The Warrior Hawk is machined from a solid billet of strong D2 tool steel with a titanium carbonitride coating to eliminate reflection and protect from rust. What's more, the cutting side of the head is faceted to enhance penetration. In contrast, the opposite side of the head features an integral, multi-purpose spike that comes in handy when a good old-fashioned puncturing is needed. Lastly, the Warrior Hawk's one-piece, full-tang design features a pry tip at the base of the handle and is reinforced by non-slip, 3-D-machined G-10 scales.
Edge length: 5.85 inches
Overall length: 13.68 inches
Weight: 28.5 ounces
Steel: D-2 steel
Handle: G-10
MSRP: $550.00
spyderco.com
TOPS Micro Hawk
The TOPS Micro Hawk was designed for everyday carry. The designer, Shawn Owens, has effectively combined the traits of a karambit, tomahawk and a traditional knife into one piece. When flying his own light aircraft, weight is always a concern, so this tool goes with him everywhere he can possibly take it.
Edge length: 1.95 inches
Overall length: 6.9 inches
Weight: 11.2 ounces
Steel: 1095 carbon
Handle: Paracord
Sheath: Kydex
MSRP: $200
topsknives.com
Didn't find what you were looking for?
Read the full article here