Tactical
5 Best 9mm & .45 ACP Revolvers of 2023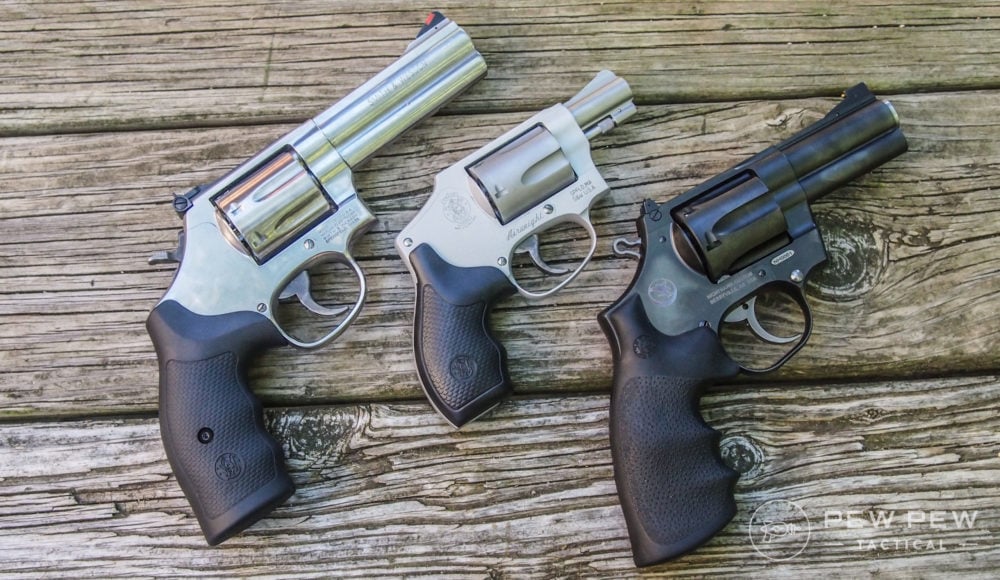 Wait, you are telling me my revolver doesn't have to be in .357 Magnum!?
To be fair, most revolvers are chambered in rimmed cartridge calibers like .38 Special/.357 Magnum, .44 Special/.44 Mag, and even .22 LR.
That doesn't mean a revolver must use a rimmed cartridge; however, some of the most popular modern revolvers are chambered in rimless cartridges like the 9mm and .45.
9mm and .45 ACP are two of the most popular handgun cartridges in the world, and just about every major manufacturer offers at least one pistol chambered in each caliber.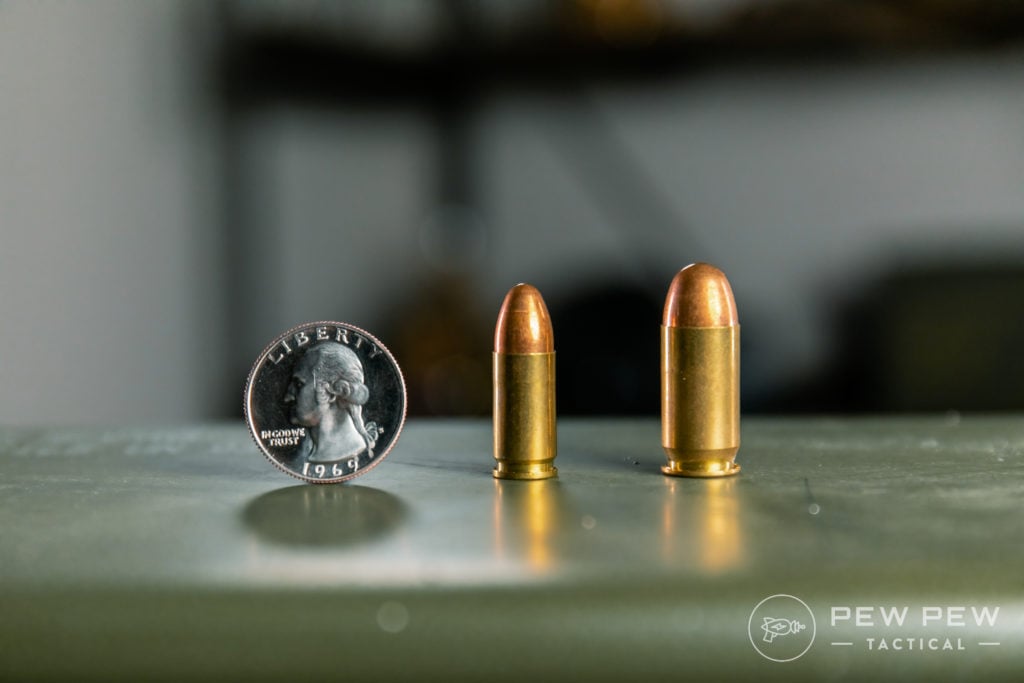 But what about 9mm and .45 ACP revolvers?
We've collected and tested the best of these revolvers, and we have some thoughts we'd like to share about them.
Let's talk about why you might want a revolver in the 21st century, why these rimless cartridges are such a great (if unorthodox and unintuitive) choice, and then we'll look at the best .45 ACP and 9mm revolvers on the market.
Keep reading!
Summary of Our Top Picks
Table of Contents
Loading…
Benefits of a Revolver
Some of you more tactical types that stumbled on this article are about to smash the back button and find something else to read, but if you do, you're missing out.
Not every gun is or needs to be a high-speed, low-drag, defensive gun ready to take on all comers. Some guns are just fun at the range or for more casual use, like keeping in a glovebox as a backup. 
Many people also overlook revolvers, especially for defensive use, and the logic at least would appear to be on their side.
After all, in a world where micro compacts like the Sig P365 and other guns can reload in just a few seconds, why would you want a bulky, slow-to-reload wheelgun that holds fewer rounds?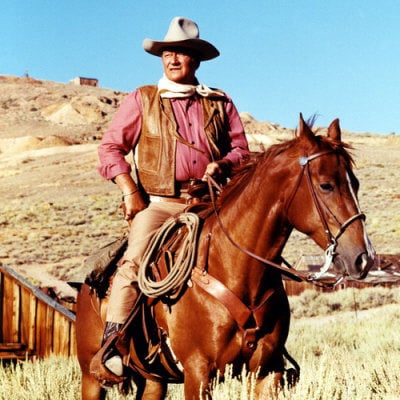 First and foremost, some people are just more comfortable with a revolver. The gun you're most comfortable carrying is the one you'll be able to rely on the most when you're in a difficult situation.
Beyond that, there are some practical advantages to a revolver over a semi-auto.
An ankle holster can make sense for a backup gun, but when it comes to a gun full of dirt and lint from a day of walking, a revolver may function better than a semi-auto.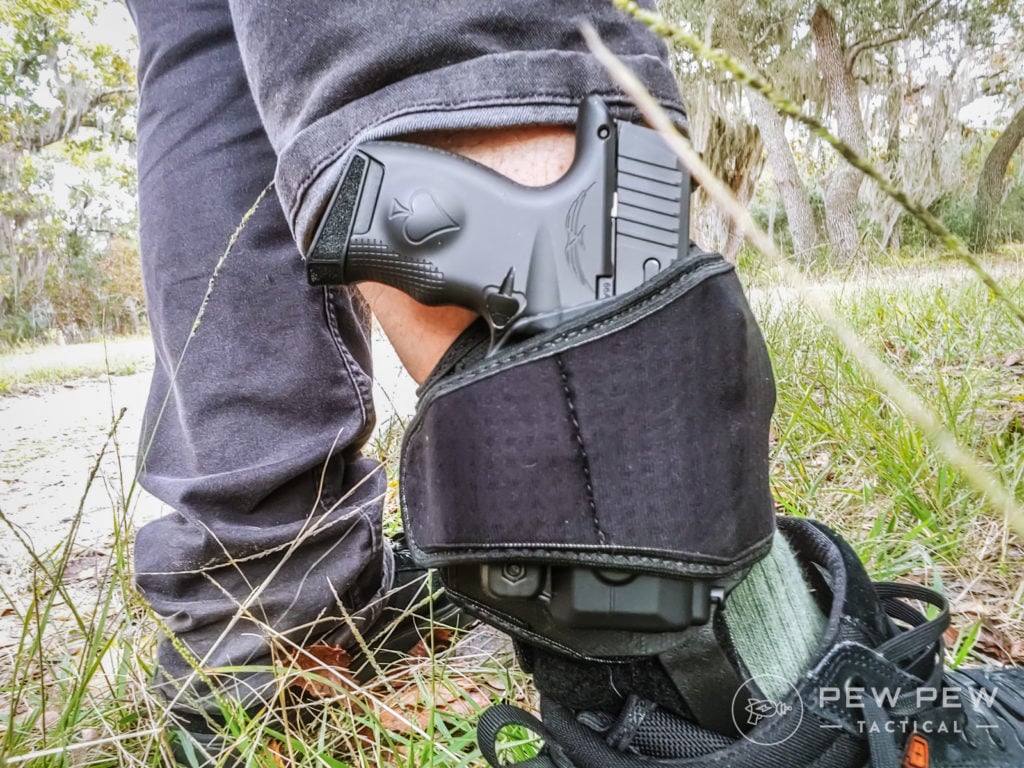 Beyond that, a revolver without a hammer spur can sometimes draw quicker and cleaner from a pocket thanks to its shape and rounded grip.
Finally, a revolver doesn't need any extra space to cycle properly, unlike a semi-auto, which needs room for the slide to reciprocate if you want to fire more than one shot.
This can make a revolver a better "get off me" gun in cases where you're firing at an assailant from contact distance.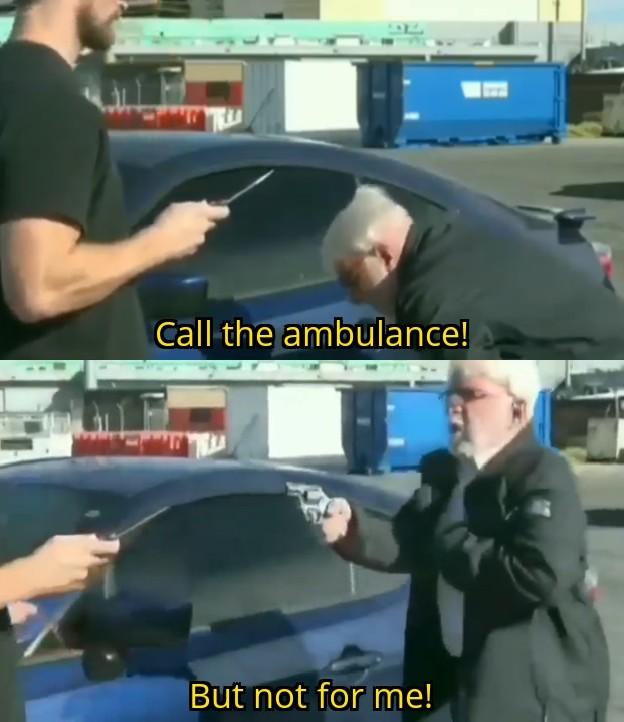 This kind of contact shooting capability also means that a revolver can be reliably fired from within a purse, bag, or jacket pocket in an emergency, which allows you to grip the firearm covertly and have it ready without drawing it. 
9mm & .45 ACP Revolvers: Why These Calibers?
First of all, both of these cartridges are extremely popular all over the planet, so you'll never be too far from a store selling a wide variety of ammo.
Frankly, if you can't get 9mm or .45 ACP ammo where you live, you need to move.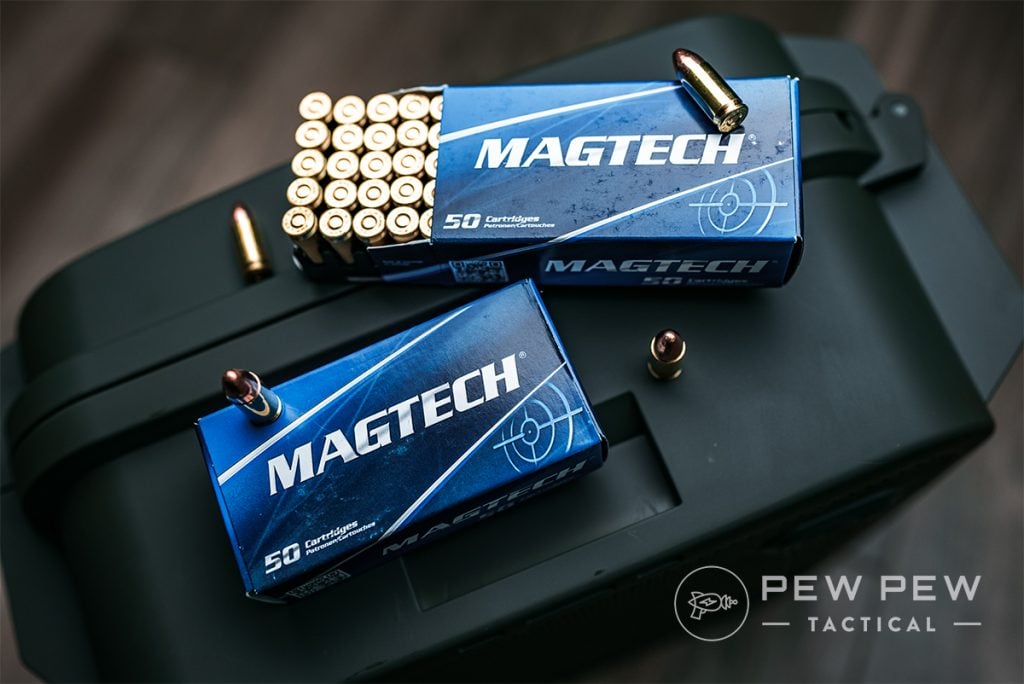 Because of that popularity, you have a vast number of both defensive and range/training ammo choices.
The fact that these are two of the most popular carry gun calibers means that if you choose a 9mm or .45 ACP revolver, you can retain ammo compatibility across multiple guns. This means fewer calibers to stockpile in the back of the gun safe.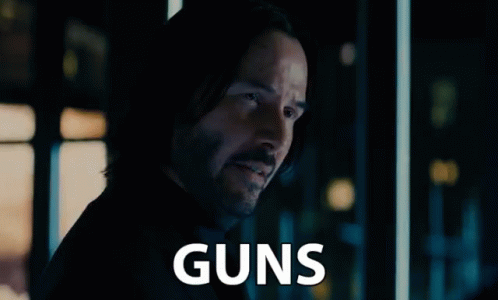 With all that out of the way, let's look at some of our recommendations.
Best 9mm Revolvers
There are a host of solid 9mm revolvers out there, but we can't include all of them on this list.
These are the ones that are the ones that are the most reliable, perform the best, and represent the best value.
1. Ruger LCR
Ruger has made a name for itself in the budget-friendly carry market, and its LCR revolver exemplifies its commitment to quality at an affordable price.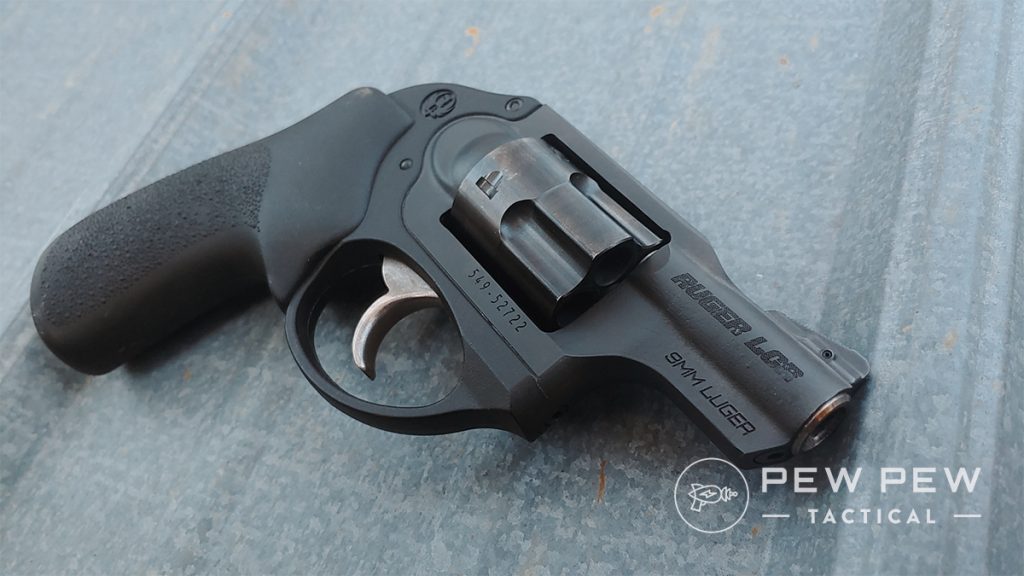 The LCR is one of our favorite backup guns, and its 1.87-inch barrel makes it an easy choice for ankle or pocket carry.
It has a 5-shot cylinder and weighs in at just a hair over a pound — you can easily slip it in a pocket and forget it is there.
You can choose between the hammerless models (LCR) or single-action-capable versions with a hammer (LCRx).
Best for Concealed Carry
656
at Kygunco
Prices accurate at time of writing
Prices accurate at time of writing
Check out our full review of the Ruger LCR!
2. Smith & Wesson Performance Center Pro 986
If you're looking for the best revolvers, you are probably looking at one of two options: Colt and S&W. In this case, Smith and Wesson take the crown with their Performance Center Pro Model 986. 
With this gun, you not only get the legendary Smith and Wesson reliability and performance that we've all come to know and love over the years, but you also get some custom-level tuning and refinement.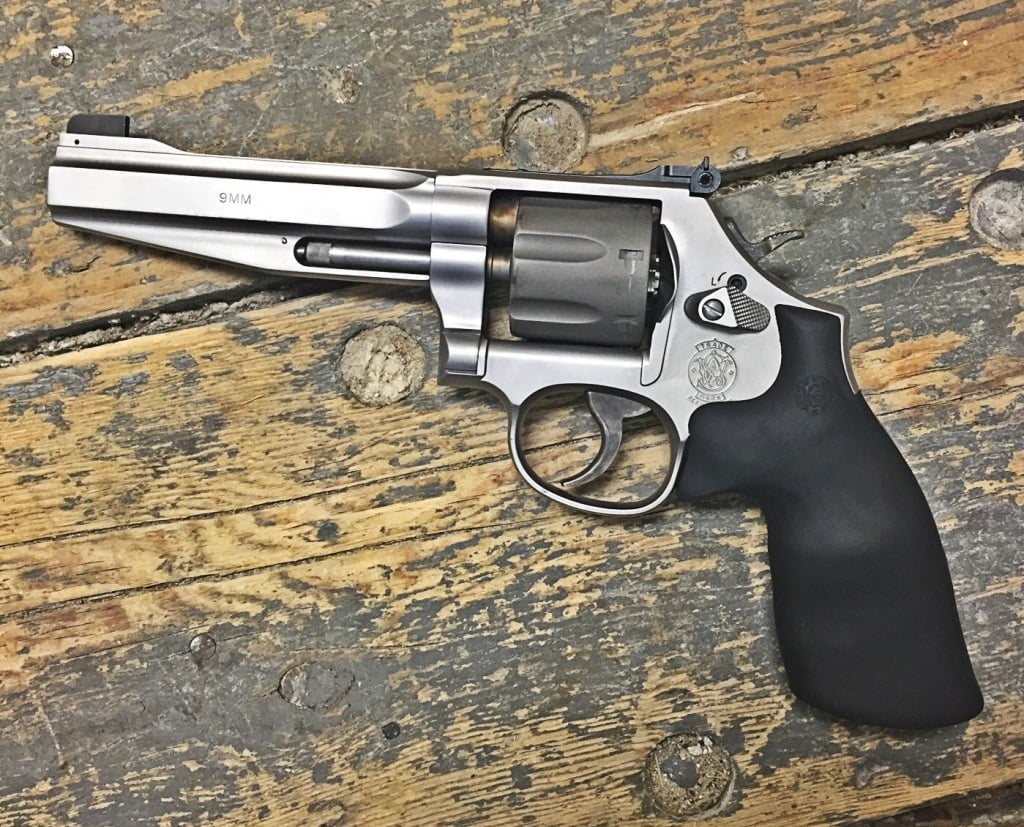 This 7-shot revolver has a 5-inch barrel and is ready to go out of the box for revolver shooting competitions.
The 35-ounce weight puts it in line with other steel-framed competition pistols and soaks up recoil nicely. The gun is cut for moon clips, and the trigger is as buttery smooth as you'd expect from the Smith Pro shop. 
Overall, if you're looking to compete with a 9mm revolver or just want the best 9mm range toy revolver money can buy, accept no substitutes. 
Best for Competition
1339
at GrabAGun
Prices accurate at time of writing
Prices accurate at time of writing
What do you think of the S&W? Rate it below!
3. Ruger SP101
Ruger makes the list again with the SP101. This is the best option for anyone looking for an affordable, reliable revolver chambered in 9mm.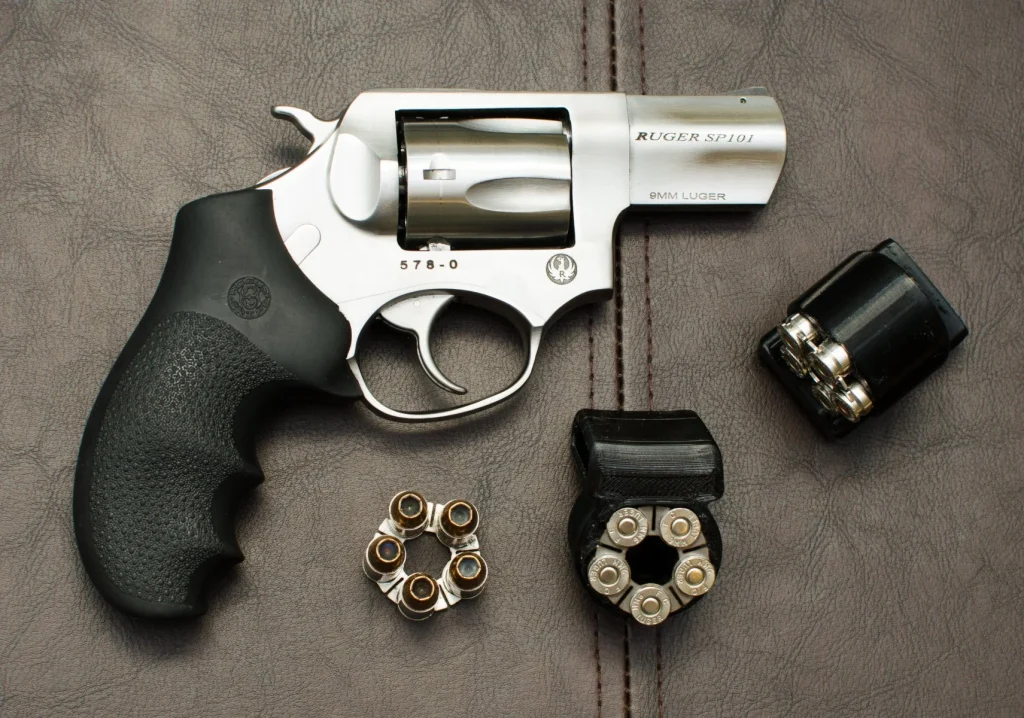 This 5-shot wheel gun isn't as svelte as some of the other guns on this list, but it is still very robust and reliable — It's the ultimate blue-collar revolver.
It's relatively lightweight at 25 ounces and uses and has a milled rear sight instead of adjustable sights.
While it may be a simple, no-frills option, this is a prime choice if you're looking for a true workhorse.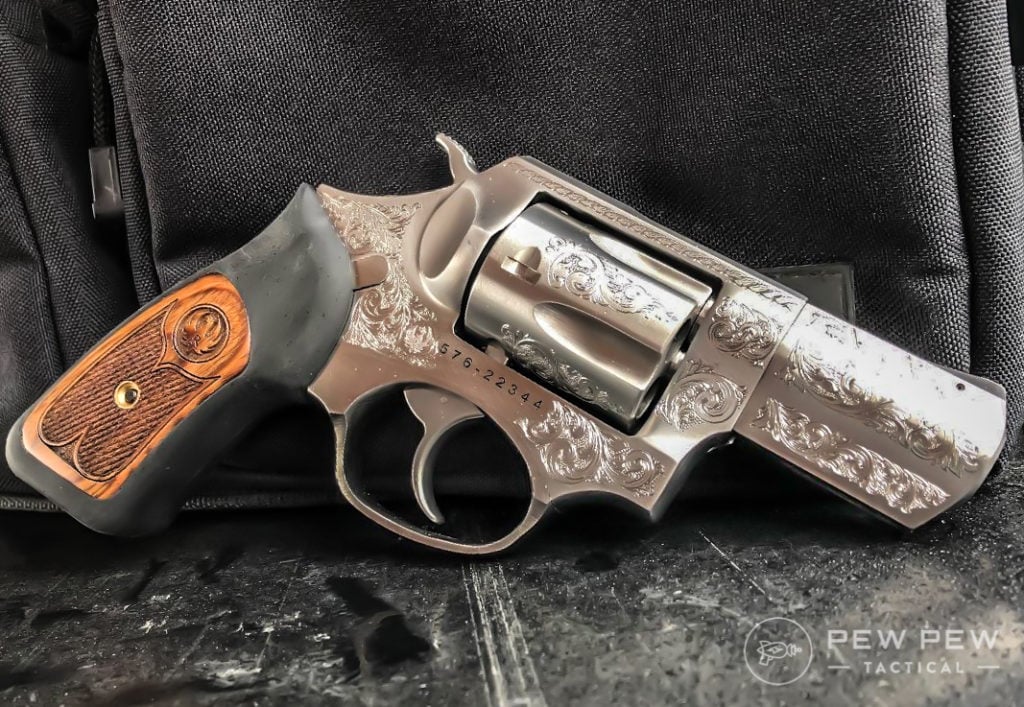 It also has a very soft rubber grip that is…grippy. This is great for even a heavily-recoiling caliber like .357 Magnum, but it practically eliminates recoil in the 9mm version.
Finally, the trigger isn't the best you'll find, but it's plenty good enough for range work and self-defense. A competition target gun this ain't, but that's what our next option is for.
803
at Guns.com
Prices accurate at time of writing
Prices accurate at time of writing
Want to know more? We got you covered with a full review of the Ruger SP101!
Best .45 ACP Revolvers
Just like with the 9mm options, there are a few good .45 ACP revolver options out there, but here are a few that are a cut above the competition.
4. Ruger Redhawk 
While the Redhawk has long been a staple for magnum-caliber revolver enthusiasts, Ruger graced customers with a convertible .45 ACP/.45 Colt model in 2015.
At 44 ounces, it is clear that the Redhawk was meant for heavy magnum loads. This means those shooting .45 ACP will enjoy the benefits of an exceedingly low-recoil and easy-to-shoot revolver.
This revolver features a 4.2-inch cold hammer-forged barrel, a 6-shot cylinder, checkered wood grips, an adjustable rear target sight, and comes with three moon clips.
As mentioned above, this model can also chamber .45 Colt for those looking for a bit more spice in their life.
The Redhawk is a durable, flexible, soft shooting gun that warrants serious consideration from anyone looking for a .45 ACP revolver.
Best .45 ACP Revolver
1028
at Kygunco
Prices accurate at time of writing
Prices accurate at time of writing
5. Smith & Wesson Model 25 Classic
Looking for something a little less utilitarian and a bit more throwback? The S&W Model 25 Classic has you covered. 
Yes, she is spendy at around $1,100, but she is definitely worth it.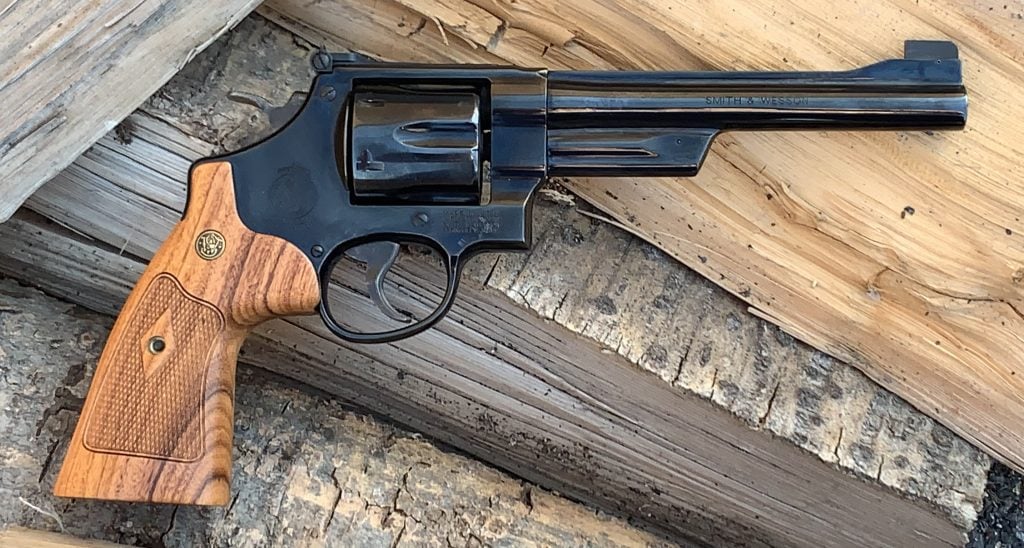 Built on the S&W's large 6-shot N-Frame, the Model 25 exudes that classic Dirty Harry look without the wallet-breaking .44 Magnum cartridge.
A 6-inch barrel, pinned partridge sights, gorgeous bluing, and checkered walnut grips hearken back to the Smith revolvers of the '60-'80s that are so beloved. Oh, and don't forget that just about every S&W revolver has a great trigger out of the box.
If you are looking for a fun, good-looking shooter and you want to keep your ammo types consolidated, the Model 25 might be the ticket.
Best Classic Revolver
1129
at Kygunco
Prices accurate at time of writing
Prices accurate at time of writing
Final Thoughts
They may be decidedly old school, but revolvers still have a place in the firearms world — even when it comes to defensive options.
With 9mm and .45 ACP being so popular, you'll always be able to find ammo, and if you're looking for a new revolver to add to your collection, grabbing one in one of those calibers might be a good idea.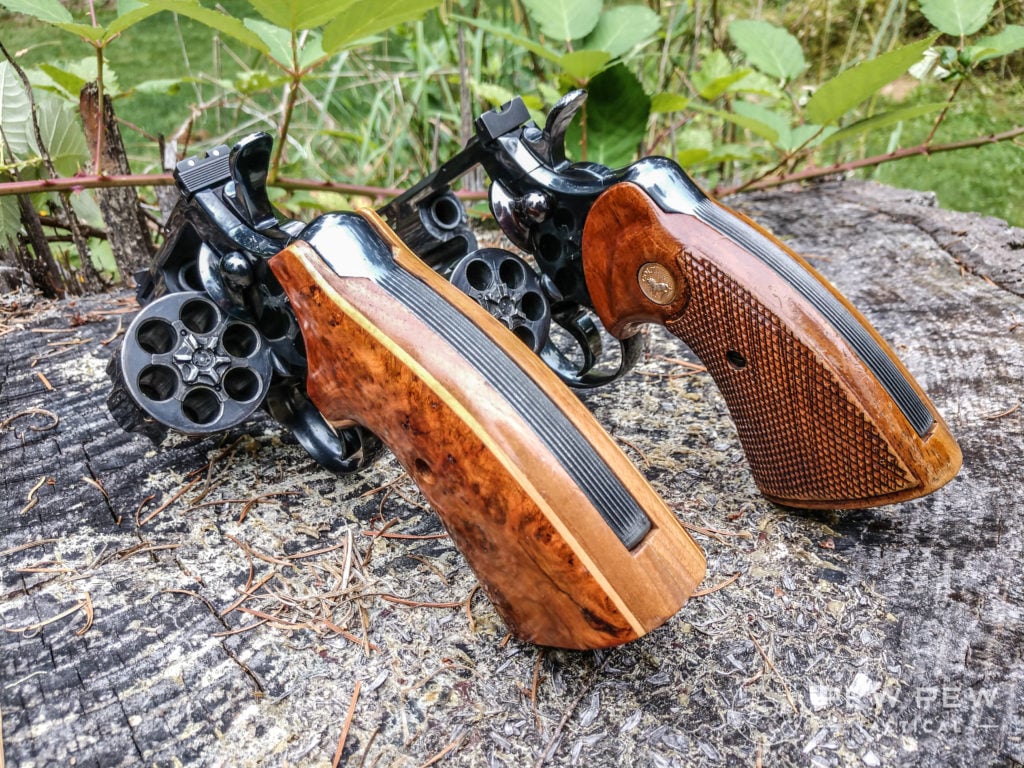 There are some great defensive picks on this list and some that are just plain fun.
Which one of these revolvers did you like the best? Is there one that I left off the list that surprised you? Let us know in the comments! Need more wheelgun action? Check out our list of the Best Concealed Carry Revolvers.
Read the full article here