Tactical
5 Best Tactical Flashlights of 2023 [Tested]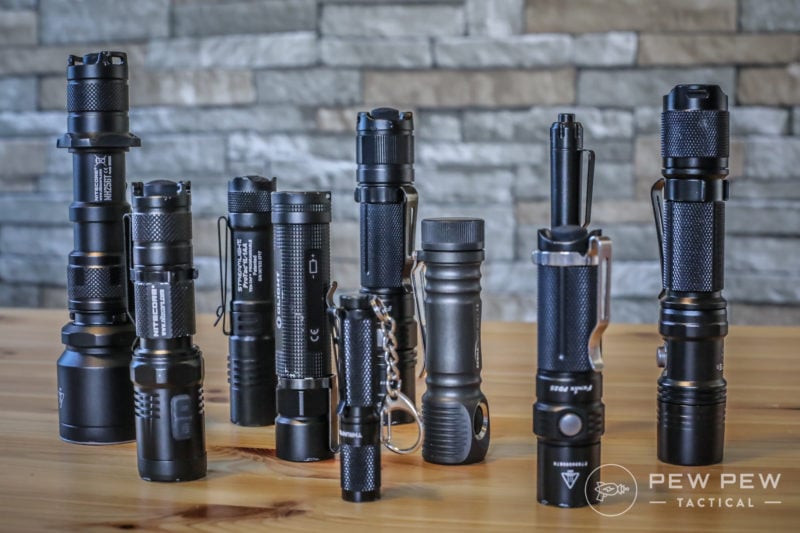 Flashlights are one of the best self-defense tools you can carry.
Why?
83% of our senses come from what we see through our eyes, and about 50% of the time, violent crimes happen at night time when our vision is limited.
Having a bright flashlight allows you to identify the threat, momentarily blind an aggressor's vision, and buy you extra time to take appropriate actions.
This isn't just a roundup of Amazon reviews…we purchased all of these and subjected them to daily use, drop-testing, and water submersion tests.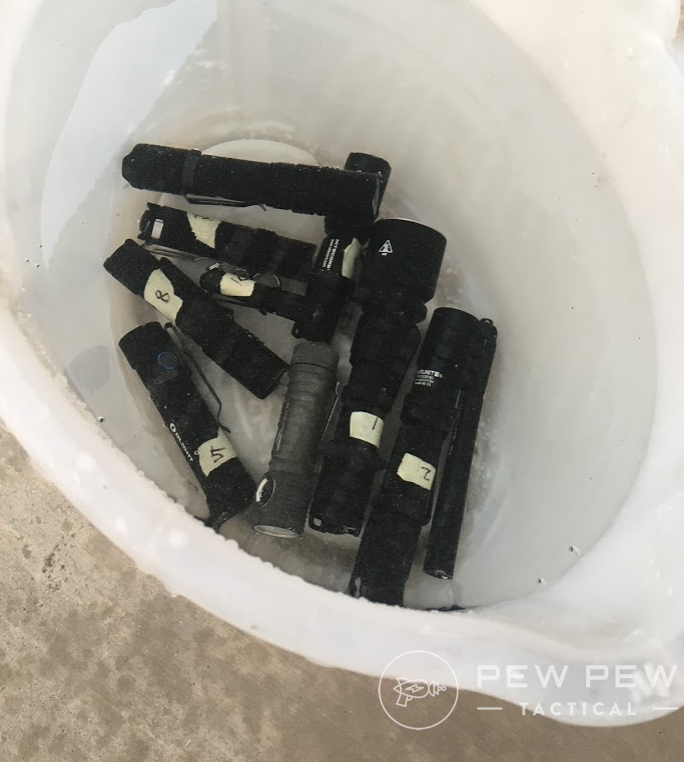 Plus…pictures of the actual light spread pattern, which matters a lot more than pure output.
We'll start with what we consider to be a "tactical flashlight" and compare 5 of the most popular ones under $100 to see which one is really the best.
Summary of Our Top Picks
Table of Contents
Loading…
What is a Tactical Flashlight?
Besides being a well-rounded flashlight, we believe tactical lights provide users a strategic advantage during a potentially dangerous situation.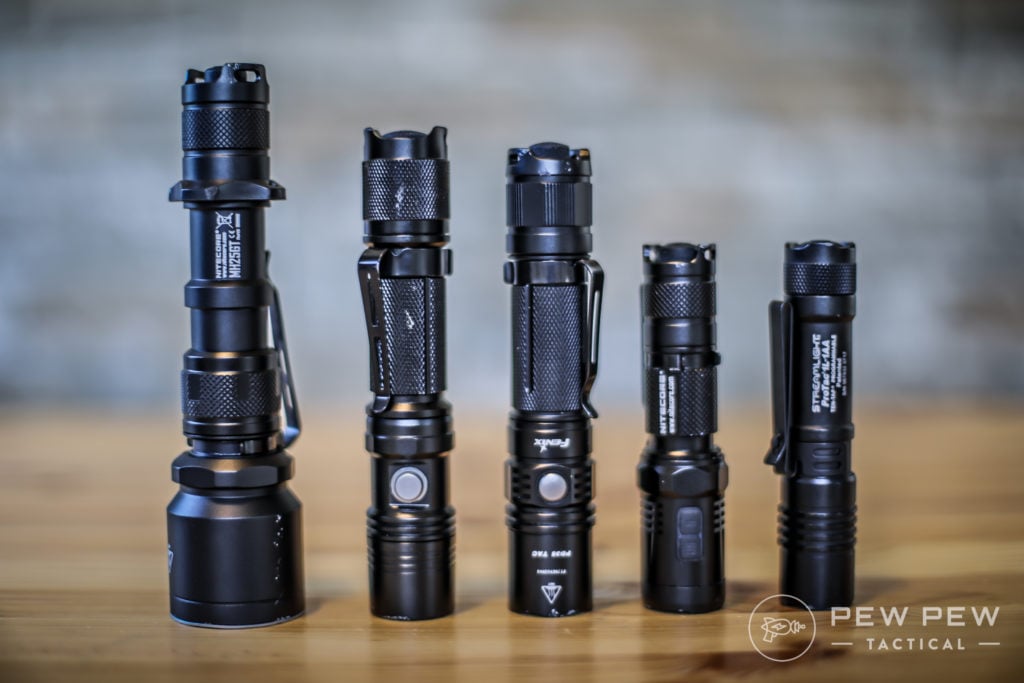 Tactical flashlights usually have a tail-activated switch to allow the users to turn it on quickly. They are bright enough to momentarily blind an aggressor, and they are built to sustain tough environmental abuse.
Don't need that stuff? Check out our Best Everyday Carry Flashlights instead. Or if you're looking for something attached to your gun…Best Pistol Lights.
Our Selection Criteria
Given current LED lighting technology, we prefer tactical flashlights to have at least 500 lumens, a good amount of downrange reach, yet still small enough to be easily held in one hand while operating a handgun in the other hand if needed.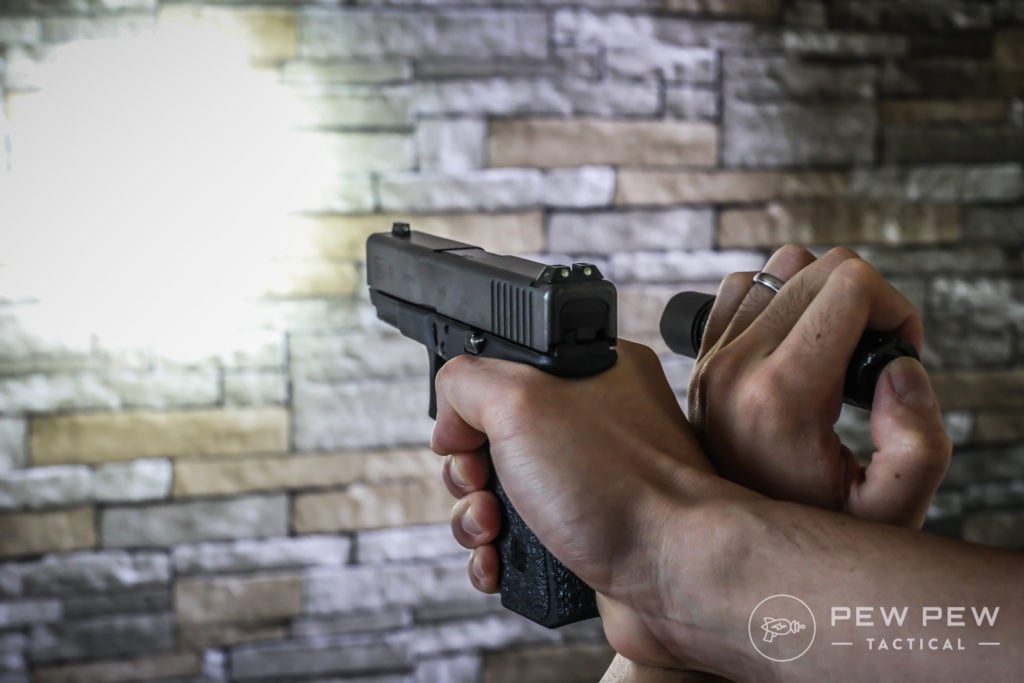 Once we got the criteria set, we looked for flashlights from a reputable brand with, on average, 50+ reviews and 4.5 stars on Amazon. We also consciously picked a flashlight from different brands, so there's a fair share of diversity and fairness with each manufacturer.
As for price, we limited it to $100 or less for the flashlight since we want the best bang-for-the-buck. If price is no object…we recommend the Surefire P3x Fury Tactical ($250).
What is a Lumen?
Lumen measures the amount of light being output by a source within a given area and time.
The higher the lumen, the brighter the light is. One lumen equals the amount of light received at a square foot area one foot away from candlelight.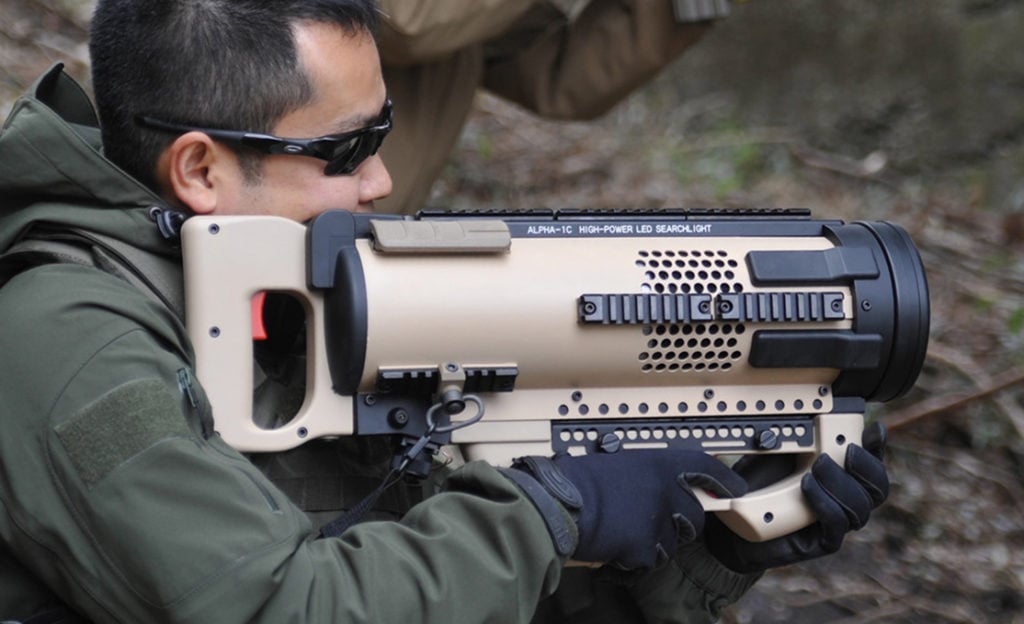 A 100W incandescent light bulb generates about 1600 lumen. And a typical headlamp of a car outputs about 700 to 1200 lumen.
Not that helpful…so we will have pictures of the light pattern from our backyard.
Batteries
Often overlooked, the type of battery will matter a lot. From cost to performance and time between recharges, what battery a tactical flashlight uses will sometimes make or break the decision.
Besides the traditional alkaline batteries (AAA, AA, C, D Cells), most modern flashlights these days take the following common batteries to increase power and weight efficiencies…
CR123: 3V lithium high output battery commonly used in high-performance electronics. A quality CR123 battery can carry up to 10 years of shelf life and usually cost around $1 to $2 per battery.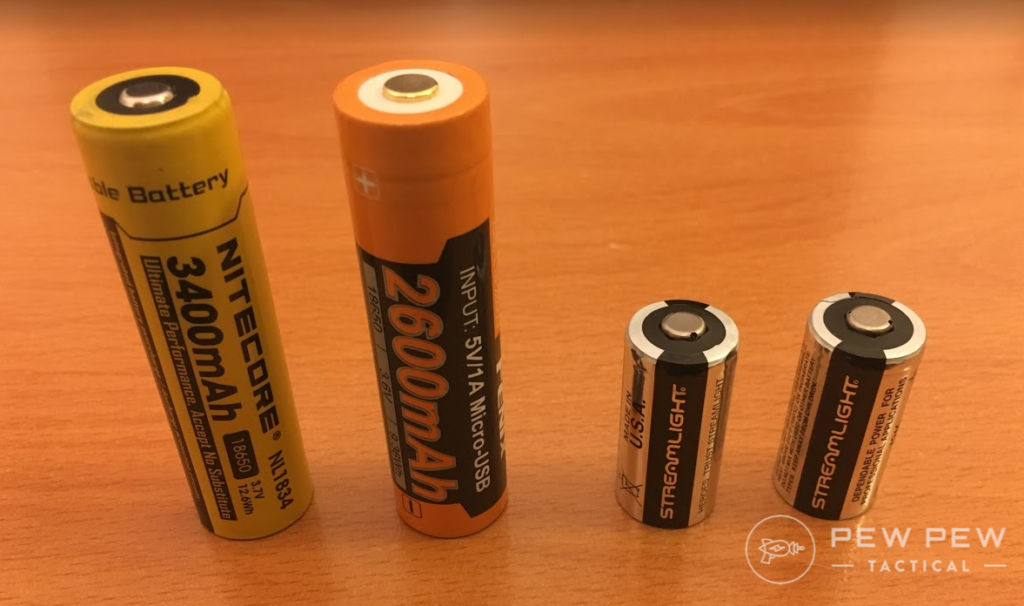 18650 (18mm by 65mm): 3.7 V rechargeable lithium-ion batteries. These are also the batteries used in the Tesla Model S sedans. They typically cost $3 to $6 per battery. Many flashlights would take either a single 18650 battery or two CR123 batteries.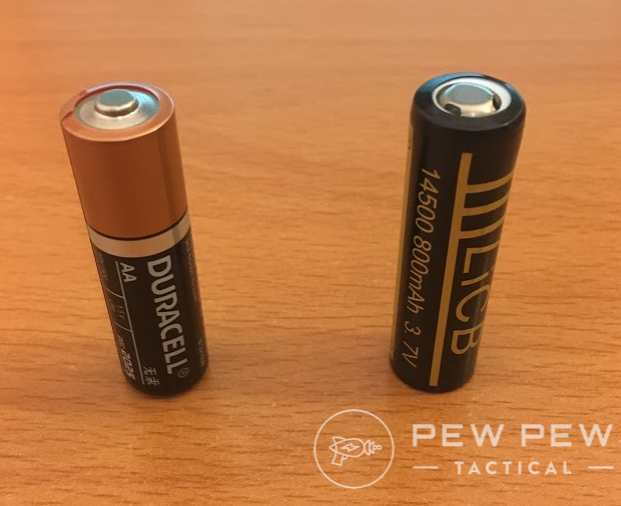 14500 (14mm by 50 mm): 3.7 V rechargeable lithium-ion batteries that are the same size as traditional AA batteries. They typically cost $2 to $6 per battery.
Scoring Criteria
We decided to score the flashlights based on three categories:
Lumen Output

Ease of Use

Ease of Carry
For ease of use, we look at how easy it is to turn on and off the light, switch between various modes, and how easy it is to hold a pistol while using the light, etc.
For ease of carry, we looked into various carrying methods, including holster carrying, pocket clip carry, or simply keeping the light in a pocket, etc.
Enough talking…let's see our first contender on the list!
5 Best Tactical Flashlights
1. ThruNite TN12 Pro
Pro: Ease of carry and use, 0.4 lumen firefly mode

Con: Light gets hot in Turbo mode (minor)

Ease of use: 8/10

Ease of carrying: 6/10

Lumen: 1900
The ThruNite TN12 light delivers an overall well-rounded feature for the users. At less than $50, this light is compact, lightweight, and sturdy.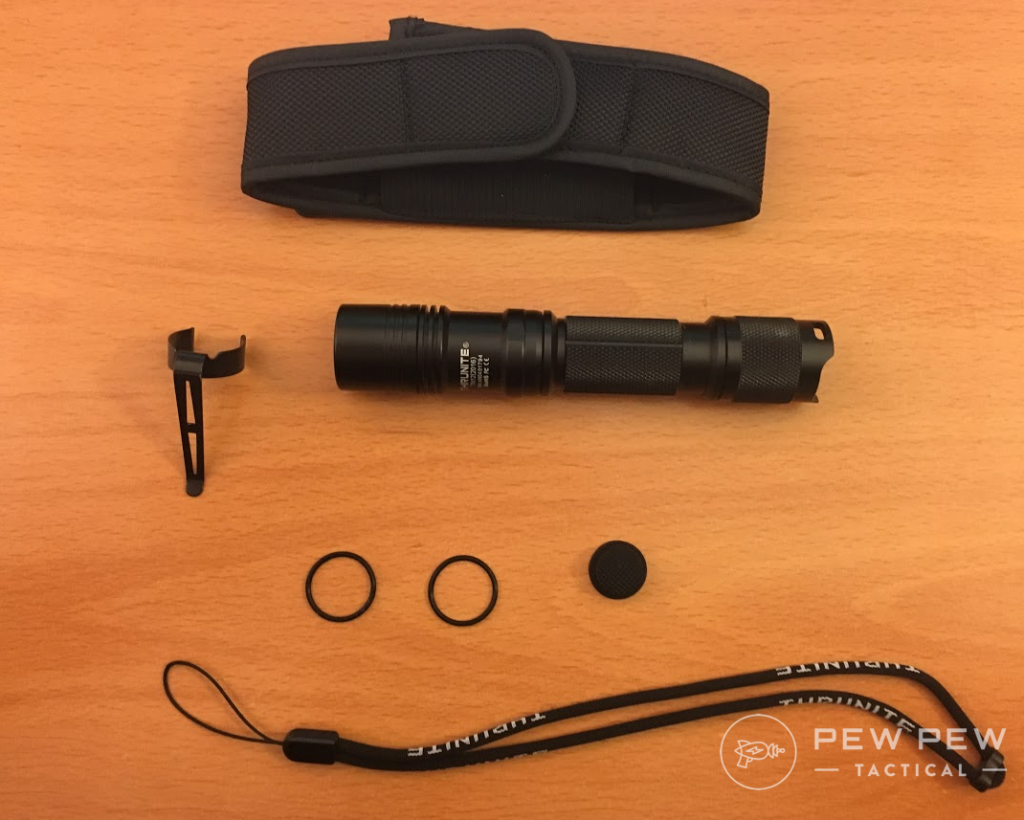 The light takes a standard 18650 Li-ion rechargeable battery or two CR123 batteries. 
It has several modes:
Turbo 1100 lumens

High 435 lumens

Medium 175 lumens

Low 18 lumens

Firefly 0.4 lumens.
Holding the side mode switch for 1 second turns on the strobe mode.
I usually kept it in the High 435 lumens setting since going to Turbo mode is only one click away.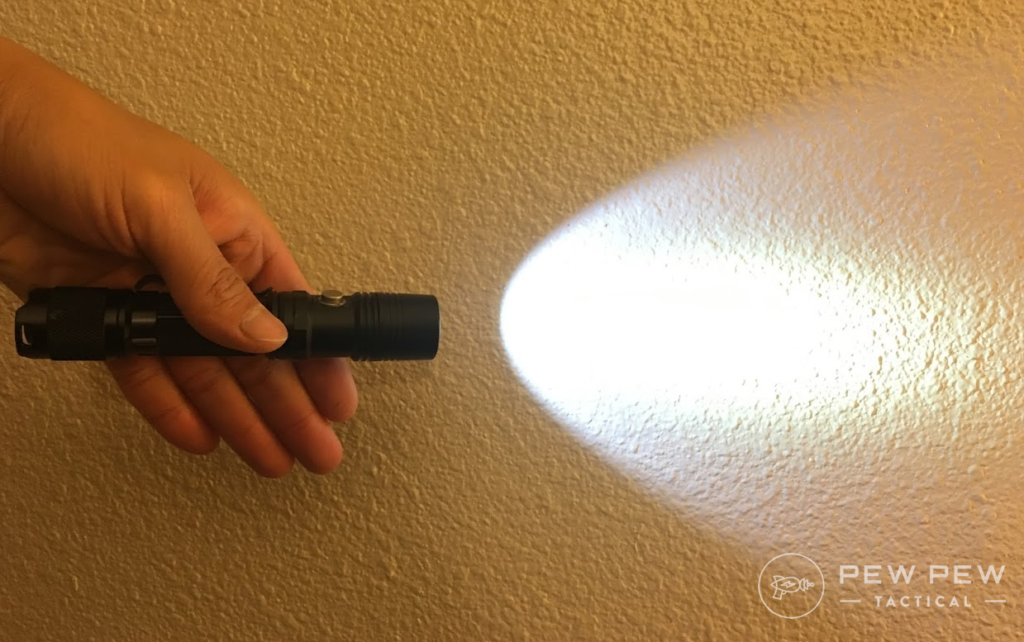 I personally use my thumb to turn on the light and use my pinky to activate the mode switch button on the side. If you toggle between various modes often, it may help to mentally memorize the five different modes as you switch between them.
It has a more spread out and even area of light.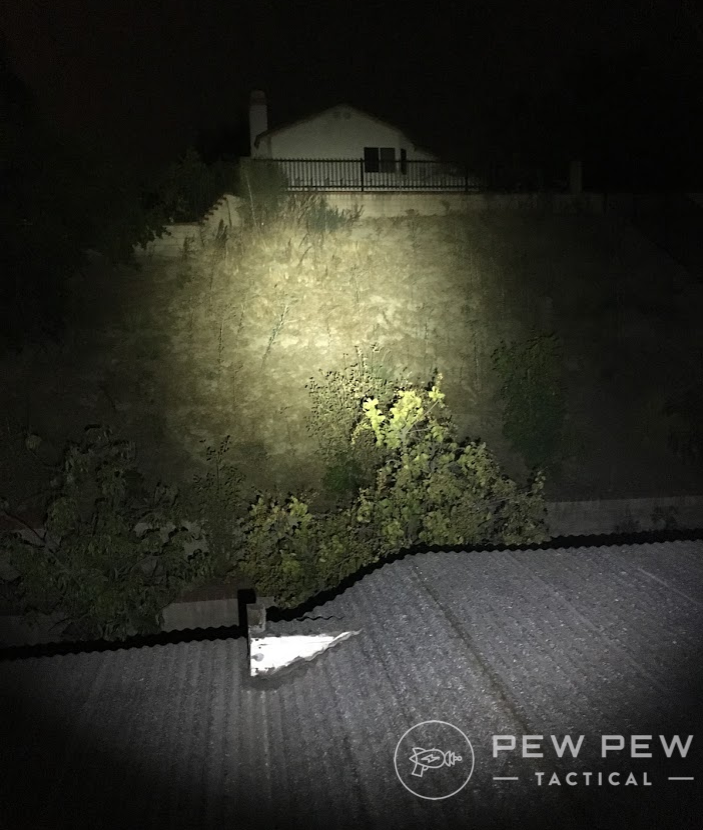 The 0.4-lumen firefly mode is the perfect camping piss light. It allows you to preserve your eyes to the adjusted night vision. It also conserves the battery in an emergency situation, allowing you to run your flashlights for up to 74 days as rated.
The manufacturer has warned against running the light at Turbo for more than 10 minutes. We obviously went ahead and tested it.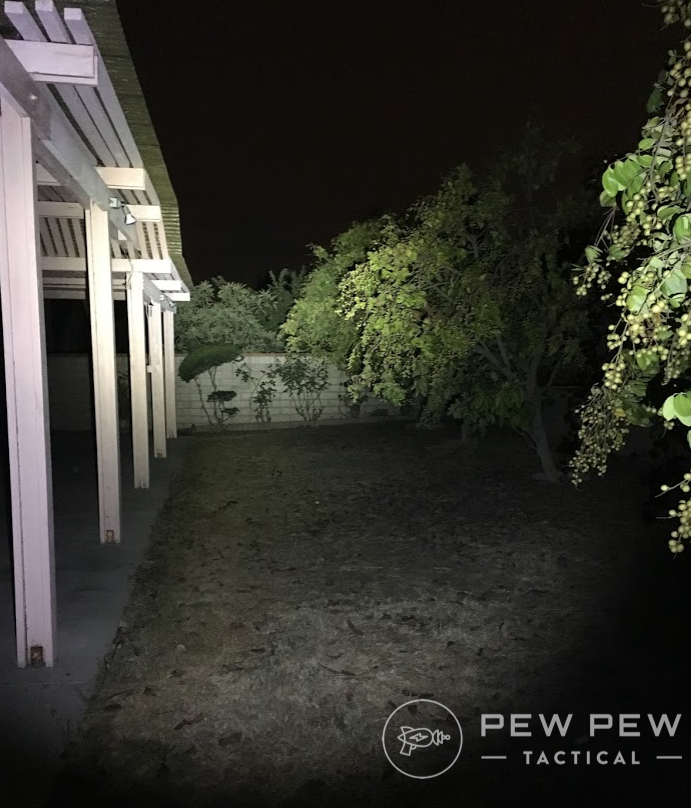 At around 3 minutes, the bezel of the light becomes noticeably hot. And around 6 minutes, it becomes very uncomfortable to touch. I stopped the test at around 8 minutes because I didn't want to push the limit and damage the light just yet.
Editor's Choice (Tactical Flashlight)
39
at Amazon
Prices accurate at time of writing
Prices accurate at time of writing
All in all, the price and even beam spread make it our best overall pick.
What do you think? Give it a rating below.
2. Fenix PD35 TAC
Pros: Ease of carry, mini-USB charging battery

Cons: Min output 8 lumens, hard to locate mode switch button without looking

Ease of use: 7/10

Ease of carrying: 6/10

Lumen: 1000
The well-rounded Fenix PD35 TAC light delivers an overall great experience.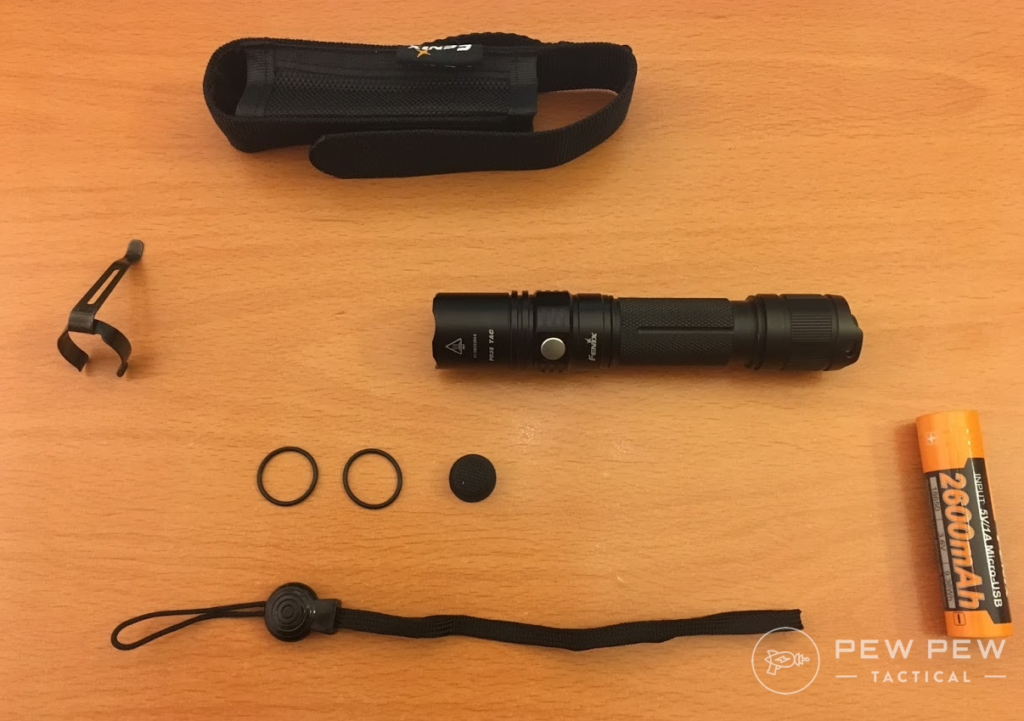 There are a couple of combos out there, and the light itself is around $65, but we recommend getting it with the 18650 Li-ion rechargeable battery that allows you to plug in a mini-USB directly for charging, so no more separate charger is needed!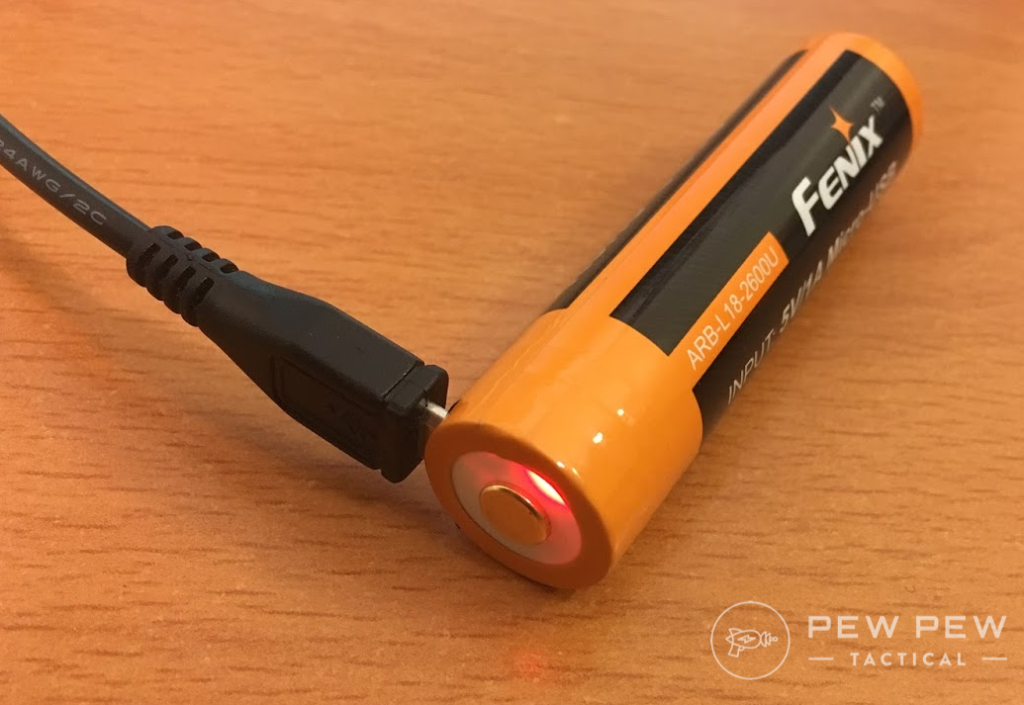 A nice feature when you're traveling or don't have a battery charger. Alternatively, you can also use two CR123 batteries for power.
It has several modes:
Turbo 1000 lumens

High 500 lumens

Medium 200 lumens

Low 60 lumens

Eco 8 lumens
Holding the side mode switch for 1 second turns on the strobe mode.
The power switch is built solid and very easy to turn on and off. You press the button halfway, and it goes to momentary on and off easily without issues. 
Since the mode switching button does not fully protrude out of the light, there are times when I found it hard to use my pinky to locate the button without looking at the flashlight.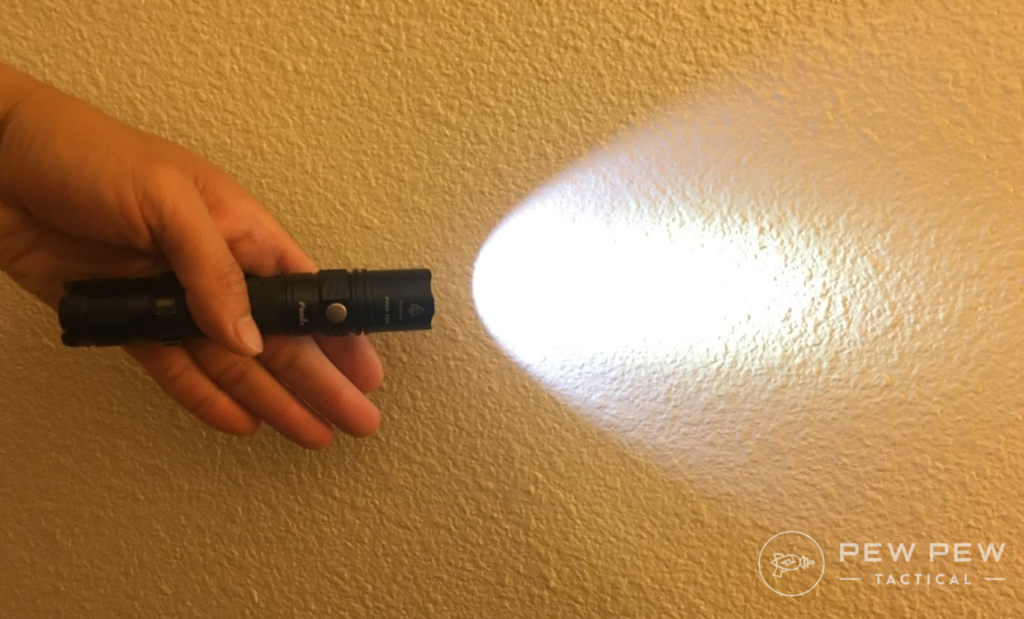 Compared to the ThruNite TN12, this light is not as hot in the Turbo mode. Per the user manual, the light would automatically down switch from Turbo to High mode after 5 minutes of operation. Because of this feature, I was able to easily leave the light on past 30 minutes without risking damaging the light due to heat.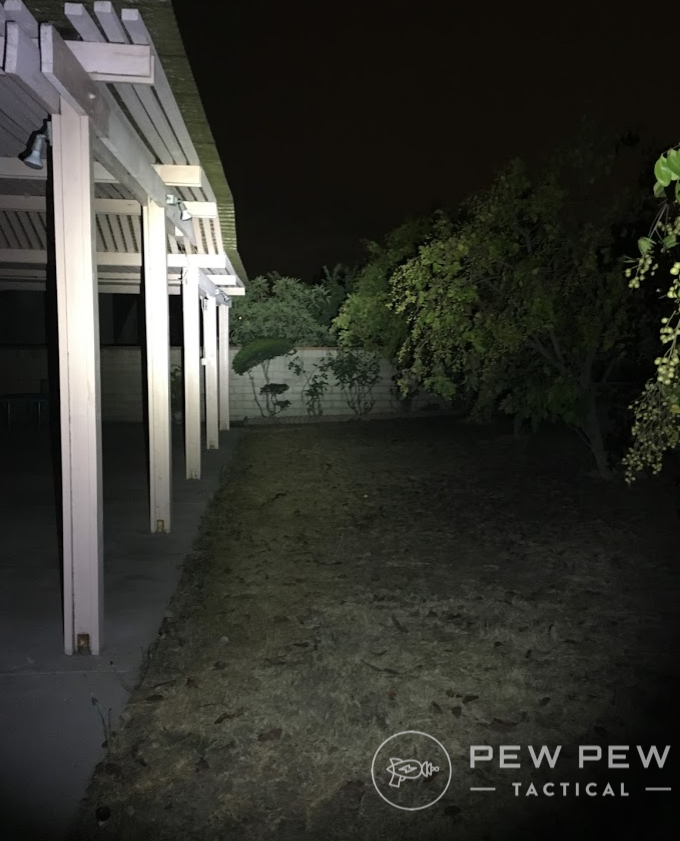 Now, if you're someone who's used to having a flashlight with moonlight/ firefly mode, the lowest output at 8 lumens may seem a bit too bright. Waking up in the middle of the night, this flashlight may provide more light than needed for well-adapted night-vision eyes.
The light provides a well-spread beam that's sufficient to illuminate a whole room and just enough concentrated light in the center to illuminate downrange.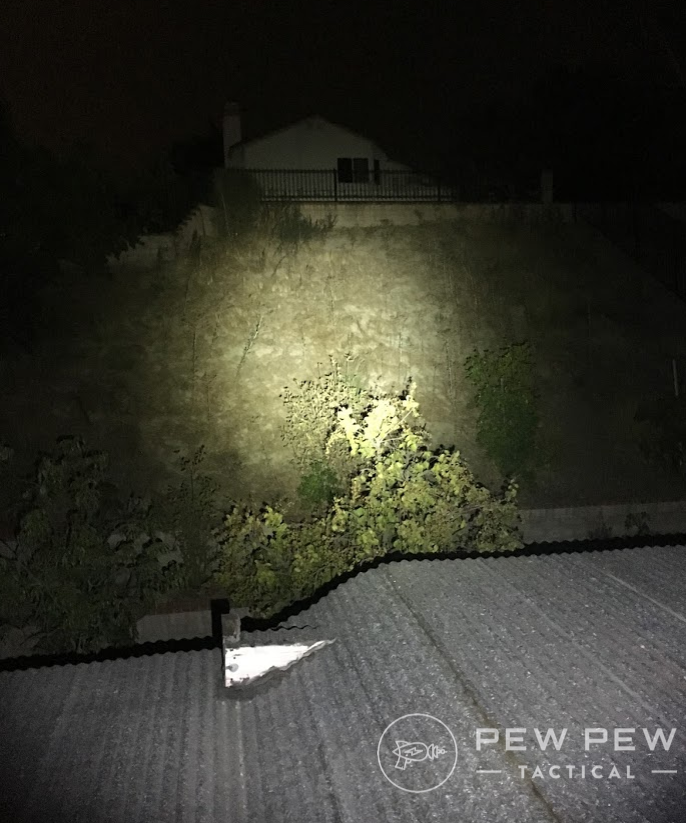 It ticks off all the checkmarks we have for a great tactical flashlight, but due to its higher price-point with a rechargeable battery, we're awarding it the Best Overall Tactical Flashlight in the Premium category.
Best Premium Light
80
at Amazon
Prices accurate at time of writing
Prices accurate at time of writing
3. Nitecore MT10A
Pro: Compact, 920 lumens, red firefly light, takes both IMR 14500 and AA batteries

Con: None

Ease of use: 7

Ease of carrying: 8

Lumen: 920
The Nitecore MT10A is a compact EDC-sized tactical flashlight with a very thoughtfully designed red light.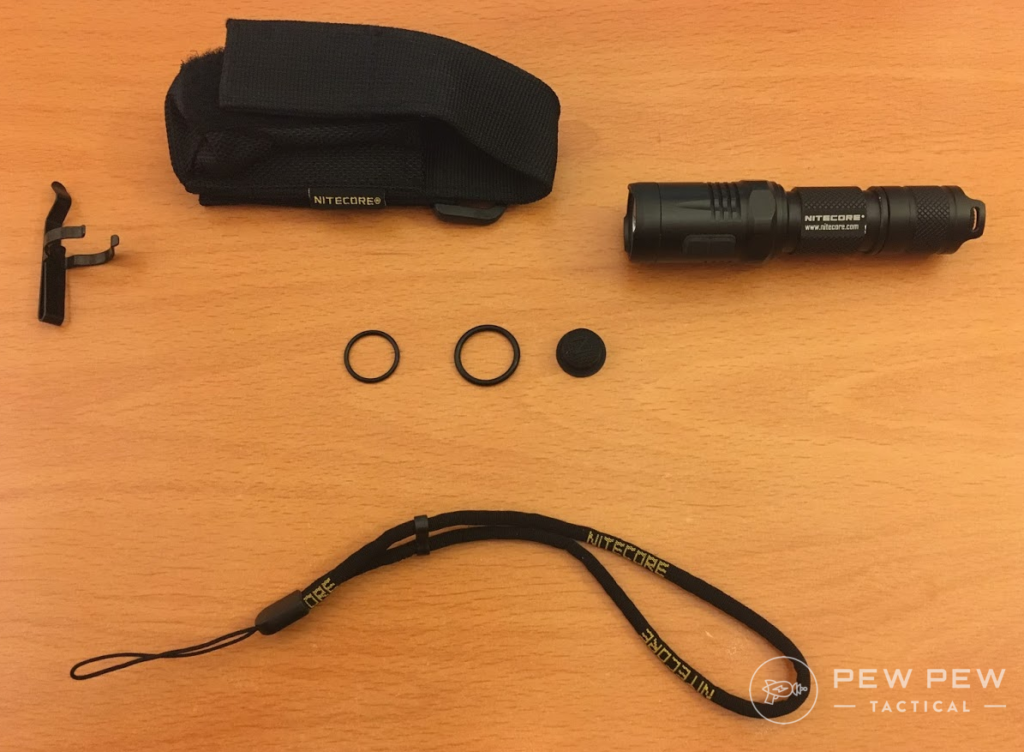 The light is about the size of an adult palm and fits very nicely in the pocket. I enjoy carrying this light in the pocket for EDC purposes, yet it's bright enough to be used as tactical light with a tail-end switch.
This is my new favorite go-to camping light, as the red light feature allows me to travel in the dark without disturbing my night-adapted vision. Plus, I can also travel invisibly in the dark since others won't notice the red light from far away!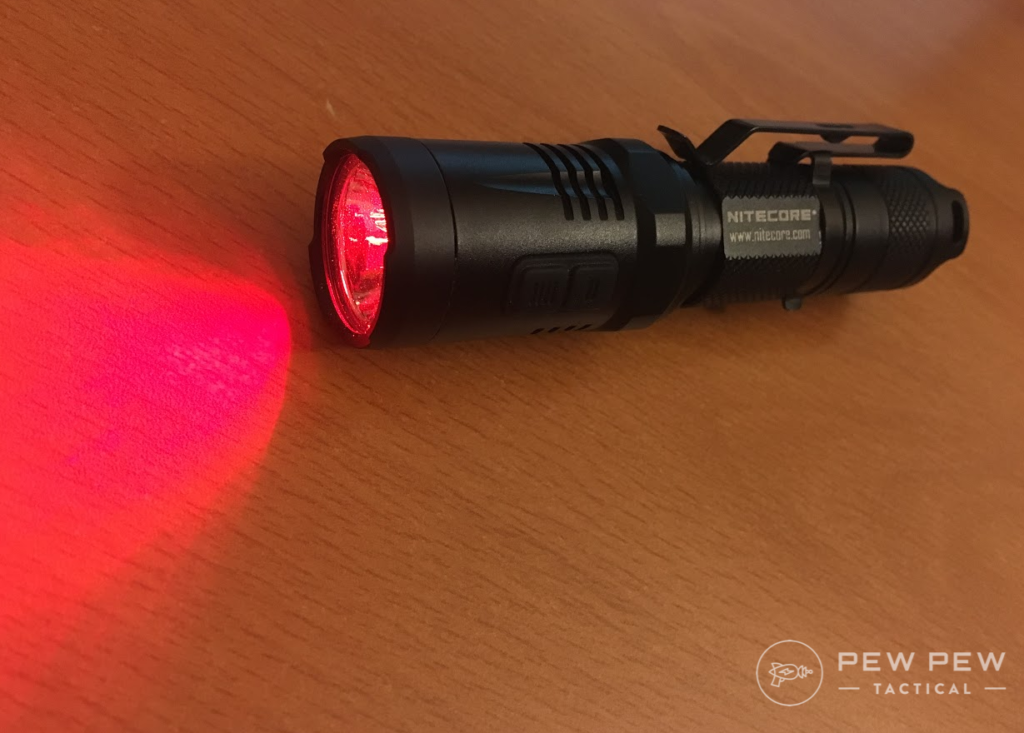 Note that to achieve the 920 lumens rated, you actually have to use these IMR 14500 batteries. They are the same size as AA batteries yet provide much higher voltage compared to the traditional AA battery.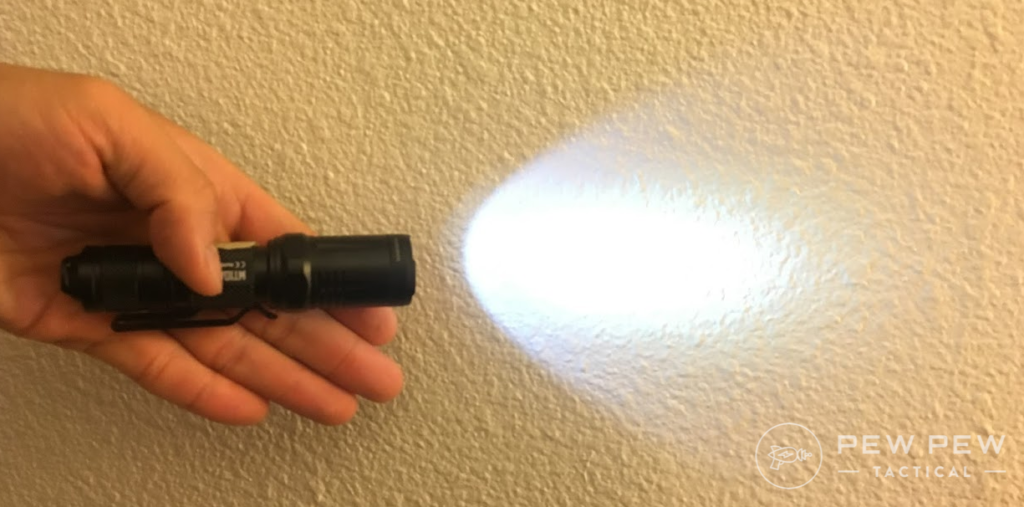 The AA batteries will only push out 170 lumens. The IMR 14500 batteries are about $4 to $10 depending on the quality and manufacture.
The light has several modes with the IMR 14500 batteries:
Turbo 920 lumens

High 500 lumens

Medium 180 lumens

Low 70 lumens

Lower 1 lumen

Red light (I would estimate it at around 0.5 lumens)
It creates a semi-focused beam that's useful for searching and for general lighting up of areas.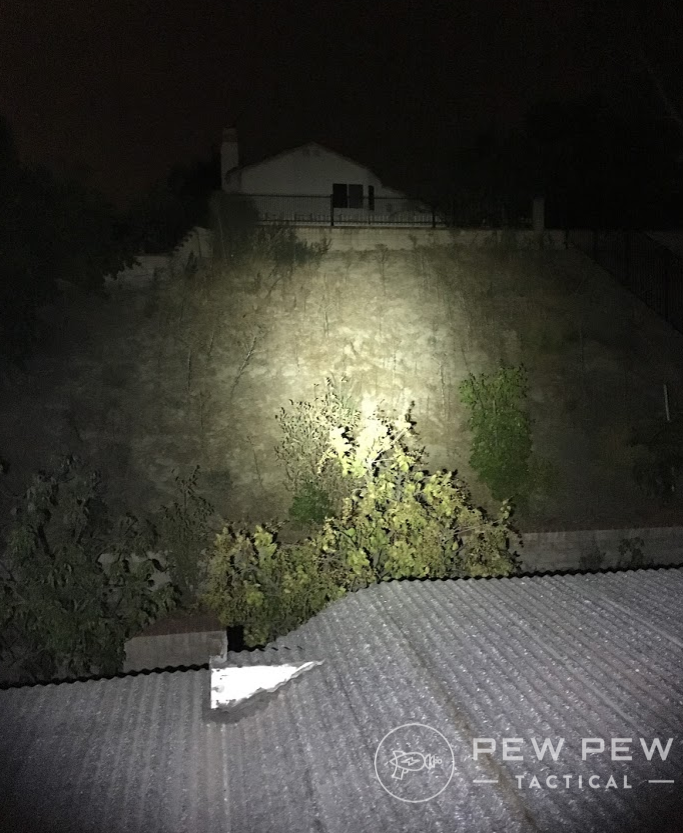 After 3 minutes of using the Turbo mode, the flashlight will lower its output automatically to prevent overheating.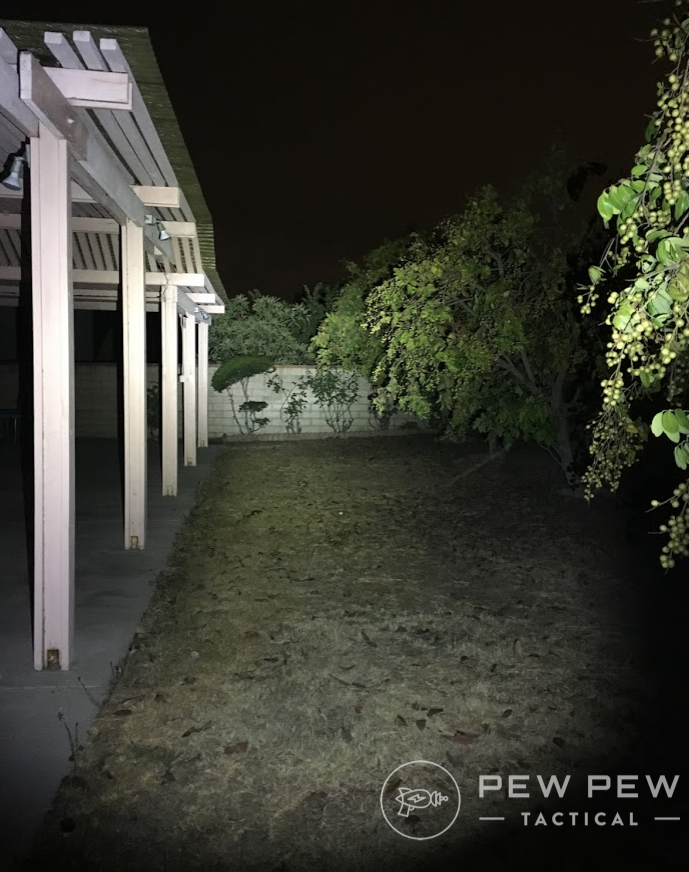 If you read into the manufacturer's instruction manual, it would say, "Do not use an IMR 14500 battery in low power." Sounds strange, right?
What it actually means is don't leave the light on until it dies. It's completely okay to use the IMR 14500 battery in the low output mode…probably a bad English translation here.
Best Compact Light
49
at Amazon
Prices accurate at time of writing
Prices accurate at time of writing
4. Streamlight ProTac 1L-1AA
Pro: compact, affordable, takes both AA and CR123, single button operation

Con: limited output modes (minor)

Ease of use: 8

Ease of carrying: 9

Lumen: 350
The Streamlight ProTac 1L-1AA 88061 is an easy-to-carry all-around light. It's small enough to fit nicely in the pocket without noticing it.
And…the ProTac line has over 7000 reviews on Amazon with a 4.5-star rating!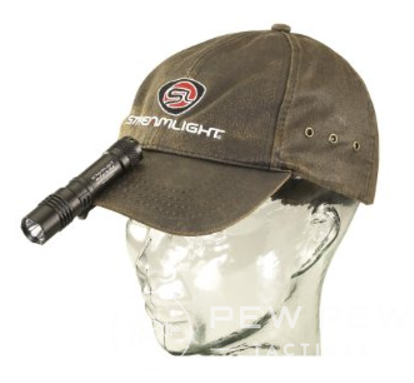 One of the greatest advantages of this light is its ability to take both the AA (or IMR 14500 rechargeable batteries) and CR123 batteries. This makes it an ideal light in a bug-out bag since you can find AA batteries everywhere.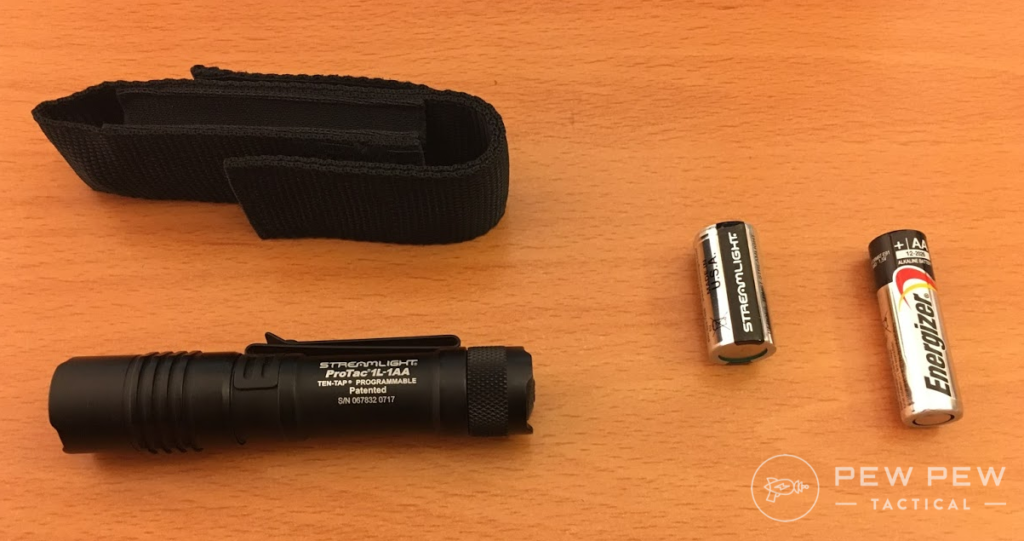 It has three default mode
High 350 lumens

Strobe 350 lumens

Low 40 lumens (with a CR123 battery)
The operations are completely done through the single tail cap switch. Some users may like its simplicity, while others may find it a hassle to switch between modes if you constantly have to cycle to the low light mode.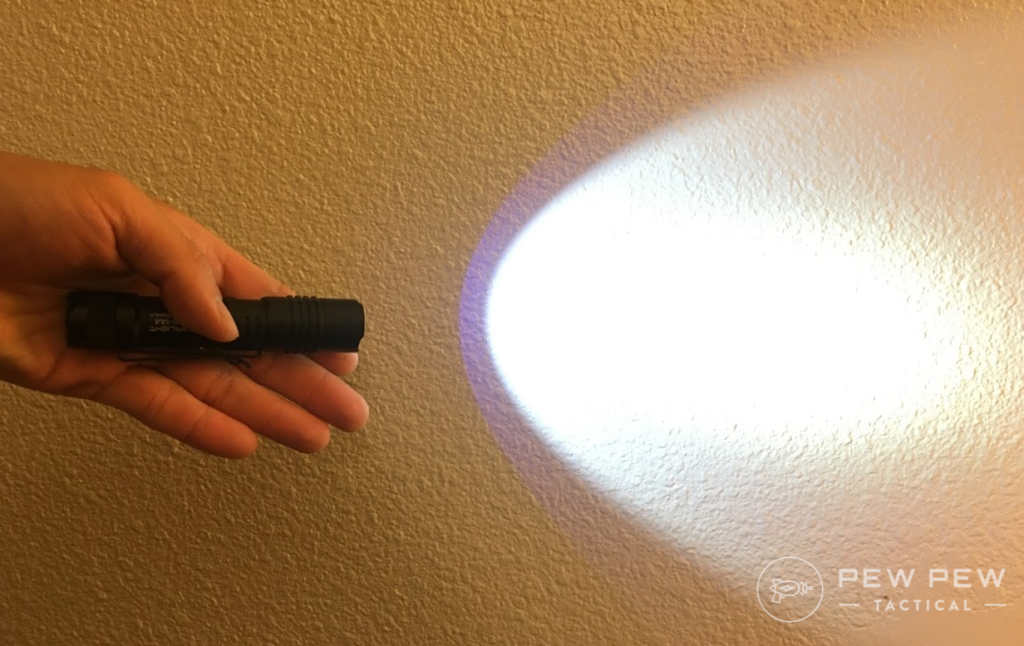 I personally appreciate the single button switch because that's the only button I need to press for operation.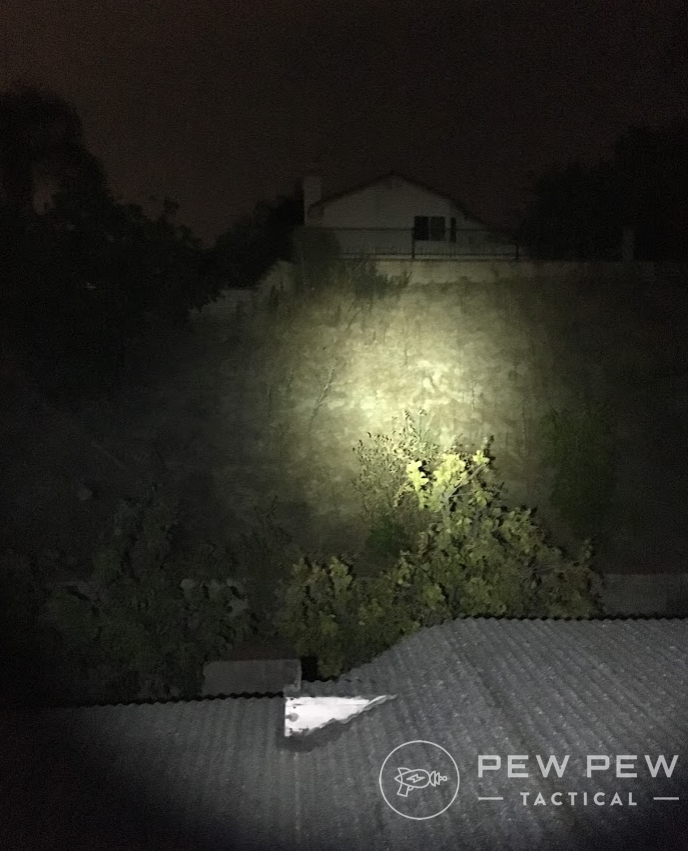 Compared to some of the other lights outputting up to 1000 lumens, at 350 lumens, the temperature of this light does not appear as hot compared to other lights. 
And I know…we wanted at least 500 lumens to be considered "tactical,"…but we just loved this little light so much we had to add it in.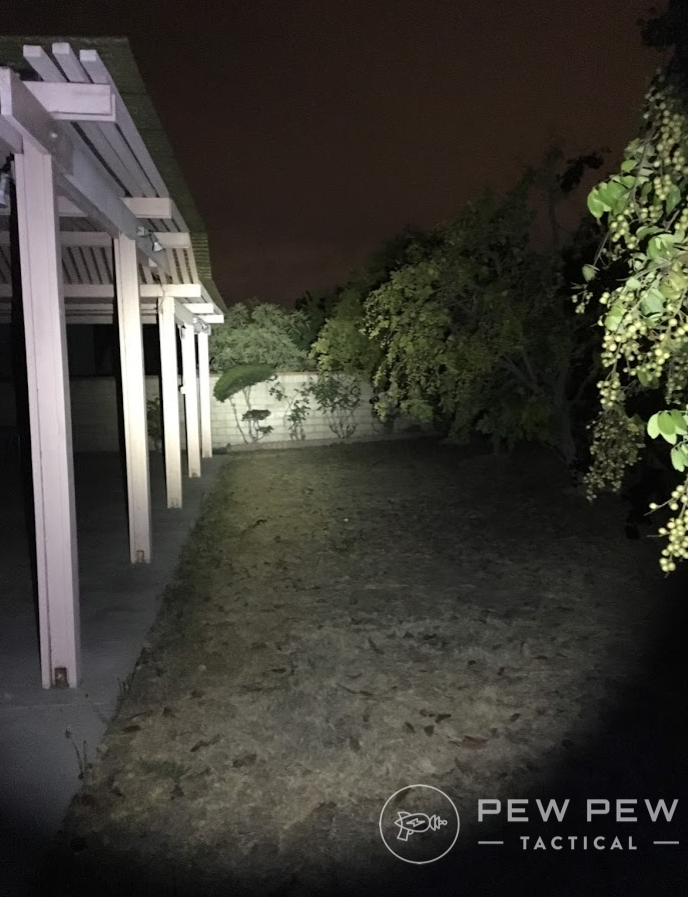 After 30 minutes of operation on High mode, the bezel of the light only feels warm, and the temperature does not seem to increase.
Our favorite pick for a small yet powerful tactical flashlight.
Compact & Simple
46
at Amazon
Prices accurate at time of writing
Prices accurate at time of writing
5. Streamlight Wedge
The Streamlight Wedge is a rechargeable, compact EDC light with 300 lumens (constant-on) behind it.
It offers a three-hour runtime and weighs in at 3.30 ounces. Length-wise, it measures 5.46 inches.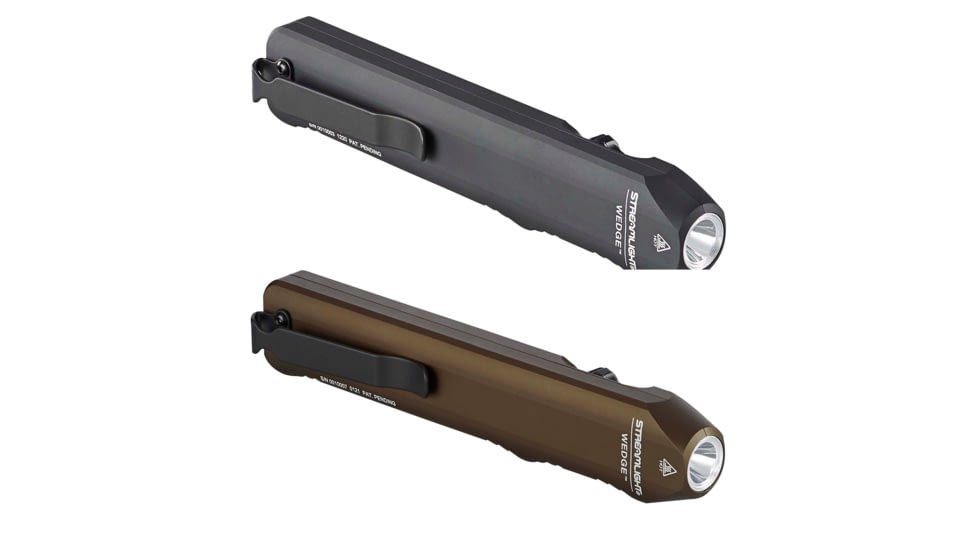 This light comes with a rotating thumb switch with a tactile feel and what Streamlight calls THRO — Temporarily Heightened Regulated Output modes. Under this mode, the light outputs 1,000 lumens in a 35-second burst.
It comes with rugged anodized aluminum and a waterproof USB-C port.
Coming in under $100, this is a decent EDC option for those on a budget.
Compact EDC Option
84
at Amazon
Prices accurate at time of writing
Prices accurate at time of writing
Water Submersion and Drop Test
To ensure all the lights live up to their manufacturer ratings, we subjected all of them to basic impact and water-resistant tests.
We turned the lights on, then dropped the lights five times from about 5 feet high (~1.5 meters) to the concrete floor:
light facing down (3x): how it will likely naturally fall from your hands/pocket

light facing up (1x)
sideways (1x)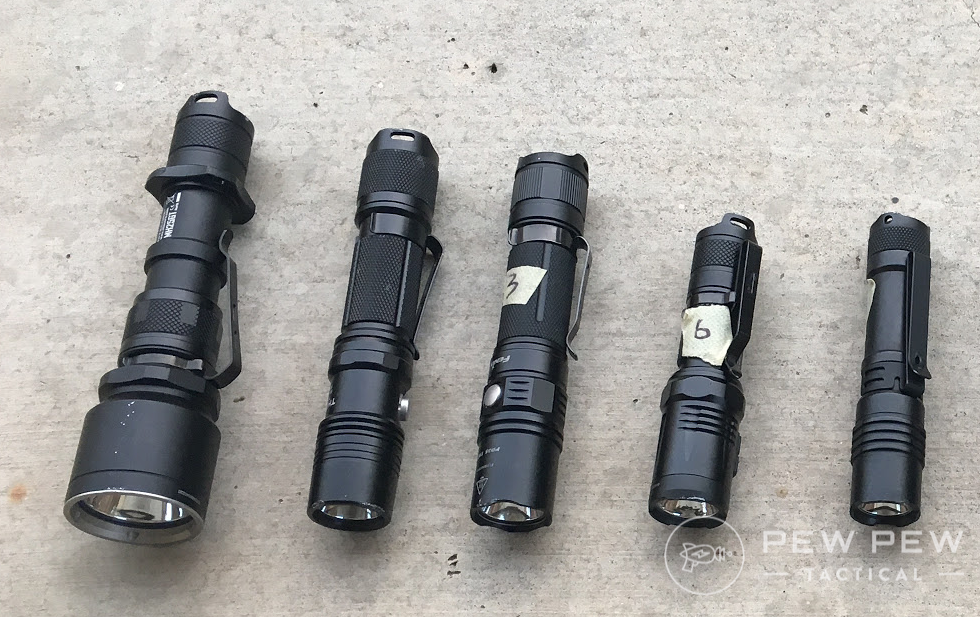 After the five drops, we ran a successful function check by cycling through the settings of the lights to ensure they still work properly.
You can tell from the images that the lights do suffer minor scratches and dings on the surface. But the lights all function just fine.
After the drop test, we subjected the lights to 30 minutes of water submersion in 1-foot deep room temperature water.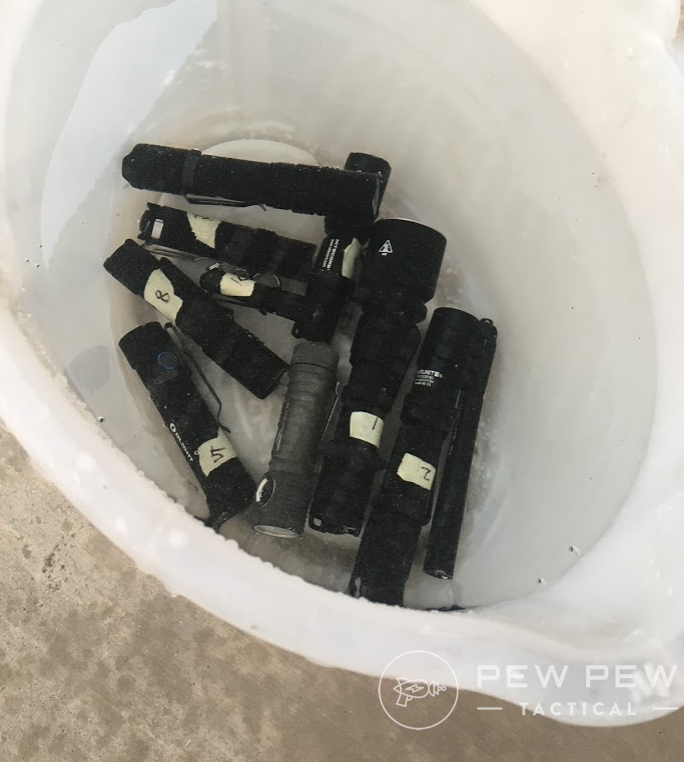 After 30 minutes, we took the lights out of the water and conducted a function test by cycling through all the light features and output modes.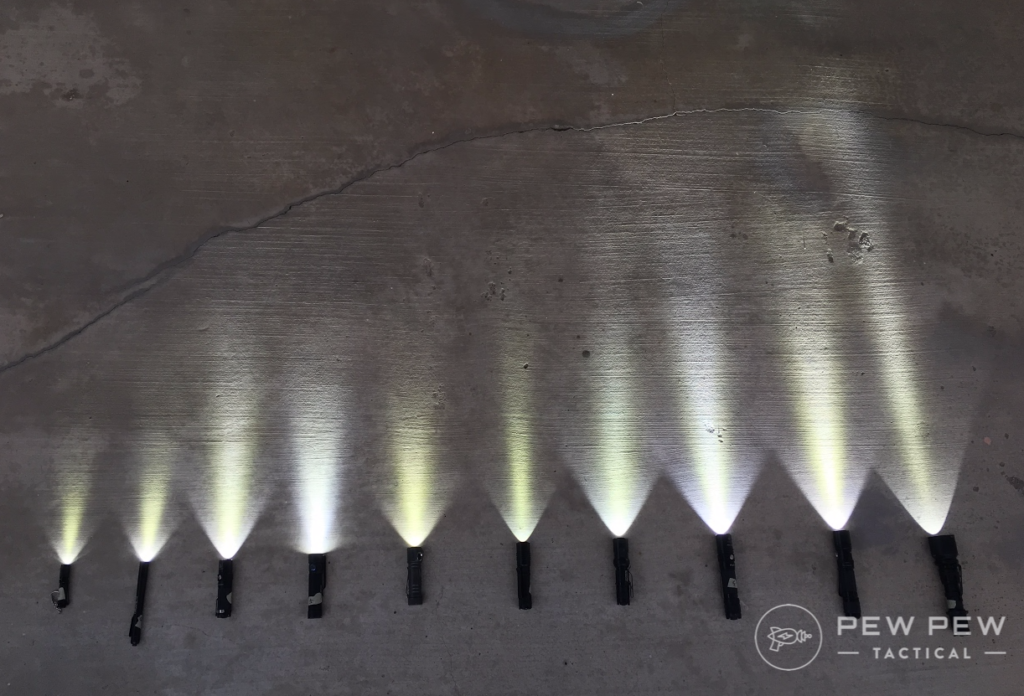 Again all lights have successfully passed the test!
Final Thoughts
Product engineering is always a trade-off. And depending on what you're looking for, here we have different solutions for you!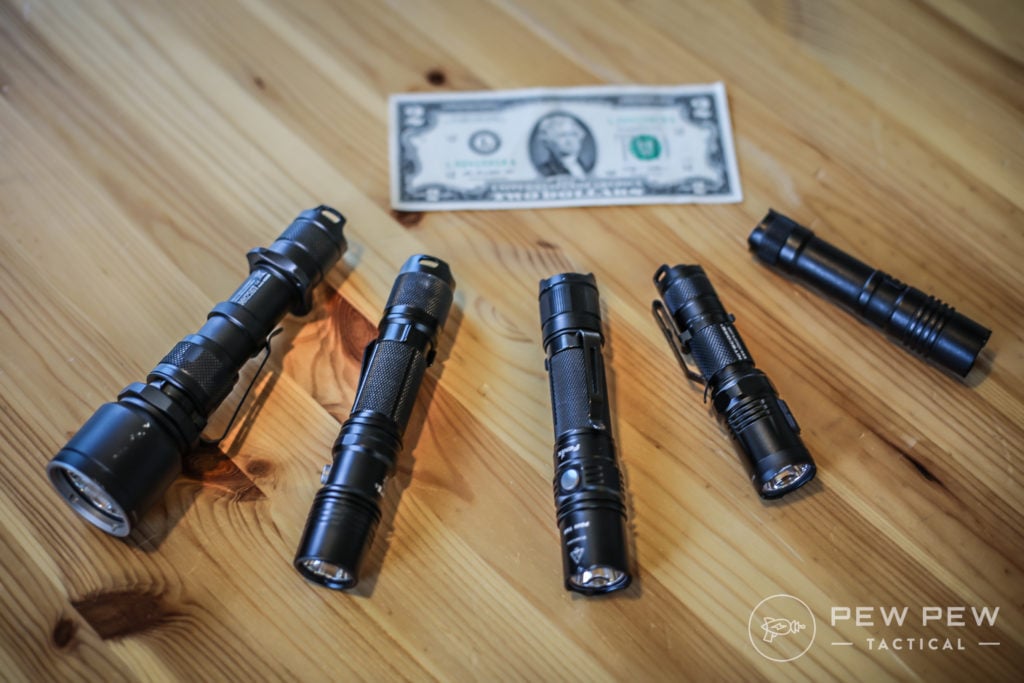 Both ThruNite TN12 and Fenix PD35 TAC are your standard tactical lights, while TN12 seems to be easier to use and more affordable.
Editor's Choice (Tactical Flashlight)
39
at Amazon
Prices accurate at time of writing
Prices accurate at time of writing
If you want a tac light that fits well in the pocket and has a nice red firefly light, go with the Nitecore MT10A.
49
at Amazon
Prices accurate at time of writing
Prices accurate at time of writing
And the Streamlight ProTac 1L-1AA would be an ideal light for someone who prefers single button operation.
46
at Amazon
Prices accurate at time of writing
Prices accurate at time of writing
For tips on how to use a light while shooting, check out the Brownells Daily Defense video below for tips.
How did we do? Any that we missed that meet our criteria of at least 500 lumens, tail button activated, and under $100? Or if you're looking for something attached to your gun…Best Pistol Lights and Best AR-15 Flashlights.
Read the full article here