Tactical
7 Best Hiking Handguns & Holsters of 2023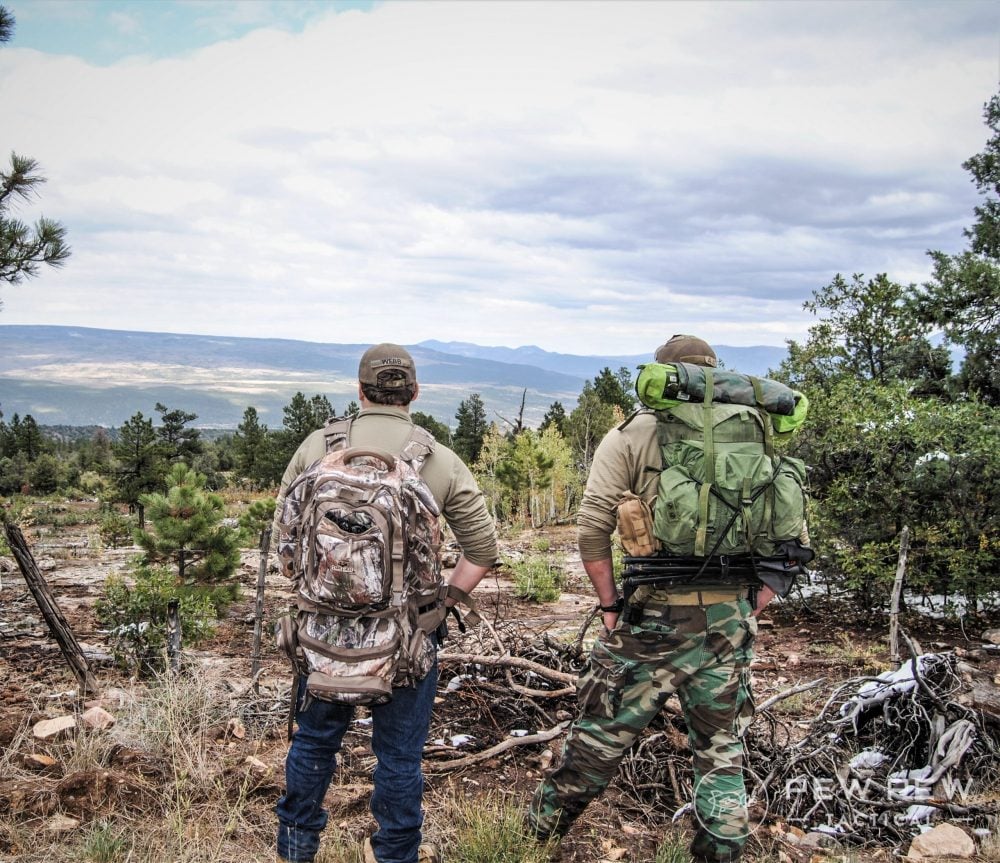 Hiking can be done for exercise, adventure, exploration, and more. You can find trails near even the most urban areas, so even you city-dwellers can get in on it.
It's a safe endeavor most of the time, too. But that doesn't mean you shouldn't pack a med kit, a means to call for help, and a gun (if you can).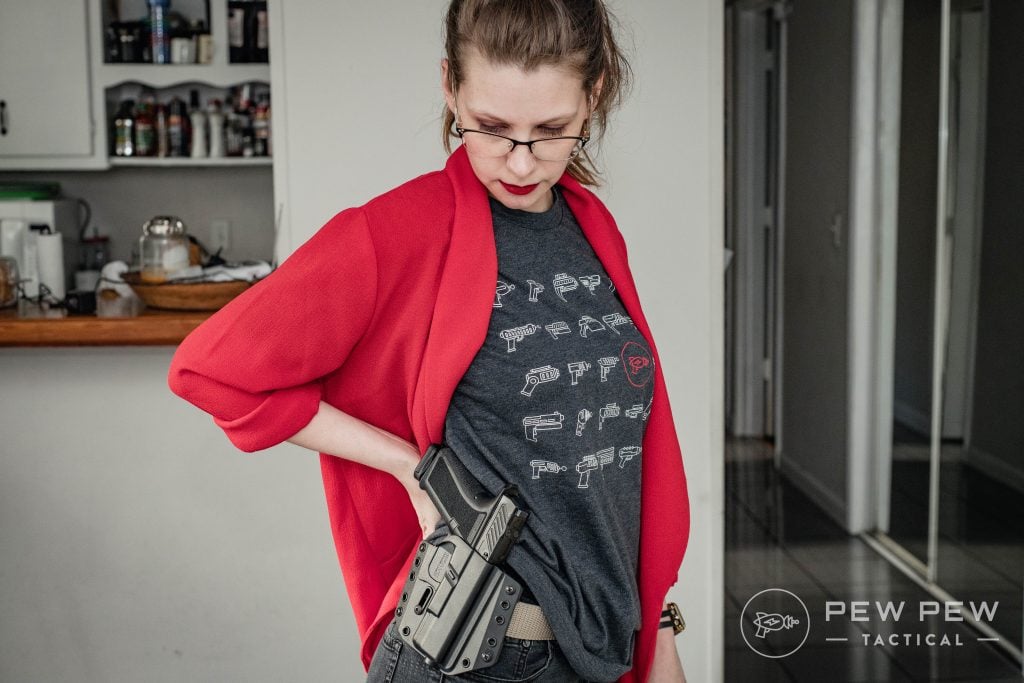 However, before you set yourself loose in the wilds of North America, you'll need a good hiking handgun. 
And just what is a hiking handgun?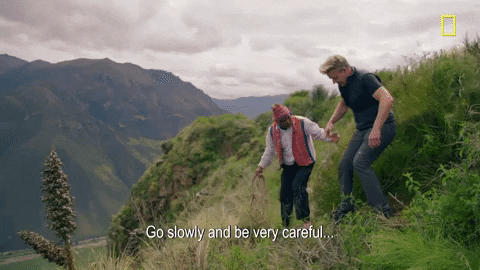 I'm so glad you asked.
Today, I'll run you through what makes a gun a good option for a hiking buddy. We'll also look at some carry options as well.
Finally, I'll list a few of my favorite hiking guns and holsters for each!
Summary of Our Top Picks
Table of Contents
Loading…
What's a Hiking Handgun? 
A hiking gun allows you to protect yourself while on the trail.
Out in the wild, you face numerous threats…snakes, coyotes, mountain lions, bears, and even two-legged vermin that might need ballistic dissuasion.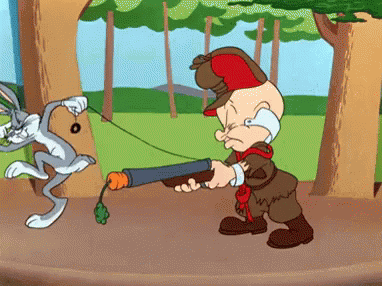 That's a ton of potential threats. So, before you choose a hiking gun, you might want to do a mini-threat analysis. By that, I mean evaluate where you're hiking and what kind of predators you might encounter.
The threats in Alaska look a bit different than those in Florida or Maine. So there isn't just one hiking gun to rule them all.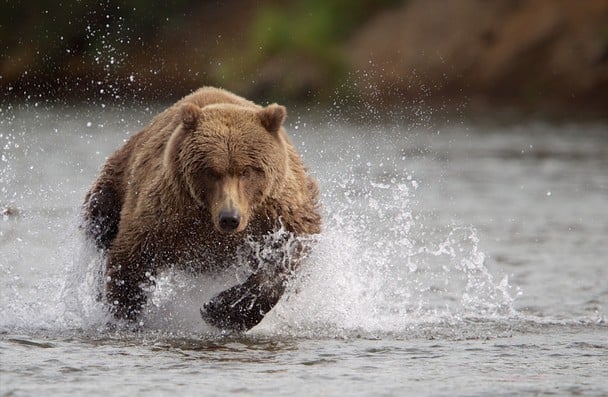 But before we dive into some of my preferred guns for hiking and camping, let's look at some of the factors you should consider when choosing a hiking handgun. 
Requirements for a Good Hiking Gun
Reduced Weight
When searching for the right handgun for the trail, take weight into consideration.
Once you hit the ground hiking, you'll learn that weight matters, and the more weight you have, the more weighed down you'll feel. Remember that old adage, "Ounces are pounds, and pounds are pain?"
Yeah, it applies here, too.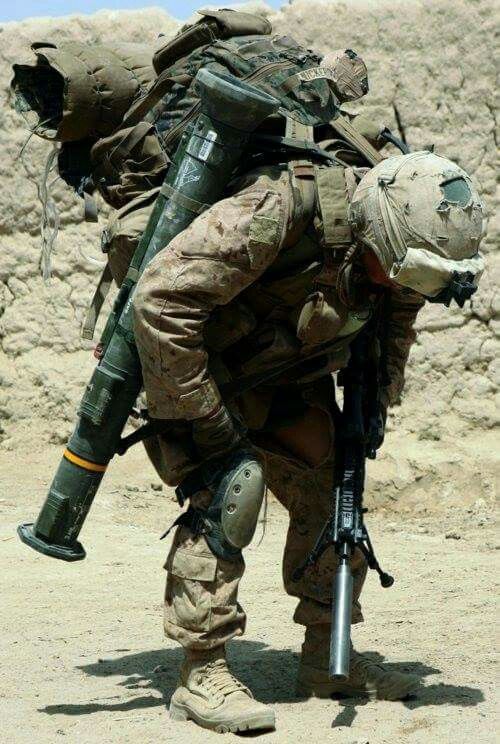 That said, lightweight is a relative term. Lightweight for a hiking handgun is different than lightweight for a concealed carry gun.
Hiking handguns are not hunting handguns, so you can easily trim weight. The more you can reduce without losing power, the better.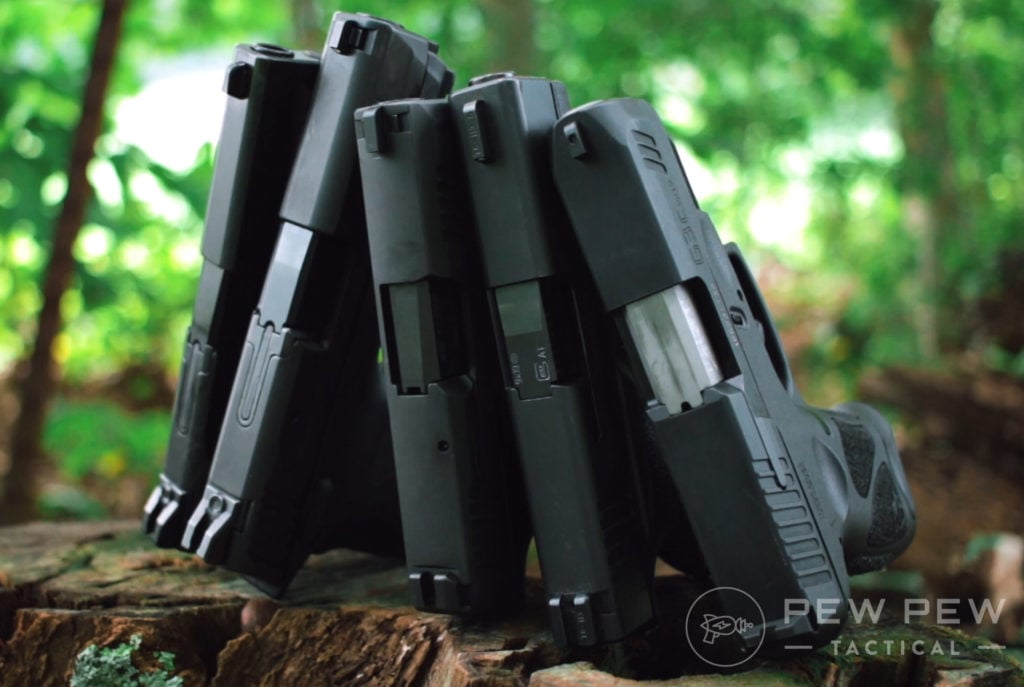 Ease of Carry 
Lightweight is one factor, but so is overall size.
You'll want to reduce size here and there to make the gun handier. One of the best ways is to trim barrel length.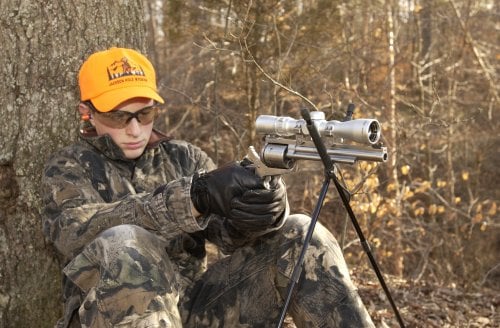 Once again, hiking handguns are not hunting handguns, so you can trim down on the barrel and grips a bit. You'll want a gun that's easy to carry but also easy to shoot. 
Think about it; you might need to shoot it with one hand. A lighter, shorter weapon is easier to use with a single hand.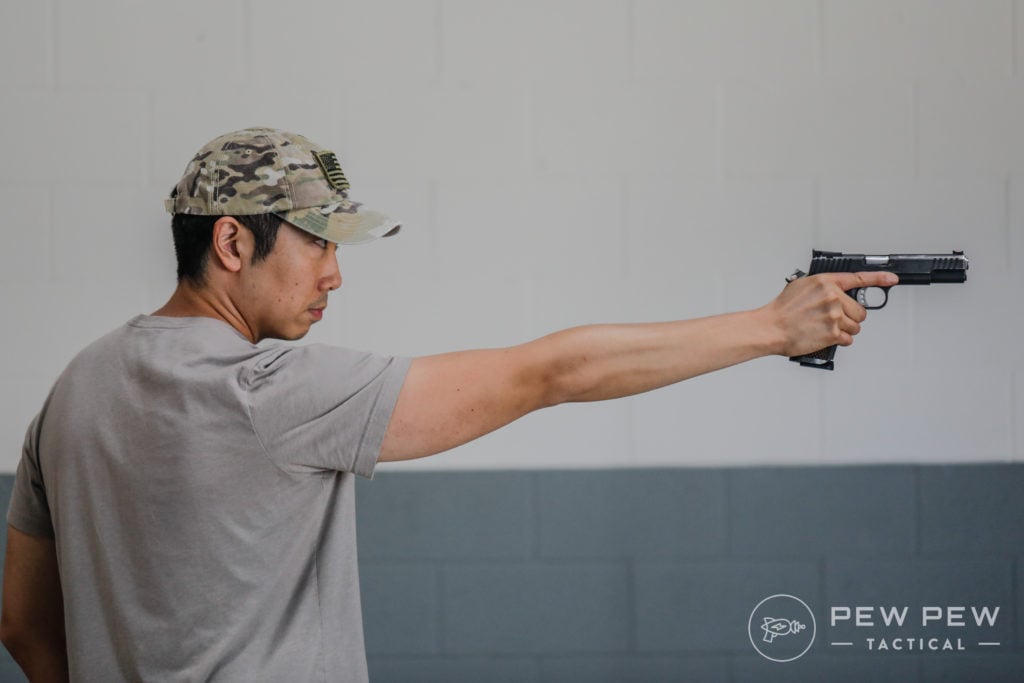 Powerful…? 
Hiking handguns are the perfect example of the term power is relative. Conduct a threat analysis and see how much power you need.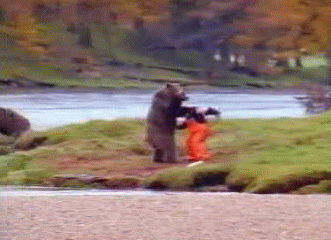 For instance, I live in an area that doesn't have large bear populations, mountain lions, or other large scary creatures. 
Powerful to me is a 10mm. But generally, I carry a 9mm on most hikes…or occasionally a .22 LR handgun. That's all I need to be safe from the threats in my area.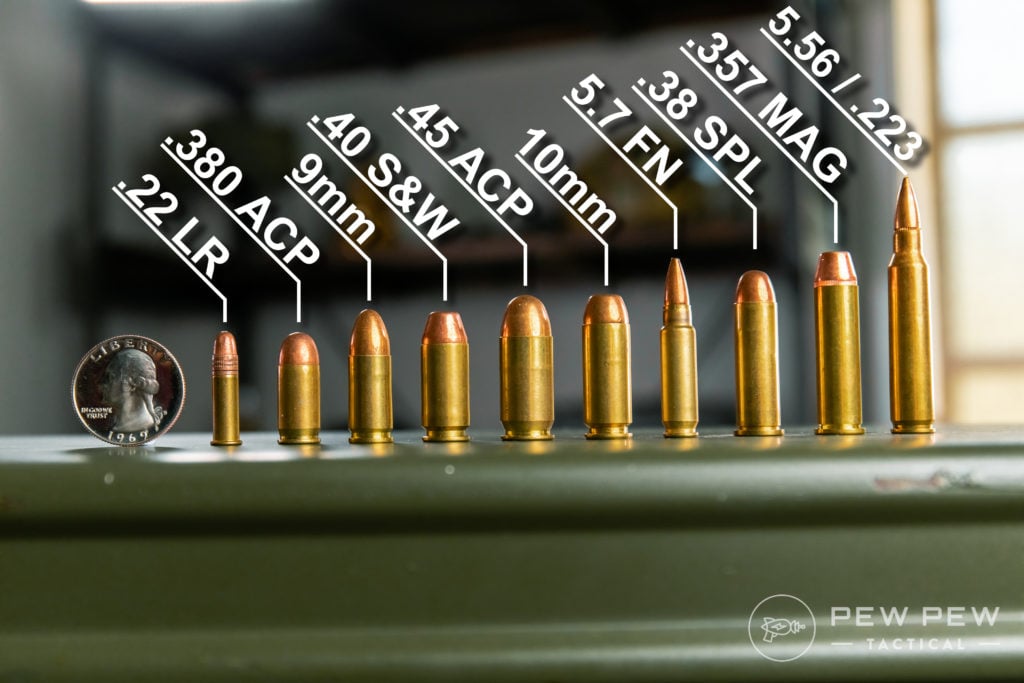 Base the power level you need on the threats existing in your area.
You might need a .44 Magnum…or a 9mm might be perfectly acceptable, too. 
Hiking Gun Holsters
If you have a hiking handgun, you'll need a good holster for it.
A quality holster protects the gun, ensures safety, and makes it easy to access your gun when needed.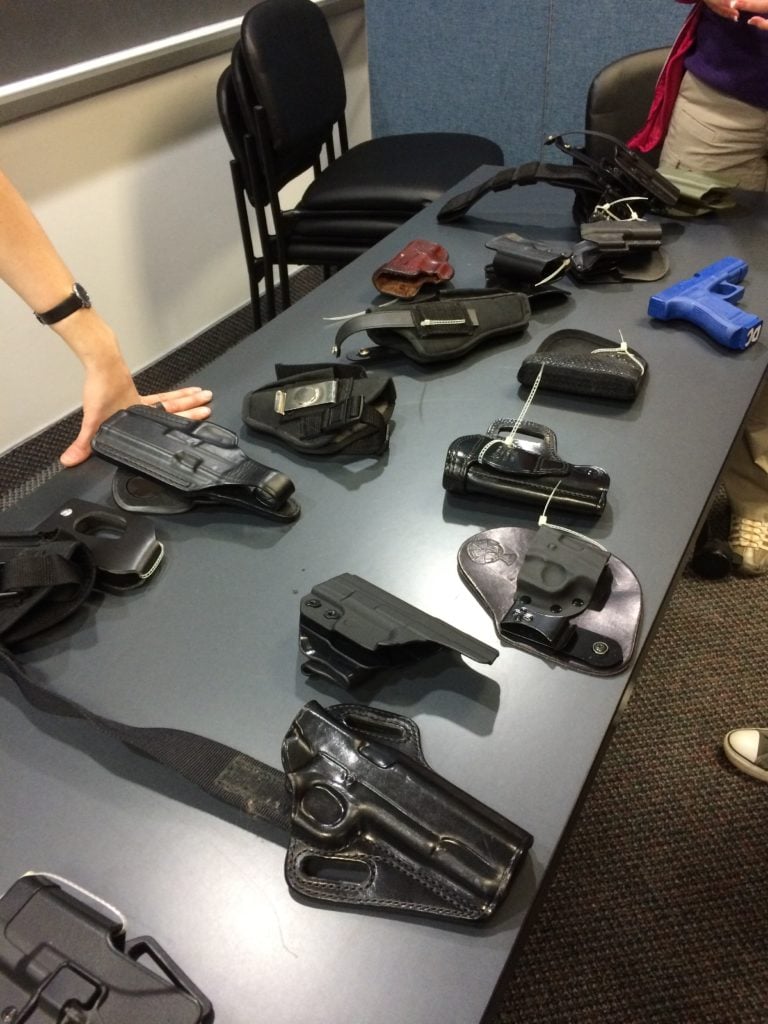 Beyond that, hiking often offers rough or unpredictable terrain. Choosing a holster with proper retention is critical.
You'll need a holster that clings to your weapon with some real gusto. 
For hiking carry, there are three different types of holsters you should consider for hiking handguns. 
Shoulder Holster
Shoulder carry places the weapon under your arm and off your waist.
With it off your waist, it becomes harder to submerge it when you cross streams. Not to mention, it prevents it from getting snagged when crossing through thick vegetation.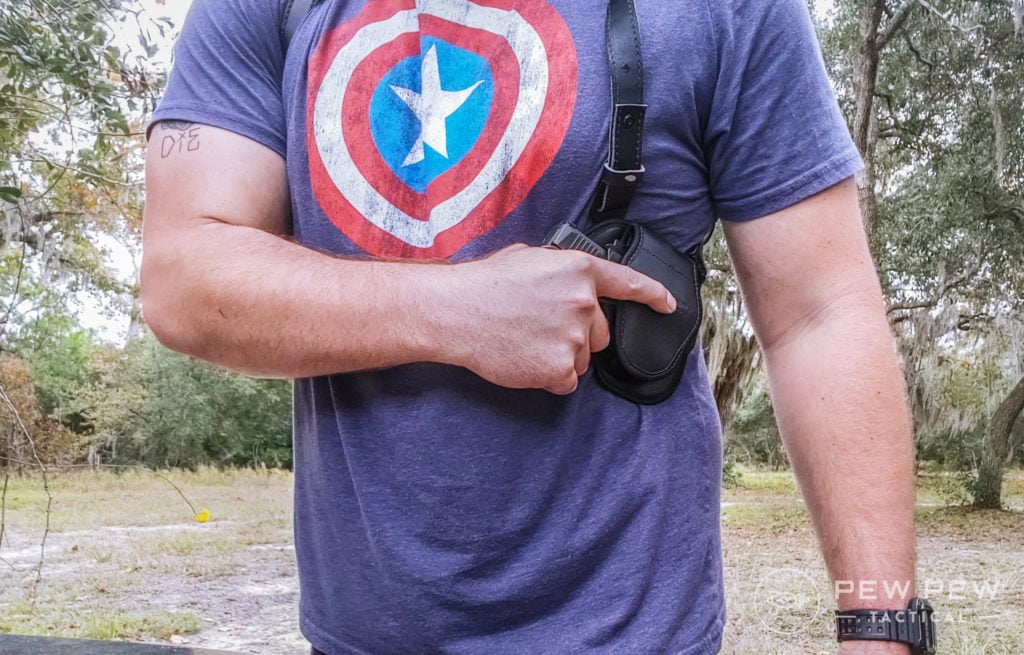 Not impossible, but harder…so still take care.
As a shoulder rig, you still have concealment. Some states prohibit open carry at any time, so concealment might still be an issue. 
Chest Holster
A classic means for carrying a hiking gun is via the chest. Basically, the holsters are placed across the chest.
Like a shoulder holster — the gun is off your waist and well protected. When you pack a big revolver, chest carry is convenient and comfortable.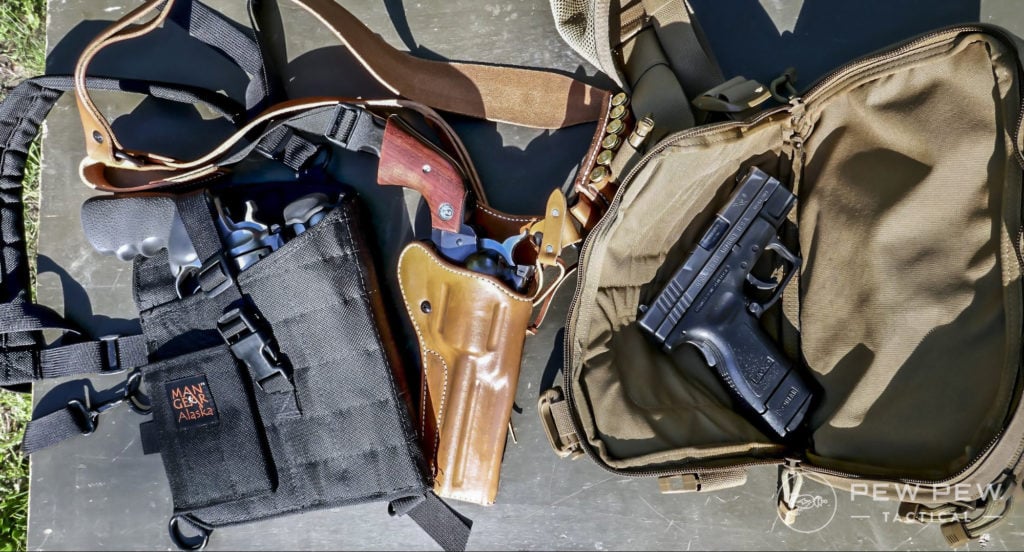 Chest rigs offer quick access to your gun and maximum mobility. The downside is these rigs are essentially open-carry rigs. 
On The Waist Holsters
Carrying your hiking handgun on your waist might not elevate the gun, but it's still super comfortable, easily accessible, and capable of being concealed.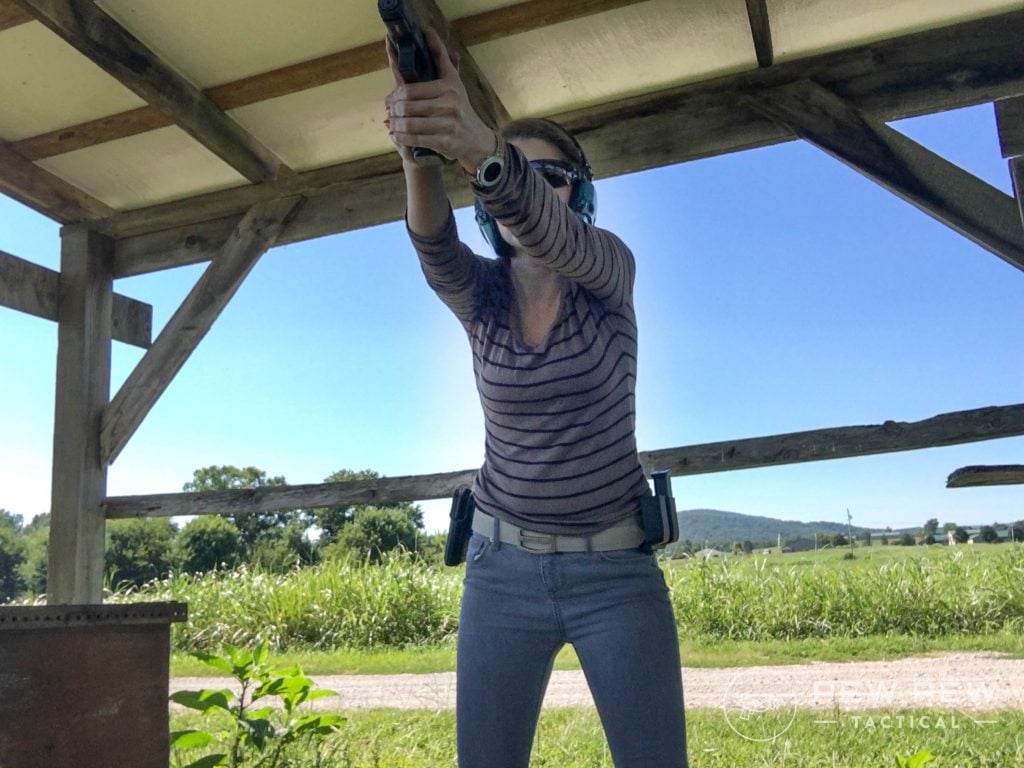 Hiking handguns should be carried outside the waistband for comfort and mobility reasons. Nobody wants to get poked and prodded on a hike.
When you carry on the waist, you have to be mindful of the environment, but it's still a safe and proper way to pack a hiking handgun. 
So now that we know what to look for in guns and gear, let me tell you what handgun models I recommend!
Best Hiking Handguns 
1. Glock 20 
As far as I am concerned, Glock made the Glock 20 just for me. I love the 10mm, and I love quality firearms with decent capacity.
The G20 gives me 15 rounds of 10mm on tap for any environment or situation.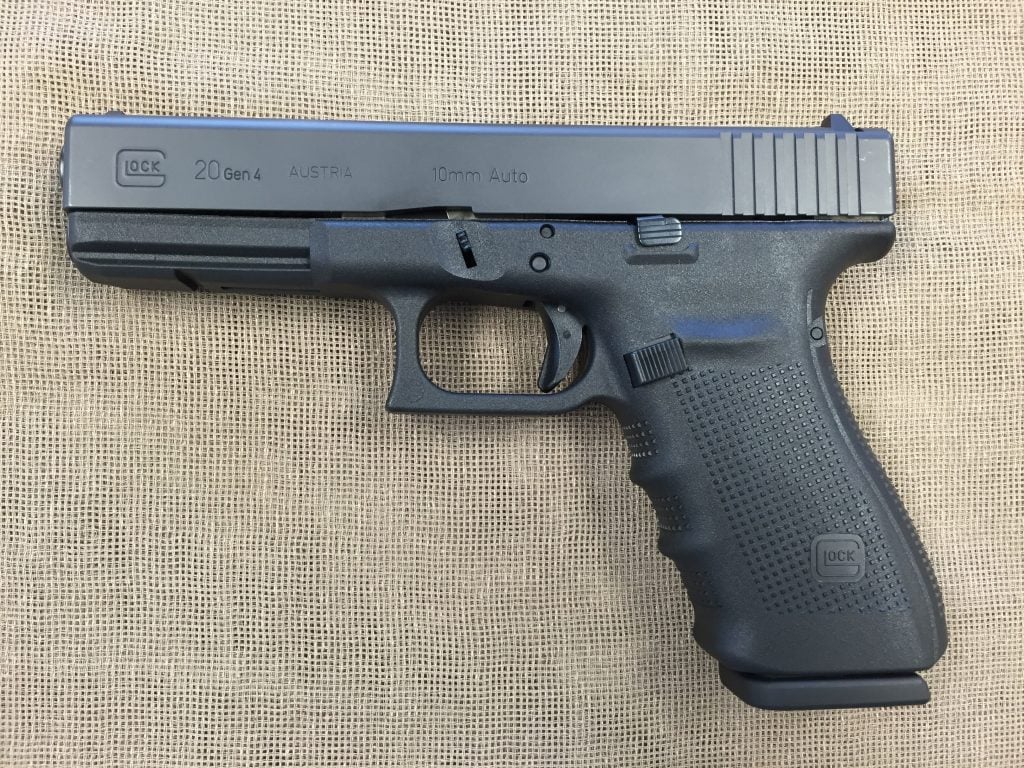 As far as hiking handguns go, the G20 offers tons of versatility. It's powerful enough to stop bears with the right load but also appropriate for coyotes, mountain lions, and even snakes and two-legged vermin.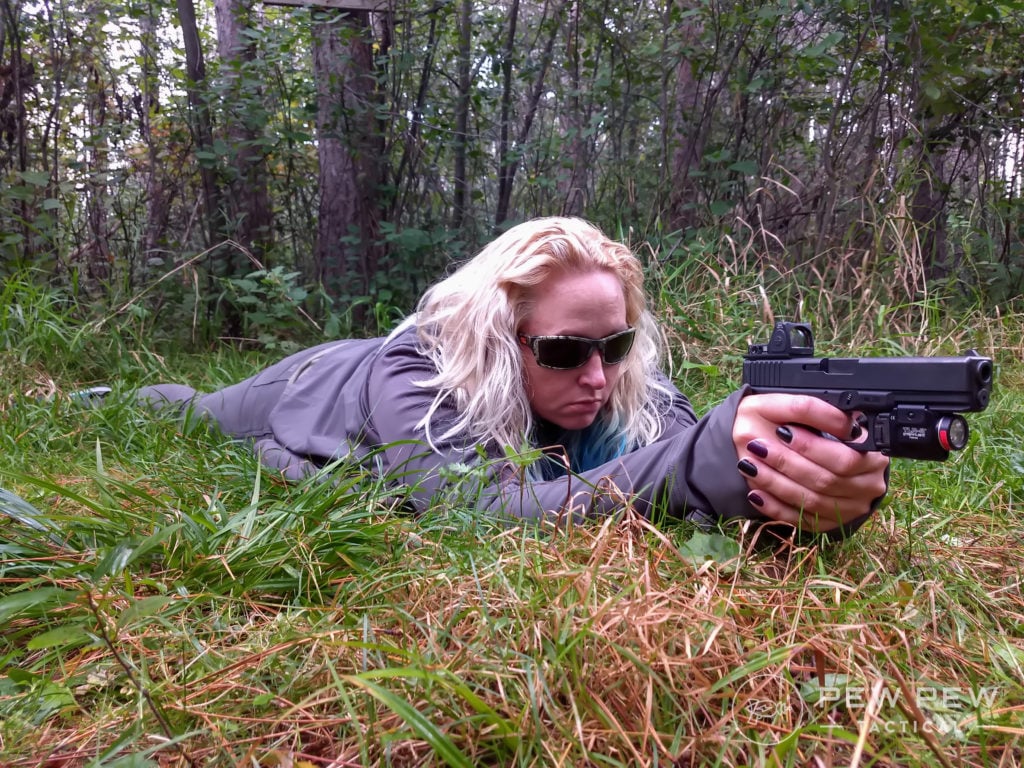 Because it's a Glock, it's reliable, accurate, easy to handle, and even affordable. Glocks are easy to customize, and swapping out the crappy plastic sights will be a must. 
Other than that, the gun is plug-and-play. 
Best 10mm Pistol
521
at Primary Arms
Prices accurate at time of writing
Prices accurate at time of writing
Want all the deets? We've also given the G20 its own review!
Holster It: Safariland 7378
I might dislike Safariland's naming conventions, but I do love their holsters.
Safariland designed the 7378 for concealed carry, so it's an applicable option for concealed carry states.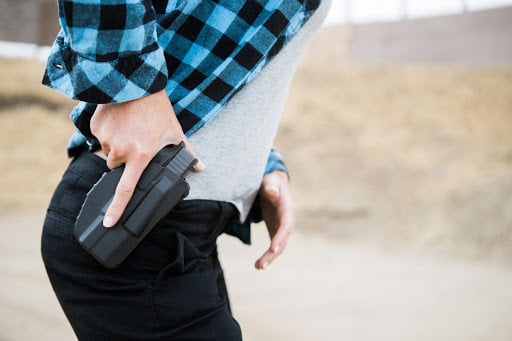 Albeit, a Glock G20 in an OWB holster might print if your shirt isn't sufficiently baggy. 
However, you won't drop your G20 by accident. Safariland's ALS system pins the gun in place and will not release the gun until the thumb release is pressed.
It's made from polymer and comes with Safariland's awesome reputation. 
42
at Amazon
Prices accurate at time of writing
Prices accurate at time of writing
2. Ruger Blackhawk .41 Magnum 
Single-action Western-style revolvers kick all the butt.
Seriously, these guns rule, and for hiking, they offer you an easy carrying option. The Ruger Blackhawk comes in various configurations and calibers.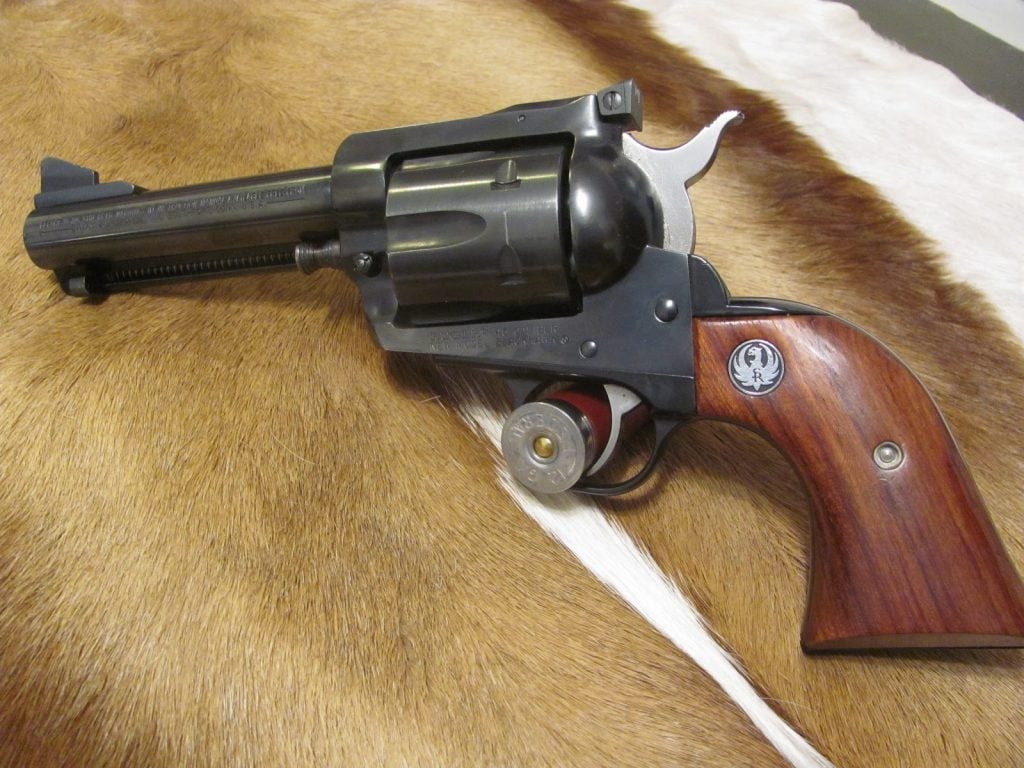 The .41 Magnum with the 4.62-inch barrel is the perfect combination of power and easy-carrying potential.
I'll never forgive American shooters for not giving the .41 Magnum its due. It's underrated but powerful and controllable.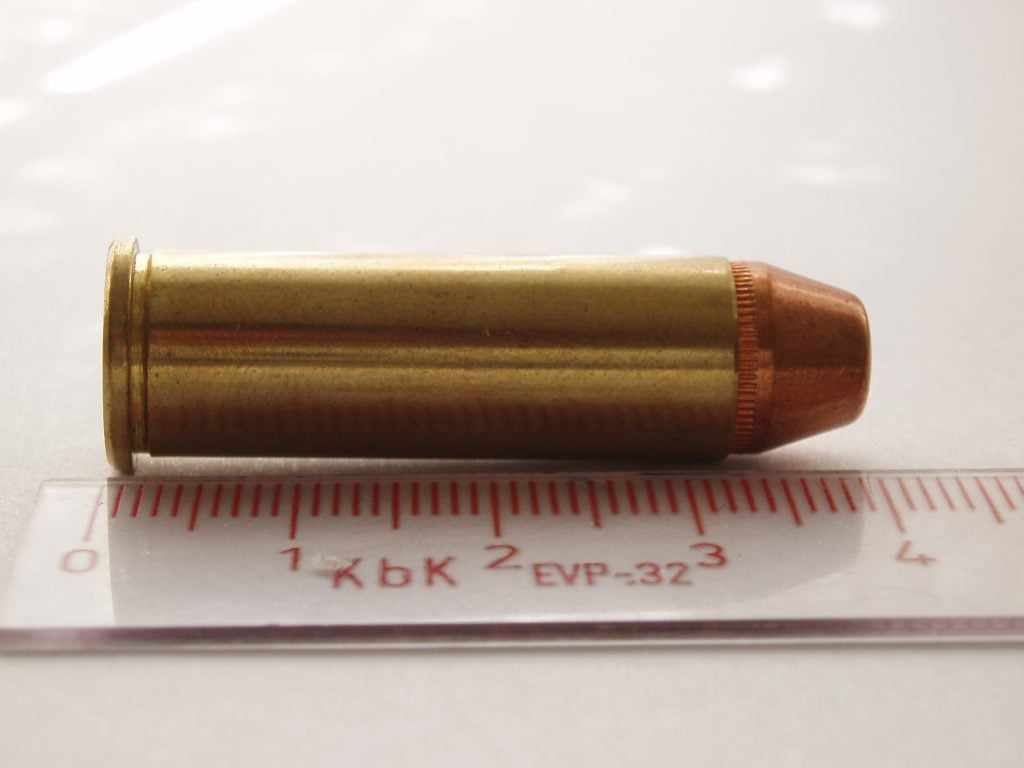 You can deal with big bears if necessary, as well as hogs, coyotes, and anything else that crosses your path.
The Ruger Blackhawk's single-action trigger delivers a short and crisp trigger pull that allows for outstanding accuracy.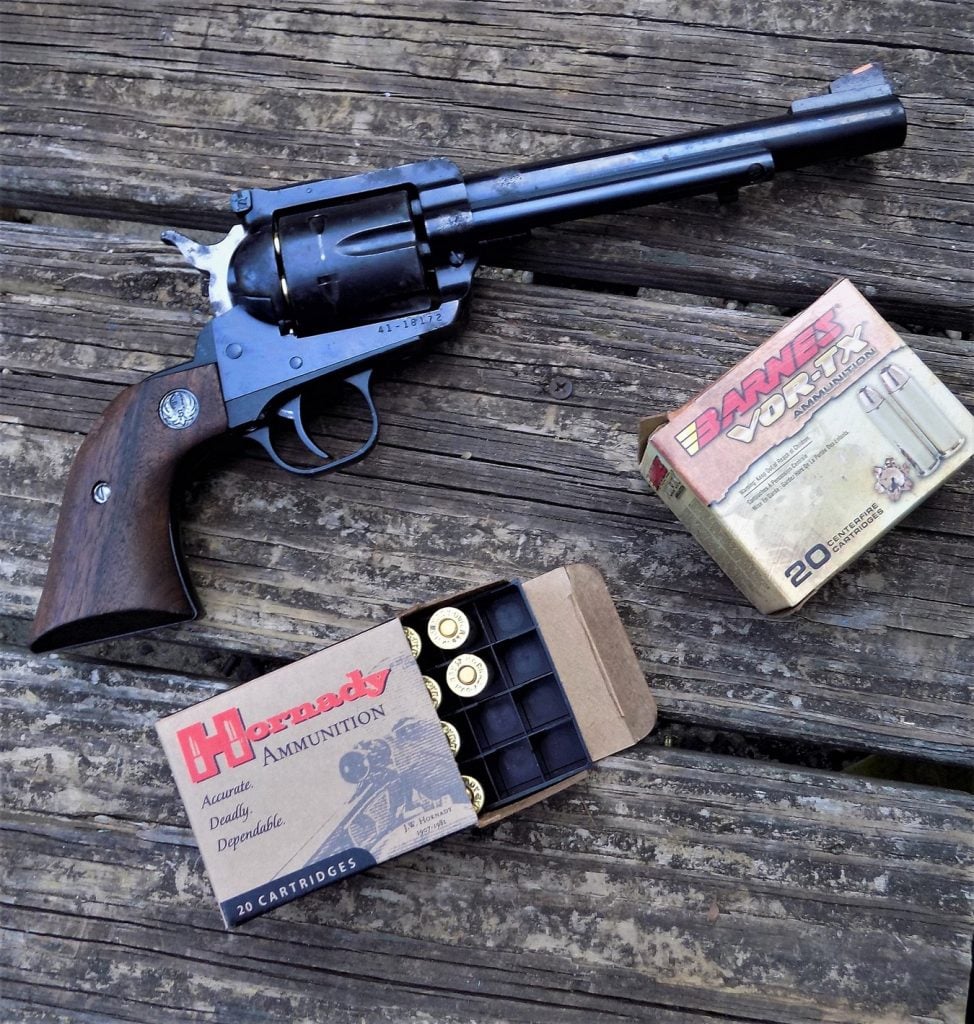 The trigger is backed by big robust sights and a comfortable cowboy-style grip. 
Plus, it's an affordable option in the big-bore revolver world. 
Best SA Revolver
786
at Kygunco
Prices accurate at time of writing
Prices accurate at time of writing
Holster It: Galco Single Action Outdoorsman 
A classic cowboy gun needs a classic holster, right?
Well, the Galco Single Action Outdoorsman gives you a leather OWB holster in a classic configuration. A thumb snap provides retention, and the holster protects the Blackhawk perfectly.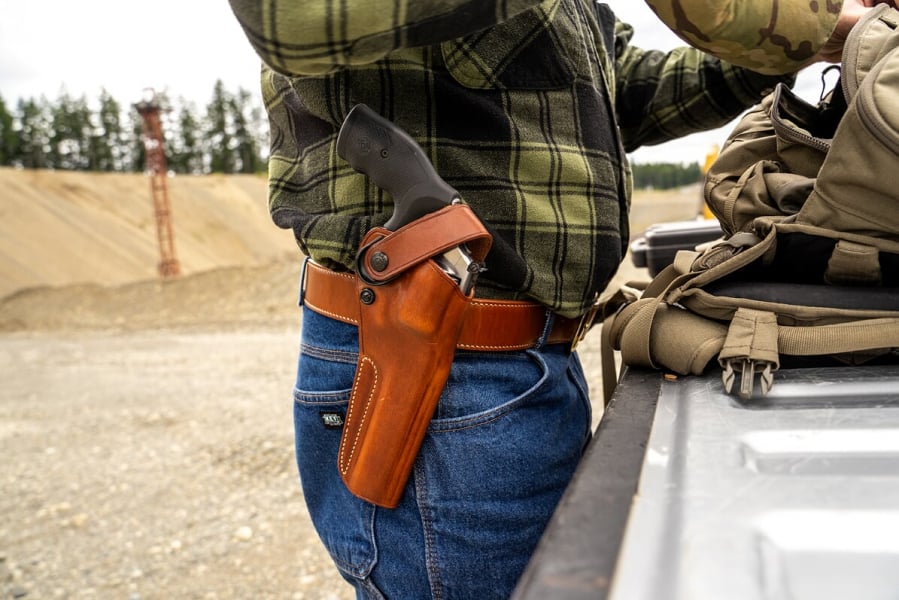 Be picky when it comes to leather holsters. Bad leather holsters are unsafe and leave a lot to be desired.
Galco makes outstanding leather holsters, and the Single Action Outdoorsman shows they know what they're doing. 
109
at Amazon
Prices accurate at time of writing
Prices accurate at time of writing
3. CZ P10C (Optics Ready)
Yep, your average 9mm still makes for an awesome hiking gun.
CZ created the P10C a few years back, and they created the best stock striker-fired, polymer-frame pistol on the market.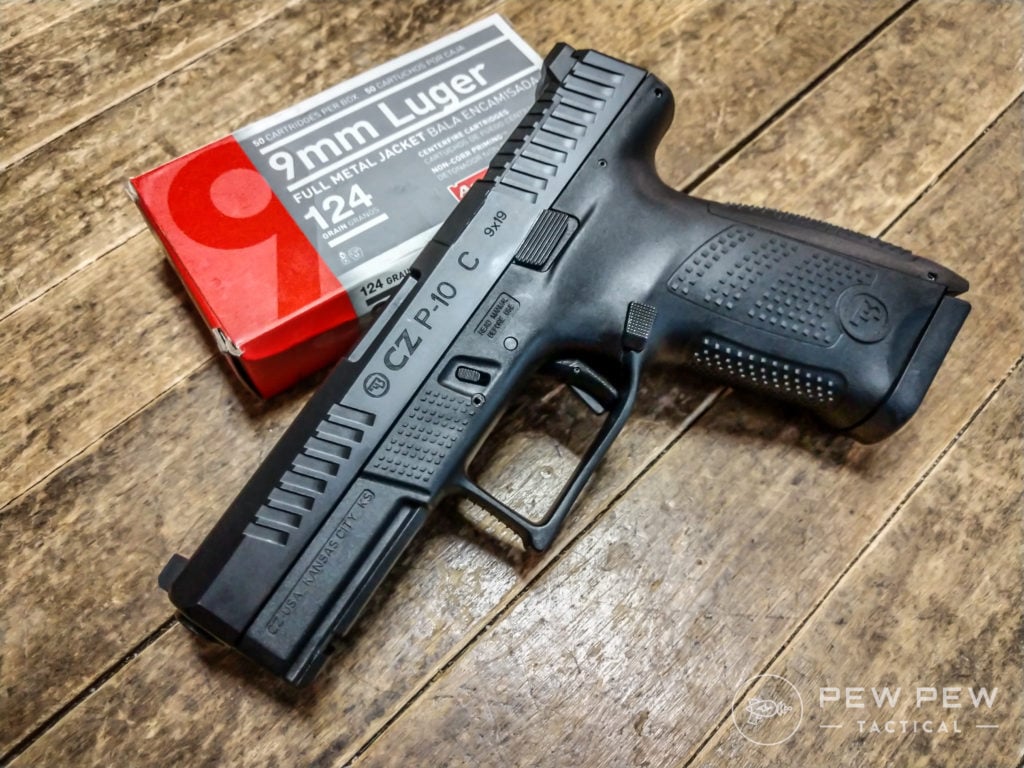 This is the gun I often pack, and for my area, it's perfectly suitable for the threats I encounter. 
A 9mm can deal with the average-sized hog, coyote, wild dog, and whatever two-legged vermin I may encounter.
Lord forbid I walk upon a cottonmouth snake, but if I do, a 9mm isn't overkill either.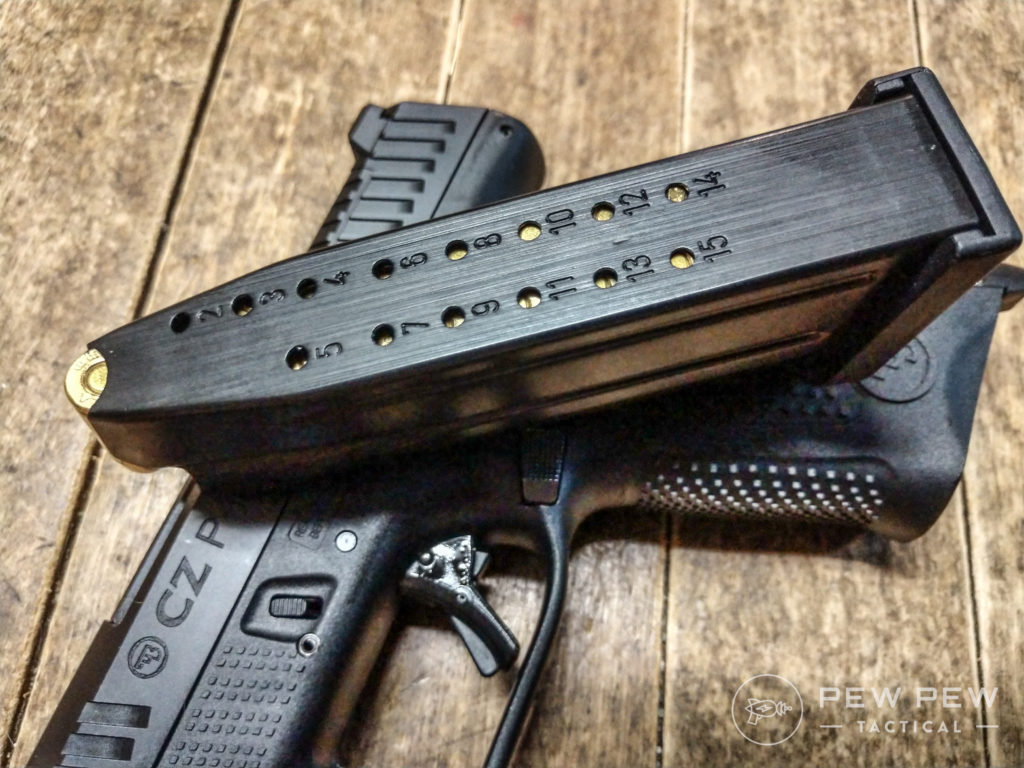 The P-10C is controllable, lightweight, easy to carry, and reliable. 
I own a standard P10C, an early model, and if I had the option at the time…I'd have gone with an optic-ready option. Red dots make shooters faster, more accurate, and extend their effective range. 
What's not to love? Add in a light, and I have a gun I can use regardless of the external conditions. 
Best 9mm
499
at Guns.com
Prices accurate at time of writing
Prices accurate at time of writing
Don't forget to check out our full review of the CZ P10C!
Holster It: PHLster Floodlight OWB 
A gun with an optic and a light requires a specific holster, and the PHLster Floodlight is that holster. It accommodates a TLR 1 or Surefire X300U, suppressor height sights, and an optic.
This rig only offers passive retention, but it's easily adjustable to ensure the holster grips the gun. 
PHLster makes an outstanding holster, and the Floodlight OWB is compatible with various firearms. It's universal in the best way possible.
Not to mention, it's modular and allows for a wide variety of different mounting options from G-Code, Tek Lok, and Safariland. 
114
at GunMag Warehouse
Prices accurate at time of writing
Prices accurate at time of writing
Have you tried the PHLster Floodlight? If so, rate it below!
4. Ruger Super Redhawk Alaskan .44 Magnum
If you like 'em thick but short, then the Ruger Super Redhawk Alaskan is for you.
Ruger trimmed the barrel to 2.5 inches, and the madmen chambered the gun in .44 Magnum. That's a very little barrel for a very powerful cartridge.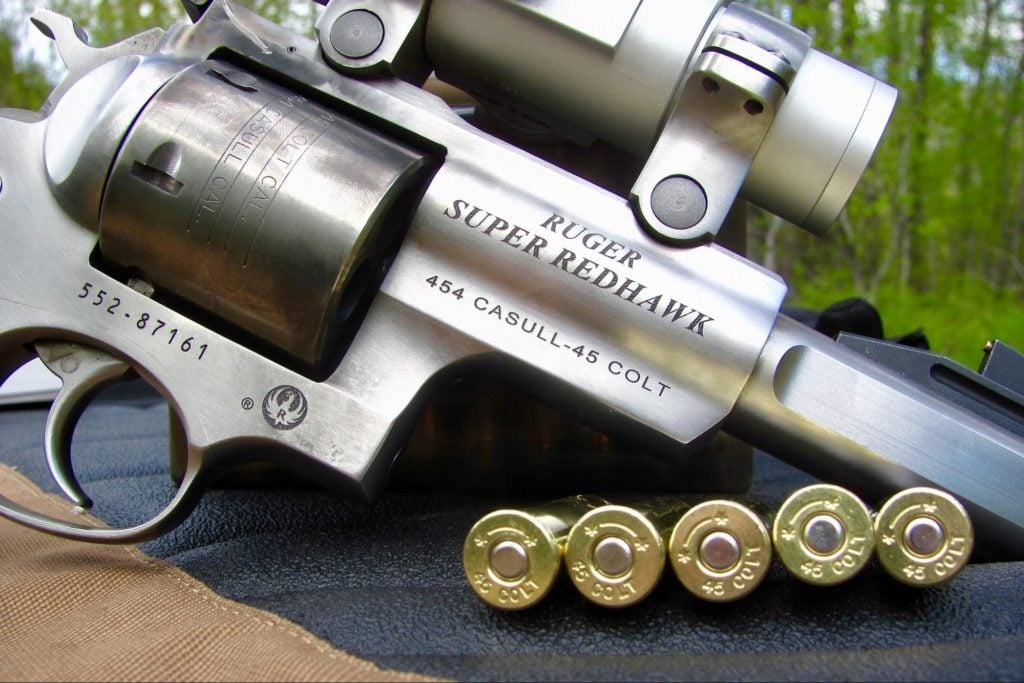 It just so happens to be much lighter and easier to carry than a standard Super Redhawk.
This big-but-short gun packs six rounds of .44 Magnum and will make short work of animals as big as aggressive brown bears.
Big sights and the ability to cock the hammer make it easy to be accurate with the gun. 
While small, it packs a huge grip that makes everything more comfortable.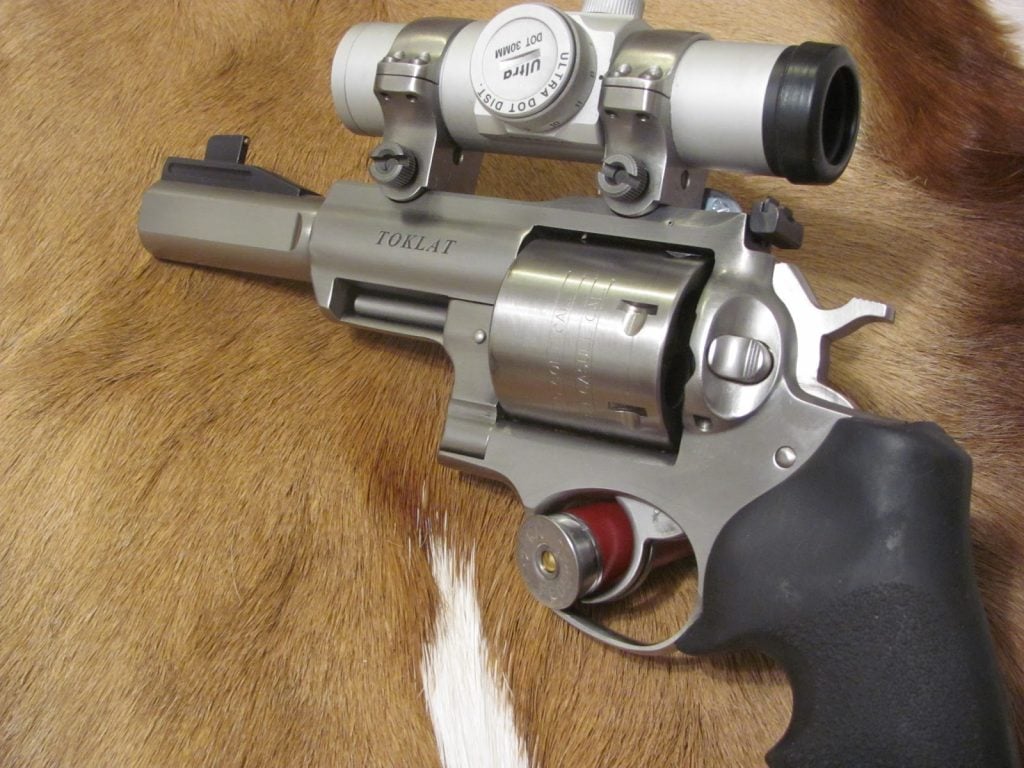 It still recoils like a wild bull bucks, but it's not painful. 
The Super Redhawk Alaskan isn't for everyone, and it does take some practice to master. However, it packs lots of power in a small package.
Best Power Packing Revolver
1195
at Guns.com
Prices accurate at time of writing
Prices accurate at time of writing
Check out our full review of the Super Redhawk, too!
Holster It: Gunfighters Inc. Kenai Chest Rig 
Chest rigs are often made from leather, but the Kenai chest rig goes modern with a dose of nylon and Kydex to produce a modern chest rig.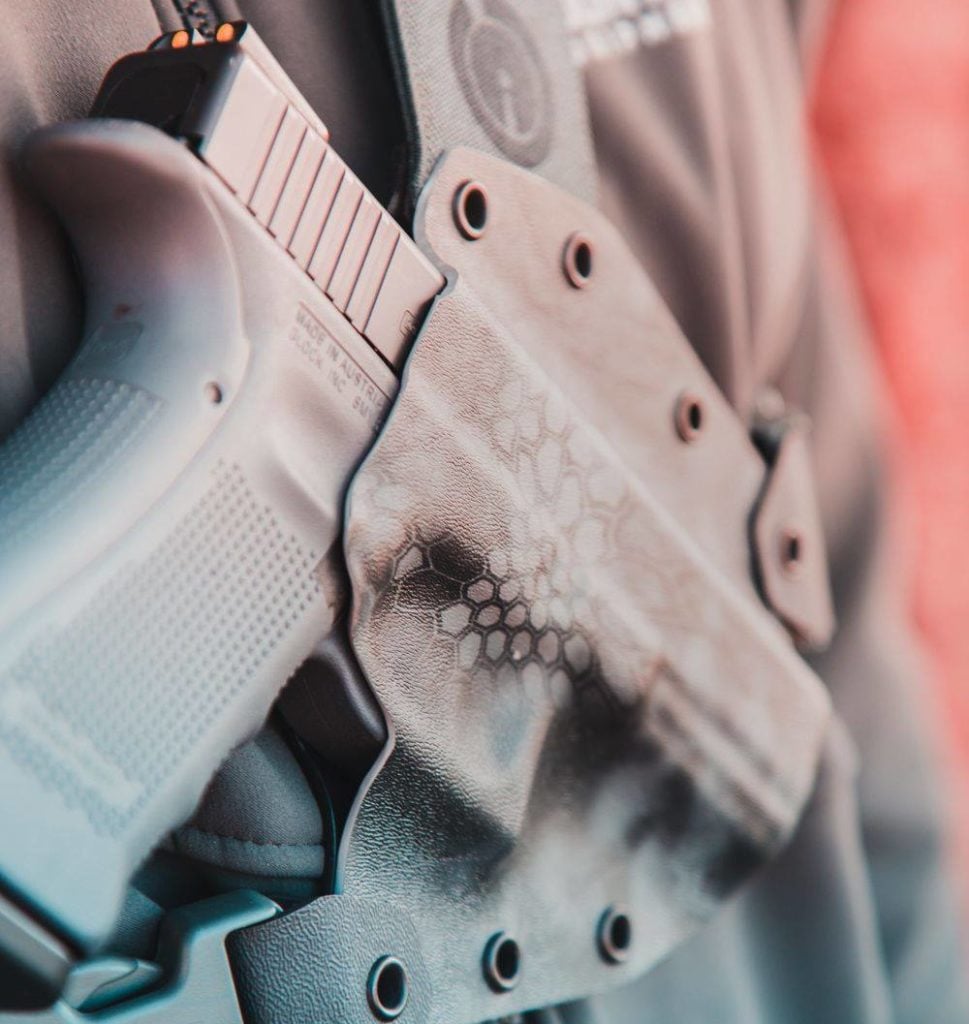 Gunfighters Inc. molds their holsters for a specific weapon, and this ensures safety and excellent retention. 
It also provides a comfortable means to carry the big Super Redhawk. It's also easy to access and gives you total mobility for your arms and hips. 
As far as holsters go, the Kenai is super modern and provides you with one of the best chest rigs on the market. 
150
at Amazon
Prices accurate at time of writing
Prices accurate at time of writing
5. Colt Delta Elite
I love the Delta Elite. I first heard of it when I read Point of Impact by Stephen Hunter and followed up with a Jane's identification guide.
Sure, I have a bias, but the Delta Elite is still a great hiking handgun.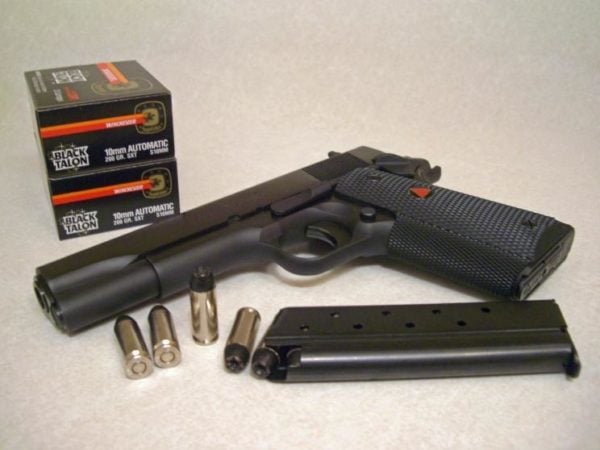 It's a 1911 at heart, so it's thin and relatively easy to carry.
It still packs a punch with 10mm rounds in its 9-round magazine. Plus, the single-action system and 1911 ergonomics combined with great sights make it easy to shoot. 
Rail gun is optional, but I can attach a light; I will. The standard Delta Elite is enough, but the rail gun is a little sweeter. 
Best 1911 Style Pistol
1599
at Gunprime
Prices accurate at time of writing
Prices accurate at time of writing
Holster It: Blackhawk Omnivore 
The Blackhawk Omnivore is an OWB rig made of Kydex and requires a rail or light to carry your gun. It's very affordable and simple to use and wear.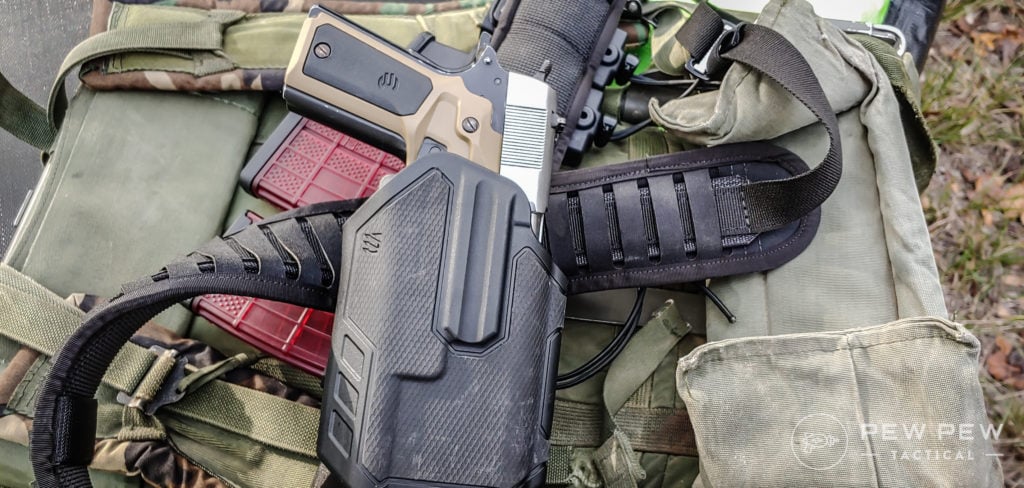 The wide variety of Blackhawk attachments makes it possible to carry the Omnivore on a chest rig, under a shoulder, or paddle, belt loop, or even MOLLE mounts. 
It offers active retention and makes drawing smooth and easy. I've used a Blackhawk Omnivore for years without issue, and it's a great hiking holster. 
46
at Amazon
Prices accurate at time of writing
Prices accurate at time of writing
6. S&W Model 60 3-inch 
A lot of the guns mentioned so far are quite large and heavy but would be considered moderate-sized at best for field guns.
The S&W Model 60 is not just relatively small but small in general. This 5-shot J-frame packs .357 Magnum power in its small frame.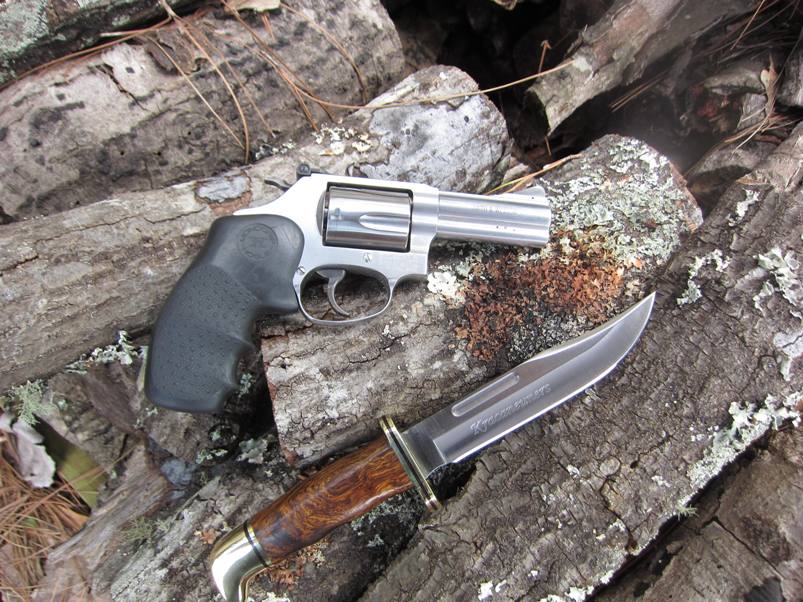 The longer barrel makes it easier to shoot than a snub nose, and the small frame makes it easy to conceal.
.357 Magnum can deal with most moderate-sized critters. Small bears, coyotes, and hogs are easily dispatched, as are two-legged vermin. 
The Model 60 offers an exposed hammer which means single action is easily engaged for accurate shots. As a small-sized revolver, it's also super easy to carry and comfortable for concealed carry. 
Best Compact Revolver
779
at Kygunco
Prices accurate at time of writing
Prices accurate at time of writing
Holster It: Craft Holsters Shoulder Holster System 
A little gun is perfect for shoulder holster carry. It's small and doesn't pull down on your shoulder as you work and move.
The Craft Holster Shoulder Holster System is all leather and provides you with both a holster and pouches to carry spare ammunition in speed loaders.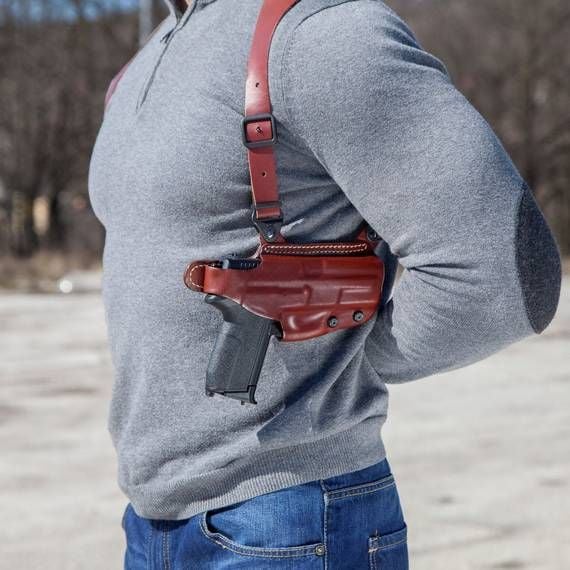 It's superbly adjustable and comfortable for hikers, both big and small.
Also, it offers a leather thumb snap for maximum retention. This holster is easily concealed and well-suited for keeping your gun away from the woods and water. 
165
at Craft Holsters
Prices accurate at time of writing
Prices accurate at time of writing
7. Heritage Arms Rough Rider 4.5-inch model
Yep, a cheap .22 LR revolver might be one of the best hiking guns.
For years I strapped on a Rough Rider whenever I went on an ATV or horse ride, and of course, on hikes.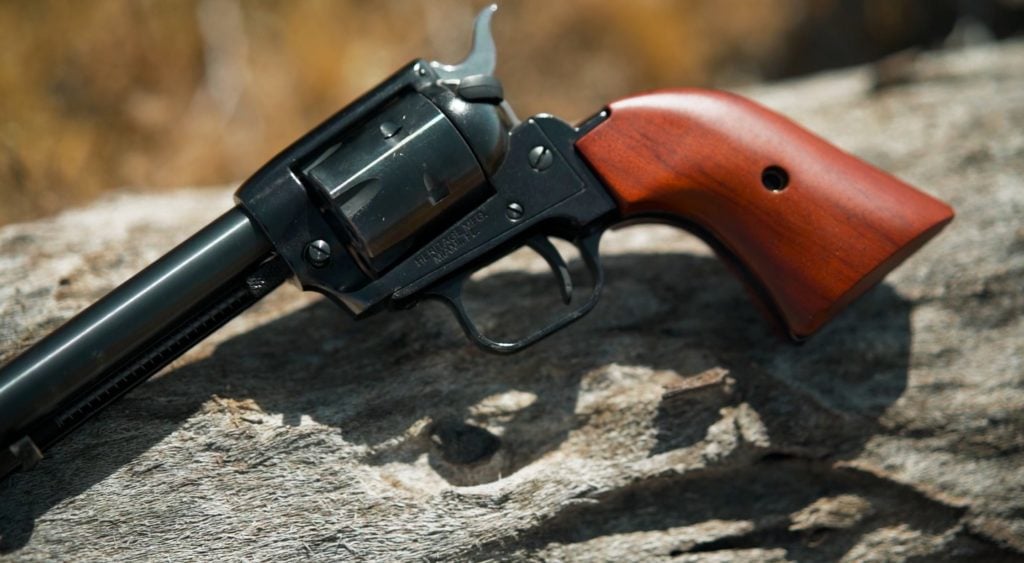 In my area, I face a number of threats, but snakes are the most common. 
I often try to avoid them, and I have backed down from a rattlesnake more than once. However, I'm not going to be defenseless 45 miles from a hospital.
A .22 makes short work of reptiles and even coyotes and wild dogs. 
The Heritage Arms Rough Rider is a single-action rimfire revolver that is superbly affordable and fun to shoot.
Its lightweight design (especially the 4.5-inch variant) is easy to carry. All in all, it's accurate, reliable, and well-suited for hiking.
We got a little goofy reviewing the Rough Rider 16″, but check it out!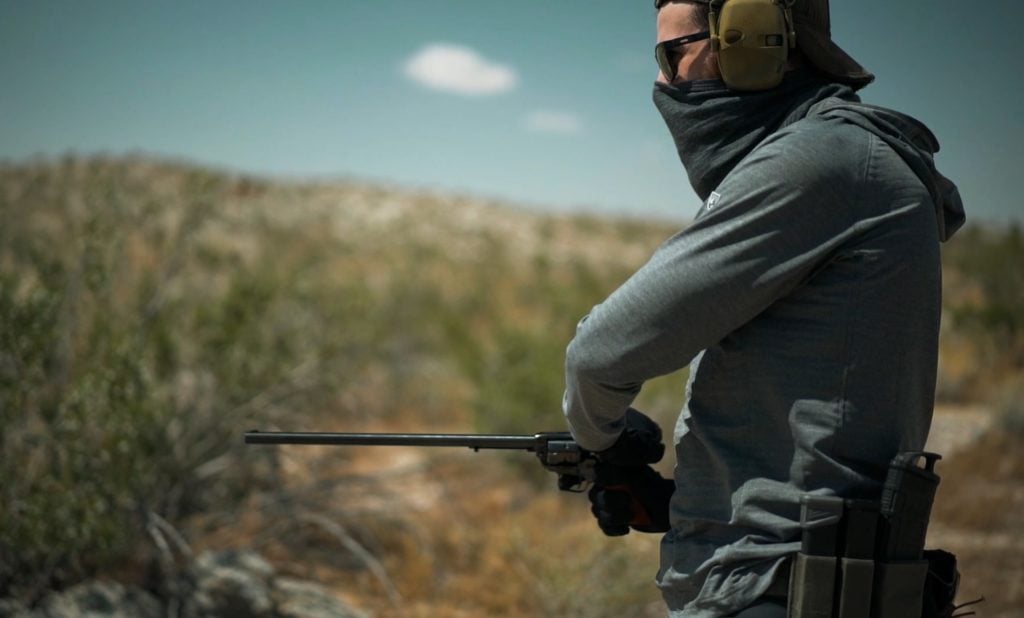 Holster It: Bull Creek Leather Western Holster 
Lots of holsters out there cost almost as much as the Rough Rider. The Bull Creek Leather Holster provides a leather western-style holster at a fraction of the price.
It's built for the Rough Rider and fits the smaller frame single-action gun well.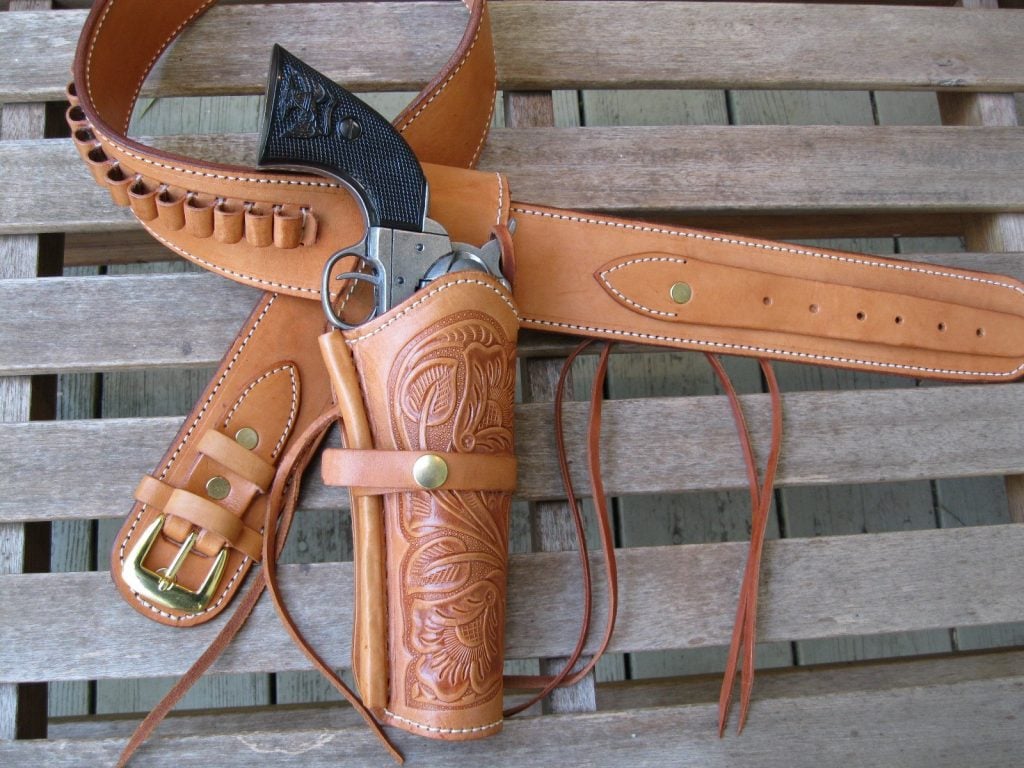 A simple thumb snap makes retention a non-issue. The leather is saddle-grade and perfectly acceptable for hiking use.
Plus, at the price point, it's tough to go cheaper without going into the crappy holster world. 
40
at Amazon
Prices accurate at time of writing
Prices accurate at time of writing
Final Thoughts 
Hiking handguns are their own specific category which calls for a weird combination of power, an easy-to-carry design, and a certain level of versatility.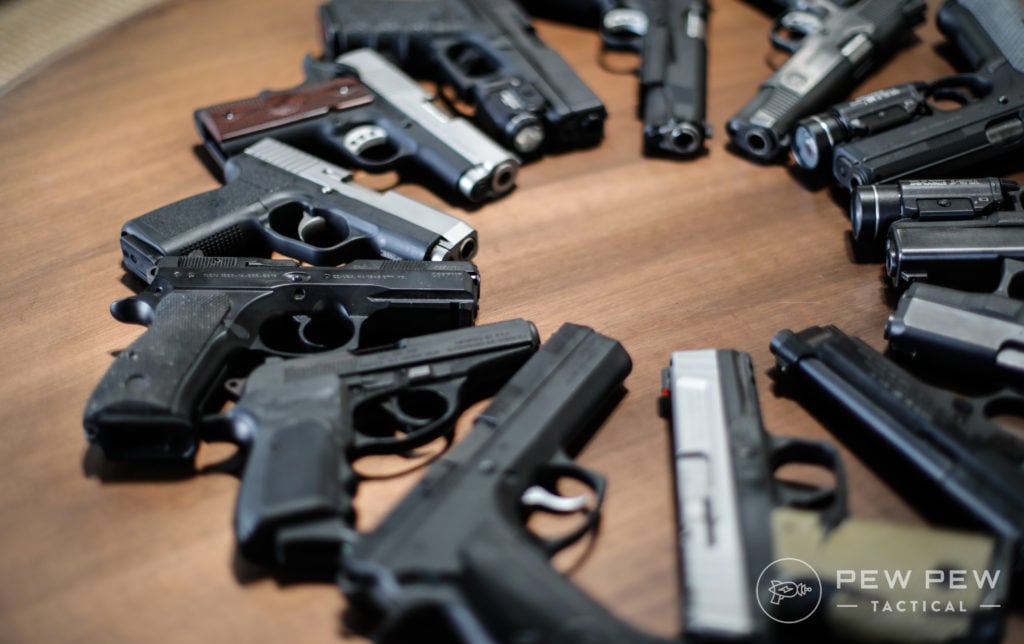 While the above list can get you started, remember, when choosing a hiking handgun, examine your potential threats.
Go with a firearm that can deal with those predators efficiently. 
What's your hiking handgun? And why is it your choice? Let us know in the comments below! Before you hit the trail in your local national park, be sure to read the rules for carrying in national parks!
Read the full article here