Tactical
7 Best Tactical Pistols of 2023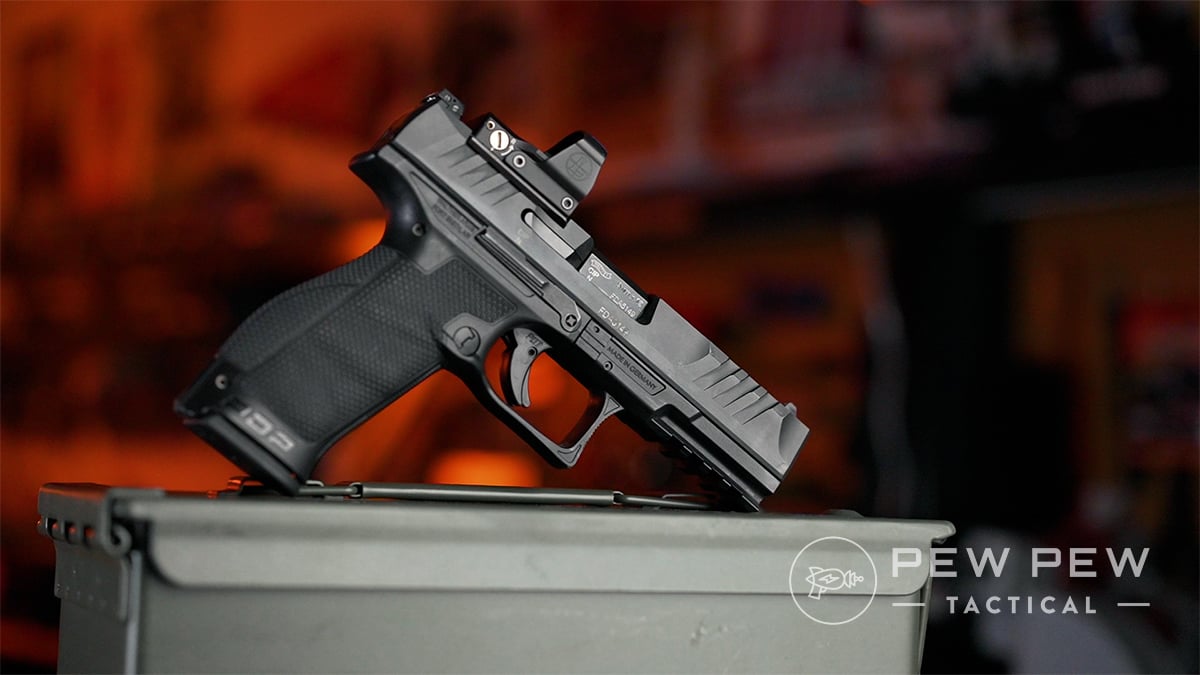 Tactical is a special word these days. It should mean "of tactics," but we've seen it evolve and grow quite a bit in the gun and gear community.
Tactical has grown into a catch-all phrase that describes modern firearms and gear oriented at police, military, and self-defense use.
Today we are going to be about the best tactical pistols, which will undoubtedly lead someone to ask…what makes a pistol tactical?
Fair question, and depending on the situation, any gun could be tactical. In his era, George Washington carried a tactical handgun.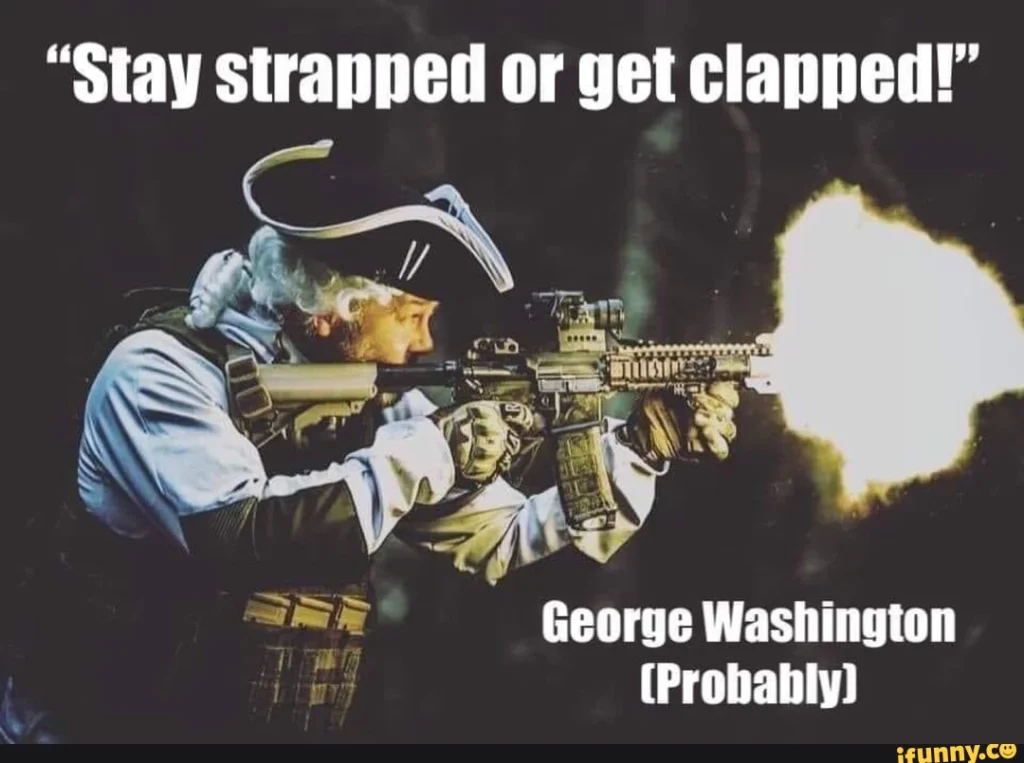 So, we'll lay out what a tactical pistol is and run through some models we recommend if you're interested in all the bells and whistles.
*New models added June 1, 2023
Summary of Our Top Picks
Table of Contents
Loading…
What's a Tactical Pistol?
With that in mind, we will define a tactical pistol or tactical handgun as a modern duty and defensive-oriented weapon that chambers a modern caliber suited for defensive and duty purposes.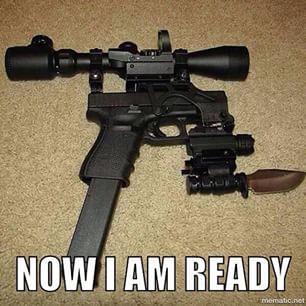 Additionally, the weapon needs to have at least two of the three following features to make this list.
Threaded Barrel
Optics Ready
Picatinny Rail
I figure those features, combined with a modern design, make a modern tactical pistol.
So, let's dive into the best tactical pistols on the market.
Best Tactical Pistols
1. Walther PDP
Walther has always been a company that innovates and produces extremely well-made pistols, with some of the best triggers known to man.
The Walther PDP continues the PPQ's legacy of featuring the world's best stock striker-fired trigger combined with all the modern touches those seeking a tactical pistol would want.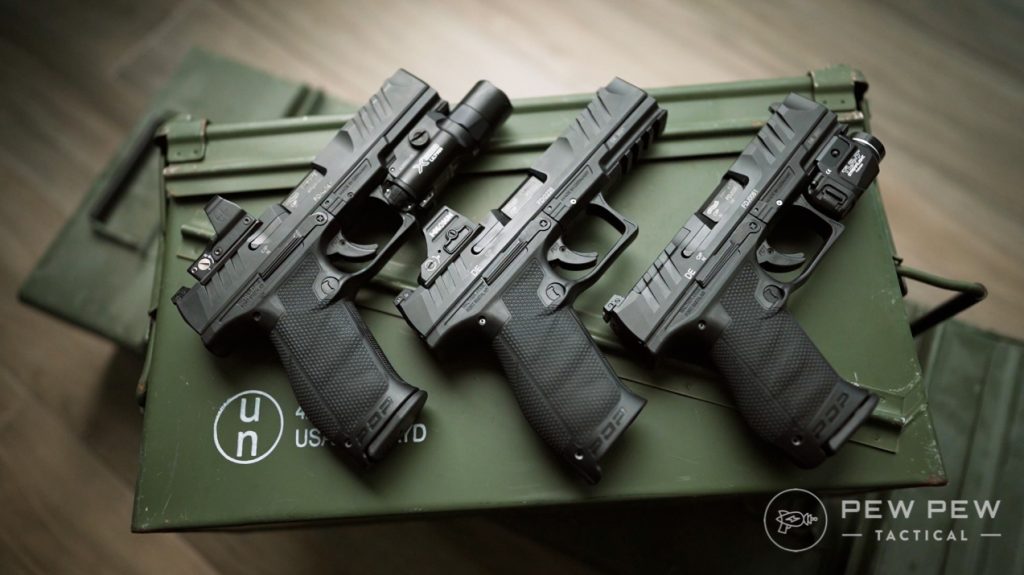 Walther designed the gun around using red dot sights, which is a novel idea all around.
Besides that, they infused it with the brilliant ergonomics of the PPQ and the excellent Walther trigger we've all come to expect. On top of that, you can choose from various sizes for duty, home defense, and concealed carry.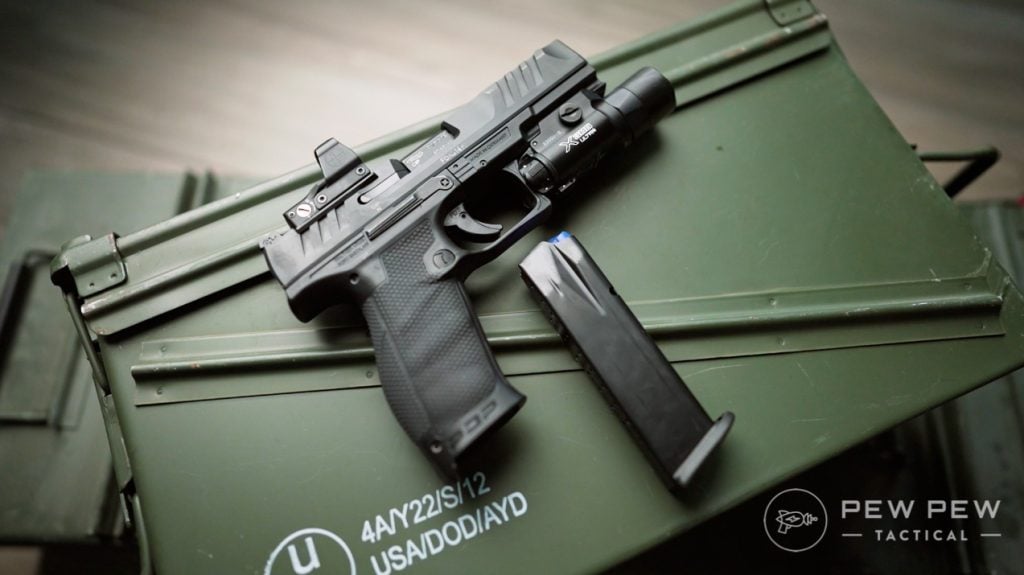 Walther calls it RDS ergonomics and designed the PDP around the idea of using a red dot sight.
Those Teutonic engineers designed the ergonomics to make finding the red dot faster and more natural for shooters. It's mostly tied to the grip angle, which allows for a natural acquisition of the red dot.
Best Compact 9mm Pistol
649
at GrabAGun
Prices accurate at time of writing
Prices accurate at time of writing
The grip is fantastic, thin, and fills the hand well. Walther used a new texture they call the Performance Duty texture. Long story short, it sticks to your hand without being abrasive and painful.
The PDP is modular and allows shooters to swap slides and frames around to fit their needs. I tend to be a fan of the short grip but long slide for concealed carry.
Walther uses a quasi-universal cut that relies on plates for mounting different pistol optics. Across the bottom sits a Picatinny rail for all your light needs. It's robust, practical, and tactical.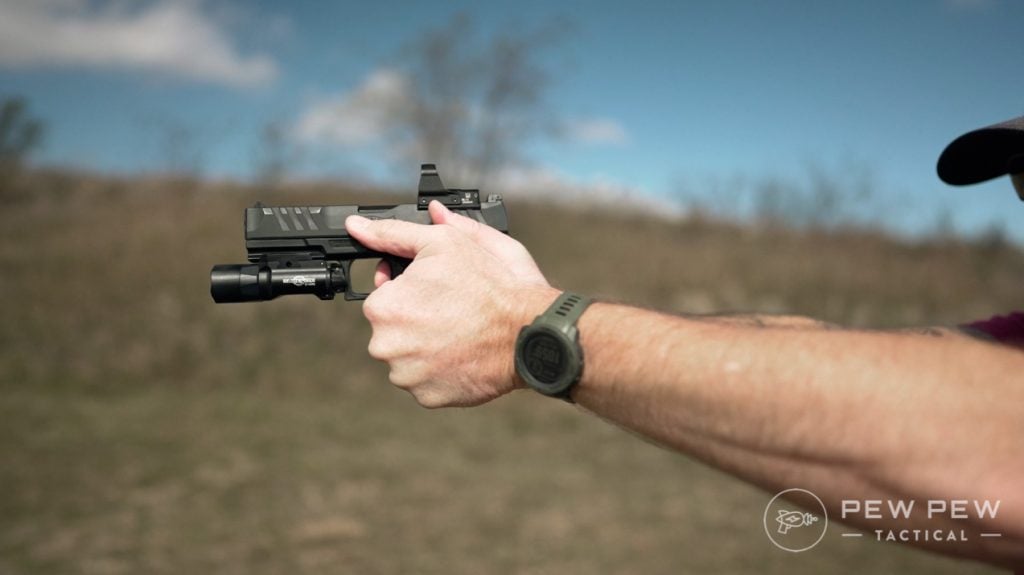 What I don't like is that I have to request the plate I want for my gun and optic from Walther. They don't include it, so out of the box, it's not red dot ready, and that's annoying.
Walther's PDP is a big step forward in the tactical pistol world, and seeing a pistol designed around red dot use is great.
We took the PDP for a whirl, so read up on our review here or catch the video below.
2. Glock Gen 5 MOS Series
Glock does innovation slowly, but they often do it well.
The Glock MOS series was one of the first stock guns to leave the factory with an optics cut and accommodation for all manner of optic plates. Glock has always had a firm hold on the tactical pistol world, and that's not changed.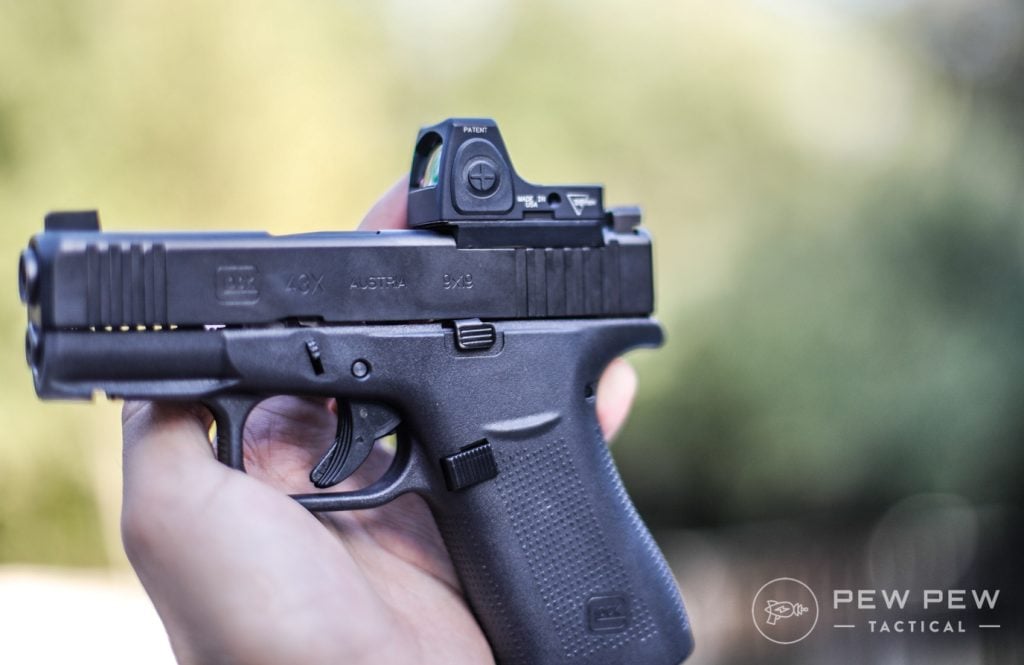 MOS stands for Modular Optic's System, and it's Glock way of saying bring your chosen optic to the table. Glock includes four plates with the MOS series, allowing you to mount a dozen different optics. Swapping plates and optics is easy, but don't be too conservative with the Loc-Tite.
Glock's plastic fantastic pistols have long proven themselves reliable and own the contracts of countless police and military forces.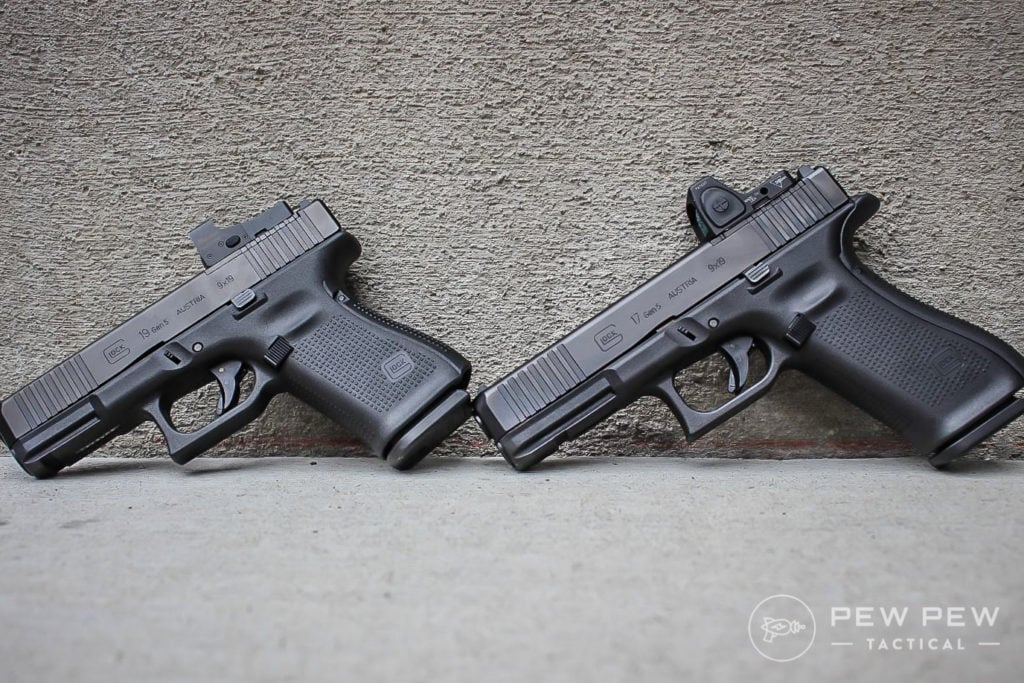 Their popularity is fueled by reliability, durability, and the fact that they just work. For the average gun owner, they offer an excellent pistol with a proven track record of success.
The modern Gen 5 MOS guns improved ergonomics considerably by moving the finger grooves and including a slight beavertail at the rear of the gun. Its slide stop is now ambidextrous, and of course, the magazine release has been reversible for a few generations.
Glock makes all their popular calibers in the MOS series, including the G17 and G19 guns.
620
at Brownells
Prices accurate at time of writing
Prices accurate at time of writing
A rail at the bottom offers you all the necessary room to mount your favored goodies. Heck, get a Glock brand light, and it almost matches the frame.
What does suck about Glock and the MOS Series is the terrible sights they continue to stick with. Their cheap, plastic, and break easily.
Once you swap the sights, you'll have a very competent and reliable tactical pistol. Luckily finding new sights takes no effort.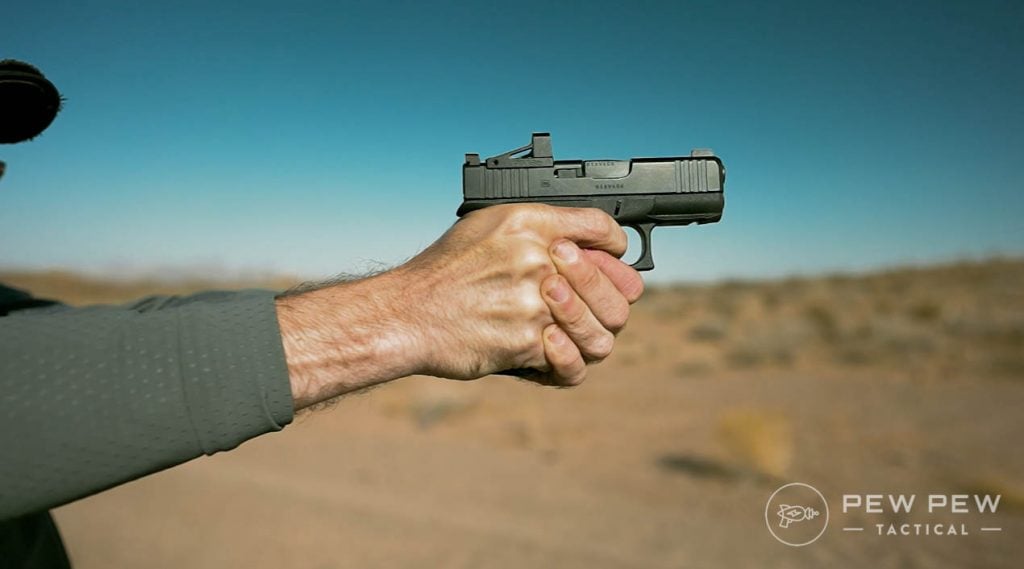 What do you think of the Glock MOS series? Rate it below!
3. CZ P10C – Optics Ready and Suppressor Ready
The CZ P10C series of pistols frustrates me. They are great guns, well made with amazing ergonomics, a great trigger, and an aggressive grip, and they could take the top spot on this list.
CZ makes optics-ready pistols, and they make suppressor-ready pistols. Both hit the nail on the heady for tactical pistols.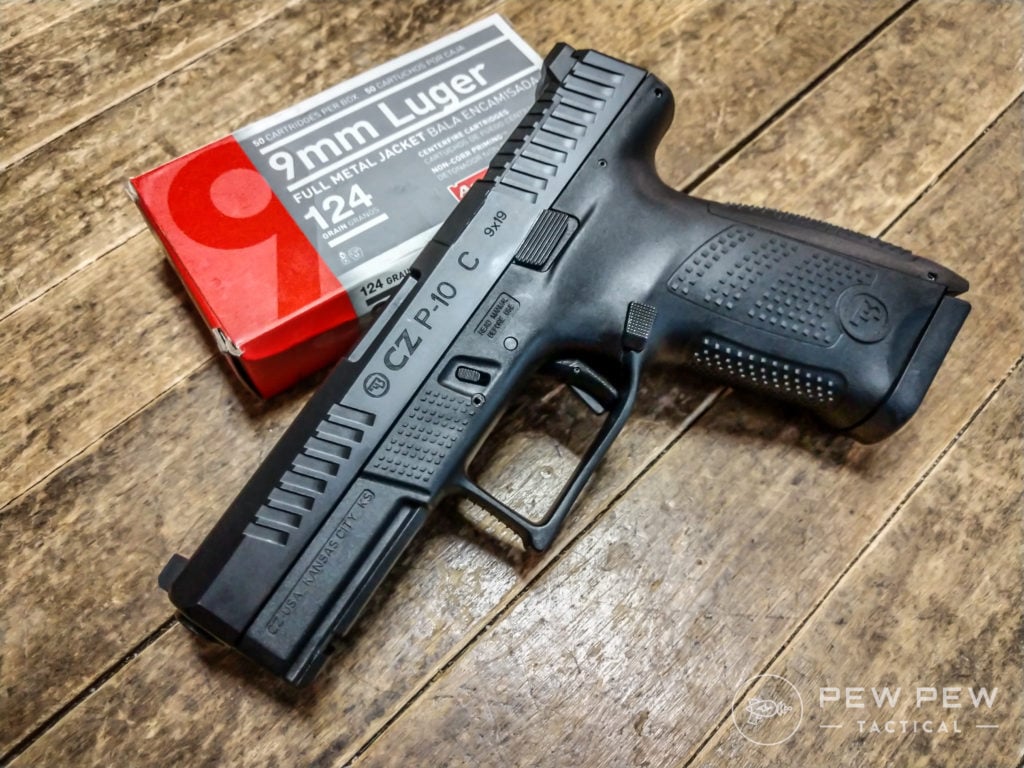 The downside is that CZ has never combined the two to make a top-tier tactical pistol. Give me an optics-ready gun with suppressor height sights and a threaded barrel, and they'll be cooking with gas.
C'mon, CZ, I know you have the ability, so make it happen!
That said, the P10C shares a flat-faced trigger that's ultra-smooth and consistent in its grit-free pull. Grip angle is fantastic, and the trigger guard undercut, and the slight beavertail at the rear provide a nice high grip on the gun.
Best Ergonomics
499
at Guns.com
Prices accurate at time of writing
Prices accurate at time of writing
Plus, the grip features one of the most aggressive grip textures on the market.
Both guns wear Picatinny rail systems that can fit both compact and full-sized lights. We also get rock solid metal sights designed for duty use, which are fantastic.
The optic's ready model comes with plates for a Trijicon RMR or a Deltapoint Pro, so you have compatibility with several optics.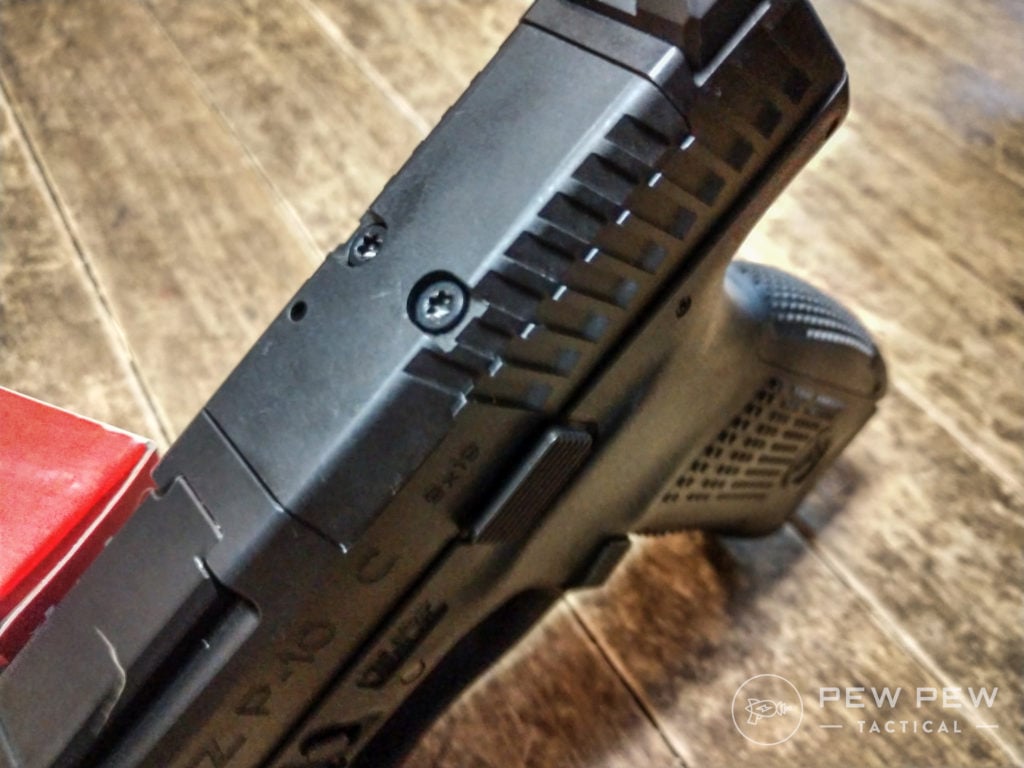 With the suppressor-ready model, we get suppressor height sights and a threaded barrel for suppressors and beyond.
4. FN 509 Tactical
It has tactical in the name. It has to be on the list! Surely the 509 Tactical exemplifies the modern tactical pistol, right? Of course, it does!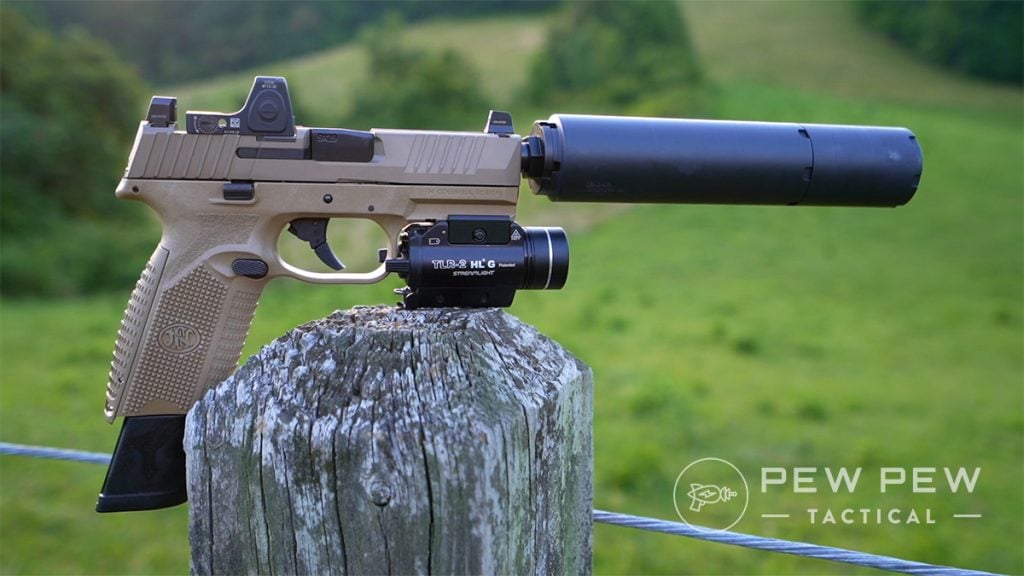 We get a modern pistol with a modern design, paired with all the modern features we've come to know and love.
FN's 509 Tactical was FN's entry into the Army's MHS contest, and while it didn't win, FN knew it had a winner.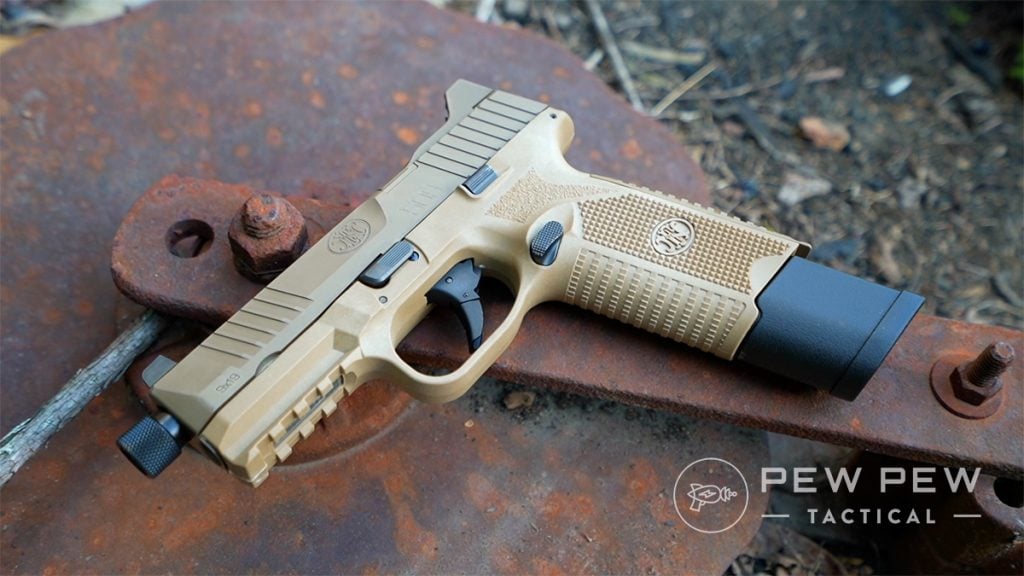 It's a 9mm handgun with a polymer frame and striker-fired design. What the tactical does differently is add an optic's ready slid complete with suppressor height sights and a threaded barrel. It exemplifies the tactical pistol through and through.
FN's patented low-profile mounting system is compatible with 10 different optics that drop in without issue.
The suppressor height sights allow for co-witnessing with the optic or looking over a mounted suppressor. A threaded barrel makes it easy to mount a can, compensator, or whatever other accessories you want.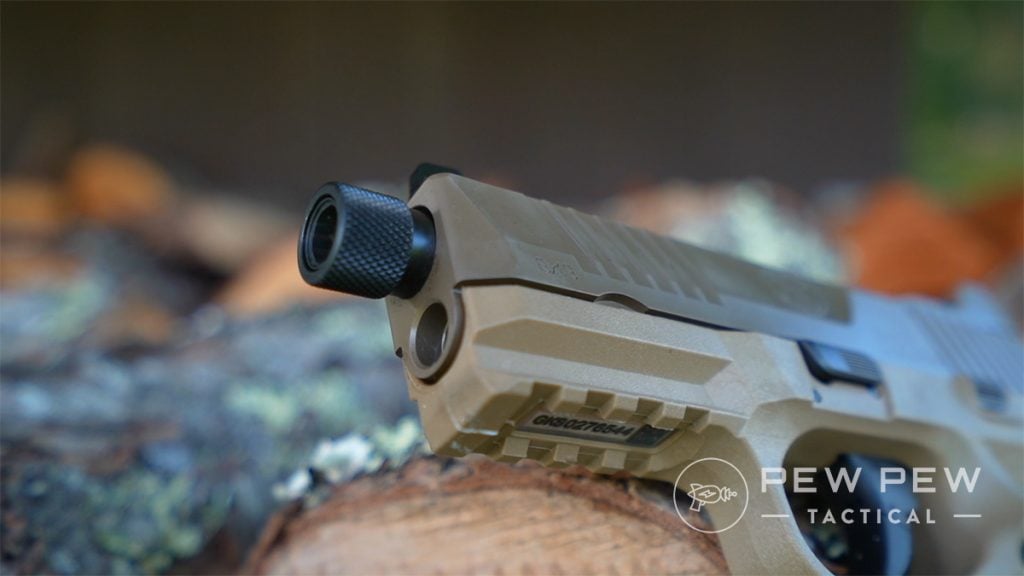 Those taller suppressor height sights even feature a set of wings that act as a guard to protect the sights from snagging. Yep, no surprise we have a rail, but what is a surprise is the included 24-round magazines for packing more ammo than most.
The FN 509 Tactical lives up to its name wholeheartedly.
We took the 509 Tactical for a test drive, so read the review or watch the video below for more details.
5. FN FNX 45 Tactical
Yep, another FN with tactical in the name. In all fairness, the FN FNX Tactical is the OG of tactical pistols.
As far as I can tell, it was the first factory pistol to ship with an optic cut and several tactical features we weren't seeing released back in the early 2000s. This was our proof of concept that likely helped propel what we picture as the modern pistol.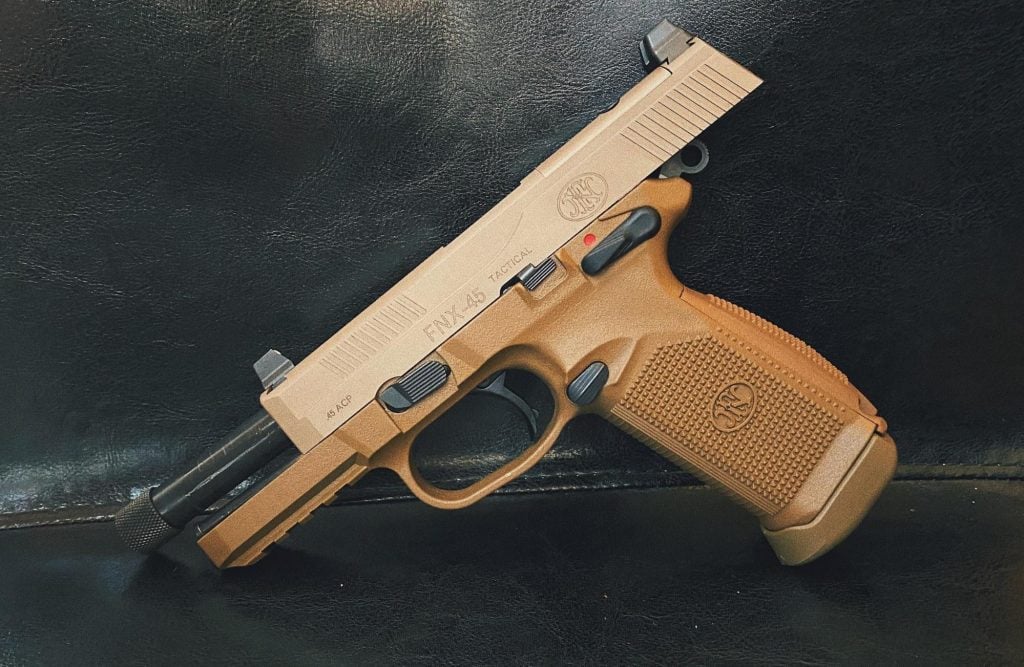 The FNX 45 Tactical is a .45 ACP pistol, and unlike most .45 ACP pistols, it doesn't hold back in terms of capacity. We see 15 rounds, and the choice of .45 ACP was made to compete in the Army's Joint Handgun Project.
This beefy beast features an optic cut across the top with two mounting plates to mount several different optics, including old hands like the Trijicon RMR, the Leupold DPP, and the Vortex Venom series of optics.
The front of the gun offers us a threaded barrel, which is great for the naturally subsonic .45 ACP cartridge.
Best .45 ACP
999
at GunPrime
Prices accurate at time of writing
Prices accurate at time of writing
You'll have no problems aiming the gun with the included suppressor height sights.
I can't help but think every optic's ready gun should have followed FN's example and included suppressor height sights with their optic's ready guns.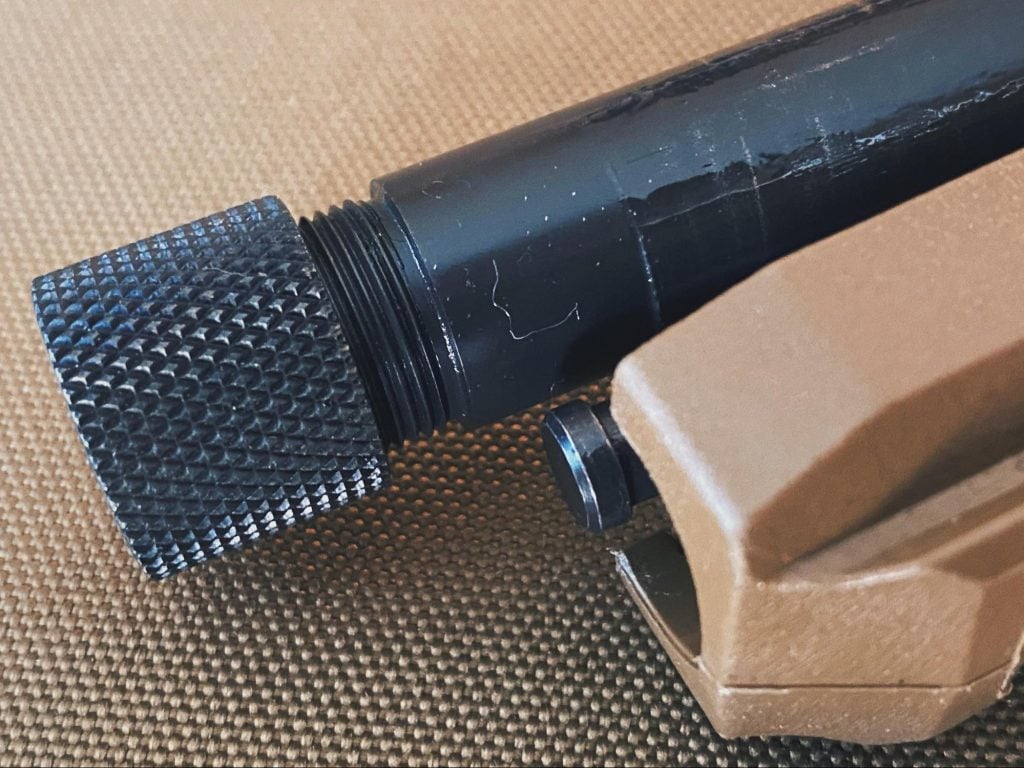 The FNX 45 is big, heavy, and thick, and that won't appeal to everyone. It's not a great choice for concealed carry, but it's still a solid example of a tactical pistol.
It set the standard for modern tactical pistols. (Psst, check out our review here!)
6. Sig Sauer Legion P226
Editor's addition: several members of our staff really liked the Legion P226 from Sig Sauer and felt it needed a place on the list.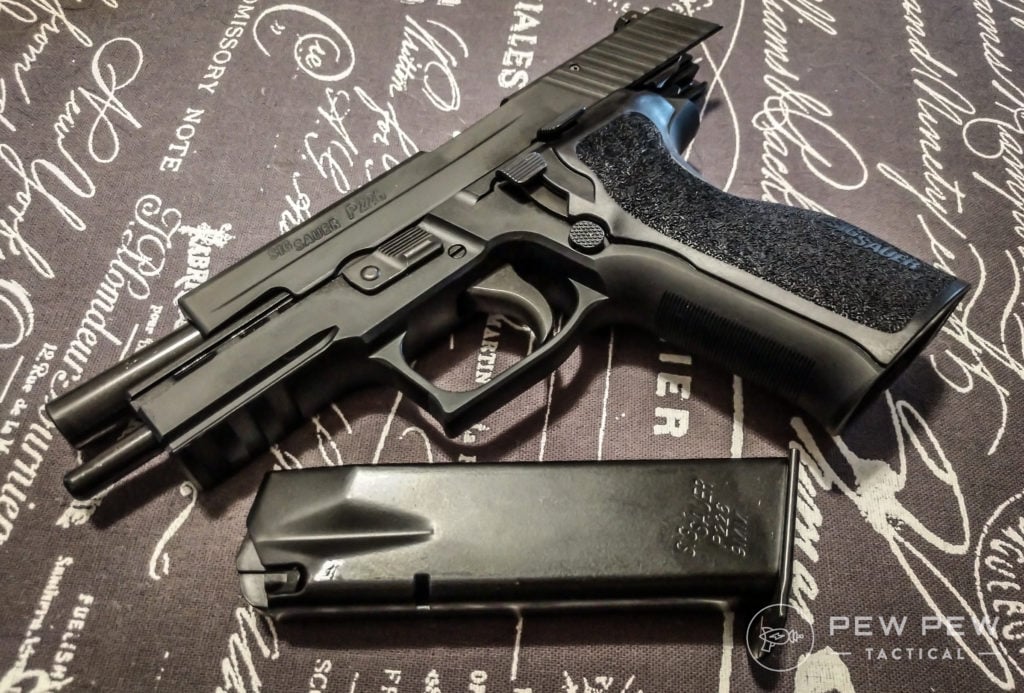 The Legion P226 is an accurate, reliable, ergonomic, and stylish pistol that sports both an accessory rail and an optics cut ready for a red dot.
It brings an amazing trigger that really helps fine-tune those shots, in addition to fantastic sights that get you on target.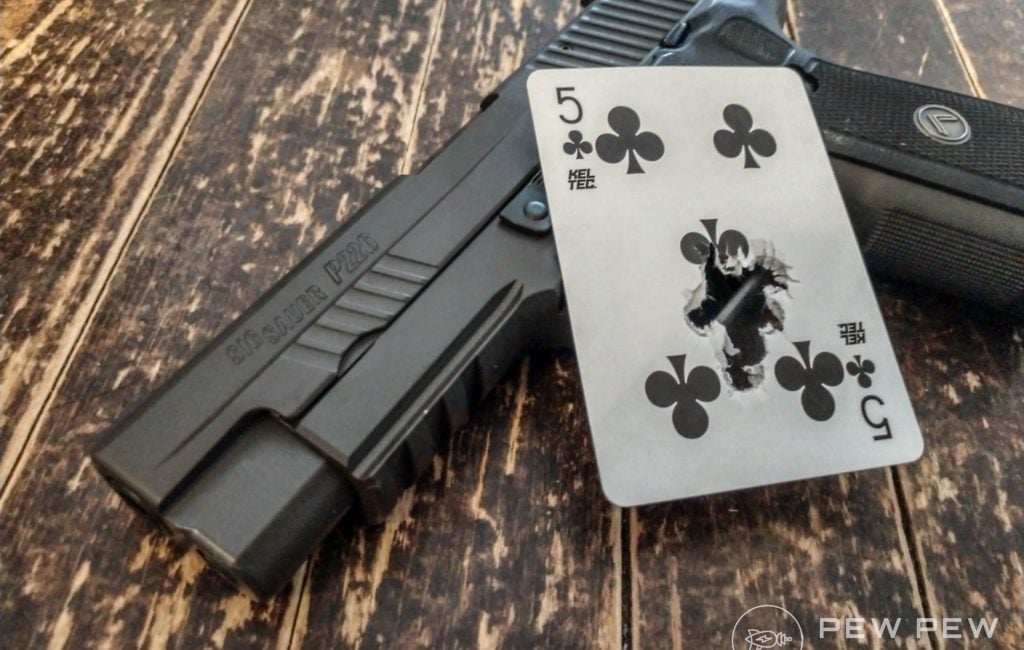 Ergonomically, it feels really good in the good…though the slide release feels a little crowded, and that might be a nuisance to some.
The backstrap molds to the palm, though, and its texturing keeps it locked tight in your hand.
Its only major downside is price. Coming in at over $1,299, it's not an easy price tag to stomach for most, but if you have the extra cash, then it's money well spent.
Interested in learning more? We have a full review of the Sig Legion P226!
7. Smith & Wesson 327 TRR8
Revolvers might seem somewhat outdated, but that doesn't mean they aren't completely off the books.
Legend has it that S&W designed the TRR8 for police shield units who were worried the slide would interact with the shield and cause a malfunction with an automatic. With that in mind, S&W pushed the revolver into the modern world.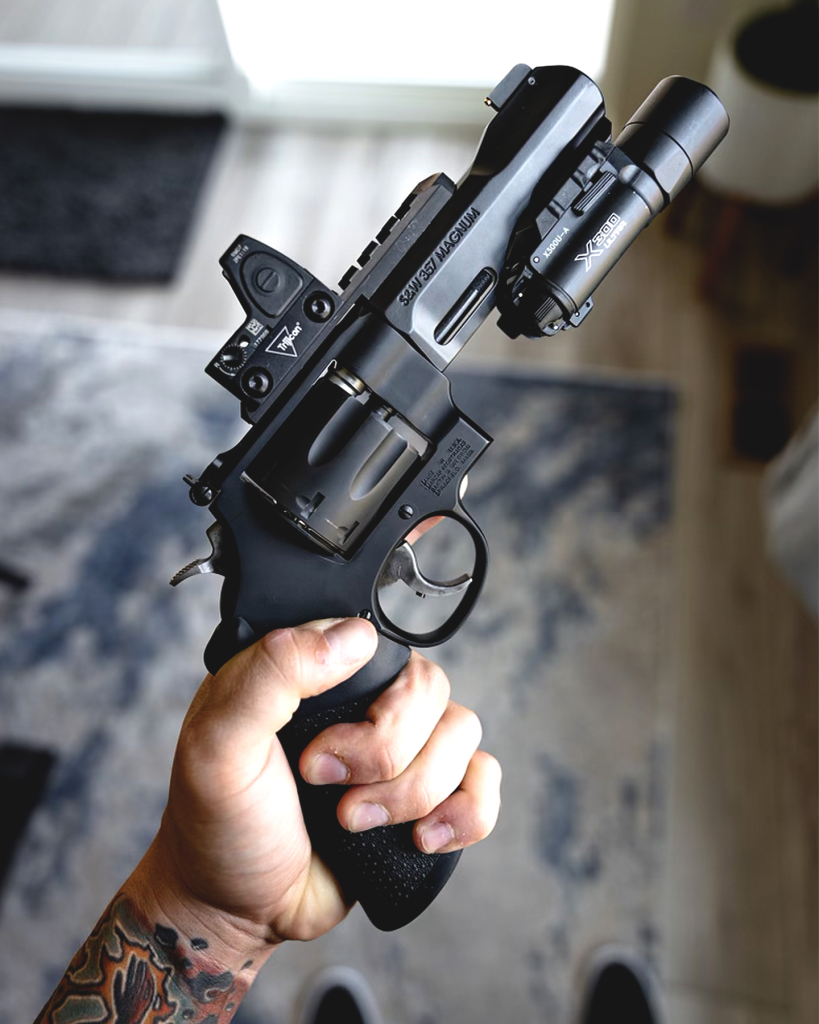 This massive .357 magnum pistol offers you almost all the required checkmarks for tactical pistols.
We got a capable fighting round, plenty of room for accessories, and several modern tweaks to make this the most tactical revolver ever.
First, the .357 magnum round is a proven man-stopping round for gunfighters. It's powerful and well suited for defensive and duty use. It's the right mixture of recoil and power.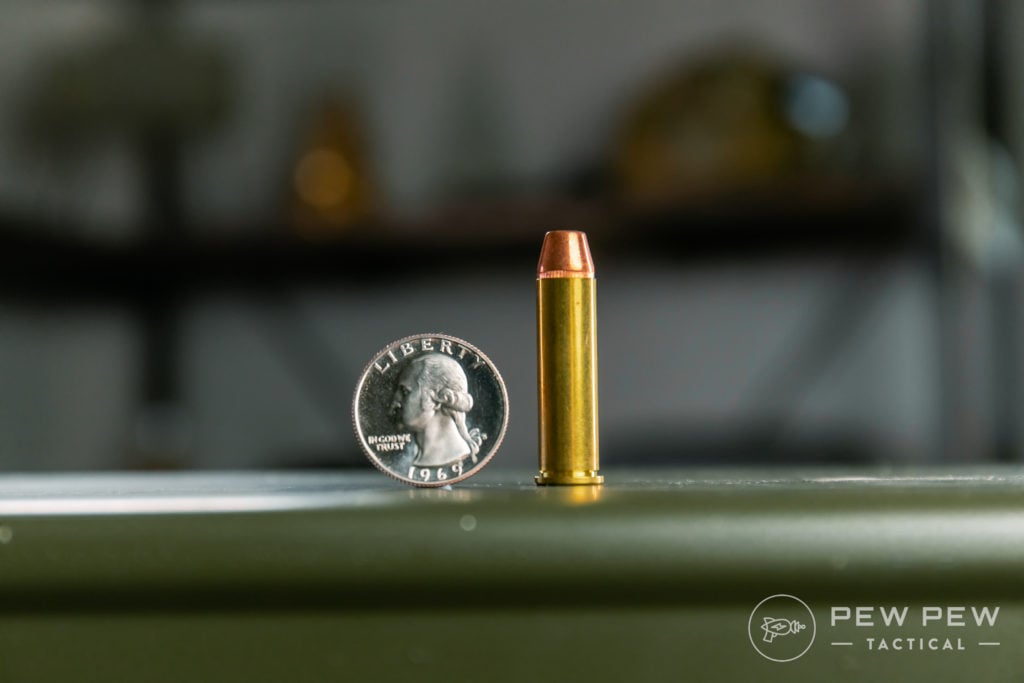 In a gun like the 327 TRR8, the .357 magnum is a soft shooter. It weighs over 30 ounces and has a 5-inch barrel.
Eight rounds of .357 are nothing to laugh at, and S&W designed it to use moon clips for rapid reloads.
Under that barrel is the ability to mount a rail for lights and lasers and across the top sits a length rail for tossing on optics. Unlike automatics, you can toss on almost any sized optic, including full-size Aimpoints.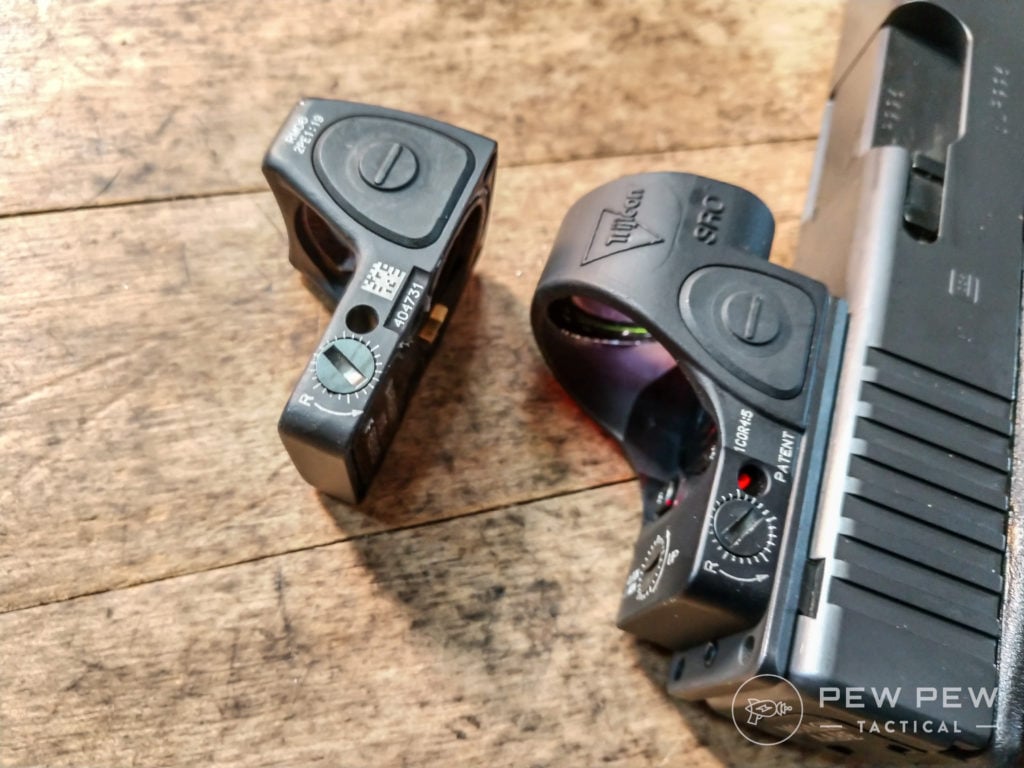 It's big, powerful, and outfitted with all the bells and whistles S&W has in its Performance Center. This includes the Performance Center trigger and tuned action.
The downsides are the massive price and the fact it's still only eight rounds in a world where 15 to 19 are standard.
These powerful rounds won't let you down if you can make them count. Smith and Wesson's Model 327 TRR8 certainly takes the cake as the top tactical revolver and earns a spot on this list.
Best Revolver
1499
at GrabAGun
Prices accurate at time of writing
Prices accurate at time of writing
Final Thoughts
The modern tactical pistol is versatile and can be used for various purposes. It can be a duty pistol, a defensive pistol, and even a concealed carry option. Heck, it can even be a solid competition pistol.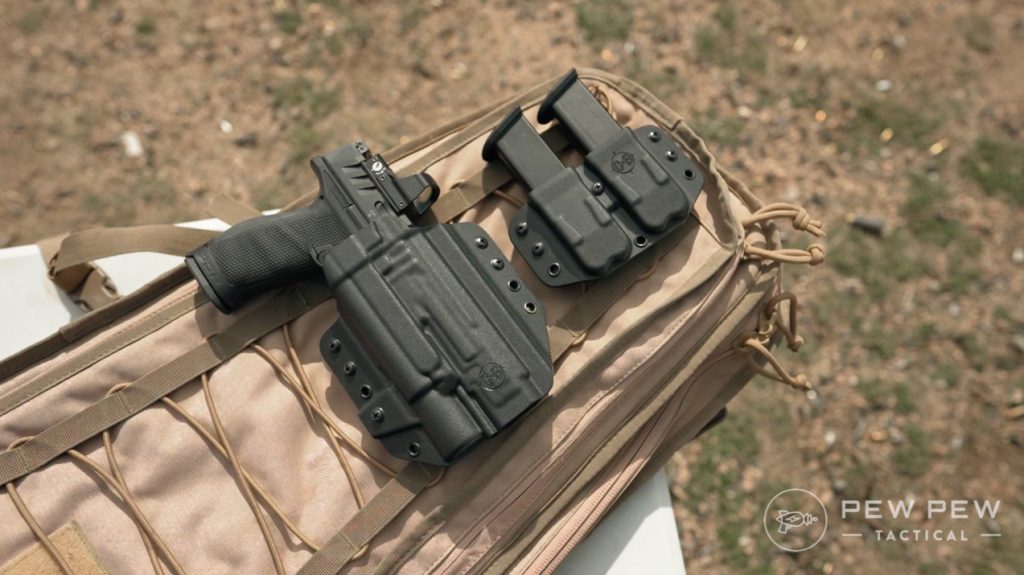 Versatility is the name of the game with modern gun design, and these guns check that box.
Do you own a tactical pistol? Let us know in the comments below. For more home defense style pistols, check out our guide here!
Read the full article here