Tactical
Arex Delta Gen 2 Review: Best Affordable 9mm Pistol?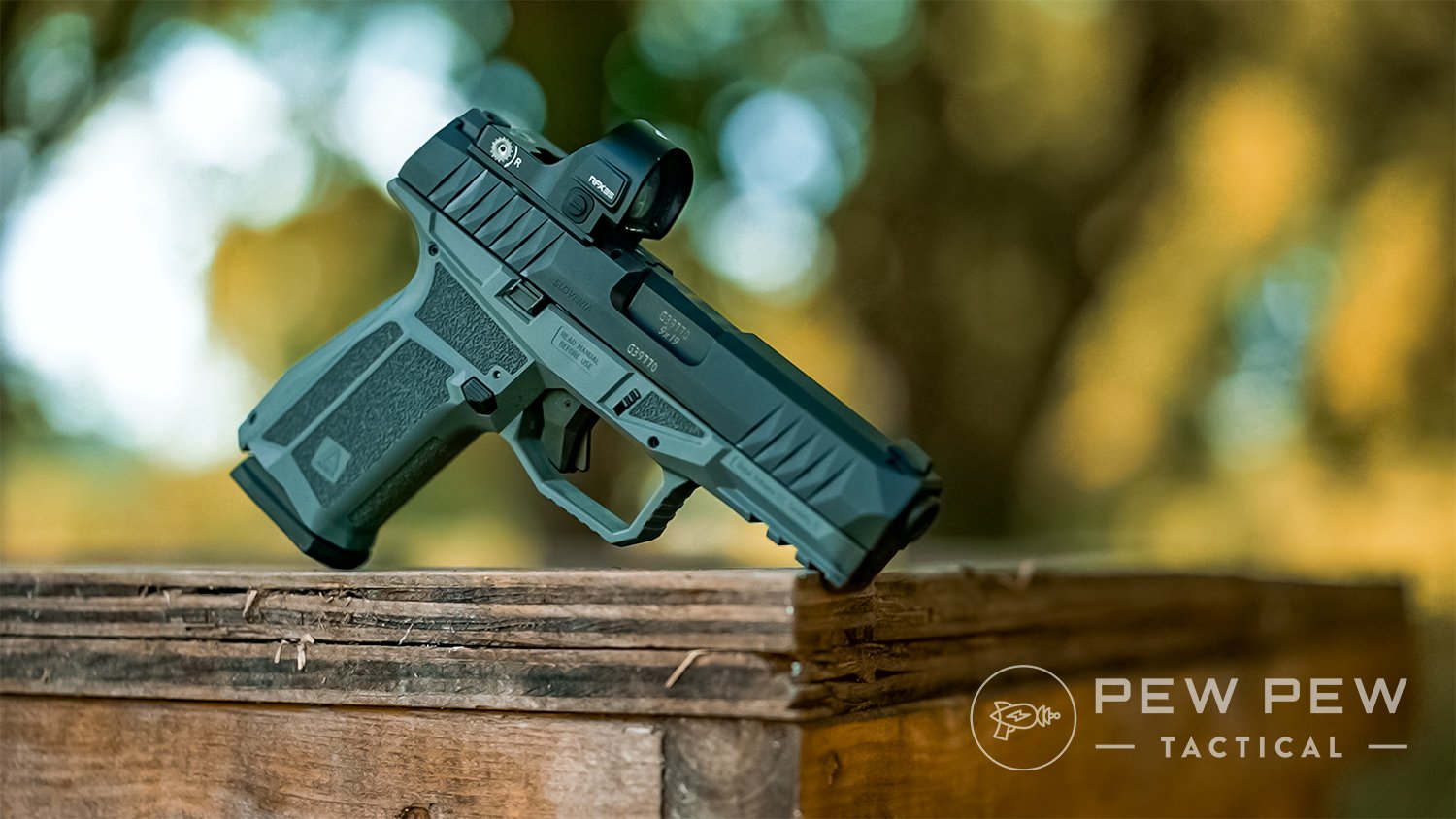 ---
Looking at the polymer-framed, striker-fired, 9mm from Slovenia, it would be easy to assume the Arex Delta is a Glock clone. After all, there are a lot of similarities.
Though inspirations exist in the pistol's design, Arex also did a few things to distinguish itself.
New guns are sometimes a risky gamut, you could find yourself something really nice, or you might end up in customer service hell. So, how does the Arex Delta shake out in this category?
We took the Arex Delta M model out to the range to test it for ourselves. So, follow along as we cover the specs and features, pros and cons, and reveal our range results to help you decide if the Arex Delta is right for you.
Table of Contents
Loading…
Arex Delta Pros & Cons
Pros



Reliable




Accurate




Affordable
The Bottom Line
The Arex Delta is a seriously good pistol that feels very much like an improved Glock with a less expensive price tag.
445
at Kygunco
Prices accurate at time of writing
Prices accurate at time of writing
Arex Delta Specs & Features
Specs
Action
Semi-auto striker-fired
Comes with
Plastic case, 15 round mag, 17 round mag, optics mounting hardware, cleaning rod, 4 different sized backstraps, lock
Features

Optics ready

Three sizes

Ambidextrous controls

Multiple colors
Arex Delta Background
Arex Defense is based in Slovenia and imports to America through Global Ordnance. They currently offer four models of pistols with a few variants.
The Zero 2 is an all-metal pistol, the Alpha is their competition model, there is also a Zero 1, and of course, the Delta.
Arex also makes a tactical version of the Delta with a threaded barrel and suppressor height sights.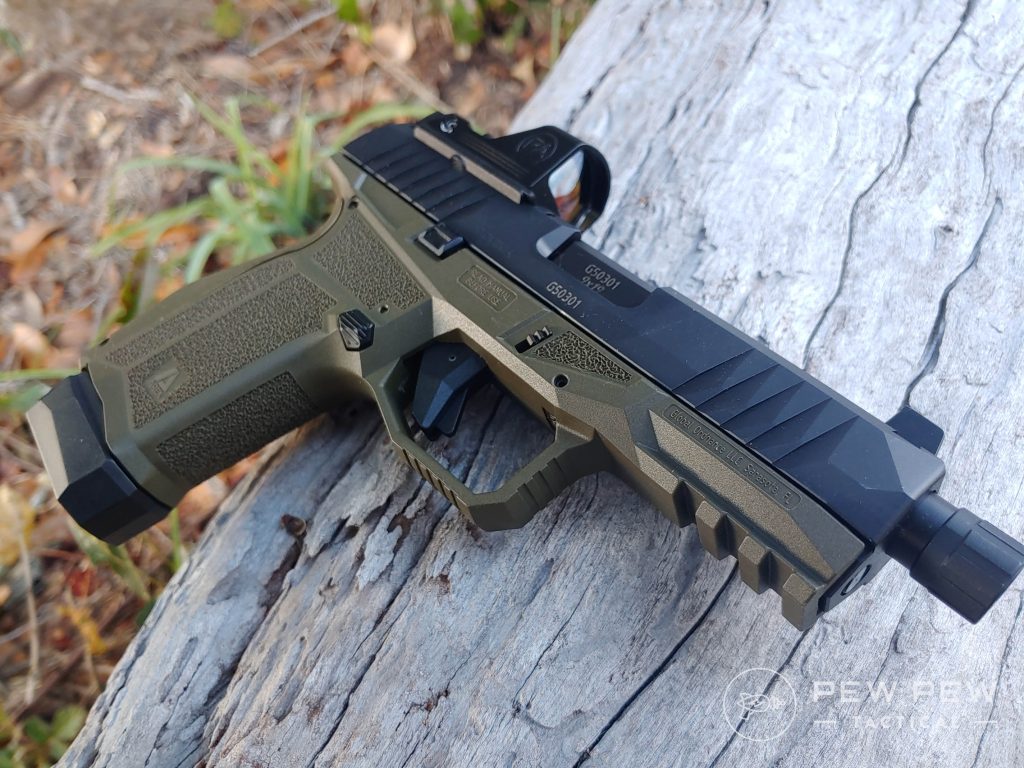 There are three sizes of the Arex Delta. The L is 7.7 inches long, the X is 7.2 inches long, and the model we tested, the M is 7.1 inches long.
Arex Defense shows great receptiveness to its clients. This original Delta generated feedback, and that was instrumental in the second generation's design.
Who Is It For?
The Arex Delta M is a great compact pistol and, in this configuration, would serve well as a home defender.
In addition, the size, capacity, and reliability lend themselves also to concealed carry.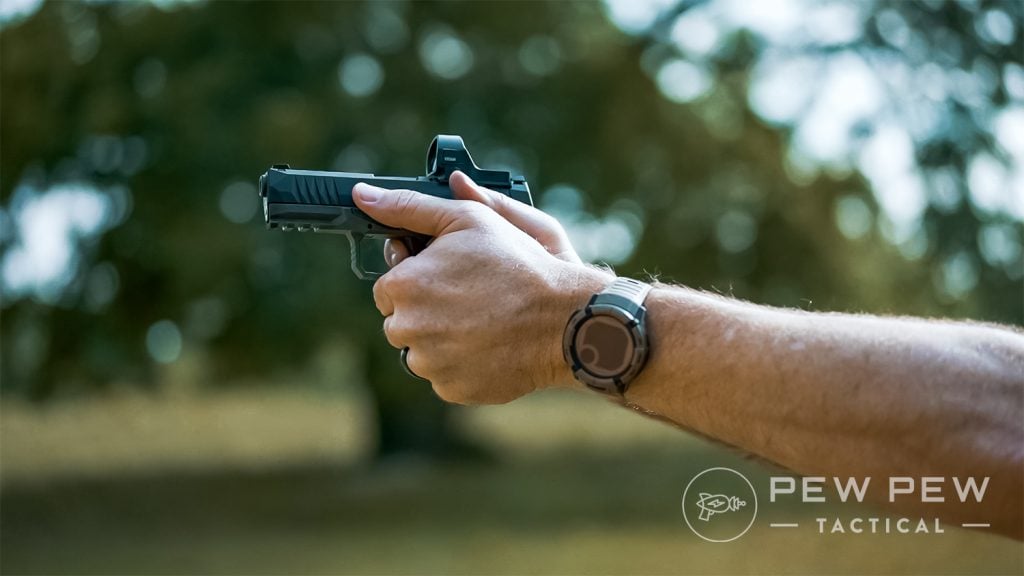 Just about anyone would benefit from the Delta's great ergonomics and affordability.
Fit & Feel
Arex's Delta feels very much like a Glock in the hand but with better ergonomics. Its beavertail extends nicely and covers the web of the hand without the need of a backstrap addition.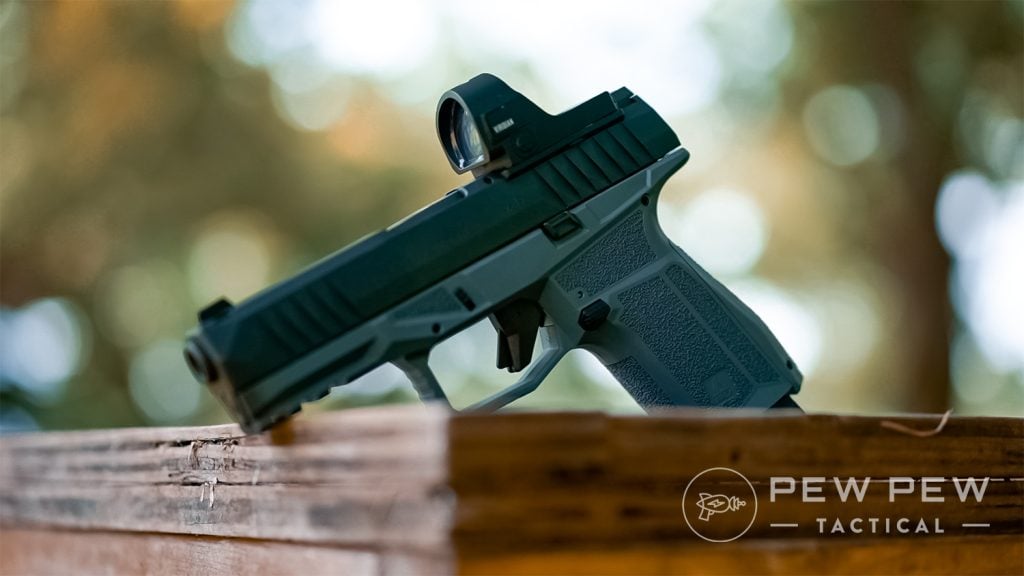 The grip is roughly the same width as a Glock but is not as wide from the front strap to the back strap. Grip texture is fairly aggressive, like a medium sandpaper, and covers the sides, front strap, and back strap as well.
My take is the grip angle is a little straighter, and the undercut on the trigger guard allows a good high grip. The gun fits in the hand nicely, and the controls are all easy to reach.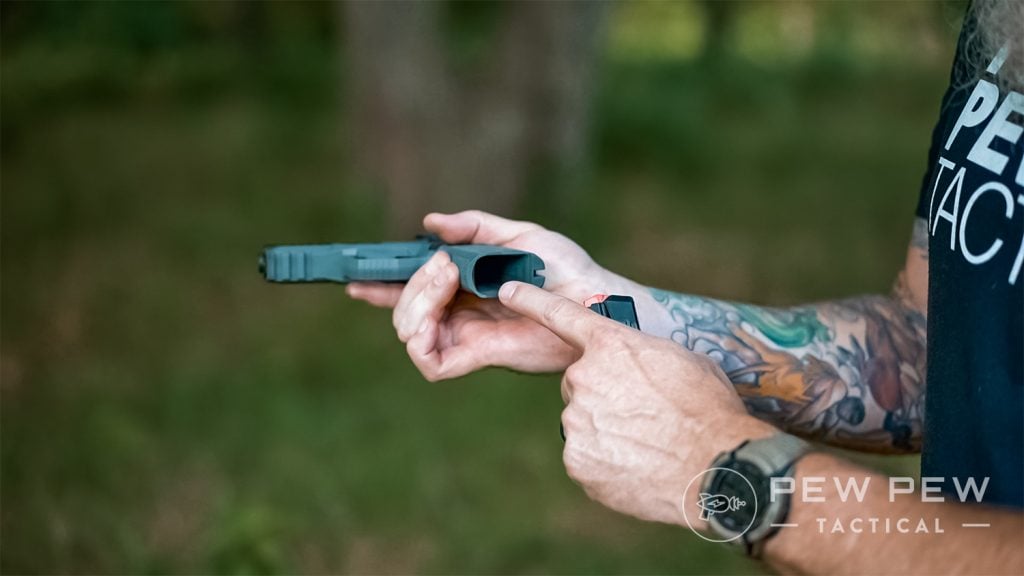 Inside the magwell features some beveled angles that assist with reloads, though there is no extension or flaring at the base.
This gun comes with four grip panels that fit into the backstrap for adjustment to hand size.
I found the attention to detail on the trigger guard a nice addition; ribbing on the bottom and front comes in handy if you shoot from a supported position. There are also grip sections forward on the frame on both sides for folks to place their thumbs.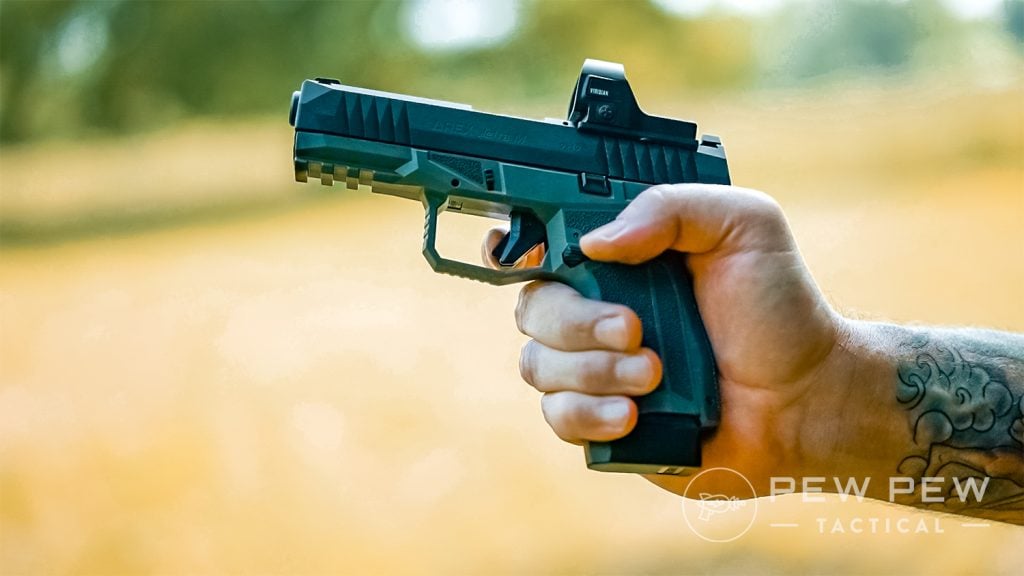 Its trigger is polymer and consists of two flat angles. The shoe is curved but angled, and the sides of the trigger are beveled away, making for a comfortable contact surface.
Pulling the trigger back, you find a bit of pretravel before hitting a well-defined wall. The trigger breaks crisply, 4 pounds on the Lyman Digital Gauge, and reset is almost immediate, tactile, and audible.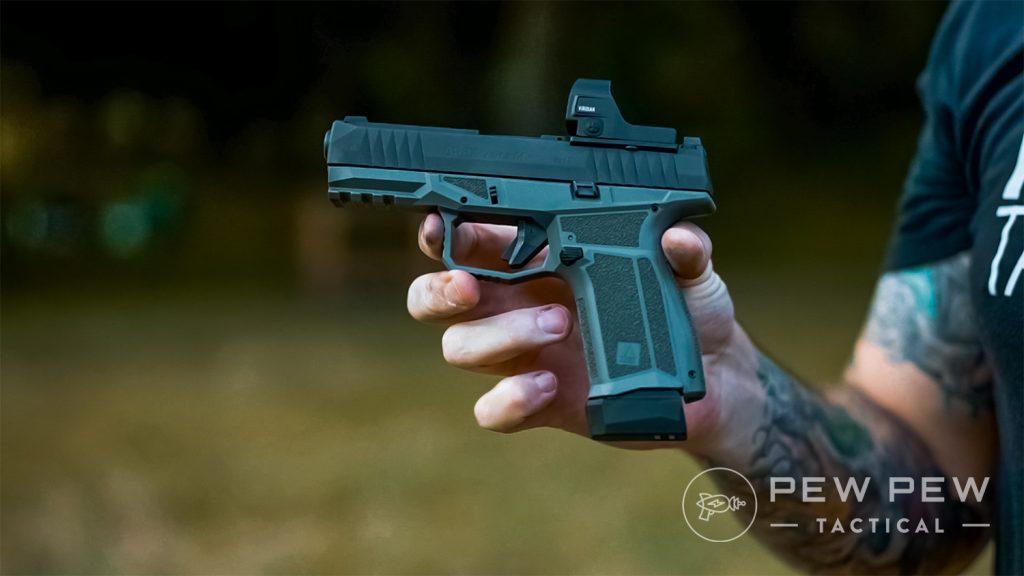 Arex milled serrations in the slide, which are best described as scalloped triangles. They are fairly subtle but still effective.
Sights are metal on the Arex and feature a white dot up front and a black, serrated in the rear. As the sights are standard height, I did not use them for this review.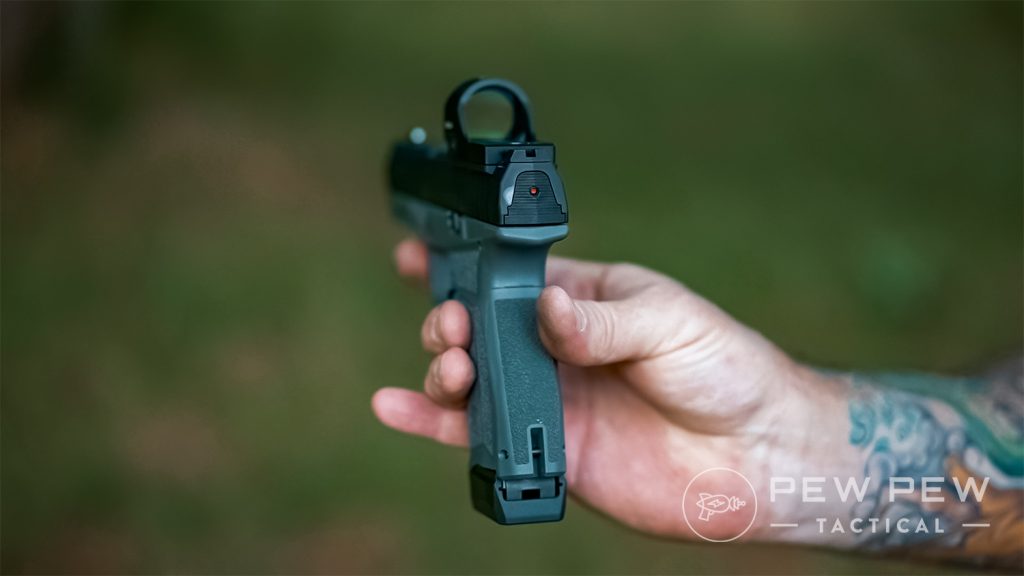 I favored the optics mounting system Arex uses with the Delta instead.
It's a series of plastic plates and hardware (all included) that worked well. I mounted up a Viridian RFX-35 green dot using the Type 2 plate from Arex since it uses an RMR footprint.
152
at Amazon
Prices accurate at time of writing
Prices accurate at time of writing
Magazines are steel with a plastic floorplate, and one of them came with a +2.
They loaded and seated easily, then dropped cleanly when I pressed the button — but more about that button in ergonomics.
How Does It Shoot?
The shootability of the Delta is impressive…
After getting used to the trigger, I found it was predictable and provided repeatable performance.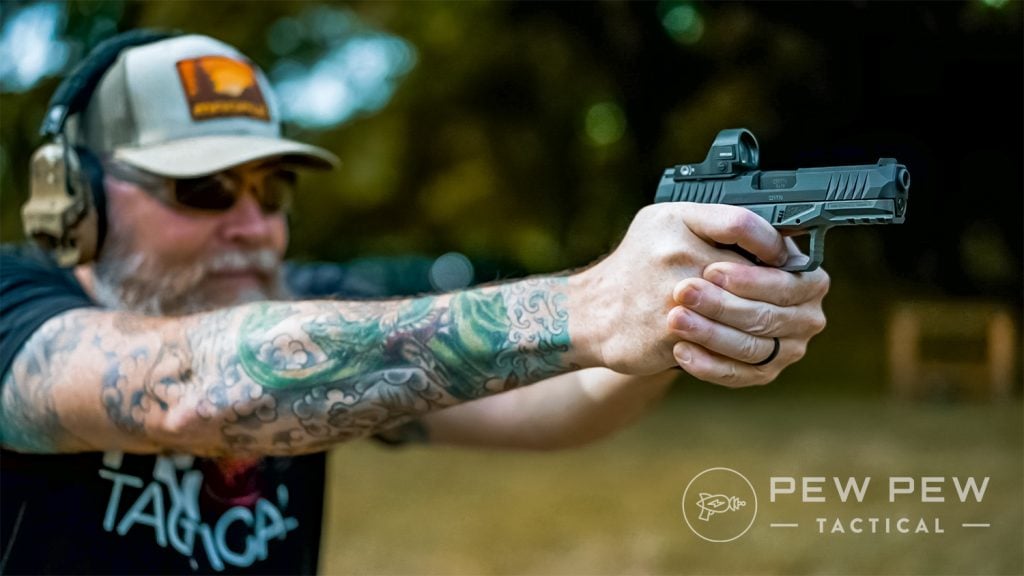 While I wouldn't call the Delta a tack driver, it certainly did an adequate job and improved as I practiced with it.
The recoil impulse was also pretty light and allowed me to get back on target fairly quickly for follow-up shots.
The combination of the ergonomics and trigger allowed me to get into a pretty fast rhythm that still allowed me to keep the dot through recoil. In short, the Delta really shoots.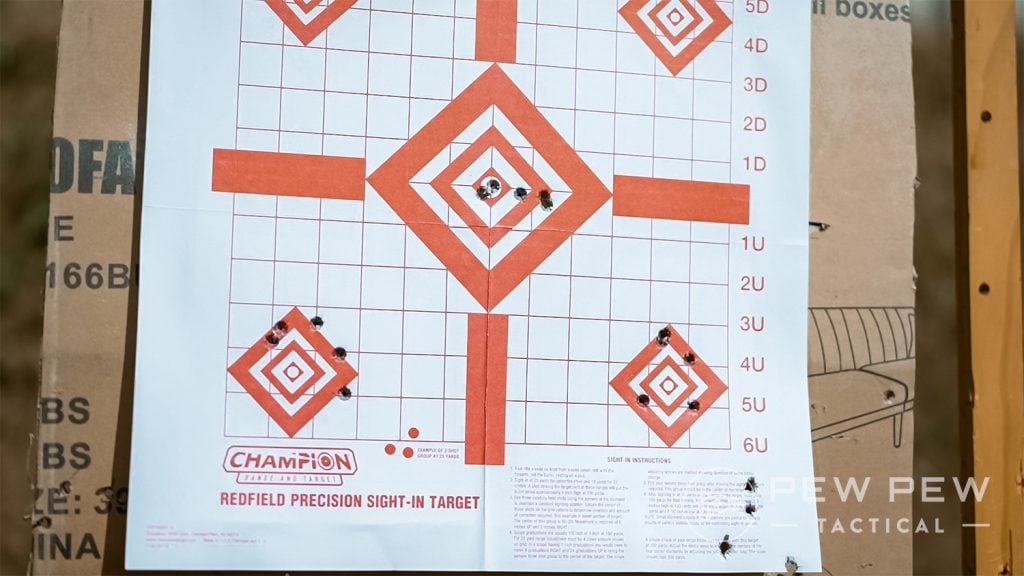 Only problem I had with the gun was the ambidextrous magazine release. The button must be mashed deeply in order to release the magazine, forcing me to adjust my grip.
With full magazines, it was particularly difficult to accomplish. This is likely a tradeoff of having an ambi mag release that doesn't need to be switched.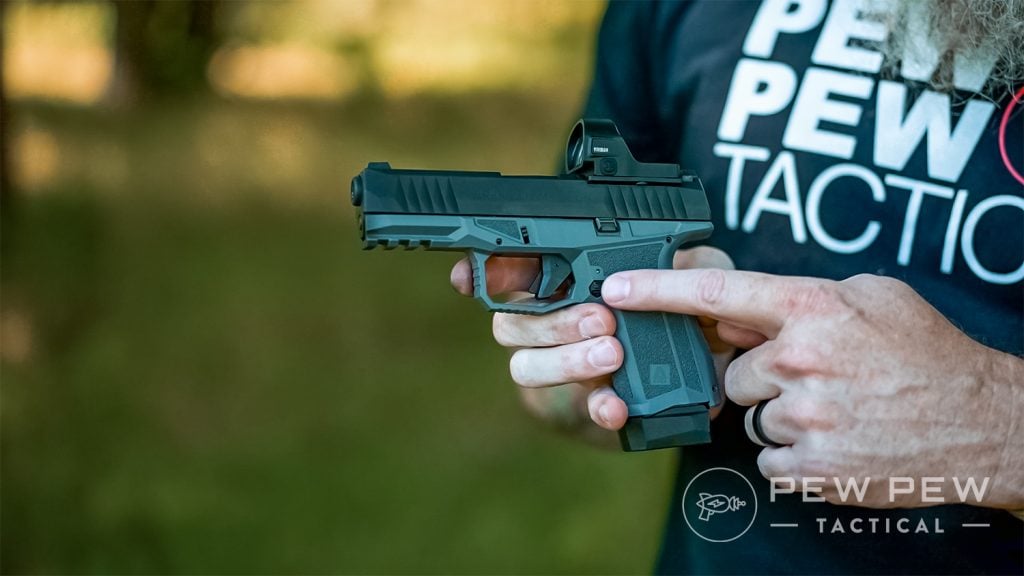 Reliability was also above par. Over 450 rounds were fired, and there were zero malfunctions.
What Sets it Apart?
If I hold this striker-fired pistol up to many modern contemporaries, it does many things extremely well.
It is accurate, highly reliable, has a great trigger, and a good optics mounting system.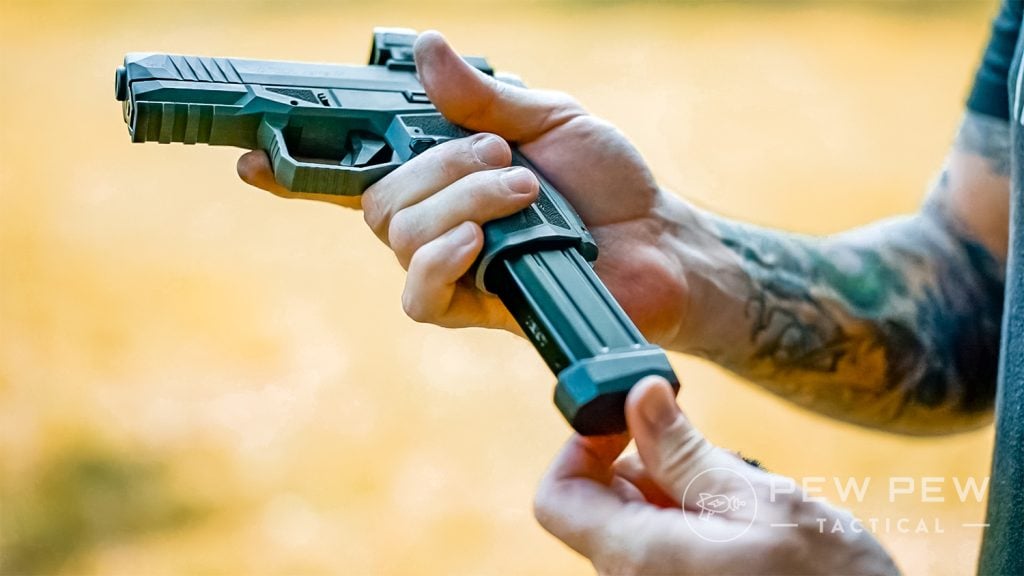 There are some pretty cool features, like the striker indicator in the rear, the chamber indicator, and the ease of the slide release, but one of the coolest has got to be the price.
It's a heck of a bargain to get all these features and performance without breaking the bank.
Arex Delta By the Numbers
Shooting 5-shot groups at seven yards, I was able to create groups on average of 2-inches.
As mentioned, we ran the Arex Delta through 450 rounds with zero malfunctions.
Being a new firearm, there isn't a great deal of aftermarket spun up yet. However, there are some accessories on the Arex Defense website and the Delta comes in black, Gun Smoke Gray, Flat Dark Earth, and you can buy a Tiffany Blue frame too!
I really like everything about the ergonomics of this firearm with the exception of the magazine release.
Pricing at online retailers as of this writing ranges just under $400 for the Arex Delta.
445
at Kygunco
Prices accurate at time of writing
Prices accurate at time of writing
Final Verdict
If you've been looking for a feature-rich, sub-$400 pistol with good performance, the Arex Delta M is a strong contender. The reliability is solid, and the accuracy is good.
While I did have a slight hangup on the ambi magazine release, it doesn't take away from the overall performance of the gun. I looked at the Delta Tactical on the Arex Defense website, and that is one of the items they fixed.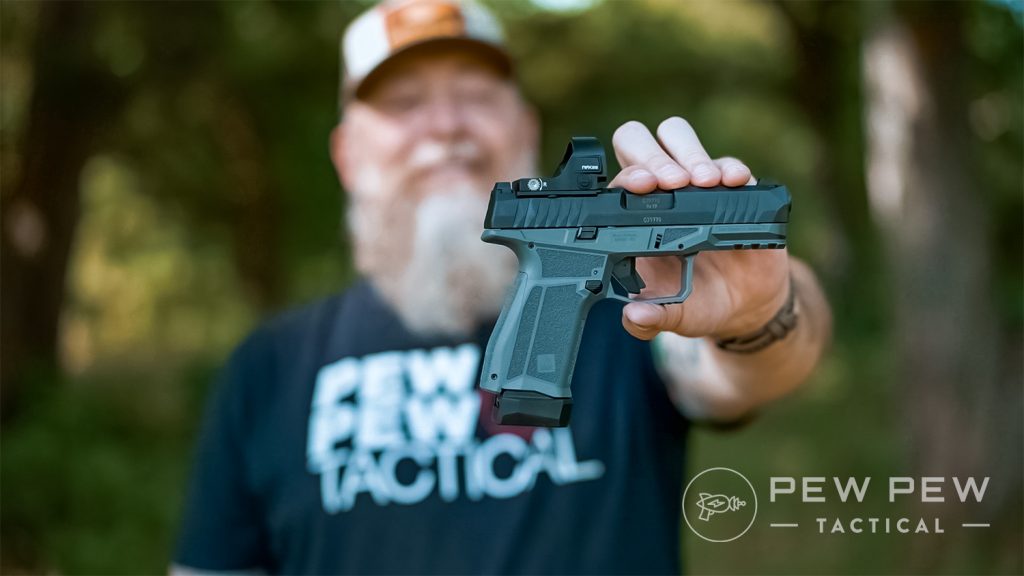 Arex indicated it was based on feedback. I have to admit a company that listens to customers and implements feedback is cool and worthy of support.
Will you be picking up an Arex Delta Gen 2? Let us know in the comments below! Also, check out more budget guns out at the 8 Best Budget Guns for New Shooters!
Read the full article here