Tactical
Best Bullpup Rifles & Shotguns of 2023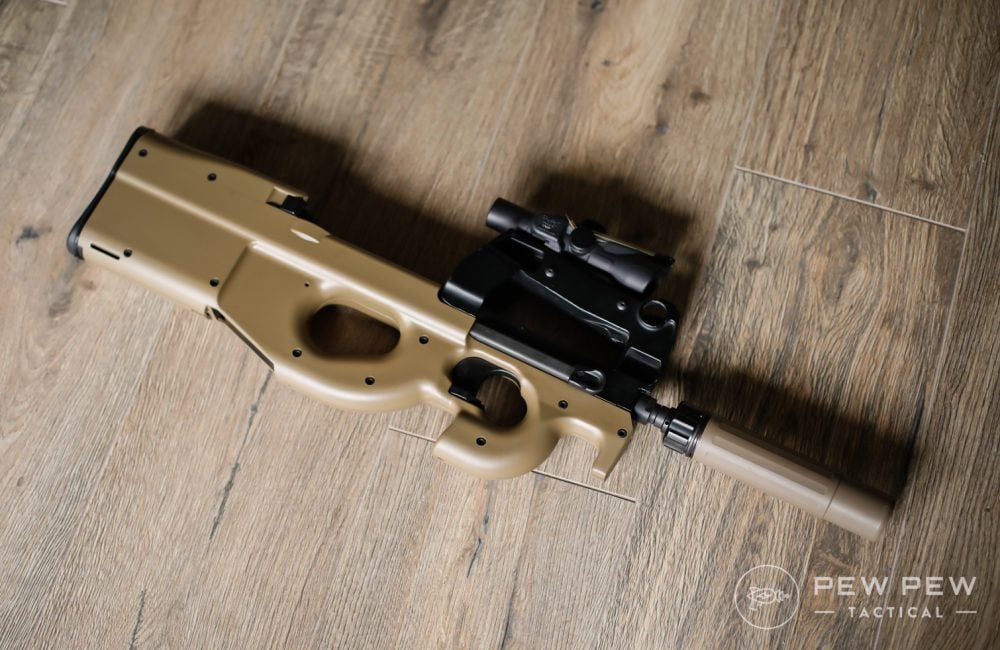 Forget everything that you've learned about conventional firearms.  
Bullpup rifles and shotguns break all of the rules.  
A "bullpup" is a type of firearm with its action and trigger behind the trigger group. 
This setup substantially reduces overall length and weight while not sacrificing barrel length and velocity.
They're short, compact, and easy to handle but still have the same accuracy as long-barrel rifles, shotguns, and submachine guns.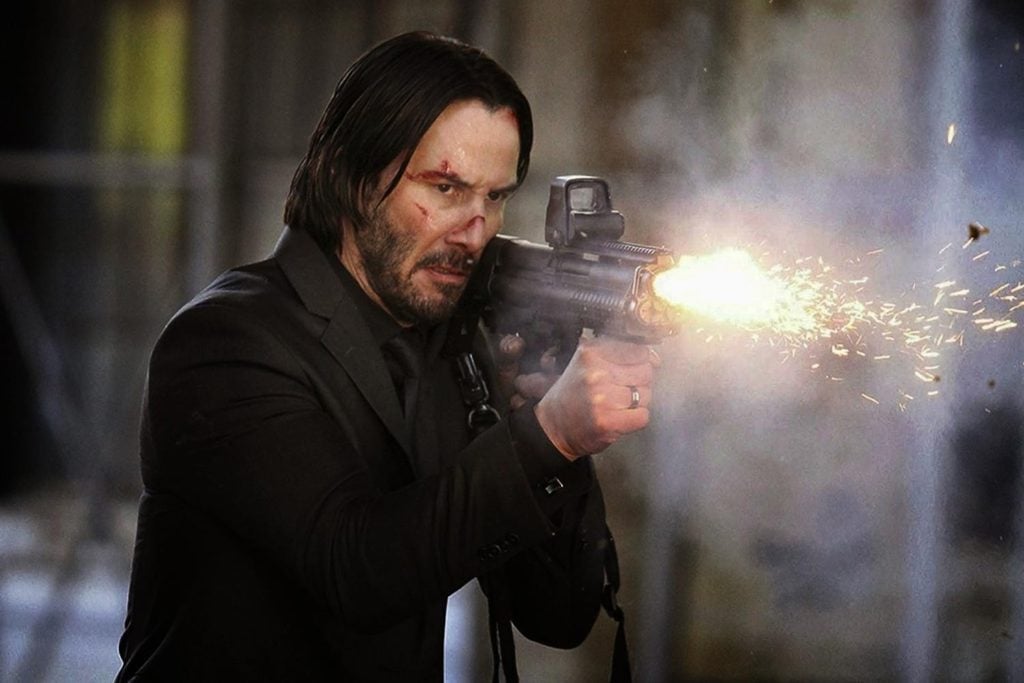 I'll cover more exactly what a bullpup gun is, the pros/cons, and the best models out there right now. But if you're in a hurry, check out our recommended models below.
Summary of Our Top Picks
Table of Contents
Loading…
What Is a Bullpup Firearm?
Bullpups have the action located behind the firing grip.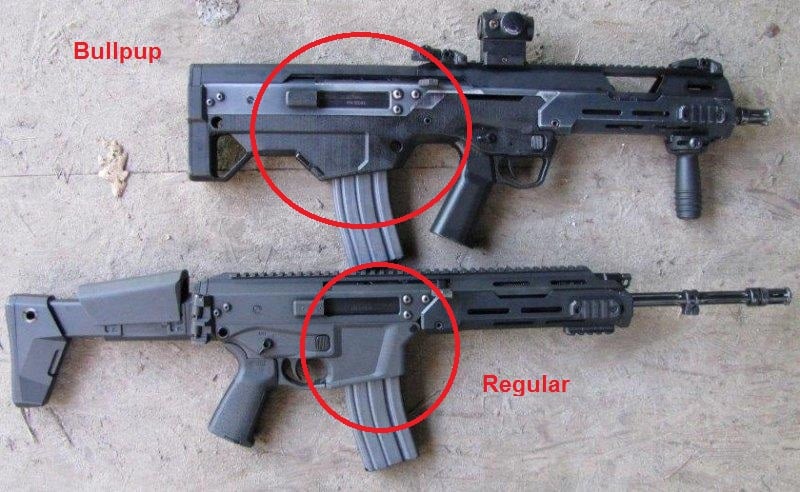 In other words, the part of the gun where the magazine, barrel, and bolt meet is positioned behind the trigger instead of in front of it, like with conventional guns.
Because bullpup firearms have a different design than their traditional counterparts, they need to be handled differently.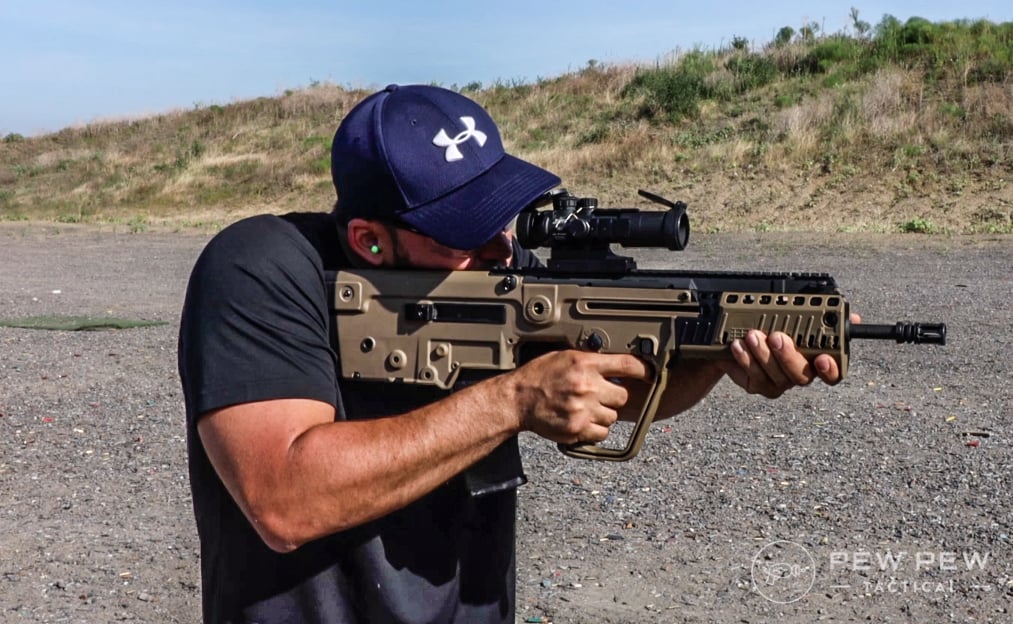 When shooting a bullpup gun, you'll need to hold the firearm closer to your body when aiming and shooting.  
This, combined with the fact that bullpup guns generally have shorter overall lengths, makes them great for shooting in confined spaces.
Pros and Cons of Bullpup Guns
Bullpups are something many people either love or hate, and it can take a lot of practice before you master shooting one.
They have a lot of benefits in a tactical setting…which is why various bullpup guns have been used by armed forces worldwide, including Britain, France, Israel, and Australia.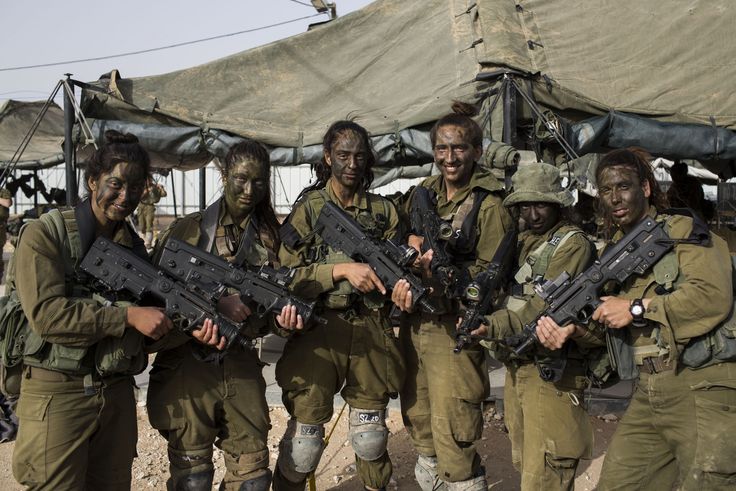 Pros of Bullpups
Many bullpup versions are more compact than conventional models, increasing their maneuverability.
In addition, the design allows for a longer barrel without sacrificing overall length, accuracy, and muzzle velocity that comes with a shorter barrel.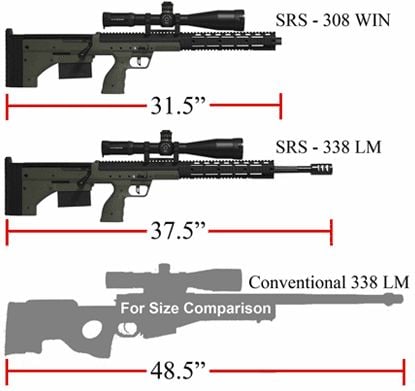 And since the gun has to be held closer to the body, you're less likely to experience fatigue from extensive shooting.
Your hand positioning helps you aim and shoot from a lowered position quicker than conventional guns.
While it's true that bullpup weapons have some benefits that set them apart from traditional firearms…there are still a couple of cons.
Cons of Bullpups
Now for the downsides…
Bullpup guns that aren't specially designed to eject casings downward are prone to hitting left-handed shooters in the face. Fortunately, most newer bullpup firearms have found a way around this with downward and upward ejection features.
Also, many bullpups are back-heavy, which can affect the gun's balance and can cause the muzzle to rise significantly when being fired.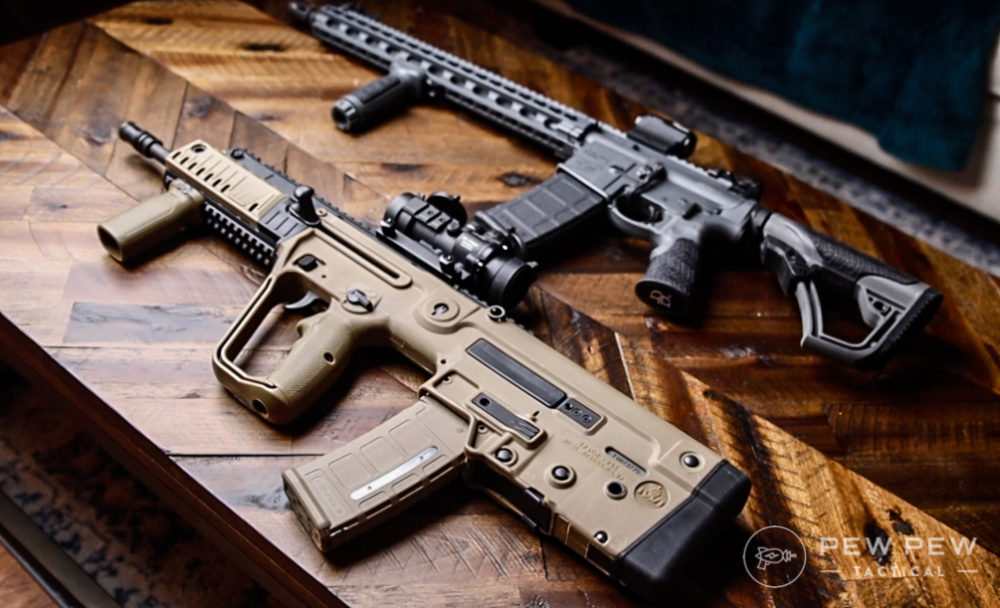 Not to mention, the positioning of the magazine can make it more difficult to reload bullpup guns rapidly.
In the rare and unlikely event that your bullpup backfires, the way bullpup guns are held means the explosion happens much closer to your face.
The Bottom Line
The advantage of using a bullpup gun over a conventional firearm is improved maneuverability, which is why bullpups are ideal for shooting in confined spaces.
Additionally, this is also why bullpup shotguns make decent weapons for home defense.
Best Bullpup Rifles & Shotguns
Now that we've covered the basics of what a bullpup is and why you might want one let's have a look at some popular bullpup models…in no particular order.
1. IWI Tavor X95
Hands down one of the best and most widely adopted bullpups on the market is the Tavor X95 from IWI.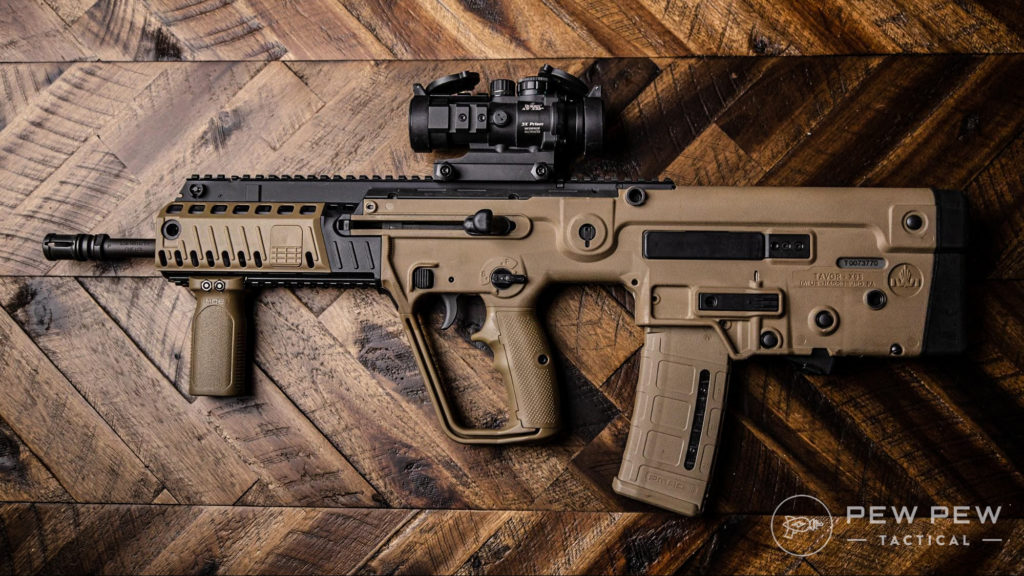 From the sleek styling to the ambi controls, the Tavor series of rifles have been a hit since the start — the X95 being the best of the bunch!
The short version, though, is that this gun runs. While the Tavor, in general, has always been a great bullpup, the X95 gains the benefit of iterative design and has improved the platform greatly.
Soft shooting, compact, ultra-reliable, if we were going to pick a king of bullpups — it would be this one.
1749
at Kygunco
Prices accurate at time of writing
Prices accurate at time of writing
If you want the whole story, take a look at our hands-on Tavor X95 review!
2. Desert Tech SRS-A2
Don't let the size fool you; this gun is a fantastic rifle.
The Desert Tech Stealth Recon Scout A2 is a bullpup, bolt-action model known for its accuracy and compact nature.
Its bullpup design makes it an effective sharpshooting rifle that's as compact as a submachine gun.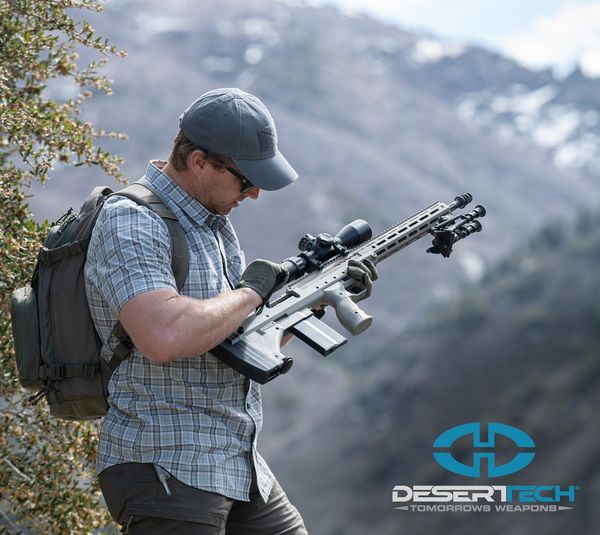 The SRS-A2 is a multi-caliber design, meaning that it can quickly convert from one chambering to another, including .308 Win, 6.5CM, .300 Win Mag, and .338 LM.
Overall, this is a great sniper rifle with an innovative design that allows it to be short and compact without sacrificing accuracy.  
Convertible Bullpup Rifle
5549
at Desert Tech
Prices accurate at time of writing
Prices accurate at time of writing
3. Desert Tech MDRX
Another innovative bullpup rifle coming from the people over at Desert Tech is the Micro Dynamic Rifle — or MDRX.
The MDRX is a one-of-a-kind gun that is lightweight, compact, and has an incredibly futuristic look to it.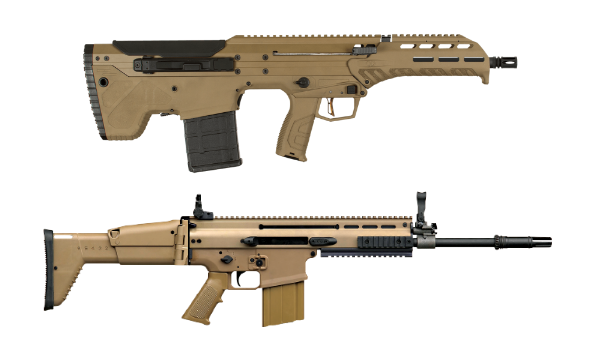 What makes the MDRX an incredible gun is a forward ejection mechanism, meaning the rifle is fully ambidextrous.  
It's a favorite among left-handed shooters who are frustrated with bullpup designs that send casings flying in their faces.
Like its SRS sibling, the MDRX is multi-caliber and comes in .223 Wylde, .308 Winchester, and .300 Blackout in the 16-inch and 20-inch, with the 20-inch also offered in 6.5 Creedmoor.
Best .308 Bullpup
2192
at GrabAGun
Prices accurate at time of writing
Prices accurate at time of writing
4. Kel-Tec RDB
In a world where bullpup rifles routinely eclipse the $1500 mark, the 5.56 Kel-Tec RDB offers shooters great performance for $1000 or less.
Kel-Tec's first foray into bullpup rifles was their .308 RFB, which received mediocre reviews. The company used the RFB as a learning experience to help iron out issues for their next rifle, the RDB.
Improved ergonomics, solid reliability, adjustable gas, and compatibility with standard AR mags have made the RDB a smash hit in the bullpup market.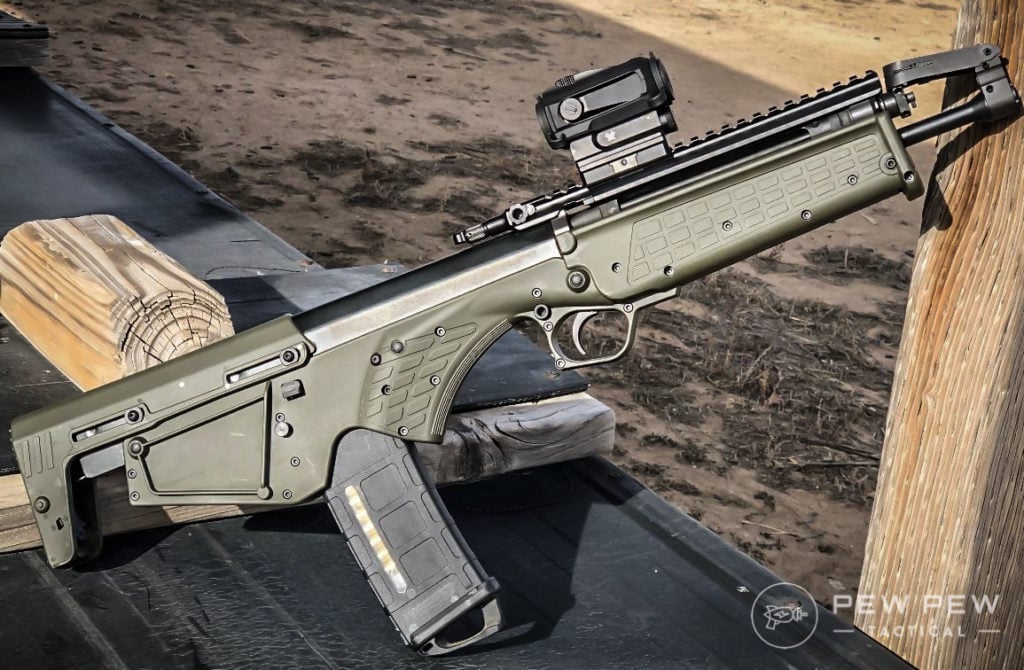 RDB stands for Rifle, Downward-Ejection, Bullpup. As the name implies, it ejects spent casings directly downward. This, combined with ambi-controls, makes this gun an excellent choice for both right and left-handers.
On top of a solid feature set, the gun has a fairly good trigger as far as bullpups go, and the accuracy is relatively good across all trims.
Best Budget Rifle
875
at Gunprime
Prices accurate at time of writing
Prices accurate at time of writing
Standard pistol-gripped models are available in 16, 17, and 20-inch barrels, with a rifle-gripped slim survival model being available with a 16-inch barrel as well.
5. FN PS90
Another reliable bullpup gun manufactured by FN Herstal is the PS90.
This firearm, classified as a personal defense weapon (PDW), is often lumped into the category of submachine guns.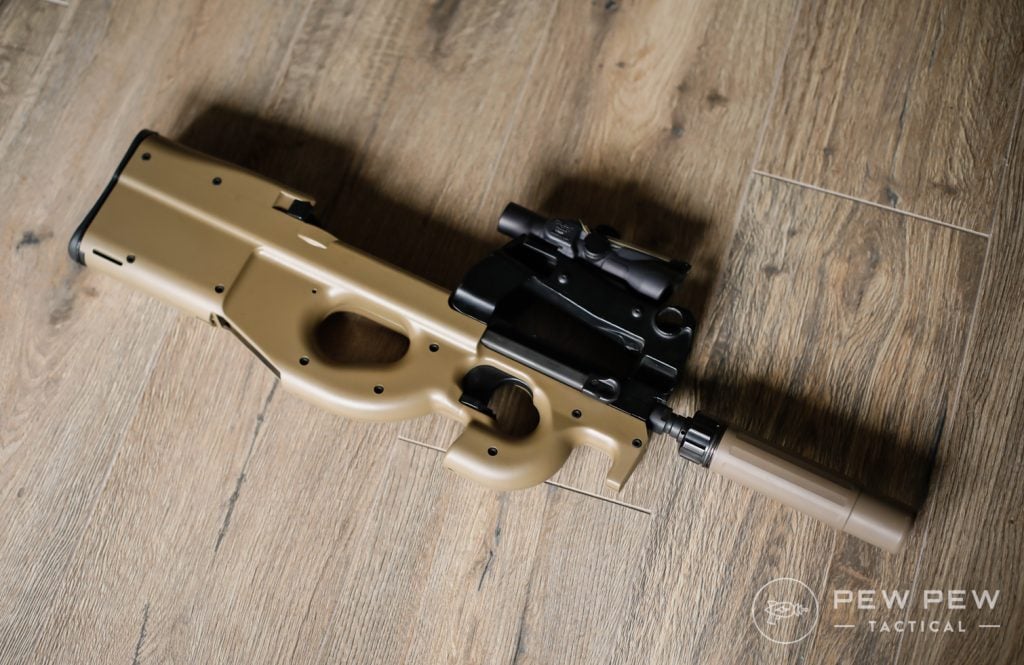 Even if you didn't know the PS90 by name, you've probably seen it feature in various forms of media, like the game Counter-Strike and movies, including James Bond, Hunger Games, and X-Men series.
Although its unorthodox design does make it seem a bit far-fetched!
However, the PS90's reputation for excellence has made it a popular choice among LEOs in the United States on a local and national level, as well as the Taiwanese Armed Forces and various militaries in the EU.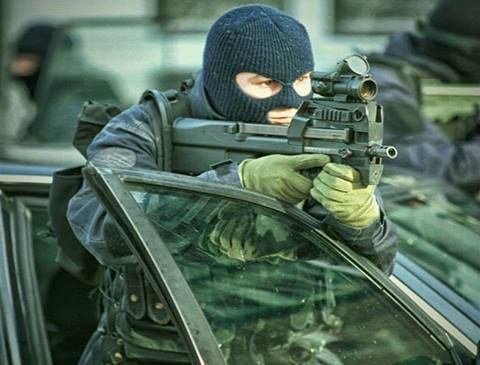 It brings a fully ambidextrous design so righties or lefties can use it.
And it ejects casings downwards, protecting the face of left-handed shooters.
And the magazine sits on the top of the barrel rather than underneath.
Best PCC Bullpup
1589
at Gunprime
Prices accurate at time of writing
Prices accurate at time of writing
What's your take on the PS90?
6. Kel-Tec KSG
Do you want a bullpup weapon that's perfect for home defense?  
The KSG 12-gauge shotgun by Kel-Tec is your best bet. It's smaller than your average 12-gauge, but it still packs the same punch.
It doesn't have a long barrel, which means that it's perfect for shooting in narrow and tight spaces.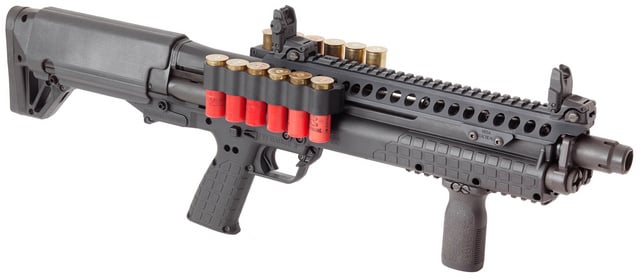 This pump-action shotgun is ambidextrous and can be easily fitted with red-dot sights, making it optimal for tactical scenarios.
Its reputation for reliability in the field has made the shotgun popular among certain French and South Korean battalions.
Additionally, since the KSG utilizes downward cartridge ejection technology, left-handed shooters don't have to worry about shells hitting them in the face.
With a retail price under $1,000 and a typical street price of $750 or less, the Kel-Tec KSG is a great weapon home defense weapon to have.  
Best Bullpup Shotgun
599
at GrabAGun
Prices accurate at time of writing
Prices accurate at time of writing
7. Steyr AUG
You didn't think I'd write a review of bullpups and leave off the Steyr AUG, did you?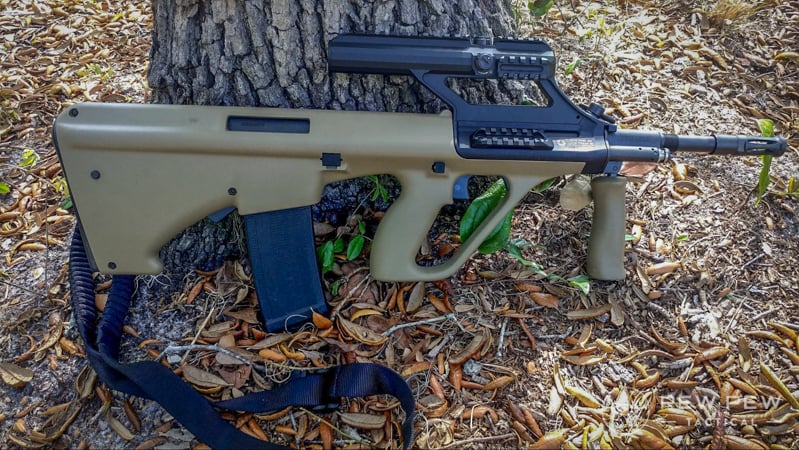 This Austrian bullpup rifle is one of the most recognizable and popular weapons in its field.  
It shoots the 5.56 NATO cartridges and is used by a number of countries across the world, including the United States, Taiwan, the United Kingdom, and Australia.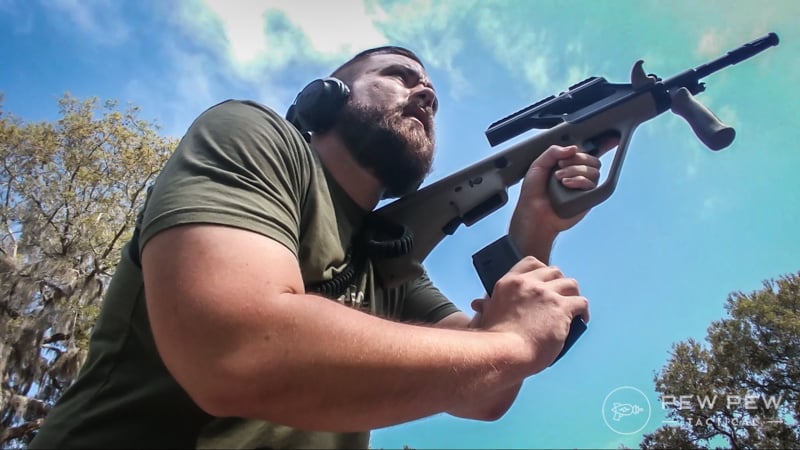 The Steyr AUG might be one of the most recognizable bullpup rifles.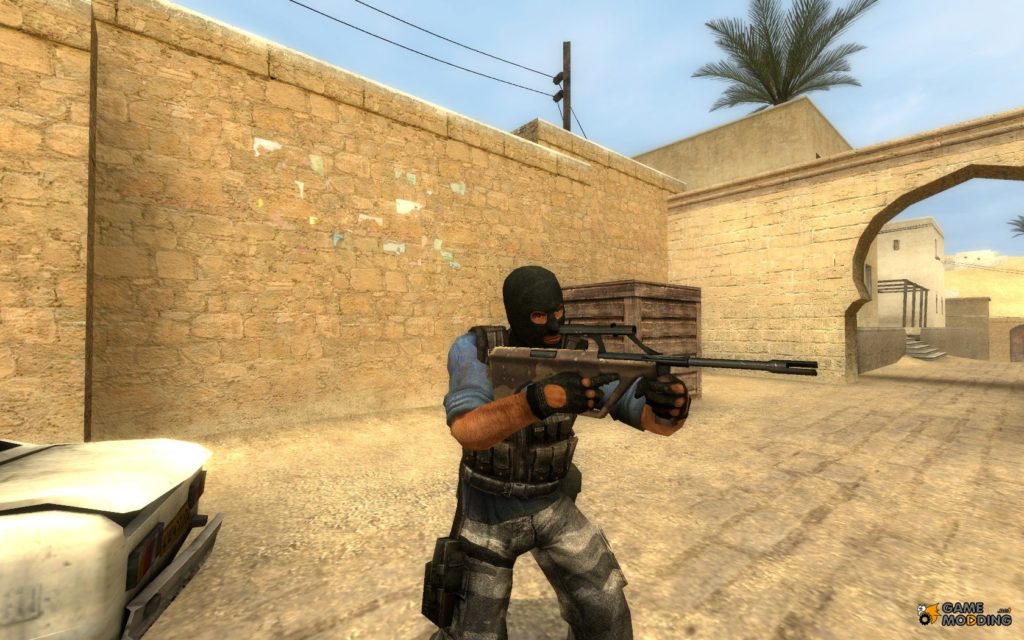 This gun offers an easy-to-use safety mechanism located above the grip.
And the gun can be configured for right or left-handed shooters by changing the bolt to a right or left-side model and sealing the ejection port on the side closest to the shooter's face.
Standard models come with a 1.5x optical sight and carrying handle.
Overall, the Steyr AUG accommodates right-handed and southpaw shooters and is easy to operate. This has helped make the gun a successful tactical piece for nearly 40 years.
Most Proven Bullpup
1799
at Bereli
Prices accurate at time of writing
Prices accurate at time of writing
Need a hands-on review of the AUG? We got you covered! Steyr AUG Hands-On Review!
8. Kel-Tec KS7
The Kel-Tec KS7 provides a simplified variant of the KSG and is also one of the lightest, shortest NFA-free shotguns on the market.
At only 26.1 inches long, it's just above the overall length requirements for a shotgun. With a weight of less than 6 pounds, the little 5.9-pound shotgun is short and sweet.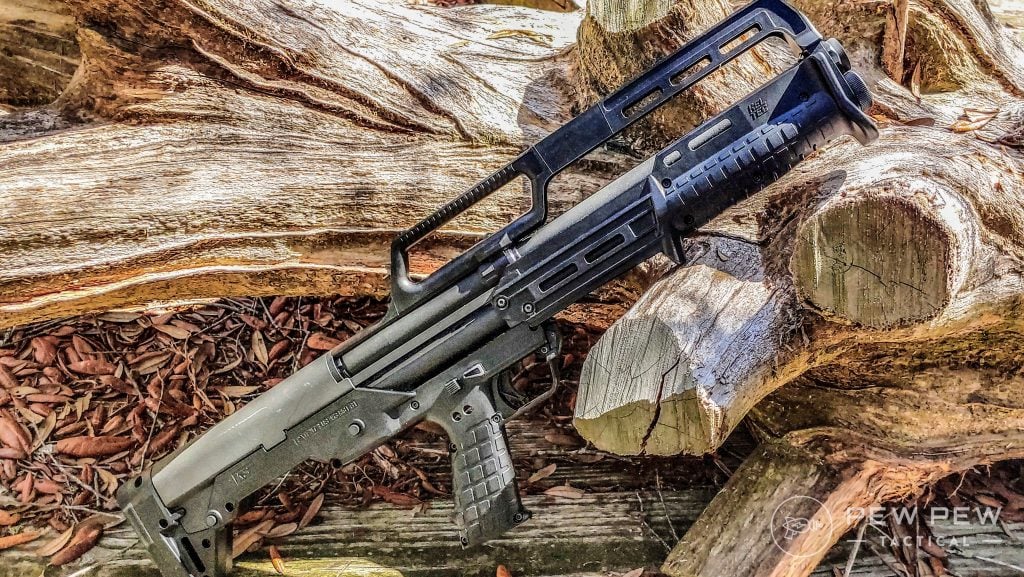 Kel-Tec trimmed the KS7 to one tube, and it holds seven rounds of 2.75-inch shells. The barrel is predictably a trim 18.5 inches, and the length of pull is a pleasant 13 inches. This gun looks like a weird one but handles well.
You get a short pump that's easy to grip, an ambidextrous pump release, a big block safety, and a setup that keeps the lefties happy.
The shells eject from the bottom of the gun, not from the left or right-hand sides. This ensures no one gets a shell to the face.
399
at Gunprime
Prices accurate at time of writing
Prices accurate at time of writing
That big carry handle acts as your sight and accessory mounting platform. While awkward-looking, it makes attaching lights and accessories fairly easy to accomplish.
The sight is a big green triangle that's eye-catching and perfect for close-range shooting.
I was pleasantly surprised by the Kel-Tec KS7 and how reliable, fun, and easy to use it is. I like the simple, lightweight design, and it's become one of my favorite bullpups.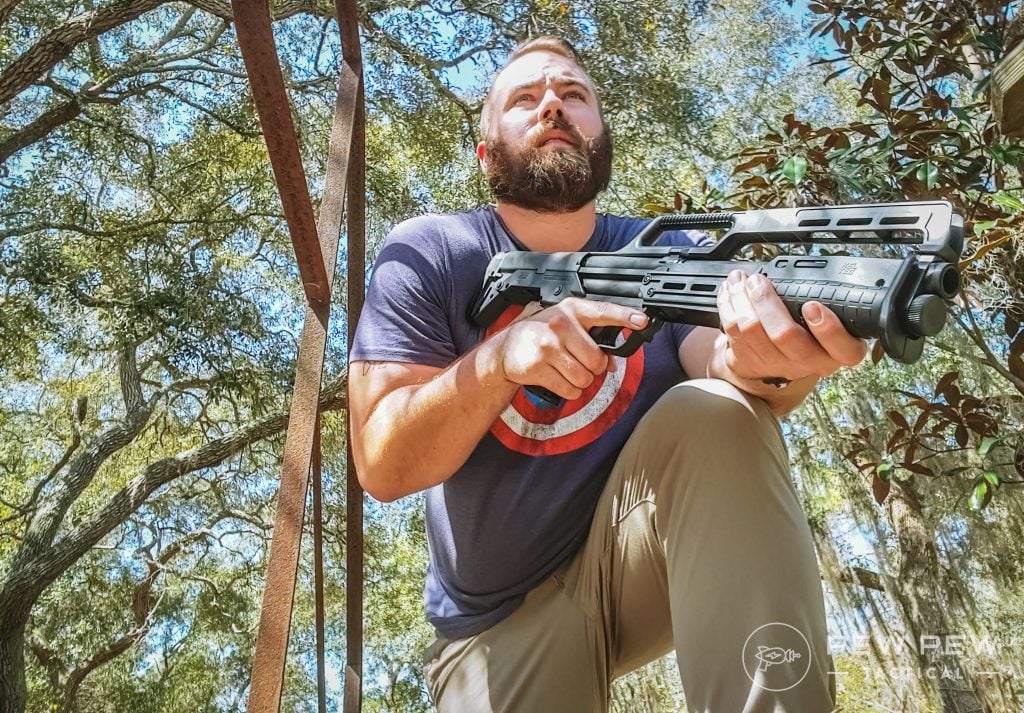 Read our full review of the KS7 here.
9. Smith & Wesson M&P 12
I was pleasantly surprised when Smith & Wesson announced their first new shotgun in decades. It's been some time since this classic American gunmaker delved into the world of scatterguns.
What was even more surprising, at least to me, was the fact it's clearly inspired by the KSG.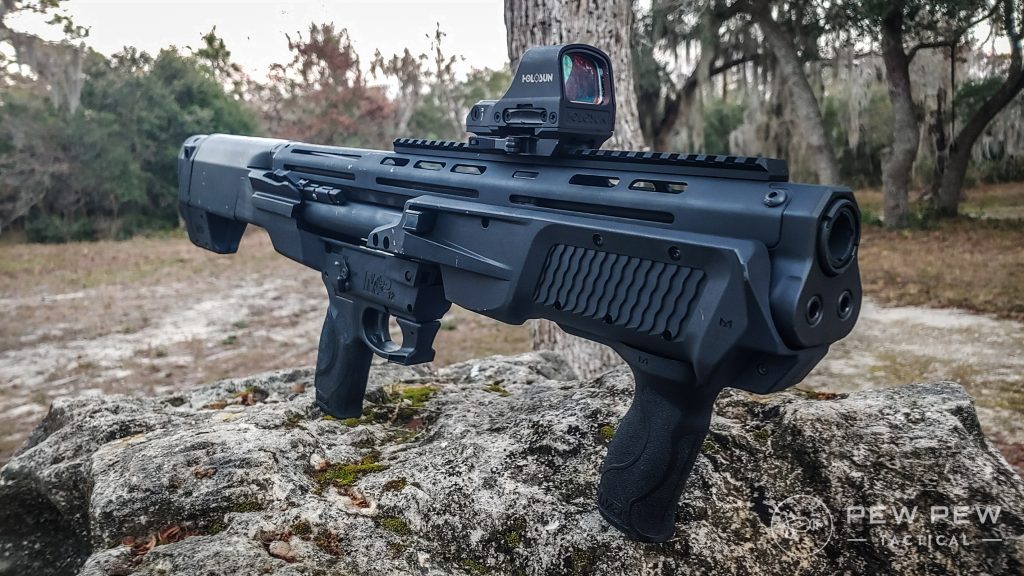 This unusual bullpup layout incorporates dual magazine tubes to double the capacity without doubling the weapon's size. The S&W M&P 12 provides shooters with 14 rounds of 2.75-inch shells. It's a ton of firepower in a pump-action shotgun and provides an often low-capacity platform with a few more options.
While S&W might have been influenced by Kel-Tec, they certainly made the M&P 12 a very different gun.
1041
at Kygunco
Prices accurate at time of writing
Prices accurate at time of writing
S&W built the M&P 12 with outstanding ergonomics, including a tube switch button on the pump of the weapon and ambidextrous controls that make it easy to operate.
Plus, the rear of the gun can expand and open to allow the user to clear malfunctions, but malfunctions aren't a real issue with this gun. It's very reliable and easy to operate and includes a vertical foregrip that makes it easy to run the gun.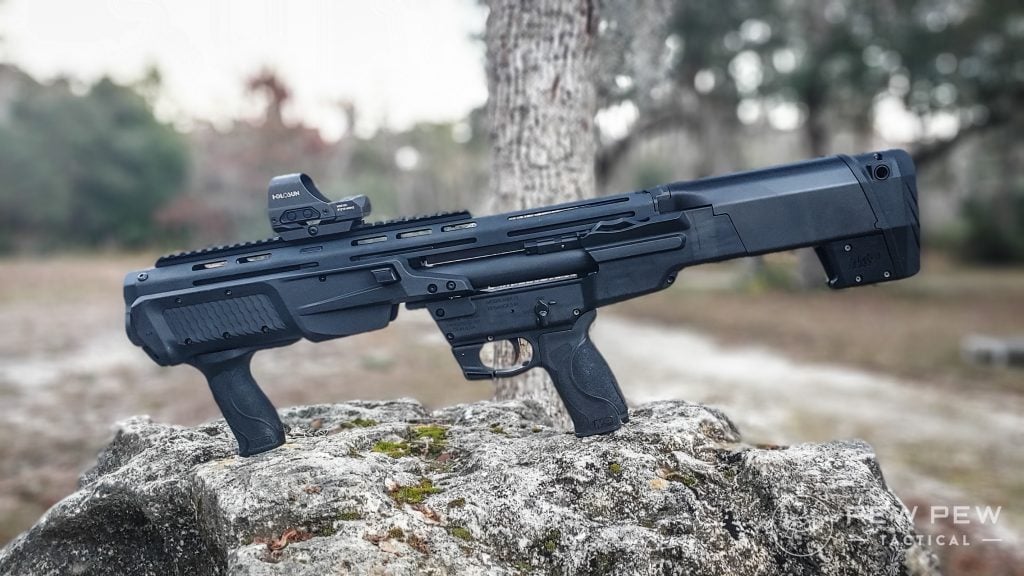 Along the top, we get a full-length optic rail and a barrel shroud that is also an M-LOK attachment point for lights, lasers, and more.
The overall length is 27.8 inches with a 19-inch barrel.
One downside is the long length of pull which is over 14 inches overall — crazy long for a bullpup shotgun.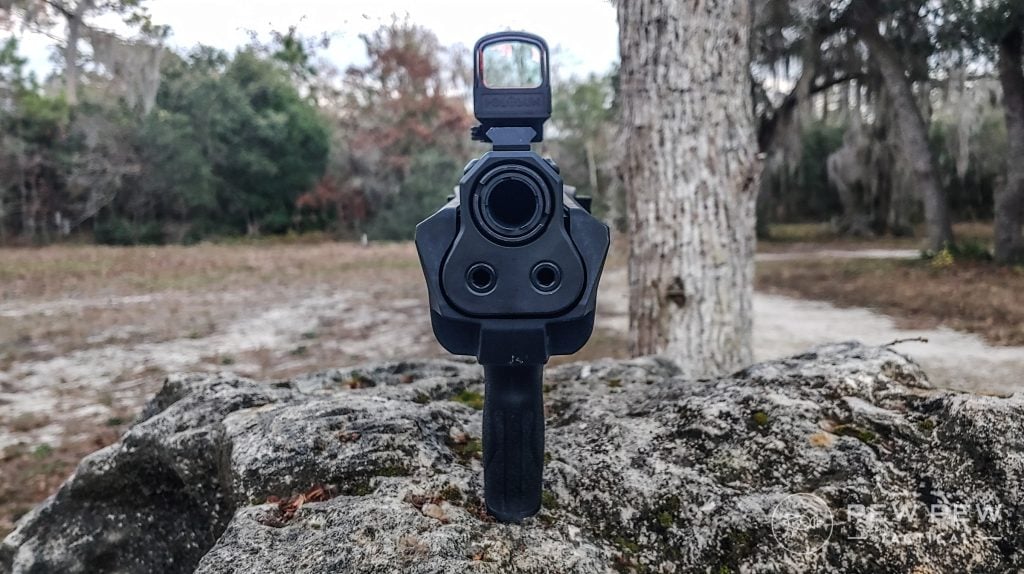 Read our full review here!
10. Armscor VRBP-100
The Armscor/Rock Island Armory VR series of shotguns have become favorites in the marketplace of affordable, magazine-fed, semi-auto shotguns.
BP in VRBP stands for bullpup, and it takes the same internals of the VR series and refits them into a bullpup shotgun.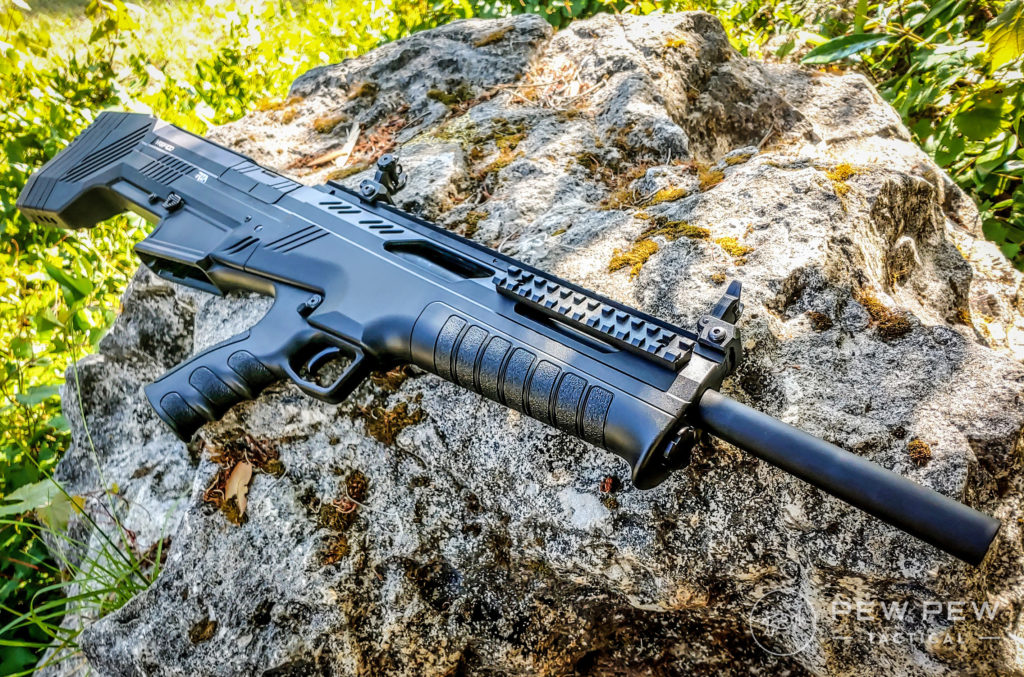 The VRBP-100 utilizes VR series magazines that immediately offer the gun 5, 9, and 19-round capacity magazines. Its 19-round magazines are absurdly long and downright silly, but hey, it's a lot of ammo, right? Nine-round magazines offer substantial firepower for the short little gun.
This gun measures 32 inches in total, with a barrel length of 20 inches. It's one of the rare bullpup guns that come with a set of spacers that can be removed with ease to adjust the length of pull.
The VRBP-100 still clings to AR-like controls with an ambidextrous safety and magazine release.
Heck, even the bolt release is all AR-like, which makes it easy for shooters to adapt from one gun to the other.
It's a solid little gun that's outfitted with excellent ergonomics and tons of room for optics, lights, and accessories as well.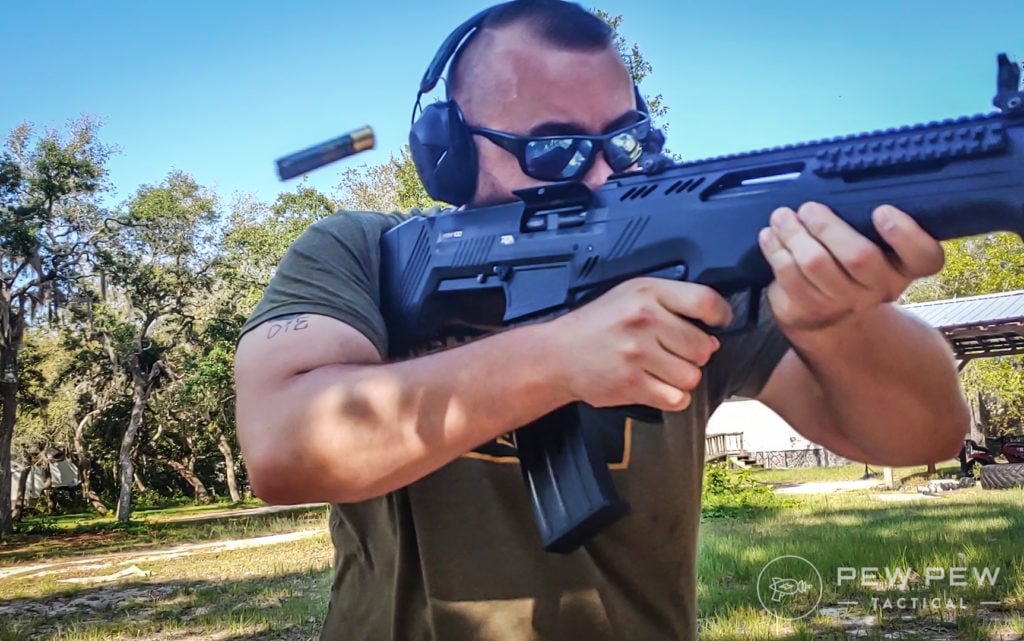 The VRBP-100 hits hard in the recoil department. Gas-operated semi-autos are often overgassed, and the VRBP-100 likely isn't any different. When you reduce it to a bullpup-sized platform, the recoil gets a little extra oomph.
Even so, it's easy to control, cycles rapidly, and makes it easy to dump buckshot quickly.
Do we have a review of this? You betcha! Check it out here!
11. IWI TS12
I had a few issues I talked about with the IWI TS12. My gun didn't run well and often failed to cycle with the most powerful shotgun ammunition. I couldn't break it in; it never worked reliably for me.
It seems like IWI figured out the TS12 and got it up and running.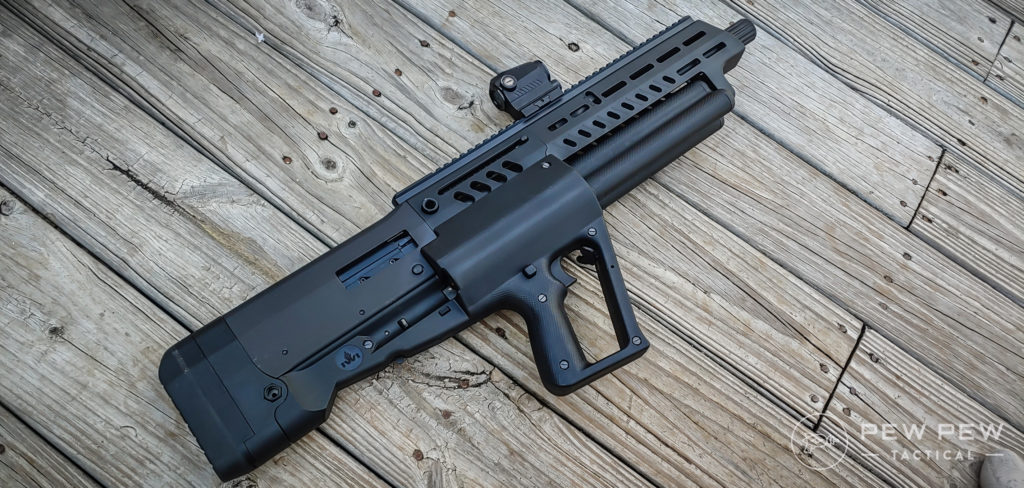 I have several friends who've purchased the weapons and had zero issues with the gun. I got a hold of a friend's TS12 and found myself surprised and pleased that it ran like an absolute clock.
It would feed cheap Walmart special birdshot, reduced recoil buckshot, standard buckshot, and whatever else we put through it. I've even followed up with friends in the gun industry who got TS12s that are completely reliable.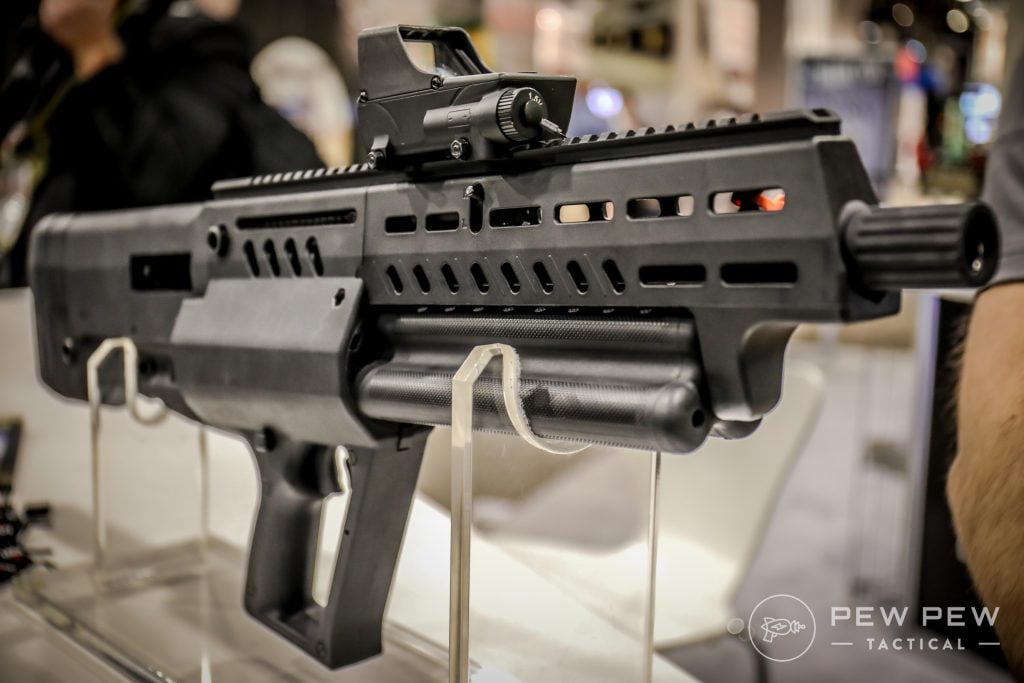 The TS12 uses an ingenious design that implements the famed tube magazine platform with a bullpup configuration.
Instead of a single tube, the TS12 uses three rotating tubes that each hold five rounds. Unlike other bullpup shotguns, the tubes can be topped off on the fly.
You can reload both spare tubes while keeping a loaded tube in position to fire. It's a smart design. To unlock the rotating tubes, you press a device forward of the trigger, and it unlocks the tubes for easy rotation.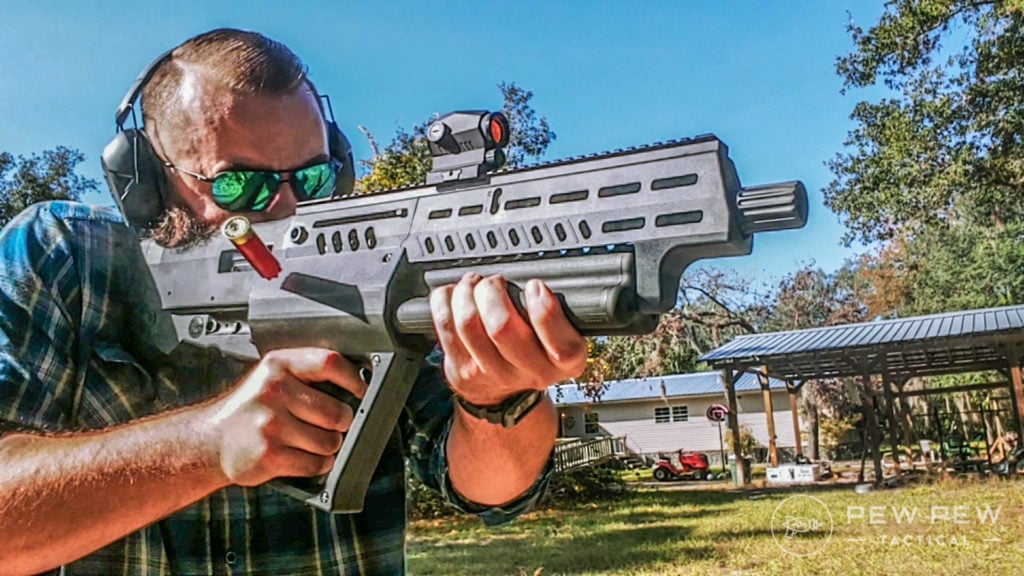 If you run the gun dry, the bolt locks to the rear, and when you rotate a fresh tube into place, the gun will automatically load a round into the chamber and close the bolt. It's a simple but smart design that makes it fast and easy to keep your shotgun running and gunning.
I'm glad IWI fixed the TS12, and I can't wait to get my hands on a newer model.
1288
at Kygunco
Prices accurate at time of writing
Prices accurate at time of writing
The downside will be the fact it's not lefty-friendly, and you can't exactly swap it for right or left-handed use.
You can read more about the TS12 in our complete review.
12. Springfield Armory Hellion
Springfield entered the bullpup in early 2022 with the introduction of the Hellion.
Although it is new to the US market, the Hellion has been around for a while, just under a different name.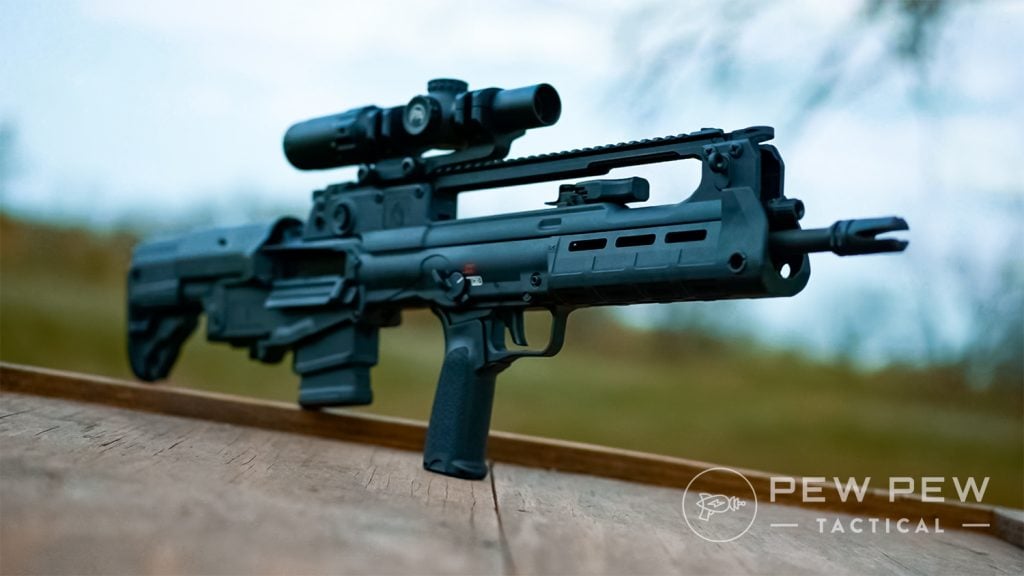 It is actually just the import version of the HS Produkt VHS-2 from Croatia, which has been in production as a military rifle since 2013. The original version of the VHS dates even further back, to 2003.
While largely unchanged, Springfield wisely tweaked some features to help it find success in the American Market, including the addition of M-LOK mounting slots and the ability to accept standard AR-15 magazines.
The Hellion sports an overall length of 28.25 – 29.75 inches, a 16-inch barrel, and weighs in at 8 lbs. Other features include true ambidextrous controls, a reversible ejection port, an adjustable gas system, and integrated flip-up sights.
Although it came in closer to $2000 on launch, the price of the Hellion has dropped to a much more appealing $1599-1699 range.
1590
at Bereli
Prices accurate at time of writing
Prices accurate at time of writing
With a competitive price and a proven core design that has seen military use, the Hellion is a compelling entry into the growing world of bullpup rifles.
Be sure to check out our complete review!
Conversion Kits
If you have something like a Mossberg 500 or even a CZ Scorpion and you want to bullpup them…there are ways.
Specifically, conversion kits that can take these and bullpup them.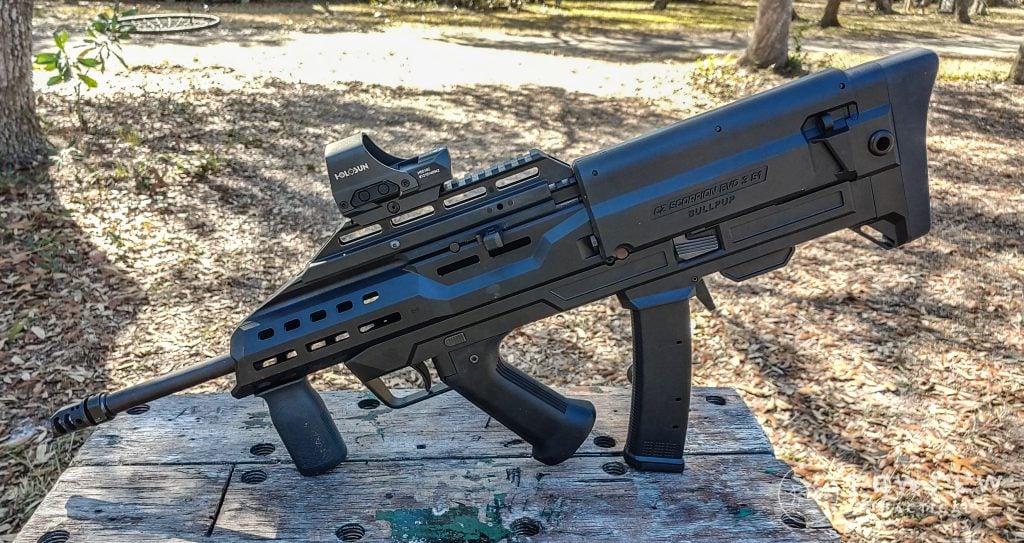 For the Mossberg, Bullpup Unlimited has a kit that you can DIY.
As for the CZ Scorpion, Manticore Arms is your best bet to bullpup perfection. Luckily, we have the deets on the Manticore build, as PPT writer Travis Pike took it for a test!
If you own a Ruger 10/22, converting it into a bullpup rifle is cheap and relatively easy. For less than $250, you can order a bullpup conversion kit from High Tower Armory that turns your Ruger 10/22 into a tactical rifle.  
The kit even comes with an attachable shell deflector, making it easier and more comfortable for left-handed shooters.
The Ruger 10/22 bullpup is a favorite for a lot of hobbyists who enjoy modifying their guns.
327
at Brownells
Prices accurate at time of writing
Prices accurate at time of writing
Final Thoughts
Bullpups are cool little firearms that offer the advantage of navigating in smaller, confined spaces.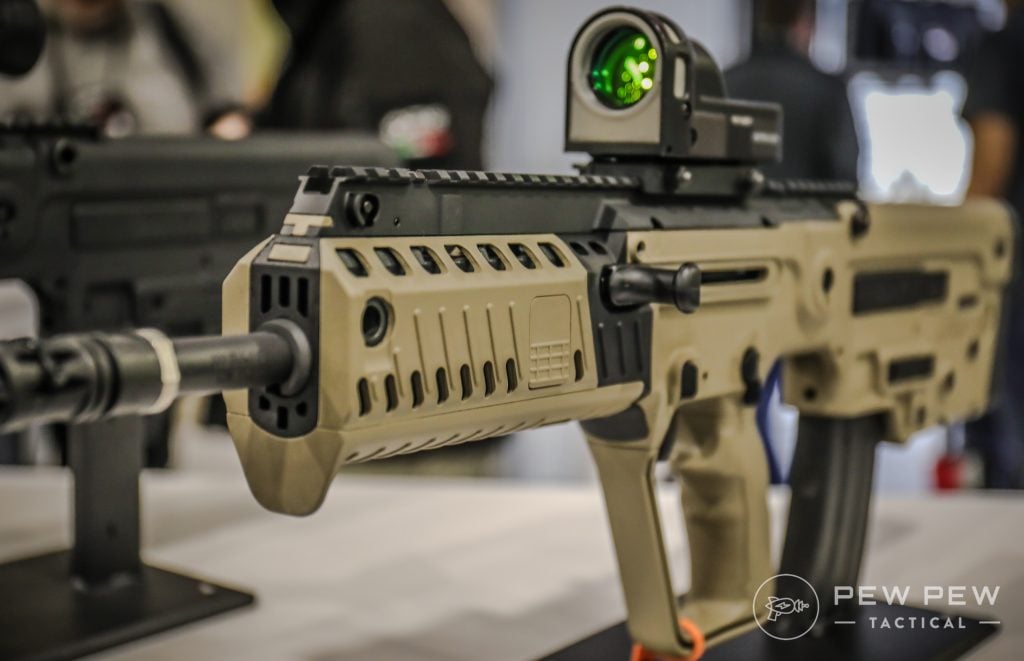 Whether you choose to buy a complete firearm or revamp a model you currently own, these guns won't disappoint.
What are your favorite bullpup models? Tell us in the comments! Also, be sure to read up on our recommendations for Best PCCs if subverting the regular AR is your thing.
Read the full article here