Tactical
Best Holosun Optics of 2023: 7 Red Dots for Rifles, Pistols, & Shotguns [Guide]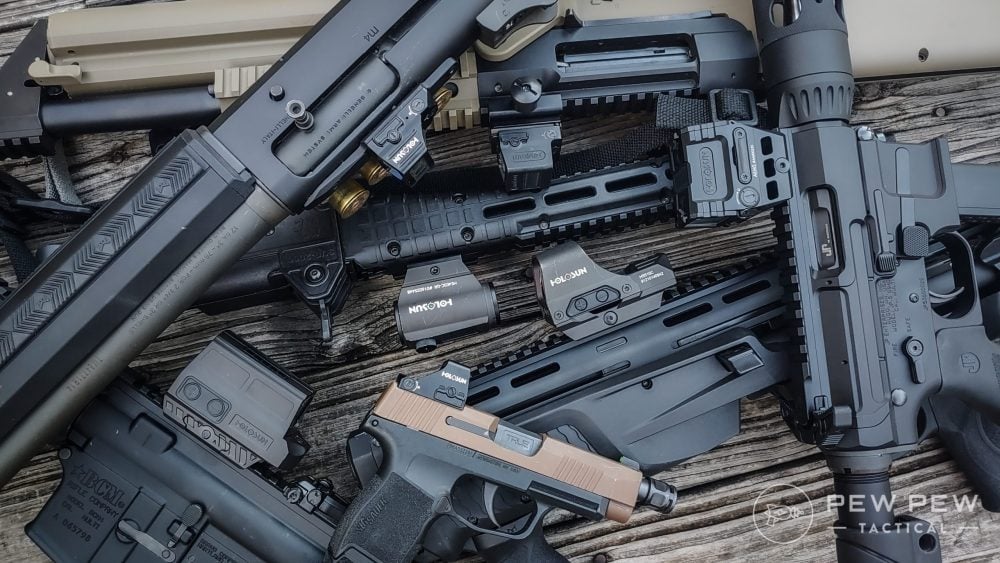 In the realm of optics, we are also seeing prices drop while quality and innovation improve, and a big part of that has been thanks to Holosun.
In the last few years, this company gained mainstream appeal by doing something crazy…innovating products while keeping costs low.
The use of titanium, the addition of solar failsafe, multiple reticles, and more in affordable optics make them an easy choice for various shooters.
These aren't just cheap optics, but optics that might be a better choice than some of the higher-priced options on the market.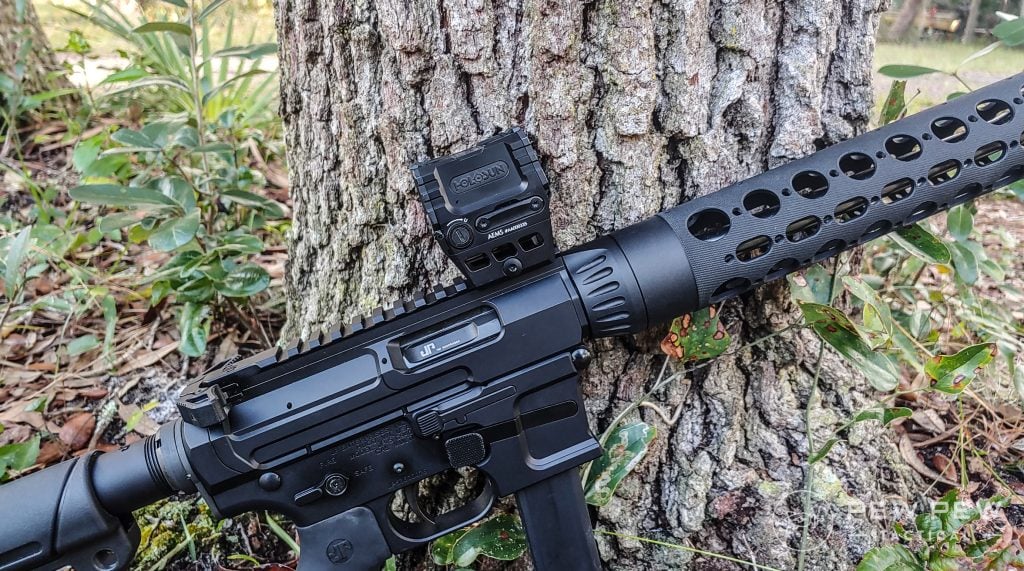 With this said, Holosun makes a ton of options, and I've put quite a few through their paces.
Over time I've come up with my favorite Holosun optics, so let's talk about which ones stand out above the rest…
Summary of Our Top Picks
Best Holosun Optics
1. Holosun 507K
Adding optics to handguns is more than a fad – it's likely the future of handguns in general, including small guns.
Sig Sauer, Glock, Ruger, Beretta, and more are equipping their smallest pistols with red dots. Though this is still a growing market, Holosun has conquered it.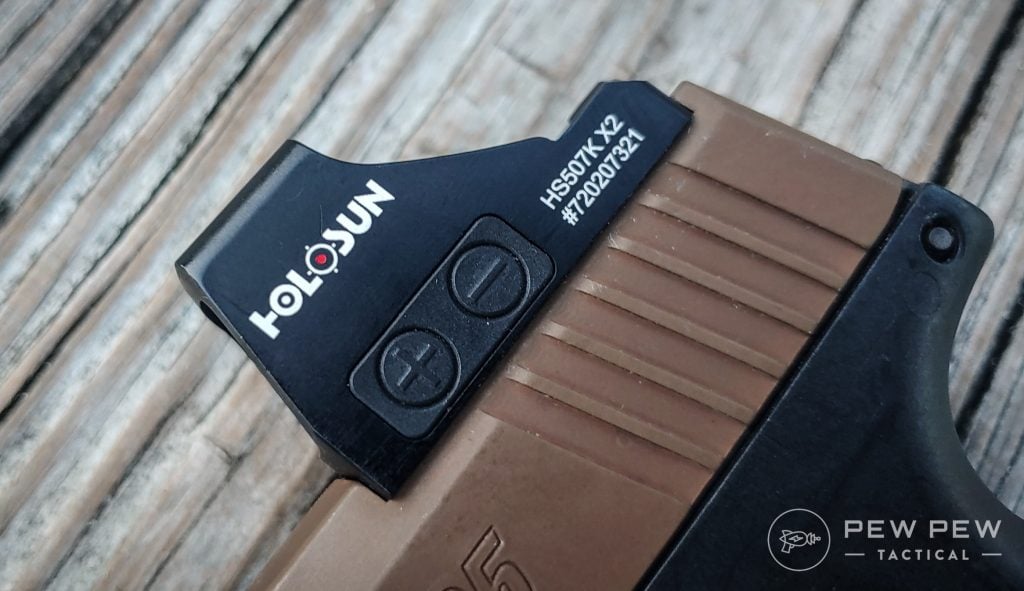 And time and time again, the Holosun 507K has proven to be the toughest option available for concealed carry.
The 507K is a tiny little fella using the Shield footprint. It's light, packs three reticles, and is the only one of these mini optics I know of with two-button controls.
Why two buttons?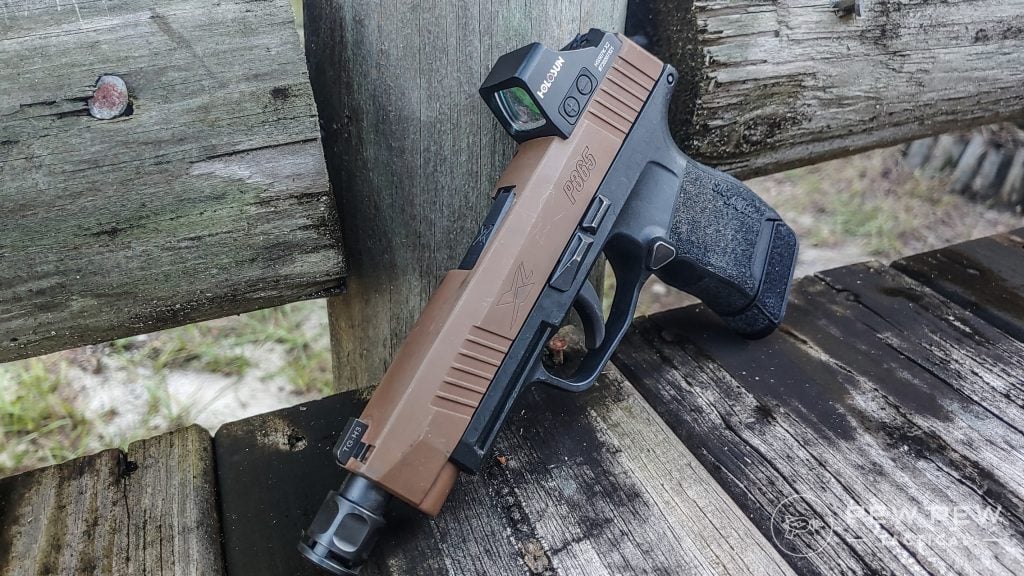 Well, it makes navigating your brightness levels a lot easier. It sucks to miss the setting you want and then travel through all the settings once more.
That comes in handy because the 507K utilizes 10 daylight and 2-night vision settings.
Imagine cycling through 12 settings just to get to the perfect one.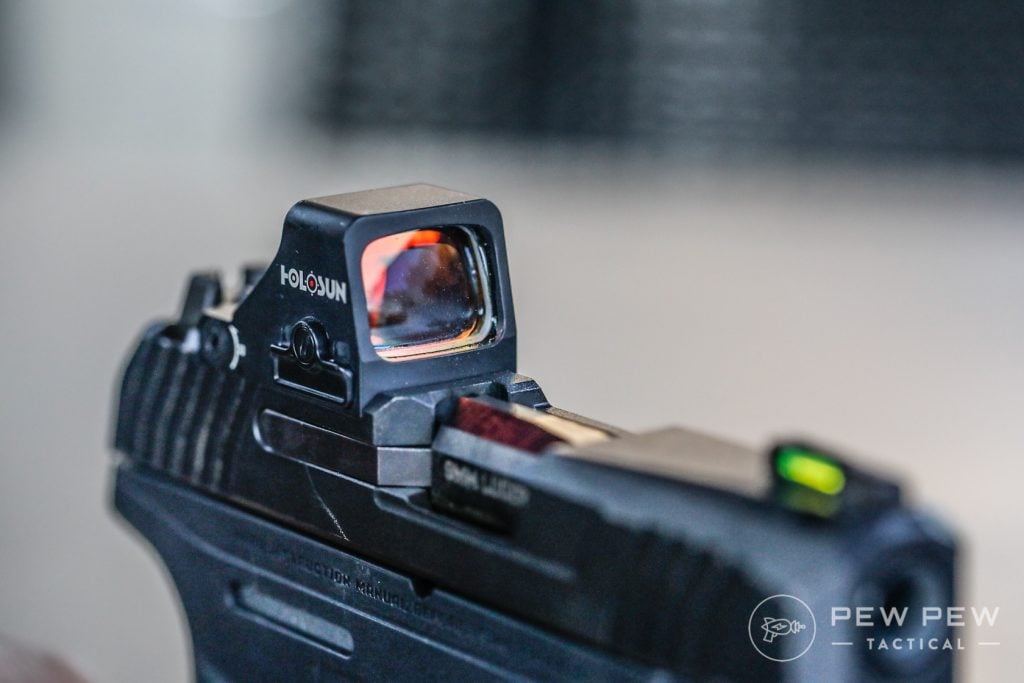 Or imagine needing to dial down, but you have to dial up to get back around to the low settings. Nah, I ain't about that life.
The latest 507K models (2018 and up) come with a lock-out mode that locks the buttons and prevents accidental presses — awesome since these optics are often carried in a deep concealment manner.
If you want a capable concealed carry optic for the world of small guns, then the Holosun 507K is tough to beat.
Best for Micro Compacts
295
at OpticsPlanet
Prices accurate at time of writing
Prices accurate at time of writing
2. Holosun 507C
When you step up to full-sized handguns or even long guns, the Holosun 507C has your back.
It's a mini red dot in the same realm as the Trijicon RMR, Leupold Deltapoint, etc. It fits the Trijicon footprint, so you have access to tons of mounts, precut pistol slides, and more.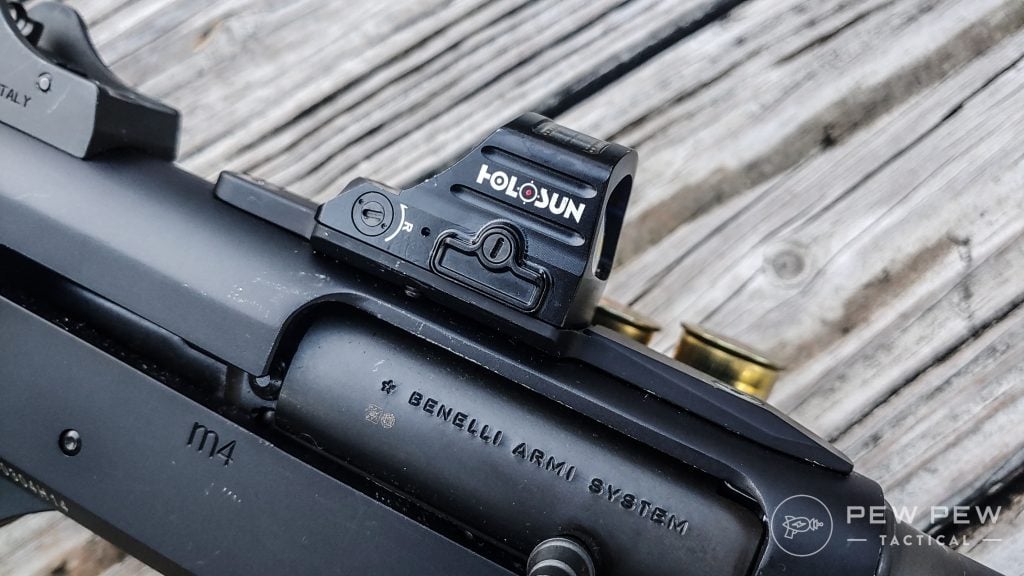 I took advantage of the 507C's footprint by using the Scalar Works Sync mount and tossed it on my Benelli M4.
In this role, it shines.
It shrugs off 12-gauge recoil and provides me a co-witness capable sight for shotgun tasks. I also make use of the multi-reticle system here.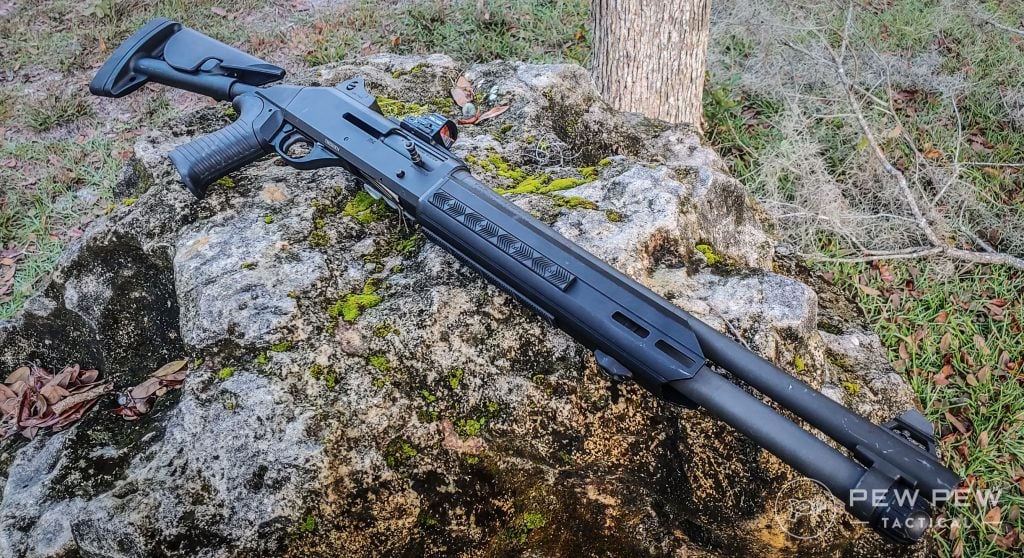 That 32 MOA dot is perfect for shotguns. I put it where I want buckshot to be, and within 15 yards, I know the pellets from my home defense load will land in that circle.
This way, I know where every pellet is going.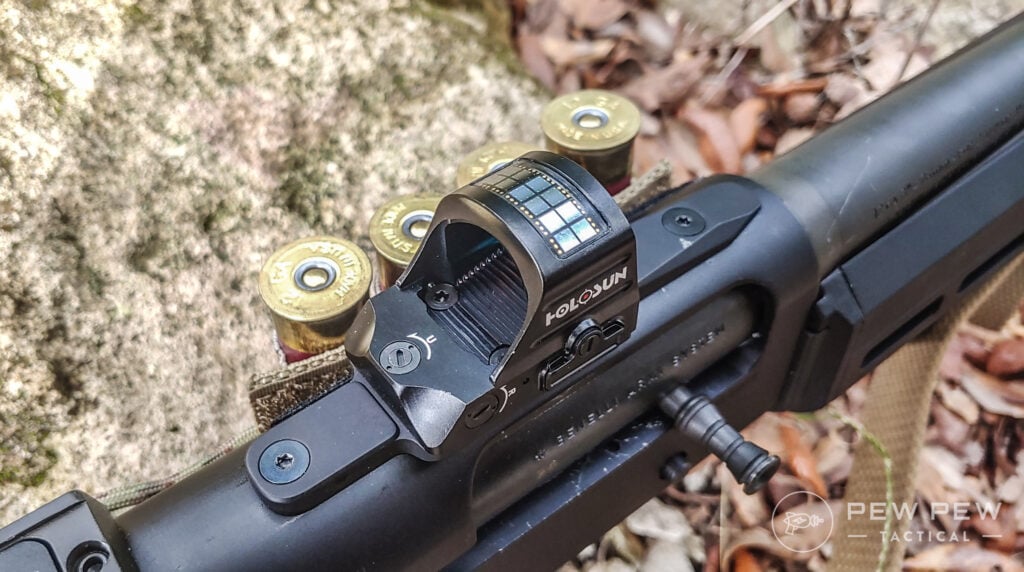 Oh, and guess what? It can be powered by the sun or artificial light! The solar panel on top provides that battery backup Holosun is known for.
Who wouldn't want a little backup on your repeating claymore? While it's great on shotguns, many people have turned to the Holosun for their handguns.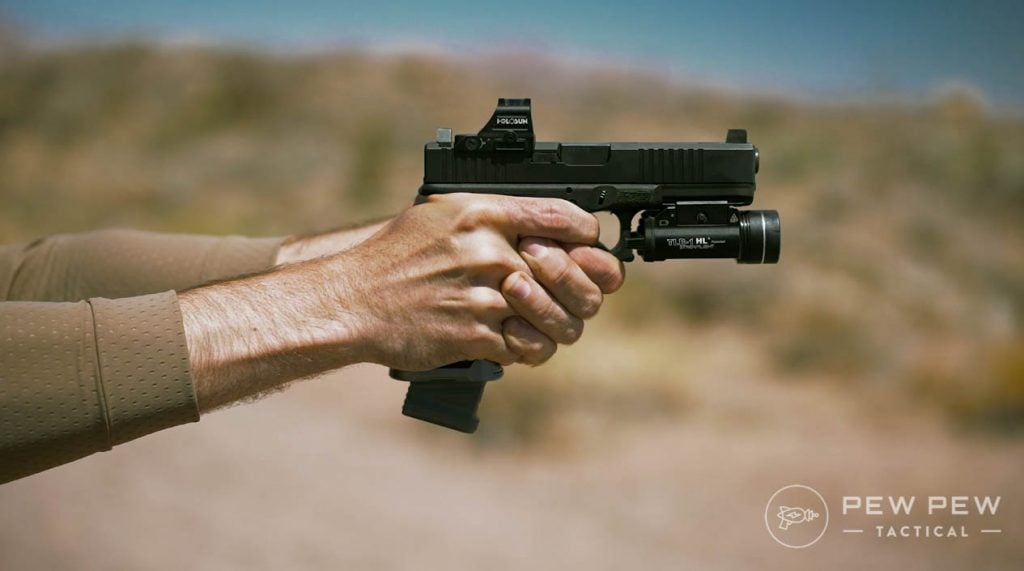 It's a rock-solid choice for various roles and is likely Holosun's most popular optics.
309
at Primary Arms
Prices accurate at time of writing
Prices accurate at time of writing
Our favorite model of the 507C is the ACSS model from Primary Arms. Check out our full review here.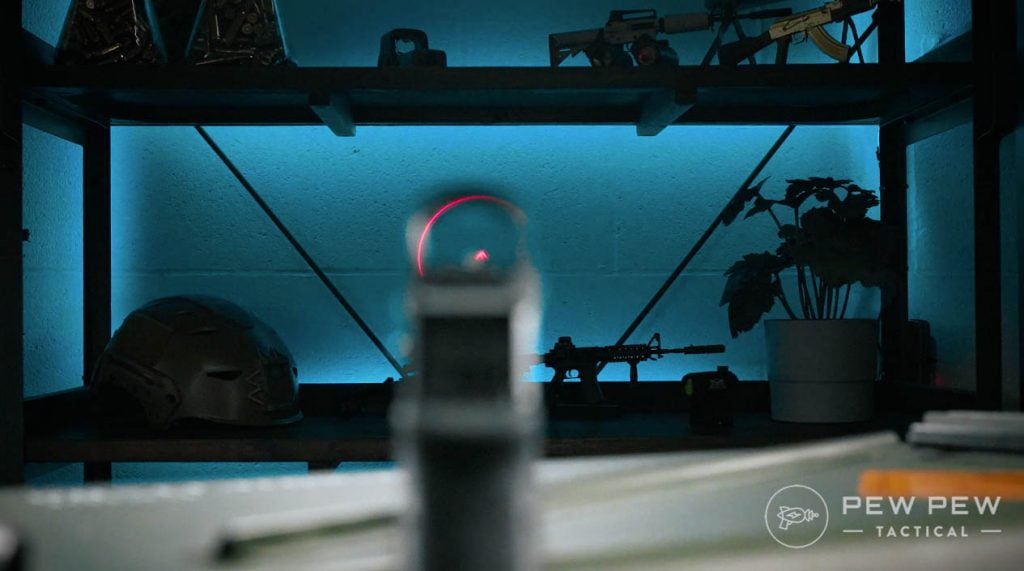 Best Mini Red Dot
319
at OpticsPlanet
Prices accurate at time of writing
Prices accurate at time of writing
3. Holosun 509T
Pistol-sized optics are starting to lean slightly into the realm of enclosed emitters. Enclosed emitter designs up the reliability significantly.
Aimpoint started it with the Acros, and Holosun followed with the 509T.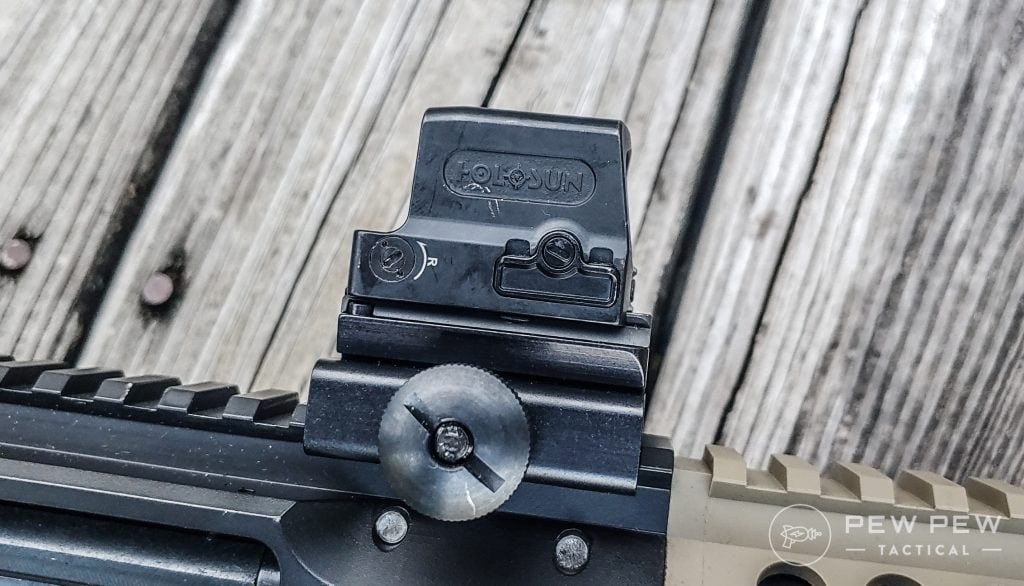 With a standard mini red dot, the open emitter typically isn't an issue. However, the chance of failure is slightly higher.
Dirt, snow, rain, and anything else can get between the emitter and the lens and block the LED or distort it. With the 509T, this isn't an issue.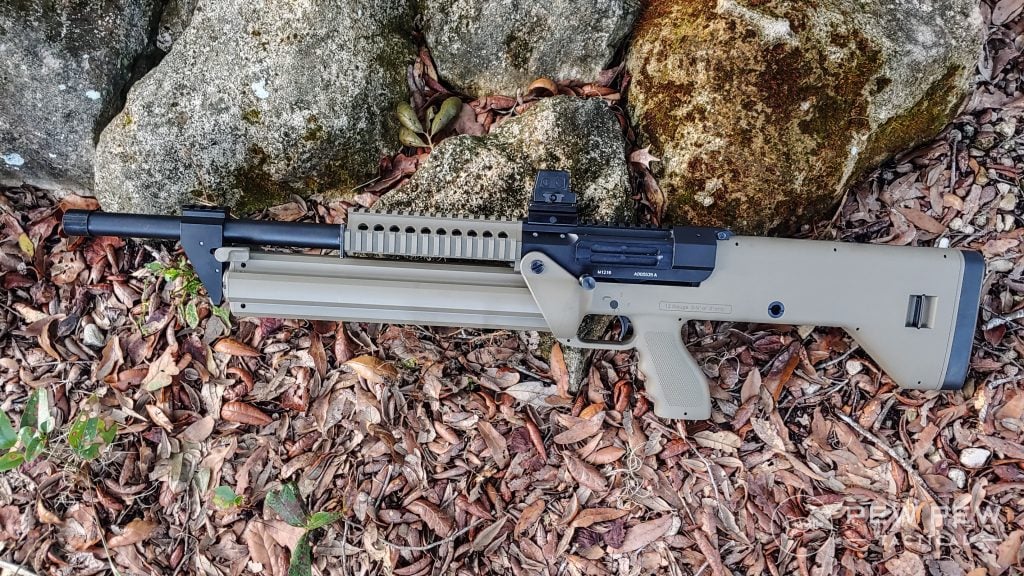 The 509T also packs three reticles: a 2 MOA dot, a 32 MOA circle, and a dot and circle.
Its view-through is incredibly clear, and we see a slight blue tint, but it still provides impressive clarity. At the same time, the 509T stays rather small and compact for pistol use.
Since the optic is enclosed, it would even be at home on a subgun or rifle. The durable design ensures it's always reliable.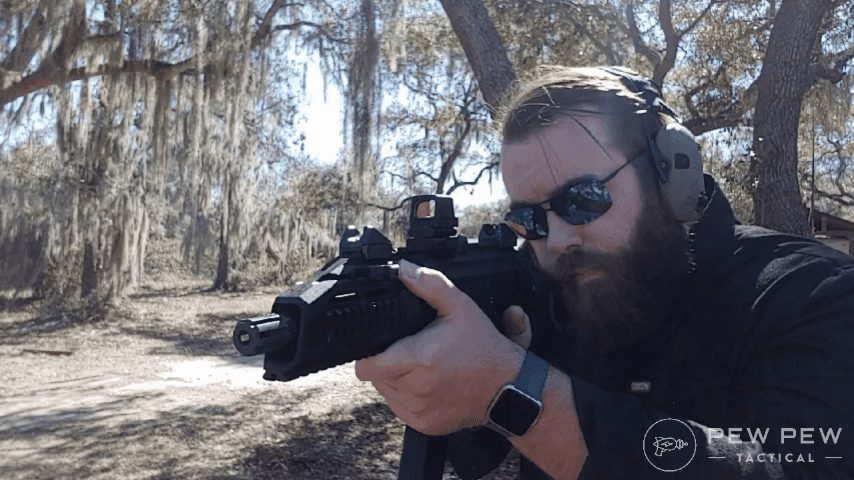 The 509T is perfect as an offset optic for use with an LPVO or prism optic. And it packs the solar panel we all know and love.
Additionally, it's fairly lightweight but ultra-rugged due to the titanium hood. It's on the high side price-wise, but it's the cheapest duty-ready enclosed optic.
429
at Gunmag Warehouse
Prices accurate at time of writing
Prices accurate at time of writing
4. Holosun 403
Holosun kind of started with simple, robust little tube-designed optics that just worked and worked well. It's unfair not to include at least one of these optics, and the 403 is my choice.
This cute little fella provides a compact, 20mm tube-style optic similar to about a half-million other optics out there.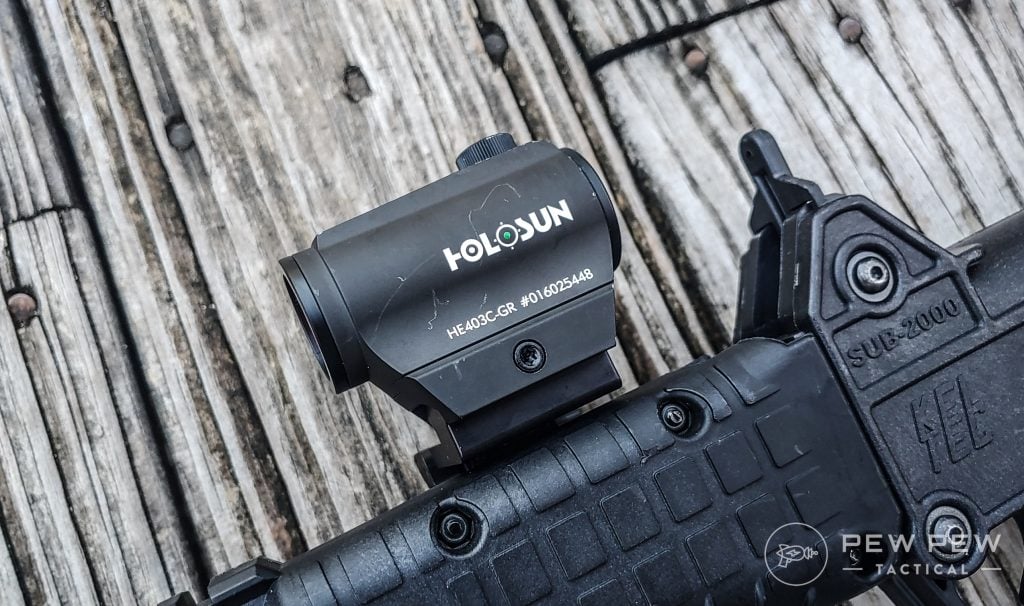 It lacks a lot of the notable Holosun features — we don't get the solar panel or multiple reticle system. A 2 MOA dot is all we get; however, shake awake is alive and present with this optic. So, no worries about forgetting to shut it off before you pack it away.
On top of that, we see 50,000 hours of battery life from a single CR203 battery.
What's impressive about this budget-grade optic is that it's on the low side of cost and provides a very rugged and well-made optic.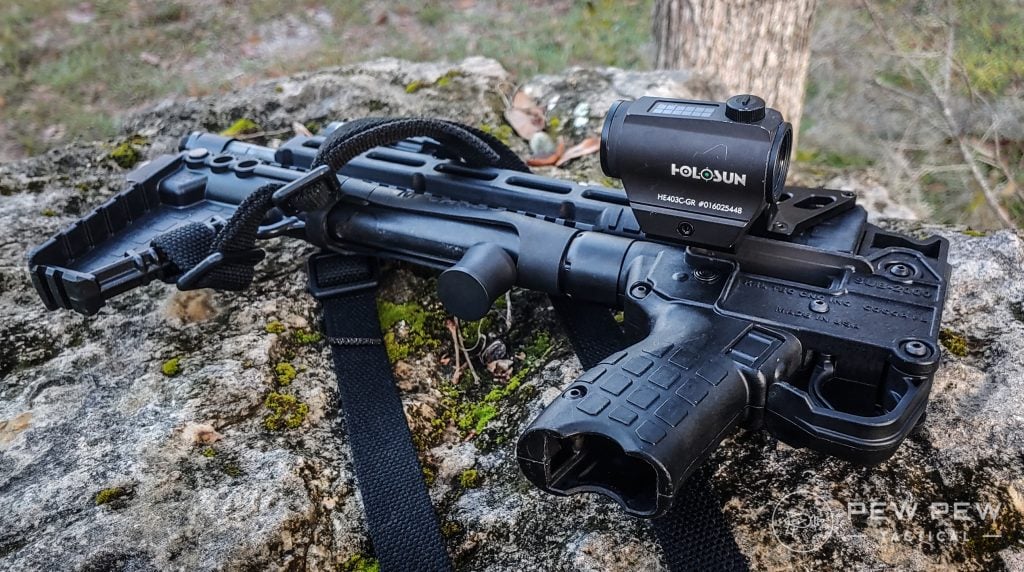 It can take high levels of vibration and is water-resistant. The 2 MOA dot is super crisp and clear, as is the glass.
Oh, and did I mention that the 403 utilized Aimpoint Micro mount? Because it does, so you have lots and lots of options on the aftermarket for a variety of mounting options and heights.
Not too bad for a cheap little red or green dot.
What do you think of the 403? Rate it below!
5. Holosun 510C
Do you ever want the benefits of an open emitter optic on a rifle or long gun? Well, it's available in the form of the Holosun 510C.
While an enclosed emitter offers a reliability bonus, we shouldn't ignore the benefits of open emitters' full stop.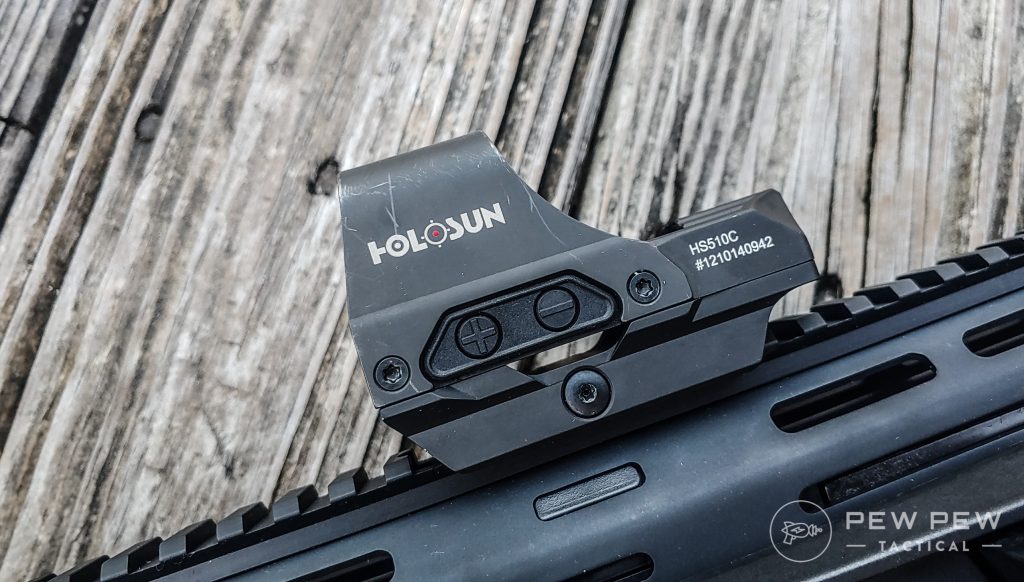 The HS510C offers you a lighter-weight optic with enhanced peripheral vision. Additionally, one lens helps clarity…and clarity matters.
Not to mention the HS 510C provides you with an affordable, full-sized option for the open emitter world.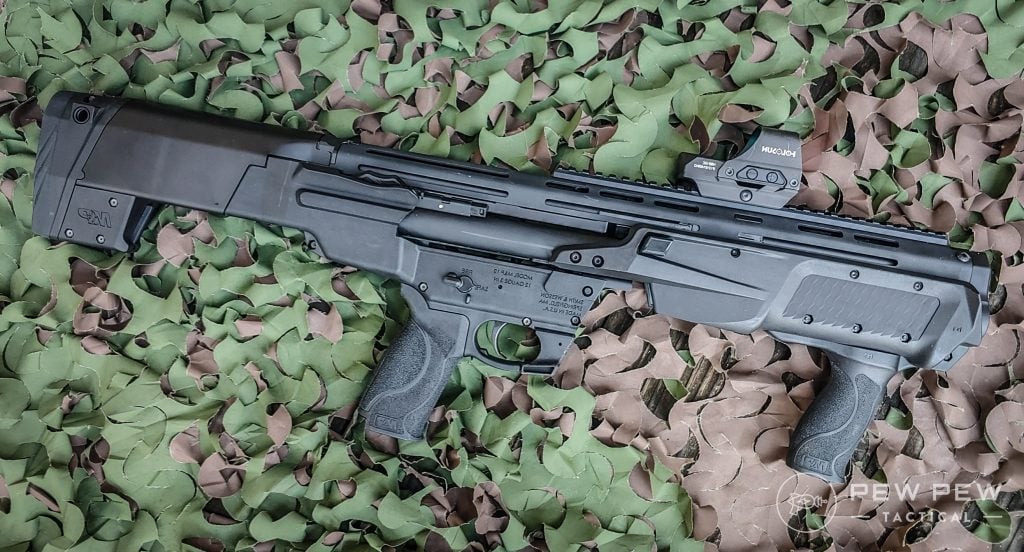 We get the multi-reticle system, solar panel backup, and shake-awake technology — perfect for home defense and competition use.
In fact, it seems to be a favorite of the USPSA PCC crowd. It's big, easy to see, and gives you a fast shooting, easy-handling optic.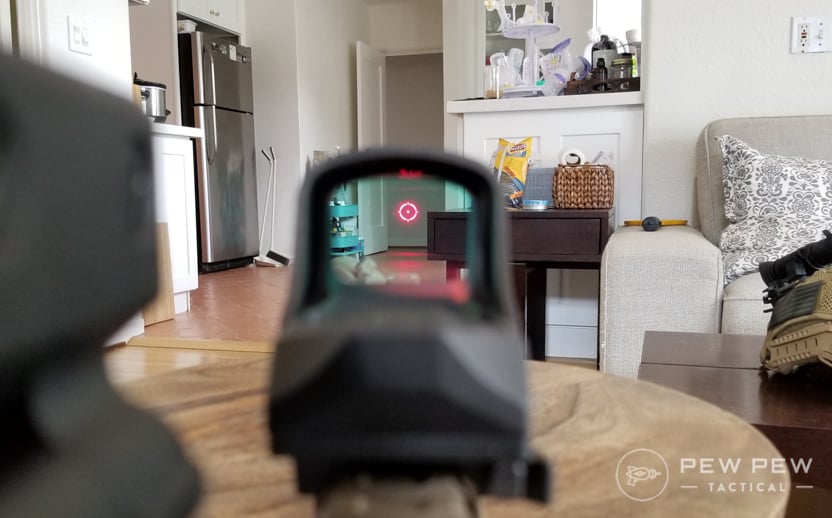 The little 510C packs 10 daylight and 2-night vision settings.
Holosun made the mount proprietary, and it's better suited for optics that require AR height. It might be a little tall for some guns, but not terribly so.
Holosun offers a spacer to push it up if you want it a little taller.
Best Full-Sized Optic
309
at OpticsPlanet
Prices accurate at time of writing
Prices accurate at time of writing
Interested? We have a full review of the 510C here!
6. Holosun EPS/EPS Carry
Following the popularity of sights like their 509T and 512C, Holosun invested even more in the enclosed emitter market with the launch of the EPS (Enclosed Pistol Sight).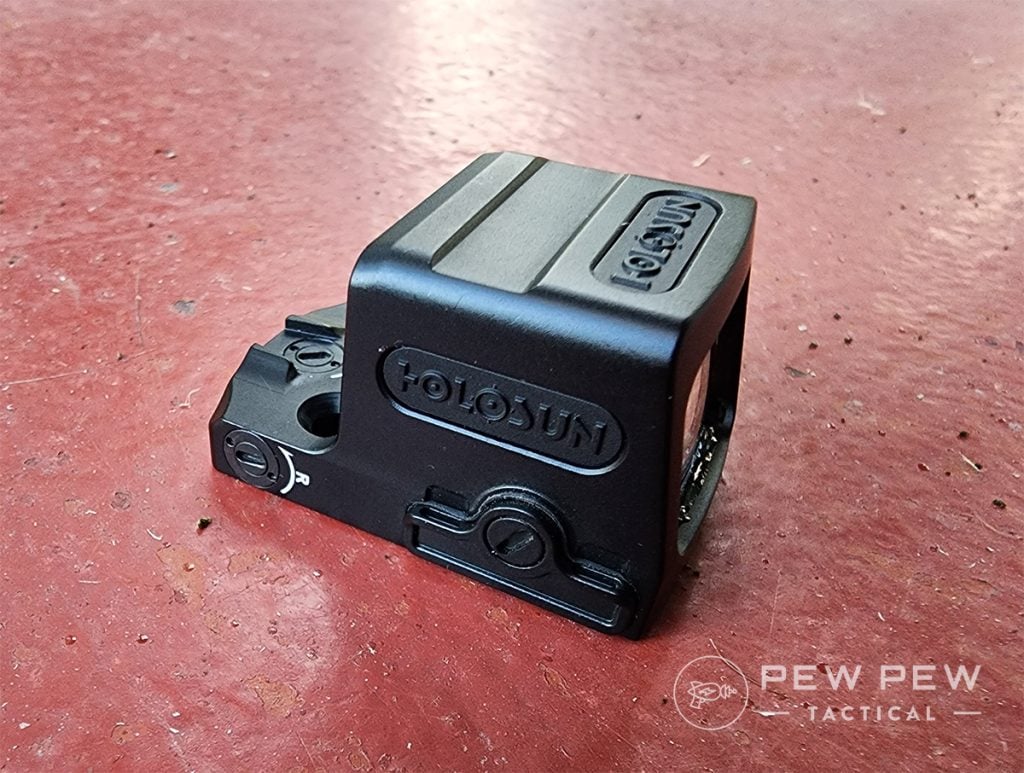 While the 509T proved to be a great design, many users found that the mounting solution was not ideal for use on handguns.
Holosun took this user feedback and created two enclosed pistol dots, with the full-size EPS using the 507C/Trijicon footprint and the EPS Carry using the 507K/Shield footprint.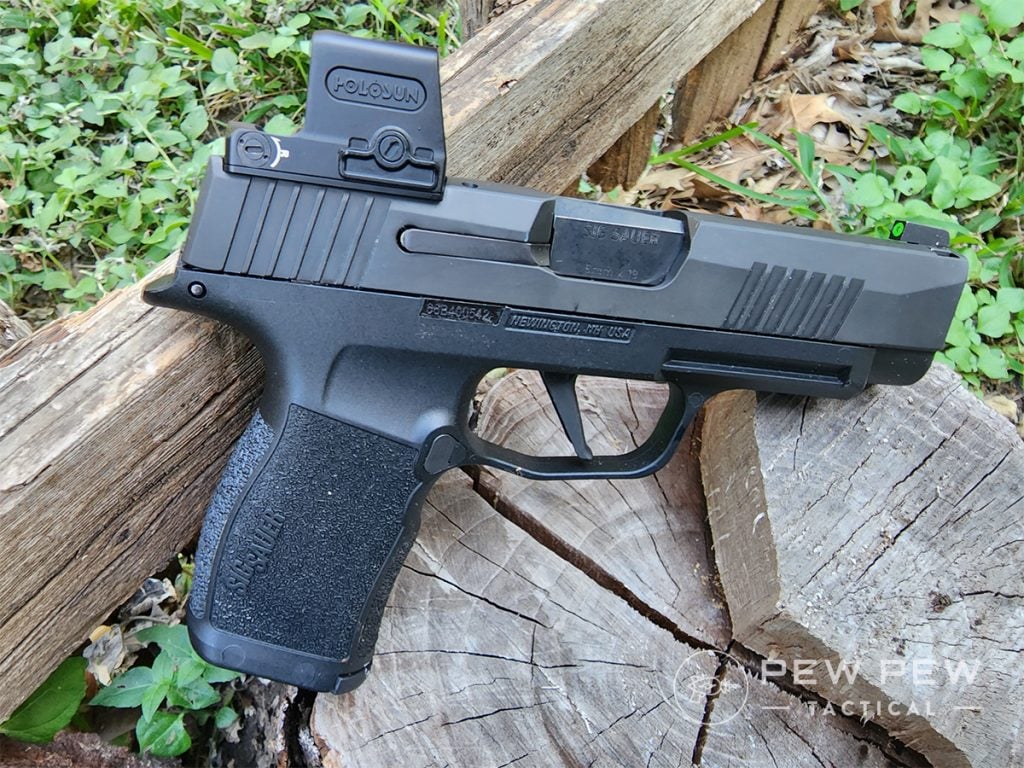 This means you can get all the durability and ease of maintenance of an enclosed emitter dot and do so on your carry gun without fuss.
399
at OpticsPlanet
Prices accurate at time of writing
Prices accurate at time of writing
These are fantastic optics and have proven to be extremely popular since their launch last year.
They are available in 2 MOA dot-only, 6-MOA dot-only, and multi-reticle versions.
329
at Brownells
Prices accurate at time of writing
Prices accurate at time of writing
Don't forget to check out our complete review of the Holosun EPS Carry!
7. Holosun AEMS
The AEMS came out at the beginning of October 2021, and I was lucky to get my hands on a model almost immediately.
This new guy sits between the 509T and 512C in size and provides a compact square-shaped optic that gives you a small, lightweight optic with a wide field of view.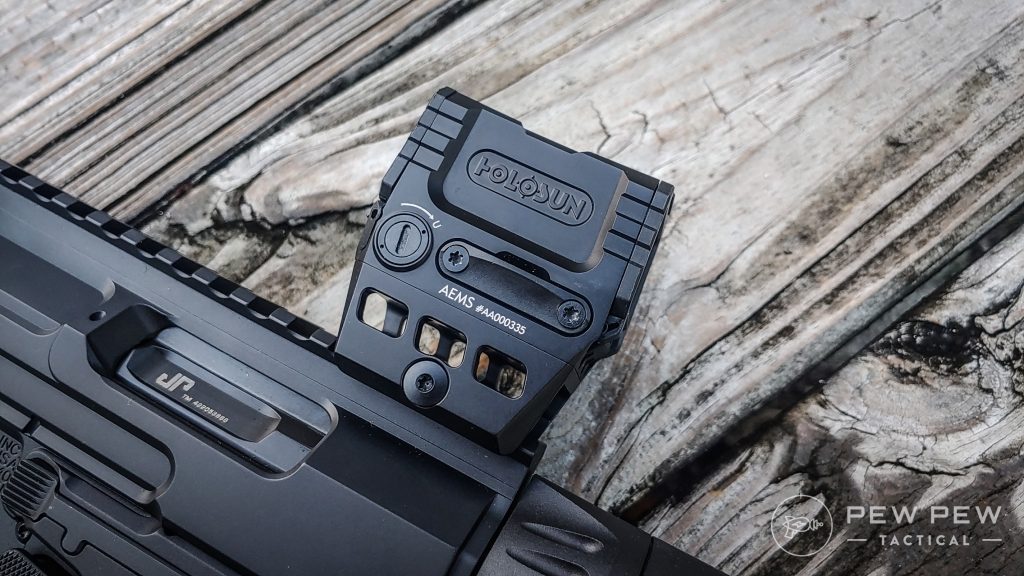 The window is just a hair smaller than the larger 512C, and the view is magnificent. You get that wide field of view with limited interruption from the sides of the optic.
The lenses are clear, as are the disposable, user-swappable lens covers. They don't even need to be popped out of place to see through and utilize. I'd only ever take them down to use a magnifier with. Other than that, I like the protection they provide.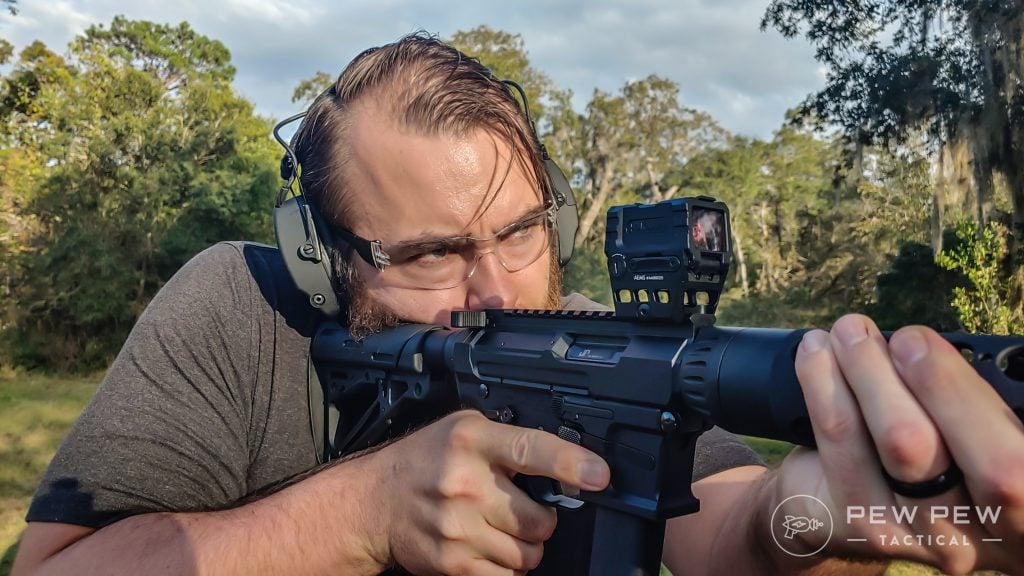 We get the shake awake, multiple reticles, solar panel…and a name that's not a number. Hooray!
The AEMS mount is proprietary, and Holsoun plans to release a multitude of mounts to allow the optic to fit a wide variety of guns.
This has been an awesome optic in the short time I've had it, and it might become my favorite if its performance remains consistent.
399
at OpticsPlanet
Prices accurate at time of writing
Prices accurate at time of writing
Check out our full review of the AEMS!
Final Thoughts
Holosun seems to be adapting well to the U.S. optics market and doing this crazy thing by giving the consumers what they want at a low price point.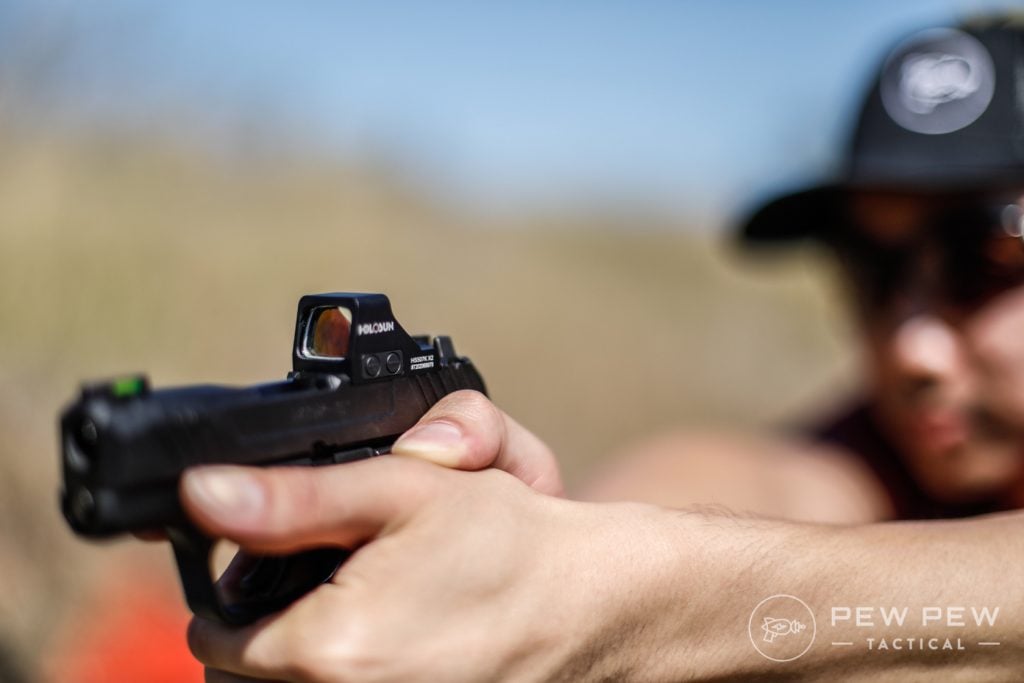 With a variety of options on the table, there's bound to be a Holosun red dot suited for just about every need.
What say you, folks — love 'em, hate 'em? Let us know what you think below. For more on red dots, check out our roundup of the Best Red Dot Sights.
Read the full article here