Tactical
Best Long Range Chassis: Precision & Accuracy
Written by Rob Curtis (2019), Revised by David Lane (2023)
Whether you're thinking of upgrading your favorite bolt gun or building one from components, a rifle chassis system offers a compelling combination of performance and versatility that's difficult to get from a traditional stock.
CHASSIS VS. STOCK
For those wondering how a rifle chassis and a stock differ, basically, it's in two ways. First, in a traditional stock, the trigger guard and magwell (or internal magazine) are a single, separate component called bottom metal that's bolted to the action with the stock sandwiched between them. A chassis is an all-in-one assembly that combines a stock, magazine well, and trigger guard into a single component.
Second, rifle chassis and stocks differ in their method of bedding the action. Organic or hand-laid stocks generally benefit greatly from the use of bedding compounds, while aluminum chassis does not.
BEDDING
The interface between the action and a chassis is either an integral bedding surface, or a drop-in bedding block. The aluminum bedding area is machined into a shallow V or a gentle radius that cradles the steel action in two long lines along its length. As the action screws are tightened, the action is pulled into the V and held fast.
A big benefit of installing a barreled action in a rifle chassis is that it is simple. Screw two bolts down, torque to spec, and head to the range. Changing actions? Same procedure.
The drawback of a universal fit using a V-block appears when torquing an action into the chassis. V-blocks can create a fulcrum point where the action body radius tapers at the tang, as evidenced by the tang diving, tip-down, when the rear action screw is tightened. The hotspot can deform some actions enough to cause bolt bind or other issues. Any modern high-quality chassis won't have this issue, but it is an issue that can occur.
Another method is radius bedding. Instead of the action riding on two rails, radius bedding means the bedding block is cut to match the bottom radius of the action. The increased contact area improves stability on actions that are well-machined and adhere to their expected diameter specs. Bottom line: Radius bedding offers higher performance, while V-blocks are more forgiving of out-of-spec actions.
In a stock, the action generally sits on aluminum pillars that surround the action screws. Some people leave this as is, while others spread a hardening material such as Marine-Tex or Devcon beneath the action and in the recoil lug pocket so the final bedding surface conforms to every undulation in the action body.
Bedding prevents any movement of the action in the stock and provides maximum repeatability and, therefore, accuracy.
Another downside to stocks and bedding is that bedding can break down. Solvents are generally pretty bad for glass bedding and can weaken it considerably. Once the bedding cracks or breaks down, it must be removed and redone. This normally involves a lot of effort or a Dremel.
Depending on the rifle, the cartridge, the shooting style, and the performance standards, bedding might last barely 1,000 rounds, or it might last for 20,000+.
Even a chassis can be bedded, but bedded actions and stocks are wedded for life. Stock shooters swear by the practice, but chassis guys say the improvement in accuracy when bedding a rifle chassis is imperceptible in PRS/NRL/professional sniper shooting disciplines.
IMPORTANT FEATURES
We're painting with a broad brush when we say traditional stocks have lagged behind in the feature development department compared to the latest in chassis systems.
But, there are few, if any, stocks that have the versatility of the chassis systems we're looking at in this article. You might find a stock that approaches the feature set of a rifle chassis, but it will be expensive, and you'll likely have to order it and wait months for delivery.
ADJUSTMENTS
Look for buttstock adjustments that go beyond simple length of pull and comb height. Canting and height-adjustable buttplates allow fine tuning of fit, as does the ability to move the cheek riser fore and aft.
Because chassis are made from aluminum extrusions, it's easier to program a CNC machine to churn out parts with QD sling receptacles, accessory attachment points, dovetail rails, and intricately machined buttstocks with built-in adjustment systems.
While these things are doable on a traditional stock, manufacturing stocks with these features is labor intensive, requires adding parts instead of just cutting metal away, and is, therefore, more expensive.
ATTACHMENTS
Adding things like external weights, side plates, forend thumb rests, sling points, and even side-mounted barricade stops are all doable with M-Lok slots.
Night vision bridges that screw into the forend provide a platform to hold down the front of the gun without touching the scope or barrel.
BAG RIDER
A solid-bottomed buttstock or a full length bag rider is helpful when building a shooting position on the clock.
The more material on the underside of the buttstock, the faster and more forgiving it is when stuffing a bag under the gun. Some rifle chassis makers offer an optional, proprietary bag rider, others put M-Lok slots or threaded holes on the bottom of the buttstock to accommodate an aftermarket bag rider.
BARRICADE STOP
The chassis should have some way to prevent pressure on the magazine while loading the rifle into a barricade. Some rifle chassis have a magwell or edge at the rear of the forend; others require spending anywhere from $30 to $150 to add one.
CANT INDICATOR
A built-in bubble level that shows when the rifle is level from side to side. You might not be aware how far from level your rifle while shooting in an awkward position, and a canted rifle reduces accuracy.
DOVETAIL RAIL
These days, it's almost essential to have an Arca-Swiss style rail running the length of the forend. The 1.5-inch wide Arca rail has overtaken picatinny rail as the go-to accessory attachment system for forend support accessories.
The continuous, uninterrupted rail lets you quickly position a bipod or other rail-mounted support or stop anywhere along the length of the rail. And when shooting without a bipod, the broad, flat surface provides more stability than a rounded handguard.
FOLDING STOCK
It's a nice-to-have that makes it easier to travel with a gun and makes getting at the bore more convenient for cleaning or boresighting.
But, hinges are expensive options that add $100 to $600 to the base price of a stock, depending on the model. Hinges were once thought of as a sloppy point of failure, though the hinges on all the rifle chassis we tested lock up like bank vaults.
FOREND LENGTH
The longer, the better. When shooting in a prone position, the further apart your grounded points of contact are, the more stability you have.
And, spreading the front and rear points of support gives the shooter finer control over adjustment from the rear of the rifle.
A long forend also comes in really handy when you're on large props like a 55-gallon drum or a monster truck tire. Being able to reach across with a bipod in front and a rear bag in back means having a rock steady platform to shoot from.
GRIP
These rifle chassis take either AR grips, or a proprietary grip. Grips that can move further or closer to the trigger are great for fine tuning the LOP, and interchangeable grip panels fit different sized hands. A vertical grip is more comfortable and gives them more latitude when building shooting positions.
A vertical grip also allows the shooter to drop their elbow lower than you could with a traditional stock and get another point of contact on a knee, bag, or whatever, without straining his wrist. The angles promote effective contact with the front of the grip while putting the trigger finger in place for a good 90 degree trigger press.
A vertical grip also offers more control over the rifle when moving between shooting positions.
SPIGOT SLOT
To extend the wheelbase of a chassis, some companies offer their own proprietary spigot that installs in the forend and offers a way to get your bipod a few inches further out.
These are normally not cheap, fit only one kind of chassis, and still won't get you as far out as just having a longer forend in the first place.
THUMB REST
The open-thumb grip is popular in precision shooting because some people feel it makes for a cleaner trigger break as well as allows faster access to the bolt knob. Thumb rests make this grip more comfortable, and efficient and offers an index point for repeatability.
Some rifle chassis have machined-in recesses, others have interchangeable shelves to refine your grip.
While not required, it's nice to have a shelf on both sides for those rare times you need to shoot from your weak-side.
TRIGGER ADJUSTMENT PORTS
Slots or holes in the trigger guard for access to trigger adjustment screws. Handy when you set up a rifle, but not a deal breaker.
WEIGHT SYSTEM
Aside from a brake or minimizing bore height, another way to reduce muzzle rise is by adding a few pounds to the front of the gun. Some rifle chassis makers offer internal weights that ride inside the barrel channel and external weights that attach to various points on the forend and buttstock. A combination of weights also lets you adjust the rifle's balance point.
Right now, the trend in PRS is for rifles to be between 20 and 25 pounds. Reduced muzzle rise makes it easier to see your impacts, and seeing your impacts is critical in competition since you're your own spotter.
And, a gun that balances just forward of the mag well is well-mannered on barricades.
TESTING
We've tested a lot of chassis over the years. While we started with seven when this article first published, we're now at over 20. Not all of the chassis made our cut to be included here, but we'll discuss many of them.
Testing started with three 5-round groups using the same barreled action in each chassis. Results showed that every chassis performed the same in precision and accuracy, within a small margin of error.
Since then, we've expanded testing to include more real-world use. From PRS matches to training classes and days on the range, we've shot and used these chassis a lot.
During that time, we shot many 5, 10, and 30-round groups. The results have always been roughly the same across all of these chassis. 
Once we shoot enough groups to break through the noise of small sample sizes, every chassis tested had nearly identical group sizes. There was slight variation, but that is easily attributed to ammo, environmental factors, and torque settings. Bottom line – we firmly believe that you can choose your chassis based on features, fit, and budget instead of what chassis might provide a 0.1 MOA tighter group.
BEST CHASSIS FOR LONG RANGE SHOOTING
JP Enterprises APAC (Advanced Precision Ambidextrous Chassis)
Weight: (As Tested) 4.9 pounds (4.9 pounds)
Compatible Actions: Remington 700 & Clones
MSRP: (As Shown) $1599 ($1640)
URL: www.jprifles.com

The APAC's key differentiator is its 2-inch tubular aluminum handguard. It's machine checkered and offers plenty of real estate to manhandle the front of the gun on barricades without risking POI shift from pressing down on the barrel. As for flair, it's limited to running handguard accessories that'll mount up on JP's proprietary MK III accessory attachment points. The APAC comes with a QD sling socket, a pic rail section, and a full-length, 12 o'clock pic rail. We mounted the QD up front and left the rails in the box. Though, anyone running a clip on for coyote or sniper duty will appreciated the optic rail.
The top of the handguard interferes with actions that have extended pic rails. We tried mounting an Ultimatum Deadline action and ran into this issue. Scopes with big ocular bells will require a taller mount to prevent the bell from contacting the top of the handguard.
Despite its modular forend, the APAC exhibits excellent rigidity and repeatability. A long, thick tang extends from the action area and it's sandwiched by the handguard above and Arca rail below, which are both secured with a combination of 18 screws. JP recognizes that a V-block can stress an action at the tang and, accordingly, the APAC's manual recommends 30-inch pounds of torque at the rear and 45-inch pounds up front to prevent bolt binding.
The APAC comes standard with a folding buttstock. A side button releases the hinge, which locks up so tightly that it may as well not be hinged at all. The hinge is reversible, and with bolt handle channels on both sides, the rifle is truly ambidextrous.
The 15-inch Arca rail is the second longest, continuous rail in our test fleet and it provides a lot of adaptability. The APAC's use of AR style grips gives you plenty of options; we installed Ergo's TDX-0 ($41.50) grip which was a good fit.
As recoil management methods evolve, some shooters are shouldering the buttstock further inboard to get more meat behind the rifle. The APAC is designed with this idea in mind, as evidenced by its shorter LOP. Proning out behind the rifle, we could roll the buttpad out and the comb up and lock them in place quickly with the big locking wheels. Moving to a barricade, we liked how quickly we could shorten the stock's LOP for a more medial shoulder position.  The mag catch is stout and features a compound shoulder that pushes on the mag and helps stabilize it in the magwell. The beefy magwell prevents feeding issues when loading the rifle into a barricade.
LIKE Solid hinge, short LOP, tubular handguard, long Arca rail.
DISLIKE Can't use some actions with extended optic rails, proprietary accessory mounts.
Kinetic Research Group Whiskey 3 Competition
Weight: (As Tested) 4.5 pounds (7.1 pounds)
Compatible Actions: Remington 700 & Clones
MSRP: (As Shown) $999 ($1152)
URL: kineticresearchgroup.com
Three aluminum components bolted up to form the rifle chassis with polymer grip panels, polymer comb riser panel and a spigot slot to extend the forend support. The main section, or backbone as KRG calls it, is a single piece of aluminum that holds the radius bedded action and extends to the muzzle-end of the chassis. An aluminum forend attaches to the backbone from beneath with 6 screws. The underside of the backbone is a T-slot that holds an optional 0.75 pound forend weight. The Whiskey-3 accepts several KRG forends, but the comp chassis comes with KRG's Arca forend that has an integral Arca dovetail rail.
The W-3 comes with two sets of grips panels to suite your hand size and the unique grip design allows you to choke up higher and closer to the bore axis than is possible with the other rigs in our buyer's guide.
Radius bedding provides more contact area between the rifle chassis and the action and results in excellent action stability. Plus, a shortened tang contact area eliminates tang dive. Polymer comb riser for comfort in extreme temps and o-rings on the riser stanchions for quick return to selected height after removal. Cheek riser has six positions fore and aft. Seven quick-set LOP settings at ¼-inch intervals with novel locking adjustment. To add weight to the rear, KRG offers heavy straight and angled bag riders, along with a heavy LOP spacer. We added 2.6 pounds to the chassis with the channel weight, heavy angled bag rider, and heavy LOP spacer. Integral Arca rail plus spigot provides 14.5 inches of rail space.
Oddly, the W-3 doesn't include any QD sling attachments for the forend. They have plates that attach to each side and the underside of the forend for $26, each. The buttstock comes with QD sling cups, one on each side.
Radius bedding works. Our Bighorn Origin and the W-3 mated like geese and produced the tightest shot groups of the tested rifle chassis. Even the nasty Remington action stayed put well enough to print the second tightest groups. The rifle balances well and we appreciated the polymer riser plate and grip panels when shooting a match in 15F temps. We did miss having a barricade stop and had a couple of feeding issues while jamming the mag into a barricade edge. We'd splurge for the $36 KRG barricade stop and mount it just in front of the mag.
LIKE High grip provides excellent leverage to manage recoil; radius bedding worked well with all tested actions.
DISLIKE Lack of integral barricade stop or QD cups on forend.
Kinetic Research Group Bravo
Weight: 2.9 pounds 
Compatible Actions: Remington 700 & Clones, Tikka, Savage, Ruger American, Howa 1500
MSRP: $370-450
URL: kineticresearchgroup.com
A budget offering from KRG, this isn't designed to win national matches. This is designed for a more casual shooter trying to get in the chassis game.
From that standpoint, this is a great chassis that delivers a lot of value. Personally, it feels like a lot of plastic to me, but under all that polymer is an aluminum chassis that gives your rifle a rock-solid bed to sleep in.
As a base model, this chassis doesn't have a lot of features. The LOP is adjusted via spacers, the height of the buttstock is tool-less, and the cheek riser is a simple knob also. But that's where it ends. No ARCA, no magazine adjustment, and a thumb-shelf that feels almost on accident rather than as a designed feature.
All of that said, this is still a solid little chassis that punches up for the price. I've run this in both centerfire and rimfire rifles, and it performs really well for the cost.
Another nice thing about the Bravo is that the base model isn't where it ends. If you want to throw some more money at this chassis, you can upgrade buttstock to be tool-less LOP adjustment, a better pad, and a huge upgrade – a new enclosed forend with ARCA rail.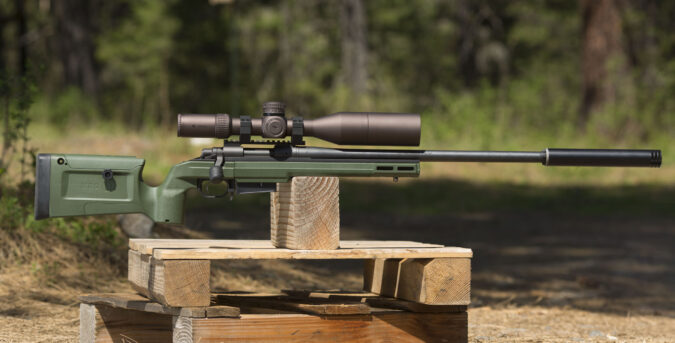 Bad news, the tool-less LOP, and the forend each cost almost as much as the chassis did at $300 each. Turning a $400ish chassis into a $1,000 chassis does improve the feature set, but you can also just get a better chassis at that price.
LIKE: Cost-to-performance ratio of the base model, great entry-level design, lightweight
DISLIKE: Addons triple the price
Magpul Pro 700
Weight: (As Tested) 5.4 pounds (5.4 pounds)
Compatible Actions: Remington 700 & Clones
MSRP: (As Shown) $999 ($1074)
URL: magpul.com
Magpul caught a lot of $h|t early on with the Pro 700 by meatheads that thought it was an all polymer chassis. IRL, the Pro 700 has a strong and rigid, full length, aluminum skeleton beneath a bunch of carefully fitted polymer panels that make the chassis friendlier when handling it in the heat and cold. We pulled the poly panels off the chassis and were impressed with how well they fit. There are no gaps or flexy areas that might otherwise make the chassis feel cheap.
It uses a V-block for bedding and features three integral M-Lok attachment panels on the base and sides of the forend. Later production versions have a scallop on the leading edge of the recoil lug pocket to improve seating of actions with a chamfered recoil lug joint. The Pro 700 was one of the first rifle chassis with a sliding grip and an integral thumb shelf. With a choice of two included, interchangeable grip panels, the Pro 700 accommodates a wide range of hands and grip styles.
The M-Lok slabs make the Pro 700 supremely adaptable. Magpul's offers several M-Lok-able Arca dovetail rails to bolt under the forend. For max adaptability, the full length version has M-Lok slots at the front end for full meta points. The back end of the rail captures the front action screw and the sliding grip captures the rear action screw. This might seem frivolous, but if you move a barreled action between the Pro 700 and a lightweight hunting stock for deer season, you'll appreciate not wondering where the eff-ing screws got to.
The hinge on the folding version is strong, wobble-free and reversible. Swap the hinge and the move the bolt handle slot filler from one side to the other to suit lefthandidness without compromise. We also like the magwell and its low-profile but effective barricade stop that prevents mag bind when loading on a barricade. On the backend, while there's an M-Lok field on the bottom of the stock, the long, flat base of the stock is a fine bag-rider on its own. We were bummed Magpul doesn't offer a weight system until we realized we could just bolt on MDT's M-Lok forend weights.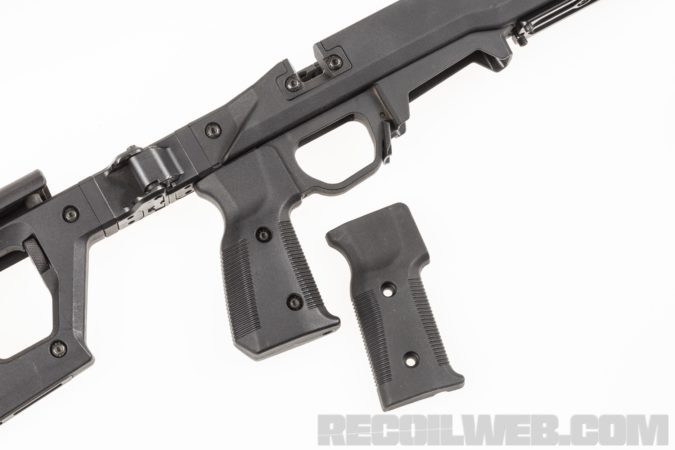 We used the Pro 700 for several club PRS matches and found it was comfortable, versatile, and accurate. Our Accurate Mag, AI, MDT, and Magpul mags all fit and fed 6.5 CM and 308 Win without any extra TLC. The tall forend isn't great for managing recoil, but adding four MDT weights added a couple pounds and calmed the front end considerably. We noticed tang dive as the action is torqued into the rifle chassis, so a dab of bedding compound under the tang may tighten groups up a hair. After shooting all the chassis in our test group over the course of a year, coming back to the Pro 700 felt like settling deep into the couch in our parent's basement.
LIKE It's got everything we need and the price is right. Without the folder, the Pro 700 is the least expensive chassis in our roundup; add the folder and it's the same price as the non-folders in the group. Sliding grip and comfy thumbshelf are great features.
DISLIKE Forend height is tallest of the test group.
MDT ACC Premier
Weight: (As Tested) 5.31 pounds (12.5 pounds)
Compatible Actions: Remington 700 & clones, CZ 455, CZ 457, Defiance XM, Howa 1500, Savage SA & LA, Tikka T3, Ultimatum Deadline
MSRP: (As Shown) $999 ($1477)
URL: mdttac.com
A monolithic aluminum design from the muzzle end to the buttstock interface, the ACC has no risk of play developing between the forend and the chassis body. A shallow V bedding block accommodates a wide range of R700 footprint actions, and the ACC is available for other actions as noted. It takes AR grips, but MDT's optional $49 vertical grip offers fore/aft adjustment for fine tuning your trigger finger placement and is contoured to match the ACC's thumb shelf ergonomics.
Adding weight to a rifle chassis to battle recoil isn't a new thing, but when MDT released the ACC in 2018, the company refined the practice by allowing shooters to really customize the amount and placement of that weight. Up to five, 1/2-pound barrel channel weights slide under the barrel and screw securely into place from below. Someone at MDT was locked-on when they designed the channel weights because they can be installed and adjusted with the barreled action installed, plus they don't impede the use of the forend's bottom M-Lok slots. There's slots for five more 0.6-pound, exterior M-Lok weights on the side of the forend, each with a bonus QD cup. Going all-in puts 8.6 pounds of muzzle rise resistance on the forend. To balance things out, add the ACC 0.65-pound buttstock weight and 0.44-pound steel bag rider.
If you don't have an Arca compatible bipod, the underside of the forend has M-Lok slots, as well as a slight recess for the application of grip tape that helps the rifle stick to bags and barricades. The recessed tape doesn't interfere with anything sliding along the rail.  And, at 17.5 inches, that rail presents the most versatility of the test group. Chunky serrations on the magwell corners mean business when loading into barricades and it's smartly scalloped for tip-up mag insertion when space is tight under the rifle.
Tang dive was evident with the ACC with all tested actions. Not enough to cause the bolt to bind, but as on the Pro 700, we might put a drop of bedding compound under it to ease tension on the action. Shot groups suggest the bedding works extremely well with factory and custom actions, alike. Nothing says call-your-shot like a 22 pound 6.5 Creedmoor prone on a bipod, but balancing the weight distribution means the gun also stays neutral balanced on a barricade bag. Just make sure you eat your Wheaties if there's an off-hand stage in the match book.
LIKE Loooong, integral Arca rail; unmatched ability to tune balance point; infinite adjustments for comb height and LOP adjustment.
DISLIKE Tang dive points to tension on action; MDT bag rider is too narrow, tends to sink into soft bags.
MDT ACC Elite [Editor's Choice: Best Overall Chassis]
Weight: 6.1 pounds
Compatible Actions: Remington 700 & clones
MSRP: $1,600
URL: mdttac.com
Everything to love about the ACC Premier is dialed up to 11 with the Elite. MDT's newest and flagship design, the ACC Elite, has a lot going for it – but it comes at a price.
The biggest redesign of the Elite is that everything is a lot stiffer. Much like the KRG C-4 was beefed up over the Whiskey 3, the Elite has undergone the same treatment. Competition shooters are leaning towards stiffer, strong, unflexible chassis, and the manufacturers are delivering. 
The forend is now 19" and made with a lot more metal to make it stiffer and stronger, but retains the full-length ARCA rail. It also has MLOK slots on the bottom for mounting things. And because MDT heard you like MLOK, they put MLOK on the sides of the forend also for weights or anything else, like Baker Wings, Stage Savers, etc.
Along the top of the forend is drilled and tapped for mounting NV and control bridges, but those are sold separately.
Moving back, the barricade stop is thicker and more aggressive. The mag well has more adjustment inside and even has space for metal pins to be added to fine-tune the mag well size.
The grip has been upgraded to MDT's Elite vertical grip that allows adjustment up, down, cant, and everything in between. To go along with it, removable thumb rests have been added so you can adjust their size, position, and angle.
Undergoing the biggest change was the buttstock. Still tool-less adjustment for everything, but now a lot thicker and features a connecting bar going from the rear of the buttstock to the grip. While this prevents the chassis from having a folding stock, something I liked on my Premier version, this adds a lot of rigidity to the system.
And the buttstock still has MLOK for a bag rider, even if it is a bit thin still.
Plus, the Elite has extras like a trigger adjustment hole, a larger butt pad, and grip tape under the forend.
For a PRS rifle, the Elite is my top pick. It isn't cheap, but it delivers a lot of everything and does so in the best ways. The only accessories you might need are the weight kit to balance the rifle and soak recoil. Otherwise, this is basically good to go right out of the box.
LIKE: Super long forend, new stiffer design, everything you need in one box.
DISLIKE: More assembly is required than some other chassis
PDC Custom Centerfire G5C [Editor's Choice: Best Chassis Under $1,000]
Weight: 4.25 pounds
Compatible Actions: Remington 700 & clones, Savage 10/110
MSRP: $775 (base) $950 (as configured)
URL: PDCCustom.com
Maybe another name you haven't heard much about, but PDC Custom absolutely runs with the big dogs while being a much smaller shop.
I got put onto PDC because of a pro shooter friend of mine, and PDC was nice enough to send a chassis for review. When you get a PDC Custom chassis it comes in a box and wrapped in a towel. I mean an actual bath towel. Perfect. No notes. 10/10. It keeps the chassis safe, it's economical, it's better for the environment than peanuts, and you get a free towel.
The base G5C is pretty barebones but comes in at only $775. While there is nothing wrong with it, I would recommend you throw a few more dollars at it and get some of the upgrades like the adjustable butt plate, toolless butt stock, and adjustable thumb rest. This pushes the price to $950 but it is worth it.
While on the lighter side of competition chassis, this is built like a tank. Every part is robust and clearly designed to be more durable than it really needs to be. The machine work is really nice, with everything flowing into each new part and the overall appearance being top-notch. Even the color is really well applied and even.
ARCA runs the full length of the forend but is stepped 3/4 of the way down, so you have a ledge and what is effectively two separate areas of ARCA. I think this will be a user preference, but I like this design choice. If I want my bipod at the end, it has a hard ledge to lock against. If I need to move it closer, I still have a ton of room to choose from.
I'm never going to move it from far out to close in on the clock, so it being two separate areas of ARCA doesn't bother me.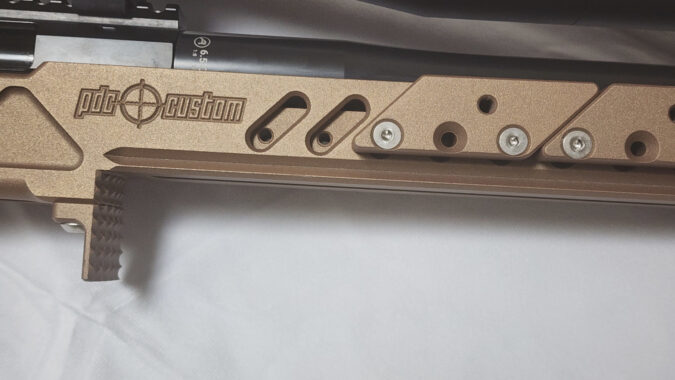 Mag protection/barricade stop is strong and very aggressively cut with a diamond pattern to really bite into props. Thumb rest is easy to adjust and comfy. Toolless buttstock is incredibly smooth to adjust, locks down tight, and is a simple design that just works.
PDC Custom also offers a weight kit for the G5C for a very low price of just $175 for a kit that includes weight for up to 4 lbs and 4 ounces of added weight. This is a huge plus in my book since every other chassis brand feels the need to charge extortion money for their weights. 
Big fan of the PDC weight kit not only because of how it looks but also how easy it is to install and how fair the price is.
For the money, the G5C is an incredible value chassis and is definitely the least expensive all-metal, full-featured competition chassis we've tested.
LIKE: Value added, weight kit is affordable, features are subtle but very well executed.
DISLIKE: Wish there was more of a mag well to protect the mag, can't add weight to the butt stock.
MDT XRS
Weight: 3.9 pounds 
Compatible Actions: Remington 700 & clones, CZ 455, CZ 457, Ruger American, Howa 1500, Savage, Tikka T3x, and Tikka T1x
MSRP: $550
URL: mdttac.com
One of the more budget-friendly chassis from MDT, the XRS has a lot in common with the KRG Bravo. A lot of plastic, but a solid frame under it all that makes for a good chassis. Personally, I like the design of the XRS a little better because of things like the interchangeable grip, small barricade stop, and the much cheaper accessories. 
The forend is only 12.5" and none of it is ARCA on the base model, but it is stiff and good for loading into a bipod. It has MLOK on the sides and bottom, so you have some options for mounting.
The grip has two panels that come with the chassis, a vertical grip, and an angled grip. I like the vertical grip better, but the angled one is nice for shooters more accustomed to that. 
LOP is set via spacers, and the cheeks rest is adjusted via knobs.
This is a pretty what you see is what you get kind of chassis. It works, it's not expensive, and it has some small features that make it nicer than the bottom tier. If you want to plus it up, the XRS has an enclosed forend with full-length ARCA rail for only $150. If you really want to do it up, there are also XRS forend weights. 
LIKE: Barricade stop is small but nice, high value for the money, lots of small details. 
DISLIKE: ARCA should be standard by now.
MDT Oryx 
Weight: 4.2 pounds 
Compatible Actions: Remington 700 & clones, Remington 783, Remington Model 7, CZ 455, CZ 457, Howa 1500. Howa Mini, Savage SA & LA, Tikka T3x & T1x, Mossberg Patriot, Mossberg MVP, Ruger American, Ruger 10/22, TC Compass, 
MSRP: $430
URL: mdttac.com
The Oryx used to be a separate brand from MDT but was still made by MDT. Now, it seems MDT has simply absorbed them since it looks like the Oryx website is gone, and they're now hosted on the main MDT website.
Either way, Oryx is MDT's least expensive chassis. I think it's also fair to say that the Oryx is the lowest-quality MDT chassis, but that isn't a dig. Costs mean something, and while this one is pretty low on the price scale, it's still a good chassis for what it is.
Something that sets it apart from almost all the other chassis on the market is just how many guns they make it for. The list is pretty long and includes some names that just about no one else makes a chassis for. That's pretty handy if you're looking to upgrade a rifle that you might not have a lot of options for.
The Oryx is fairly lightweight, the barricade stop is even smaller than the XRS's but at least there is one, the LOP is set via spacers, cheek piece is adjustable, and the grip is standard AR-15 but comes with an MDT angled grip to get you started.
This chassis feels cheap. The finish is kind of rough to the touch, the plastic feels like a step down from the XRS, and it's all just a little… cheap feeling. That's how it looks in your safe, that's how it feels when you hold it at home.
Get behind it on the range, and almost all of that goes away. This still isn't the best chassis on the market or anything, but it works. It functions well. The butt stock feels decent, it shoots on target, and the forend is wide enough to sit on bags really well.
For a starter chassis, this is a strong option. If you can live with some extra weight, it even makes for a pretty solid hunting chassis. If you want to upgrade it, adding ARCA railing only runs $95 on MDT's site.
LIKE: It gets the job done, ARCA rail is pretty cheap, made to fit a huge range of chassis.
DISLIKE: The finish is rough to the touch, and that's kind of weird.
Woox Furiosa
Weight: 4.8 pounds 
Compatible Actions: Remington 700 & clones, Ruger 10/22, Ruger American, Savage 110, Tikka T3x, Sauer 100, Howa 1500
MSRP: $1,100 ($1,325 with bottom metal)
URL: Wooxstore.com
Another chassis that simply looks amazing, the Woox Furiosa melds wood and aluminum to create a very appealing chassis. Thankfully, it works almost as good as it looks.
While this is a nice chassis, a great-looking chassis, and a chassis that performs well – it isn't a top-tier chassis for things like PRS or NRL. Because of the wood and the style, it limits itself from true greatness.
The forend is a little short at only 10" in front of the magazine, there aren't a lot of mounting options for weights, and no ARCA rail. A real killer for me is that this chassis uses bottom metal. If you're coming from a traditional stock that also uses one, you might be able to just swap them over. Otherwise, the bottom metal is an extra cost on top of the chassis that ain't cheap.
On the plus side, the grip is near vertical and very comfy to use, the LOP and cheek rest are tool-less adjustable, and the butt stock has some 1913 rail that works fairly well as a bag rider, or you can attach a real one.
It might be a touch on the heavy side for a hunting rifle, but if you're not hiking for miles the small amount of extra weight won't be a huge deal. And I think this makes a wonderful chassis for that.
I really enjoy shooting the Woox Furisa. It's pretty, it has class, it works well, and it just has some sex appeal that really no other chassis has. If you're not trying to get sweaty and min/max your rifle setup, this is an incredible option and a decent price. But if you're trying to play the game to the max, you might opt for something else.
A lot of this has been addressed with Woox's newest chassis, the Furiosa Ultra. I haven't gotten to shoot one yet, but handling it at SHOT was impressive. It extends the forend, adds ARCA, a real bag rider, and some other nice changes. But the price increases to $1,400 without bottom metal and $1,625 with bottom metal.
LIKE: She pretty, wood vibe is really nice, shoots well
DISLIKE: Price is a little high for the performance, lags behind the times in design
JAE-700 G4 Chassis
Weight: 6.5 pounds 
Compatible Actions: Remington 700 & clones
MSRP: $2,000
URL: mdt.com
I'll admit that I might be a little biased when it comes to the JAE-700 gen 4. JAE was a well-known but very boutique brand in the PRS world several years ago. They dropped off the market for a little while due to the owner having health issues, but the company and its designs were then bought by MDT.
Since then, MDT has restarted production, and the JAE-700 lives again.
My test chassis came straight from the former owner of the JAE, who hand-fit and hand-colored my pre-production G4 chassis for me. For that, this chassis will always have a special place in my heart.
If you want a detailed review, take a look. But the short version is this is a badass chassis, but it won't be everyone's cup of tea.
The big hurdle about the JAE is that this is an expensive chassis. Base chassis, with ARCA rail and some other fairly needed accessories for PRS, run over $2,500. That's several hundred more than a comparable chassis like the MDT ACC Elite or KRG C4.
However, that money isn't being thrown away. The G4 is feature packed and is hands-down simply an amazing chassis. It just isn't cheap.
If you get the ARCA rail upgrade, and I recommend you do, then it has 17" of ARCA, a super adjustable magazine well, and a magazine catch that can fit basically any magazine no matter what weird caliber you're running. The grip can be vertical or angled and feels wonderful. The thumb rest is natural and uninhibited. 
Cheek rest and butt stock feel simply amazing and are super easy to adjust. The cheek rest also comes off with a flick of a lever to make taking the bolt out wicked easy.
The JAE gen 4 also has rubber gaskets between the metal chassis and the plastic panels. This eats up a ton of vibration and makes shooting, even with a brake, a more pleasant experience. 
The chassis is packed with features. It does everything a great modern chassis should do and more. But all of that comes with a cost. Every part of the JAE-700 G4 requires a lot of time and effort to make. Even the butt pad spacers are actually machined parts, not plastic fillers. This is unavoidably expensive to do.
If you want to squeeze top performance from every dollar spent, the JAE isn't for you. But if you're the type of shooter who really appreciates the fine details, you'll love the JAE. 
LIKE: Amazing performance, totally customizable, wonderful feeling.
DISLIKE: Expensive, addons cost more, requires set up time
Aero Precision Solus
Weight: 4.28 pounds 
Compatible Actions: Remington 700 & clones
MSRP: $800
URL: AeroPrecisionUSA.com
Available in four colors and three sizes, the 17" forend version is my top pick, but the 7.5" and 15" versions are there also.
Brand new to the market, the Aero Solus is a complete rifle made by Aero Precision. But they aren't just selling the rifle as a whole unit, they also offer barreled actions, barrels, actions, and the chassis itself.
The chassis is surprisingly well thought out. The long forend is ridged and has full-leath ARCA, LOP, and cheek rest are both tool-less adjustments, trigger adjustment under the trigger guard, barricade stop that is a little short but still useful, built-in bag rider, adjustable magazine catch, and some QD cups just to finish it off.
Oh, and MLOK along the side and bottom of the forend, adjustable thumb rest, and a vertical grip. 
Bottom line, this is a really strong chassis for under $1,000
I've only used the Solus chassis with the Solus rifle, but both have performed outstandingly. The chassis itself is a little light, and I would like to add weights, but everything else is on point.
My exception to that is the cheek rest. For the Solus rifle, the rest is a little too long and prevents the bolt from coming out. Instead, it forces you to adjust the cheek rest to just the right place so you can sneak the bolt out. It's annoying and odd that it was left as it is. However, I'm pretty sure that cutting off about a 1/4" of the cheek piece would solve the issue.
This is Aero's first chassis. And for their first attempt, this is really impressive. Even if you don't have a Solus rifle, I would recommend the chassis. 
At the time of writing, Aero has been running some monster deals on their chassis. For the $600ish price I've seen it at, this is a must-buy.
LIKE: Loads of features for the price, long forend, everything you need, nothing you don't
DISLIKE: Cheek rest needs fixing
Masterpiece Arms BA Comp
Weight: (As Tested) 5.1 pounds (5.1 pounds)
Compatible Actions: Remington 700 SA, LA & clones, AI AT, Defiance Rebel & XM, GA Templar, Howa 1500 SA, Savage SA & LA, Stiller Spectre, Tikka T3 SA
MSRP: (As Shown) $999
URL: masterpiecearms.com
The BA is the OG of competition-specific chassis. And, it's got everything a PRS guy might need baked right in. It's based around a V-block bedding system that eliminates tang dive by moving the rear action contact point as far back as possible. The BA accepts AR grips, but it arrived with MPA's Enhanced Vertical AR grip that also features a right-side thumb shelf and knuckle standoff supports a 90 degree angle for clean trigger pulls. The BA's backbone is a single, long aluminum extrusions bolted to the buttstock assembly, with a machined thumb shelf that mates perfectly with MPA's vertical grip. It includes 11 inches of Arca rail, plus a spigot that adds an additional 3.5.
The BA includes just about every feature you might see on a competition rifle chassis. The highlights, though are MPA's signature moveable barricade stop, open-front and beveled magwell, huge slots in the trigger guard for access to trigger adjustment screws, and the unique Ultra Bag Rider with its shallow hand hook and tubular extension that speeds up bag placement by providing something to pinch with your bag hand fingers as you set the bag height.
LOP and comb height adjustments are held by a detent and can be locked with an Allen wrench. The included spigot is reversible for use with dovetail or pic rail mounted accessories. The oblong holes in the chassis might look like M-Lok at a glance, but they aren't. There's no M-Lok on the BA. But, it does include a 2-round match saver that plugs into the magwell.
The BA's grip, canting stock pad, lightly padded comb, the bag rider, and extended bipod reach make proning out a pleasure. Mag changes are smooth after adapting to the cutout in the front of the magwell and learning to index the mag from the front. On barricade, we dumped the bag and loaded into the square edge of wood using the BA's included, rotating, moveable stop.
It works, but we found loading downward on a barricade bag gave us better recoil management, in general. We pulled the pic rail from the night vision bridge to make it more comfortable to push down on, but it's too far out in front to reach. We'd opt for the BA's channel weights to reduce recoil.
LIKE So many smart features and included accessories, bag rider design, integrated vertical grip with thumb shelf.
DISLIKE Proprietary accessory attachment points — bring the M-Lok!
Masterpiece Arms Matrix
Weight: (As Tested) 6.4 pounds (8.9 pounds)
Compatible Actions: Remington 700 SA & clones
MSRP: (As Shown) $1250 ($1375)
URL: masterpiecearms.com
The newest chassis in the group. The Matrix earns its name by offering a dizzying array of possible configurations based on the system's 5 grip sizes, 3 thumb shelf options, and 4 trigger finger support sizes. The basic shape and construction of the forend, bedding area, and magwell are similar to the BA, it's just a longer forend with M-Lok slots that work even with the barrel channel weight installed.
Out back, there's a hybrid grip that's a little reminiscent of a highly vertical traditional/thumbhole stock with an added thumb shelf and a novel trigger finger support. The buttstock is substantial with a hollow space to insert a weight. The trigger port is positioned pretty far forward, placing the housings of our Timney, Triggertech, and X-Treme triggers all the way at the front of the inlet with very tight clearance.
The Matrix's grip system is unrivaled in the rifle chassis market. It offers 60 grip/thumb shelf/finger support combinations, so we're sure you can find something that works. We did, and it's the standard setup. The grips differ in girth and angle, and thumb shelves offer a few different angles, and the finger supports put your knuckle at the right distance from the trigger for a 90 degree break.
The grip system put our hand closer to the bolt handle, and sped up split times. No question, this grip system is slick. The weight system is three components. Up front two weights sit in the barrel channel and are held by screws from the outside, and the rear weight is a tube that slips into the buttstock and is held with a screw.
We aren't sure how many of the 60 grip combos we tried, but it was at least 20 before we locked things in and headed to a club match. Recoil control is excellent, as we could load the gun from the rear while pulling in on the stock hook and adding a little downward pressure from the thumb, all without fear of influencing the trigger press thanks to that trigger finger support.
The only issue that cropped up was a failure to feed, and that was our fault because we didn't notice the rifle came with MPA's adjustable mag catch. Once snugged up, all was good. Solid groups indicate effective bedding, and there's no tang dive during installation.
LIKE Grip/thumb shelf options; finger support is more helpful than we thought; includes adjustable mag catch; M-Lok on handguard, sling cup on the base of the forend is helpful when loading on a tripod.
DISLIKE Would like more weight options to tune the balance point.
Q LLC Side Chick
Weight: (As Tested) 2.5 pounds (2.5 pounds)
Compatible Actions: Remington 700
MSRP: (As Shown) $1500 ($1500)
URL: liveqordie.com
Know that feeling when you pick something up that you expect to weigh something, but it doesn't and you almost throw it in the air? That's what picking up a bare Side Chick chassis is like. The thing is 2.5 pounds. That's about the weight of a carbon fiber stock with barely any of the Side Chick's extra skills. We're stretching the definition by calling the Side Chick a competition chassis, but in the right hands, this thing will do the deed. This girl is a waif, but the M-Lok slots up front will accept MDT's forend weights and turn her into more of a BBW if you need to rely on a mechanical aid instead of the tools God endowed you with, if you know what we mean.
At first blush, she looks like her components are a straight port from Q's The Fix rifle. But, changes had to be made to accommodate a Remington 700 action. The handguard is same, but the center section is extended, the receiver is replaced with a V-block bedding area, an AICS-friendly mag catch is on the trigger guard and the grip is attached to the rifle chassis with an glass-filled nylon adapter (the blue part.) And, the lines on the buttstock changed to fit over the R700 bolt handle when it's folded.
M-Lok up front, AICS mags in the middle, and threading for a mystery bag rider in the back. Up top, the Side Chick replaces the stock optic mount with its own 0 degree rail that ingeniously bridges the action to the rifle chassis through the handguard for increased rigidity.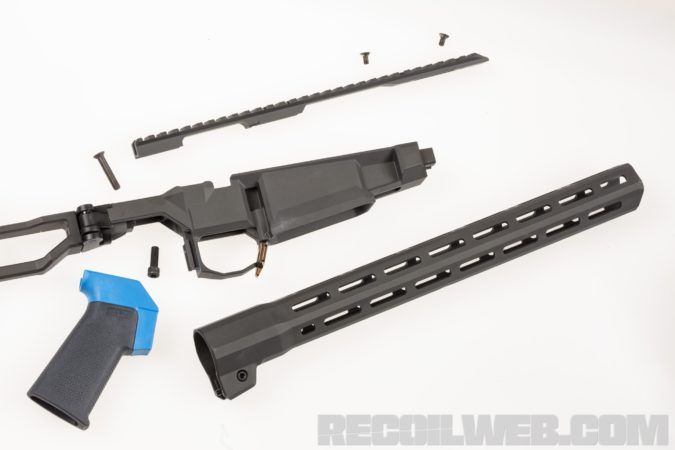 The downside of this arrangement is that it only works with actions that use the original R700 scope base screw pattern, and that sidelines some premium actions, like the Bighorns and Ultimatum we have on hand. But, there are plenty of custom actions using the original scope base mounting pattern… and that's in addition to the 7.5 million stock R700s in the wild, so we're not crying for Q; they'll do fine.
Since the Side Chick lacks a dedicated Arca rail, we added a 10-inch section of Henderson Precision's Universal Arca rail using it's M-Lok adapters.
With a couple of MDT's external weights hanging on the handguard and 10 inches of Arca bolted to the bottom, the rifle balanced nicely just in front of the magwell. Groups from the .308 were on par with those shot from the other rifle chassis and better than we got from the pillar-bedded Houge stock from which it came. There's plenty of adjustment to fit the Side Chick, despite it's anorexic appearance. Accurate and MDT mags ran fine, Magpul and AI mags interrupted bolt travel when resting on the mag.
LIKE Versatile enough to serve as a comp chassis and light enough to be a hunting stock.
DISLIKE Compatibility limited to actions with original Remington 700 optic mount screw layout.
MDT HNT-26
Weight: 1.6 pounds (26 ounces) 
Compatible Actions: Remington 700 & clones, , Savage, and Tikka T3x and T1x
MSRP: $1,400
URL: mdttac.com
Maybe this should be more of an "honorable mention" because the HNT-26 is very much a hunting chassis, not your classic long range match chassis. That said, with the rise of NRL: Hunter, a good, lightweight hunting chassis has become a thing in high demand. 
While most other chassis on this list get points for being heavier, this one gets points for being so incredibly lightweight. Only 26 ounces.
Combined with a mid-weight or lightweight action and barrel, this stands out as being stunningly easy to carry all day. And yet, you still have major features normally not found on a hunting rifle – like a full-length ARCA rail.
The chassis feels a little flimsy, but it actually isn't. The carbon fiber construction is well done and, so far, incredibly durable. The lack of weight just makes it seem like it should be more delicate than it really is.
Installation is easy but requires being a bit careful. Read the warning labels, and don't go crazy on the screws.
For niche goals like NRL: Hunter or an ultralightweight hunting rifle that shoots like a match rifle, the HNT-26 is hard to beat. But because it is built for such a niche role, you should really question if you'll get the full value out of it, considering how expensive it is.
I love the chassis, but I would only recommend it to serious users who are most likely a bit more advanced than your average bear.
LIKE: Lightweight, strong, looks and shoots great.
DISLIKE: Price tag hurts.
Christensen Arms Modern Precision Rifle Chassis
Weight: 3.5 pounds 
Compatible Actions: Remington 700 & clones – kind of
MSRP: $1,200
URL: christensenarms.com
I love the look of this chassis. That's 90% of the reason why I asked for one to test out because I just love how it looks.
Sadly, it looks a lot better than it performs.
The MPR is a strange hybrid of a chassis. While the goal is to be ultralightweight and primarily designed to be used in Christensen's Modern Hunting Rifle, the chassis itself isn't actually that lightweight, coming in at 3.5 pounds. Even with the use of a carbon fiber handguard and cheek riser, this still has some meat. 
Compare the MPR's "ultra-lightweight" at 3.5 pounds against the MDT HNT-26 at barely over 1.5 pounds, and the MPR isn't really "ultra." Even the KRG Bravo is lighter at 2.9 pounds, and it isn't carbon fiber anything and costs about a third of the price.
That being said, the MPR does perform decently. The CF handguard feels pretty good, but it has some flex if you try to load it into a bipod. This doesn't impact the accuracy of the rifle, but it can be a little odd.
I really like the cheek rest. Even in the desert sun, it stays fairly cool being made from carbon fiber.
I love the folding buttstock and how simple of a design it is. The lock-up is rock solid, and Christensen's Magnelock™ technology does a great job of keeping the stock folded. But also, can we take a moment to shake our heads at the fact that Christensen trademarked a "technology" that is literally just the addition of a magnet? Like… come on.
As a match chassis, the MPR has a lot of features missing. But as a hunting chassis, the MPR is actually pretty solid, even if it is a little on the heavy side for something trying to be "ultra-lightweight."
But here we come to my biggest problem with the MPR. While designed for the Christensen Arms Mesa actions that claim to be standard Remington 700, it kind of isn't. I used a Bergara B14 action in this chassis, and it simply didn't fit. My Bergara fit fine in all of my other Remington 700 footprint chassis, but the MPR had a recoil lug cut out that was much too small.
It took a few minutes with a Dremel to fix, and it doesn't seem to have impacted my rifle's precision at all, but this isn't the easy drop-in that it seems like it should be.
Beyond that, the chassis is annoying to install.
The handguard has 8 screws, and the rear action screw cannot be accessed unless you take off the grip and take off the trigger guard assembly.
As a chassis that comes with a complete rifle, I get it, and this isn't that bad. I've shot the MPR, and it's a good rifle that fits this chassis really well.
But as a standalone chassis, there are better options.
Overall, I'm looking at this chassis as something you may think of buying to put on your own rifle. In that situation, I wouldn't rate this chassis very high. But it does look amazing.
If you're okay trading some performance for aesthetics, the MPR chassis is decent. But this wouldn't be my top pick for a hunting chassis, and isn't even in the running for a match chassis.
LIKES: Beautiful chassis, feels good to shoot.
DISLIKE: Everything else. Weight, assembly, recoil lug, flexible forend.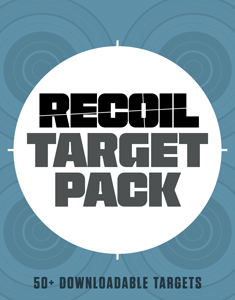 NEXT STEP: Download Your Free Target Pack from RECOIL
For years, RECOIL magazine has treated its readers to a full-size (sometimes full color!) shooting target tucked into each big issue. Now we've compiled over 50 of our most popular targets into this one digital PDF download. From handgun drills to AR-15 practice, these 50+ targets have you covered. Print off as many as you like (ammo not included).
Get your pack of 50 Print-at-Home targets when you subscribe to the RECOIL email newsletter. We'll send you weekly updates on guns, gear, industry news, and special offers from leading manufacturers – your guide to the firearms lifestyle.
You want this. Trust Us.

Read the full article here