Tactical
Best Plinking Guns, Targets & Games of 2023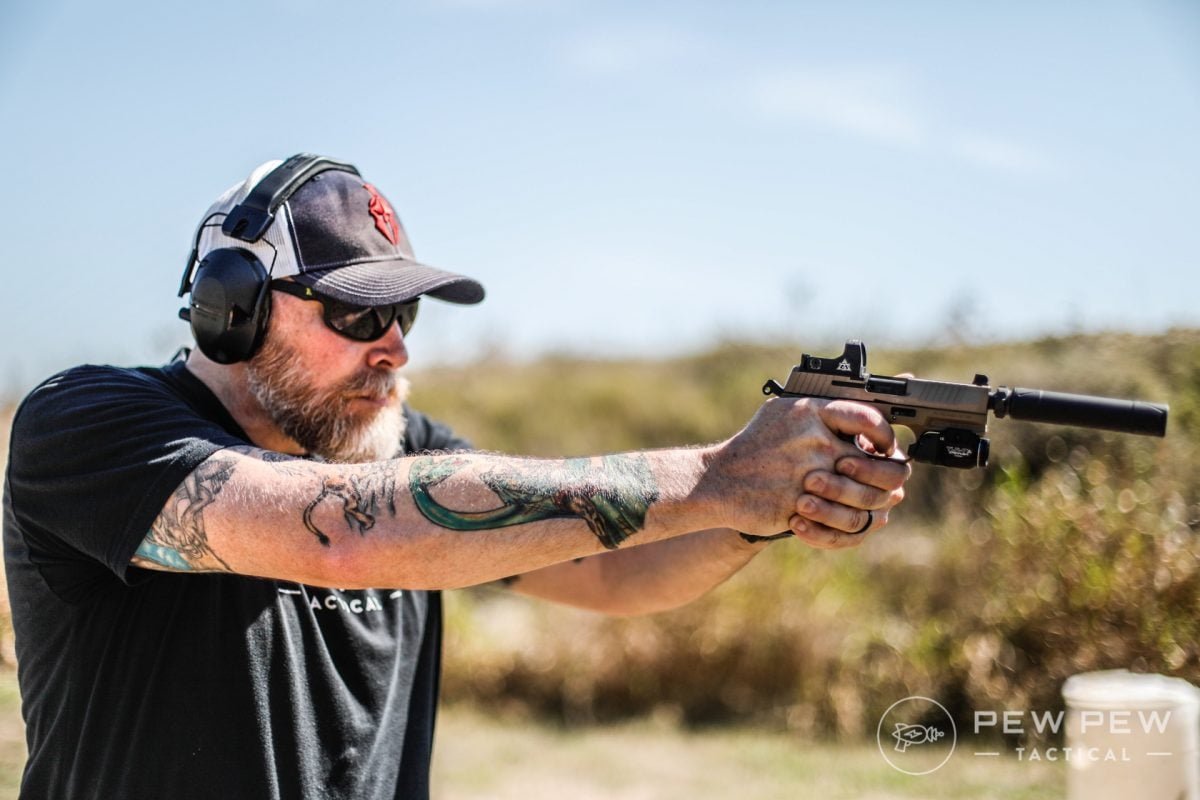 I'm willing to bet the vast majority of shooting done in this world is plinking. Well, most civilian shooting anyway.
Plinking is where most of us got our start in shooting.
I love training, but plinking brings me the most joy — especially now that I'm a dad and have mini-shooting buddies to join me at the range.
Plinking is a catch-all term applied to the world of informal shooting. You ever taken a brick of .22 LR and a good rifle and shot some tin cans for the fun of it? That's plinking.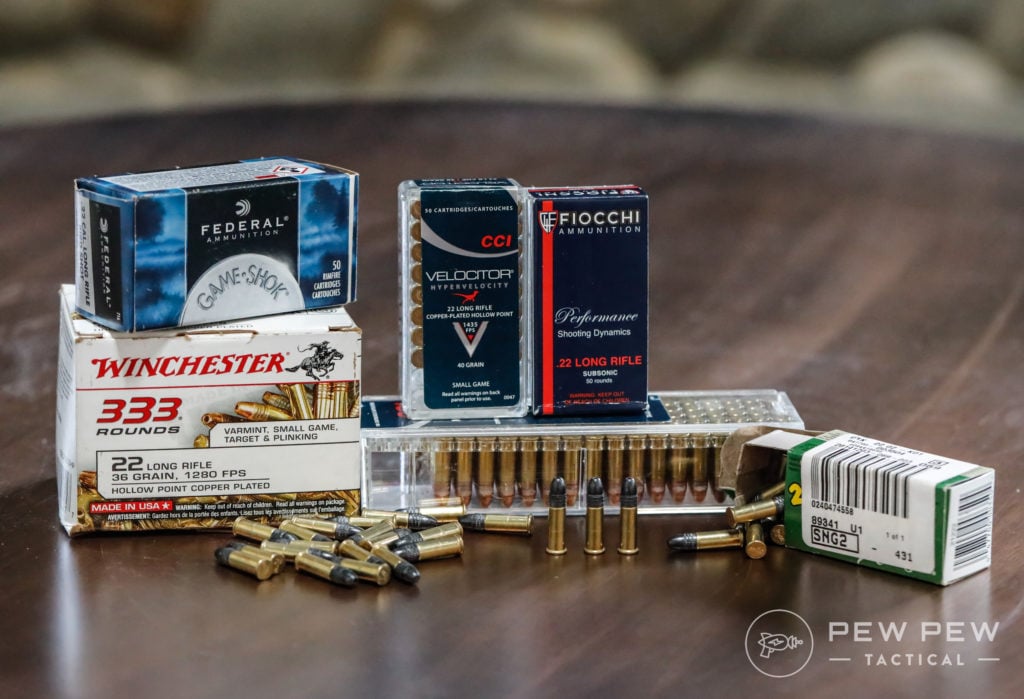 If you aren't training, competing, or doing any particular task, you are likely plinking. Plinking often gets lost in all the noise we make with training, competing, hunting, and the like.
However, let's take plinking back! Remember that shooting is fun and brings fun back into the equation. So, with that in mind, let's talk about some of our favorite guns and gear to take to the range and plink with.
Summary of Our Top Picks
Table of Contents
Loading…
Best Plinking Guns
Heritage Arms Rough Rider
Plinking doesn't need to be expensive, and the Heritage Rough Rider proves that with a simple gun at a low price point.
Heritage Arms Rough Rider revolvers are rimfire guns in .22 LR, but you can also use .22 Magnum cylinders. These guns are super cheap and tons of fun.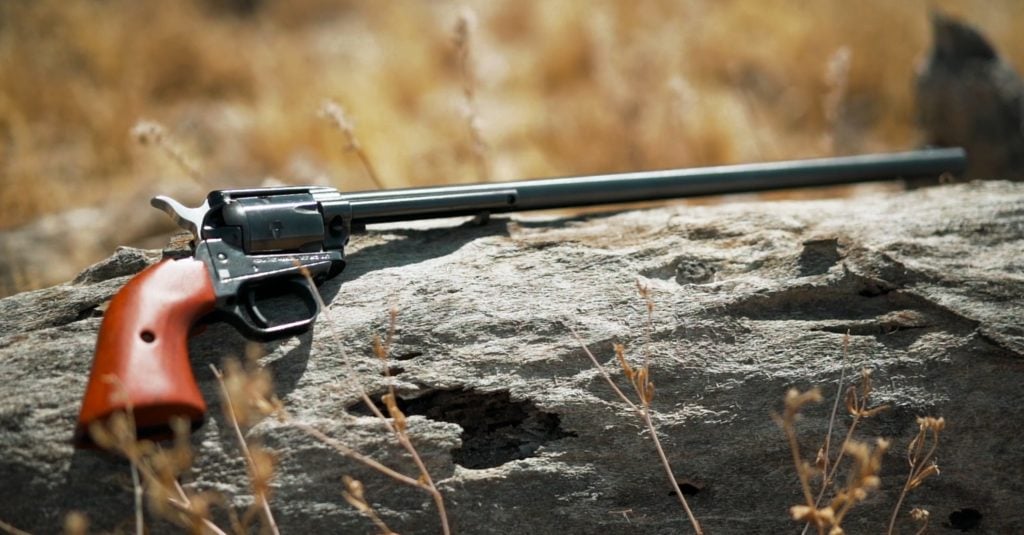 The Rough Rider series come in various barrel lengths from 4.5 to 6 inches and out to 16 inches.
Beyond that, they also offer the Barkeep variant with its super short barrel and the Rancher carbine, which extends the Rough Rider into a rifle.
Regardless of which model you choose, you can be confident that it will be fun to shoot, reliable, and cheap!
The basic models can be found for $150 a lot of the time, with some sales dipping beneath $100.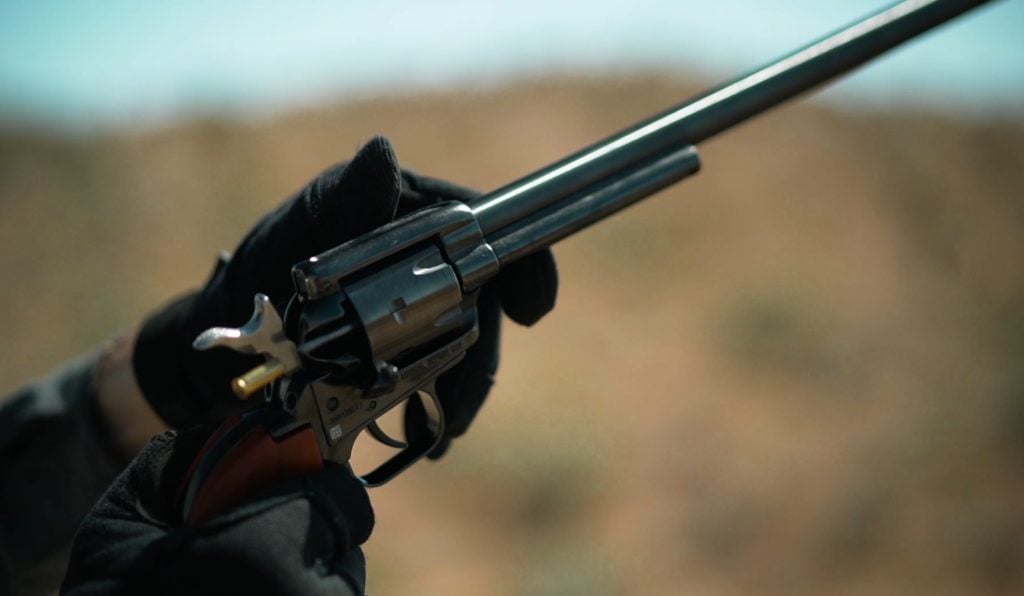 For more details on the Rough Rider, check out our review!
Ruger 10/22
The Ruger 10/22 has to be mentioned — the most successful .22 LR rifle ever made. I can't fathom how many shooters cut their teeth on the Ruger 10/22.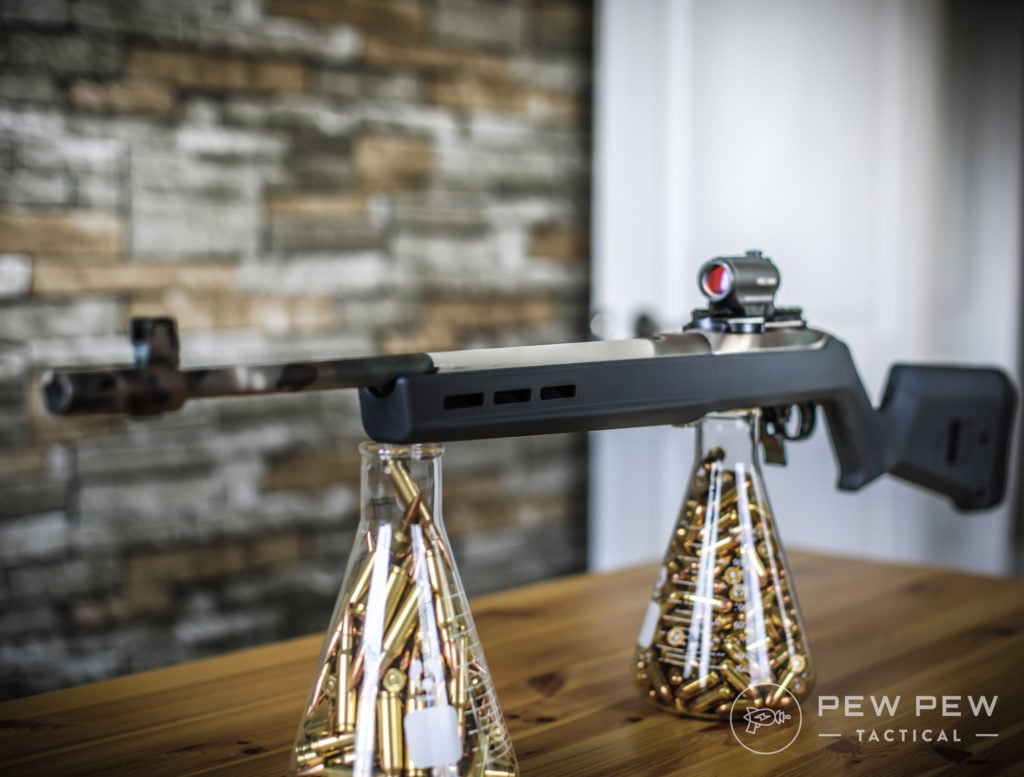 Even with all its popularity, the Ruger 10/22 remains affordable, easy to find, and, best of all, easy to accessorize.
You can turn it into a tactical beast, a super accurate marksman's rifle, or heck, dress it up as a P90, a G36, and more.
Best Rimfire
298
at Kygunco
Prices accurate at time of writing
Prices accurate at time of writing
Ruger's little shooter is a great plinking choice solely for its proven reliability, affordability, and ability to accessorize it.
What do you think of the 10/22? Rate it below!
Ruger PC Carbine
The easiest and most affordable option to plink with is a pistol-caliber carbine when we move to centerfire rifles.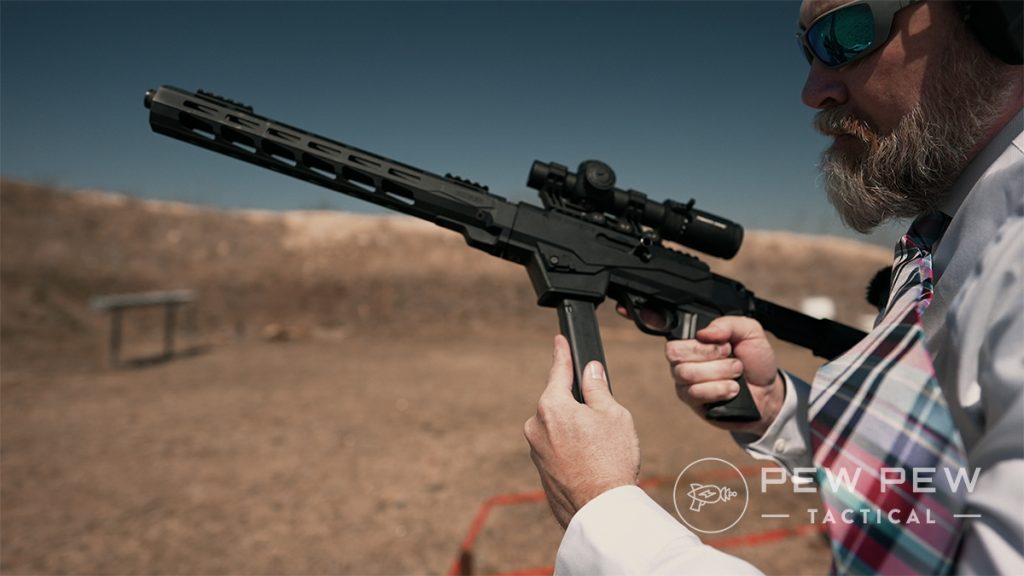 Ruger's PC Carbine essentially brings the 10/22 layout to a 9mm carbine. These carbines are super handy, reliable, fun to shoot, accurate, and affordable.
This 9mm blaster can utilize common Glock magazines that make it affordable and easy to wield. This lightweight little shooter uses a dead blow recoil system that helps take the sting out of a blowback gun.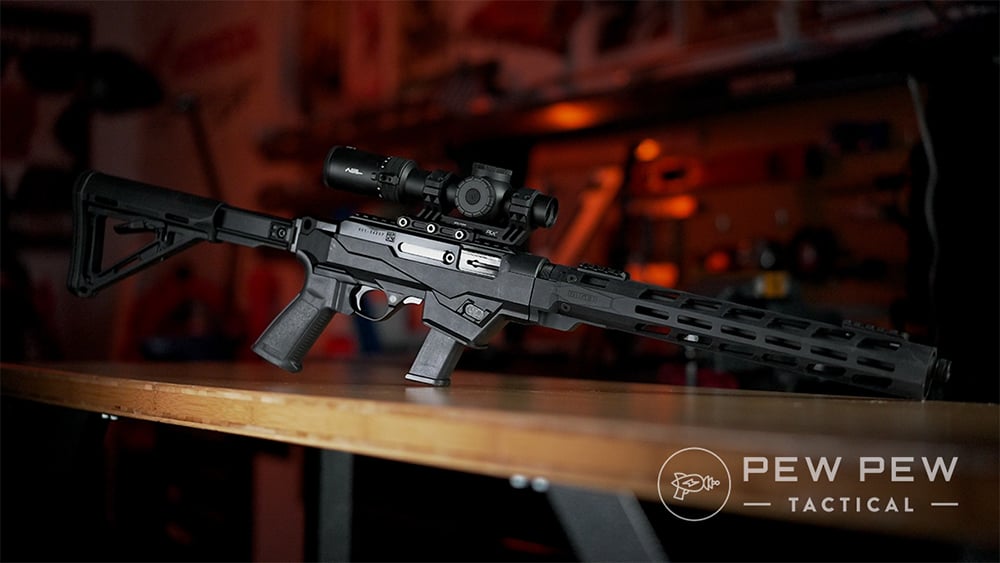 It's tough to pick just one PCC, but I think the affordability of the Ruger PC Carbine combined with the easy ergonomics, accuracy, and common magazine pattern takes the cake.
We reviewed the Ruger PC Carbine, so read the article or watch the full video review below.
Mossberg Shockwave
Yep, the Mossberg Shockwave makes the list. It's not a plinker for everyone, but for me, I love it.
The challenge of the gun's recoil and muzzle rise makes it fun. Slap on a Crimson Trace Laser Saddle, and you'll be having a blast before you know it.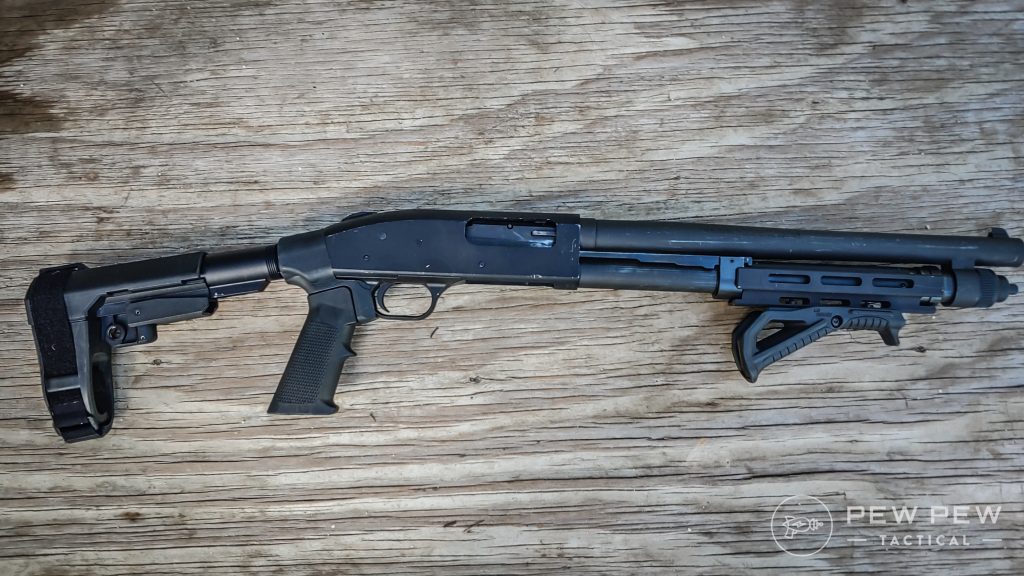 Every other gun on this list is perfect for kids and new shooters, but I'd suggest the Shockwave for more experienced adults. Maybe the .410 variant is kid-friendly, but still, leave these mostly to the adults.
Editor's Pick Not-A-Shotgun
The Raptor grip-equipped Shockwave can be a ton of fun when you start blasting away. It's exceptionally fun to put a load of buckshot or birdshot into a target and deal with the bucking bronco that is the Mossberg Shockwave.
There are also plenty of ways to upgrade it. (You can read about it here.)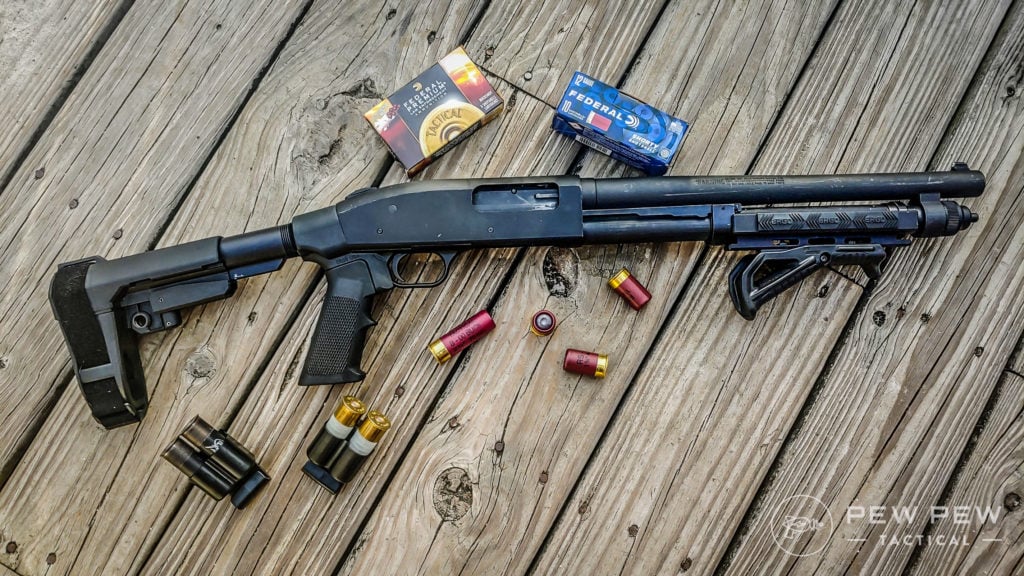 We have a few articles on the Shockwave if you want to dive deeper. Head over to Mossberg Shockwave: How Is It Legal or Mossberg 590M Shockwave: Magazine-Fed Freedom.
Aero Precision M16A4 Clone
Remember, these are the rifles I have the most fun with, so when it comes to ARs, I find myself choosing the Aero M16A4 clone the most.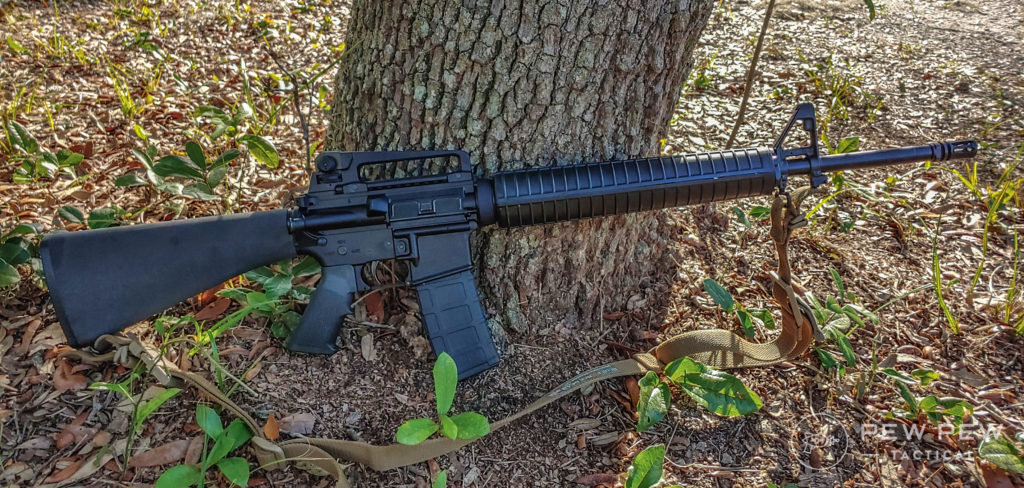 If you've never fired an AR with a 20-inch barrel, then you don't know what you're missing out on. The .223 Remington is made for a 20-inch barrel and performs best out of that length.
Best AR
450
at Aero Precision
Prices accurate at time of writing
Prices accurate at time of writing
For the shooter, it's the smoothest cycling, most recoil, and muzzle rise-free experience you can get from a bare-bones AR-15.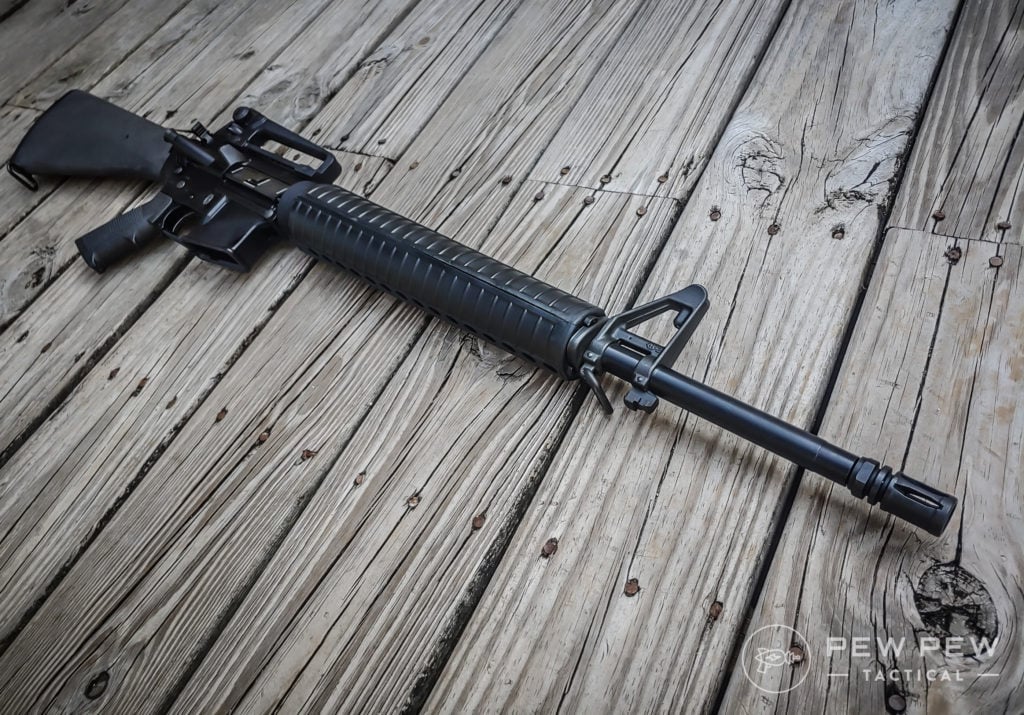 The Aero Precision M16A4 brings affordability and reliability to the platform. You get a very well-made and useful AR platform that maximizes 5.56 potential while increasing comfort.
Plus, if you really want to, you can drop a CMMG conversion kit in and call it a day.
Best Plinking Targets
Having guns is one part of the equation, but having something to shoot them with is the other.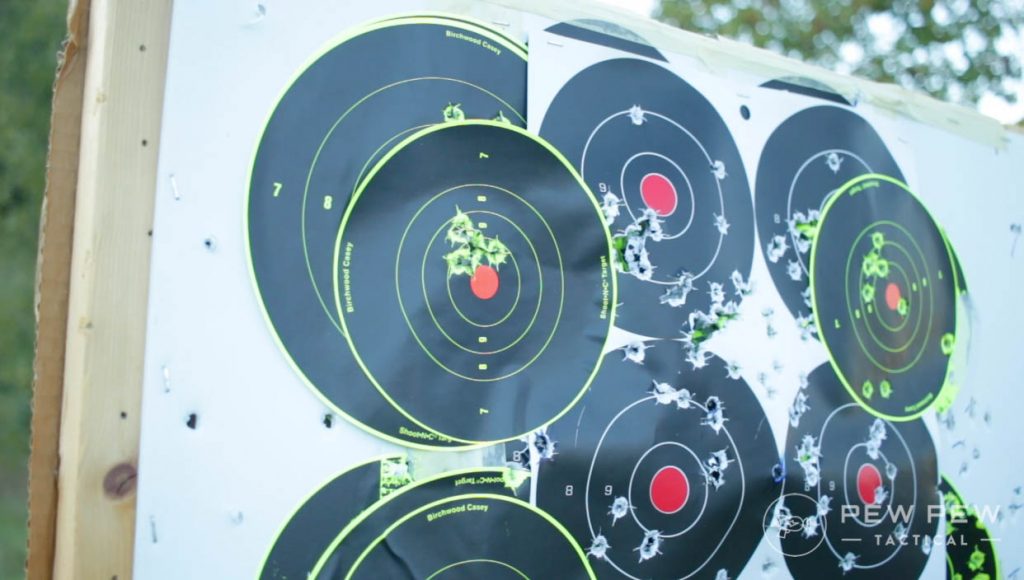 I've gathered a few of my favorite targets that exemplify fun and affordability.
Any target can be used for plinking, and I mean anything, from soda cans to steel torsos; however, these targets are designed to be fun more than anything else.
Birchwood Casey Battle Target (Battleship)
These little paper targets lay out a variety of ships with red and green dots decorating the ships.
I'm sure Hasbro, or whoever owns the Battleship name and Birchwood can't say it's Battleship, but it's Battleship.
Most Fun Target
12
at Amazon
Prices accurate at time of writing
Prices accurate at time of writing
However, instead of putting little plastic pegs into your battleships, you're dropping lead into them!
It's not about guesswork but more about accuracy. Each target has two sides, and it becomes a fun and quick competition.
Do-All Outdoors Bullet Pong Target
Steel reactive targets are fun, but there can be safety concerns, and when dealing with kids, let's make it as safe as possible.
The Bullet Pong target provides shooters a polymer spinning target that spins when shot.
Best Reactive Target
17
at Amazon
Prices accurate at time of writing
Prices accurate at time of writing
It's simple, super cheap, and a ton of fun. You can shoot it with anything from a .22 to a .50 cal. This target is self-healing and will absorb tons of rounds. Shooters will quickly get their money's worth.
I love using these to teach new shooters. Instead of focusing on hitting the bull's eye and getting disappointed when they don't, all shooters need is to hit a target the size of a ping pong paddle.
Plus, it spins after every shot.
Caldwell Duramax 5-inch ball
Another fun reactive target comes from Caldwell and is the Duramax Self-Healing Ball. It can take many hits, and with every hit, it moves, jumps, and rolls.
This thing can take hits from any caliber, up to .50 cal.
17
at Amazon
Prices accurate at time of writing
Prices accurate at time of writing
I used it mostly with my Shockwave, and I always got a thrill by rocking the Duramax ball all around the range with some birdshot. The design is rugged, made for the outdoors, and can be tied up.
All in all, it's simple and fun, and that's the best part of plinking.
Shooting Targets7 Know Your Limits .22LR
The only steel target I have on this list comes from Shooting Targets7.
The Know Your Limits .22 LR steel target is perfect for plinking. It's a series of eight ¼-inch thick AR500 steel gongs that swing.
Best Steel Targets
149
at Amazon
Prices accurate at time of writing
Prices accurate at time of writing
These things are ultra-small — the largest is 2 inches wide, and they get down to .25 inches.
Targets like this are used at the NRL22 matches due to the challenge they create. They are also super reactive and swing rapidly when hit.
I love this setup and use it all the time.
Calwell Target Turner
Last but not least, the Caldwell Target Turner can really spice things up.
This isn't a target but a simple device planted into the ground. Nope, it spins the target towards you. The Target Turner is reactive, fun, and moves a target 90 degrees at a time.
94
at Amazon
Prices accurate at time of writing
Prices accurate at time of writing
You can adjust the speed and utilize various cardboard and paper targets. It won't spin steel or anything crazy.
Keep it light, and it'll spin and bring an entirely new challenge to the world of plinking.
The Caldwell Target Turner isn't super cheap, but in my opinion, it's fairly priced for its features and design.
Plinking Games & Fun
Battleship
Duh, you got the target. Now you have to shoot it and compete.
It's fun playing the game, but it can be a bit more intense if you mix the Caldwell Target Turner with the Battle Target. Set the timer for something slow, and you can only have that much time to take your shot.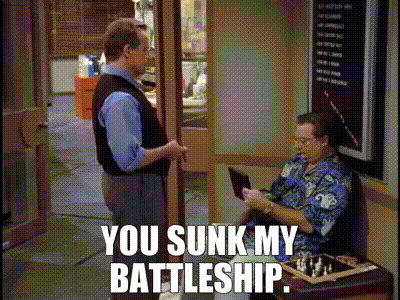 It makes misses occur more often and ratchets up the intensity and, therefore, the fun.
Shotgun Soccer/Shotgun Golf
Get a Shockwave (or any shotgun) and the Caldwell Duramax ball, and start what I call shotgun soccer.
Now, this is a one-at-a-time game and might be better-called shotgun golf. The object of the game is simply to get the ball to the goal in as few shots as possible.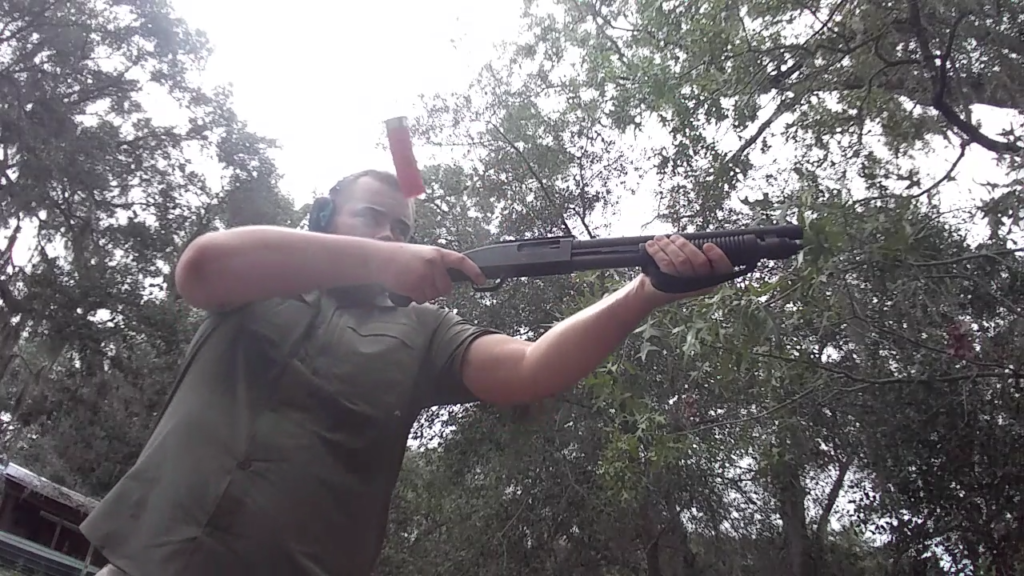 You start a certain range from the berm and set up a designated goal. I use two basic fence poles. Land the ball between the pole and yell GOAL!
The game is played in rounds and is best done with friends. It will likely require a private range, but if you can play, it's a ton of fun.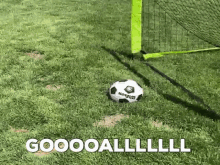 It's also funny how unpredictable the ball is and how quickly you learn that a real hole-in-one is rare.
Horse (With Guns)
Horse, the classic basketball-based game that challenges you to make shots and mimic other players, can be done with guns.
For plinking purposes, the Know Your Limits .22 LR targets work perfectly. Shooters match each other's shots.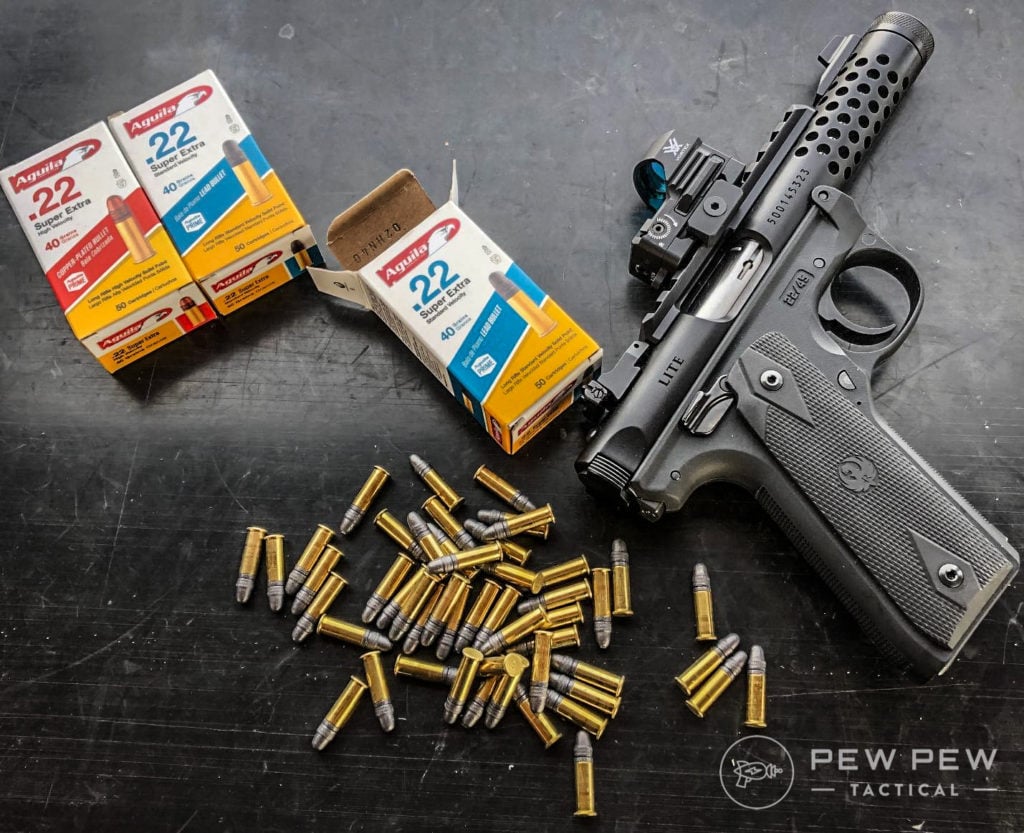 In this variant of Horse, players will be tasked with hitting small targets and mimicking the position and style of the first shooter.
Nothing crazy, but if they hit the .75-inch target in the standing, you must do the same. If they shoot with their offhand or a single hand, you got to mimic that style to avoid a letter.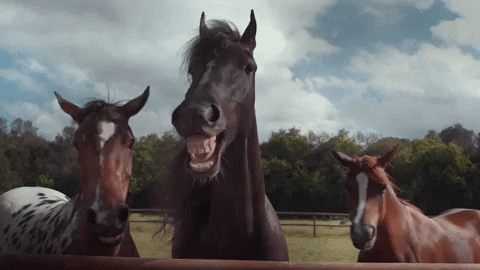 You can also use any series of targets for this game, including playing cards, soda cans, or whatever. The more varied the targets are in size and shape, the better, and that's why I like the KYL targets for this game.
Final Thoughts
I rely on a few things to relieve stress in my life…plinking is one of those things. Tuning out and having fun with guns is a great way to have fun, rest, and recharge.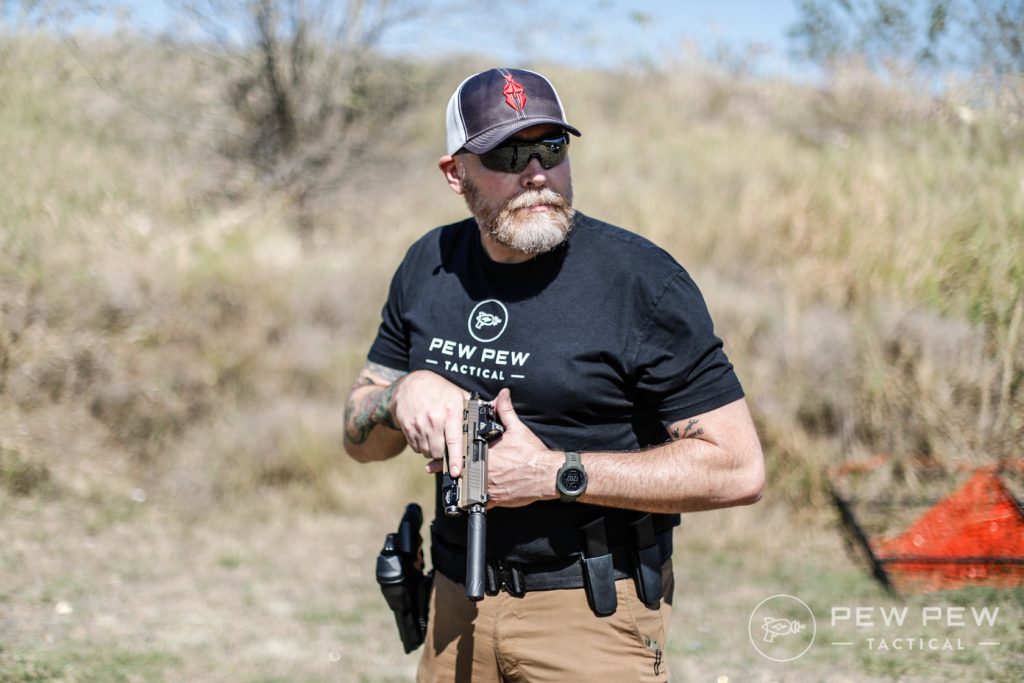 The above is how I plink, but what about you? Let me know your favorite plinking guns and ammo in the comments below. Need more targets? We got you. Check out our round-up of the Best Targets & Stands.
Read the full article here