Tactical
Shadow Systems Foundation Review: Best Budget Glock Clone?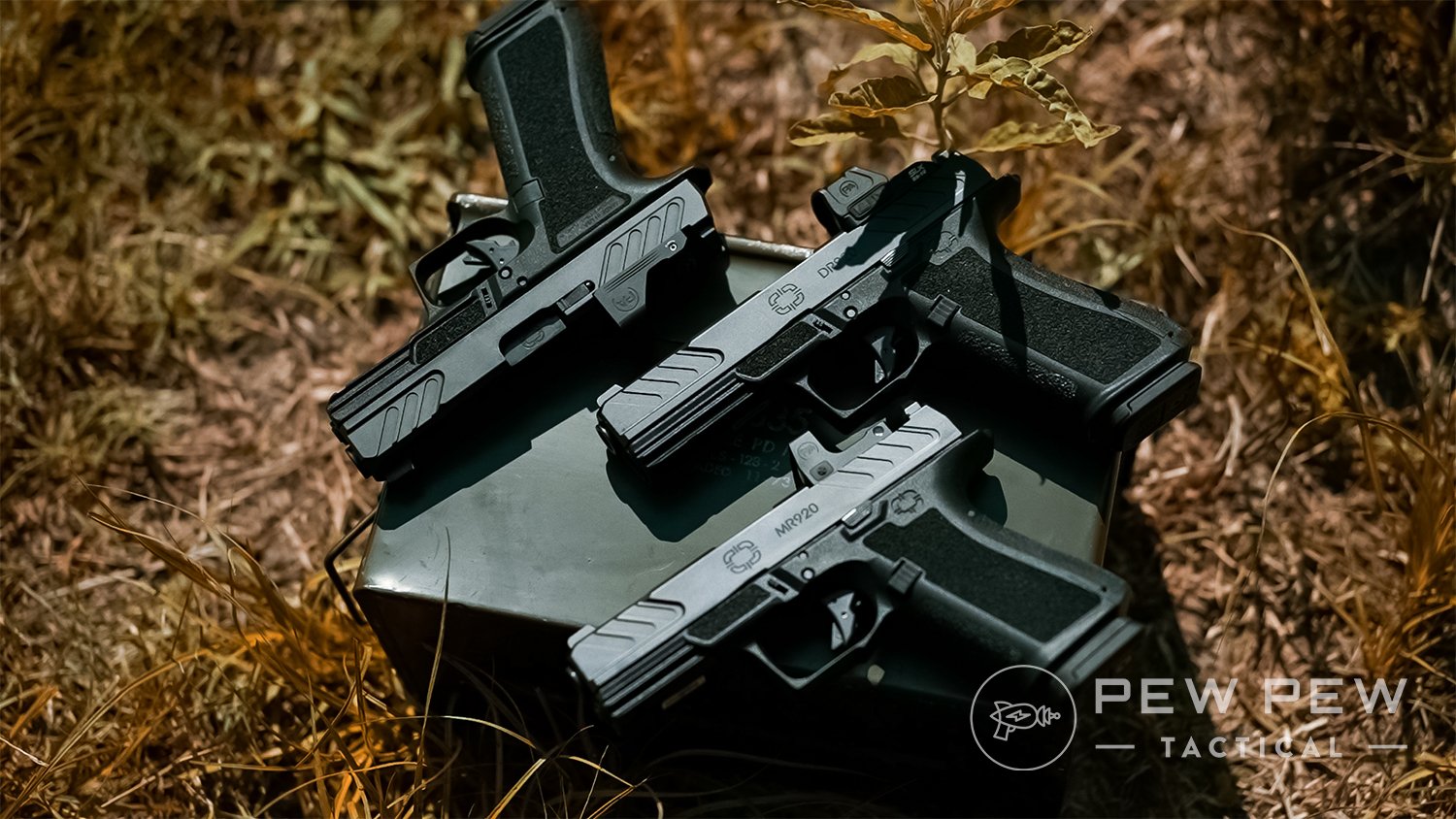 ---
Over the years, there have been a few companies that have come out with their own version of the Glock.
Shadow Systems has made a name for itself in this market with its reimagined and heavily upgraded Combat and Elite series.
While these versions took the platform to its highest heights, the accompanying price tag may have left a few shoppers breathless.
Recently, Shadow Systems released the Foundation Series to give thrifty shooters some options.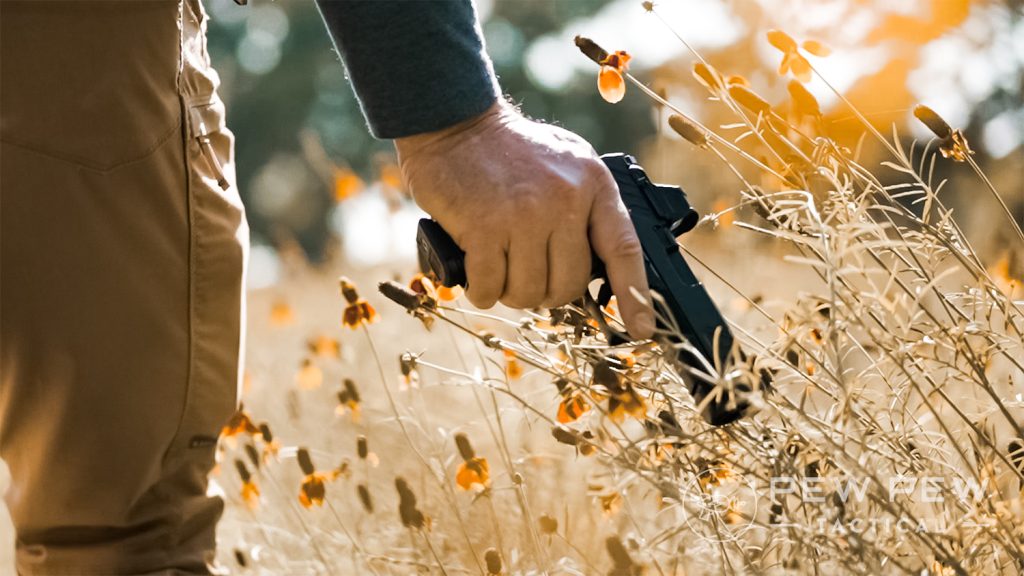 We can agree a more reasonable price point makes a product more attractive, but do we also have to sacrifice features to achieve this lofty goal? With a whole set of Foundation Series Pistols, we headed out to the range.
So follow along as we talk about the features, specs, pros, and cons of the new Foundation Series.
Table of Contents
Loading…
Foundation Series Pros & Cons
Pros



Upgraded Features




Lower price




Good performance
The Bottom Line
The Foundation Series from Shadow Systems cuts back some of the more premium features of their other offerings and makes them more affordable without sacrificing performance.
662
at GrabAGun
Prices accurate at time of writing
Prices accurate at time of writing
Foundation Series Specs & Features
Features
Slide serrations
Metal sights
Optics capable
Specs
| | | | |
| --- | --- | --- | --- |
| | DR920 | MR920 | XR920 |
| Caliber | 9mm | 9mm | 9mm |
| Action | Semi-auto striker fired | Semi-auto striker fired | Semi-auto striker fired |
| Width | 1″ | 1″ | 1″ |
| Length | 7 3/4″ | 7 1/8″ | 7 3/8″ |
| Barrel Length | 4.5″ | 4″ | 4″ |
| Height | 5 1/4″ | 4 3/4″ | 5 1/4″ |
| Weight | 22.4 oz. | 22.04 oz. | 22.4 oz. |
| Capacity | 17+1 | 15+1 | 17+1 |
| Comes with | Cardboard box, manual, optics hardware | Cardboard box, manual, optics hardware | Cardboard box, manual, optics hardware |
Source: Shadow Systems
Foundation Series Background
The Foundation Series is new, so there aren't previous versions to compare it with.
That said, Shadow Systems sells the Combat and Elite series, each with more features and a higher price point respectively.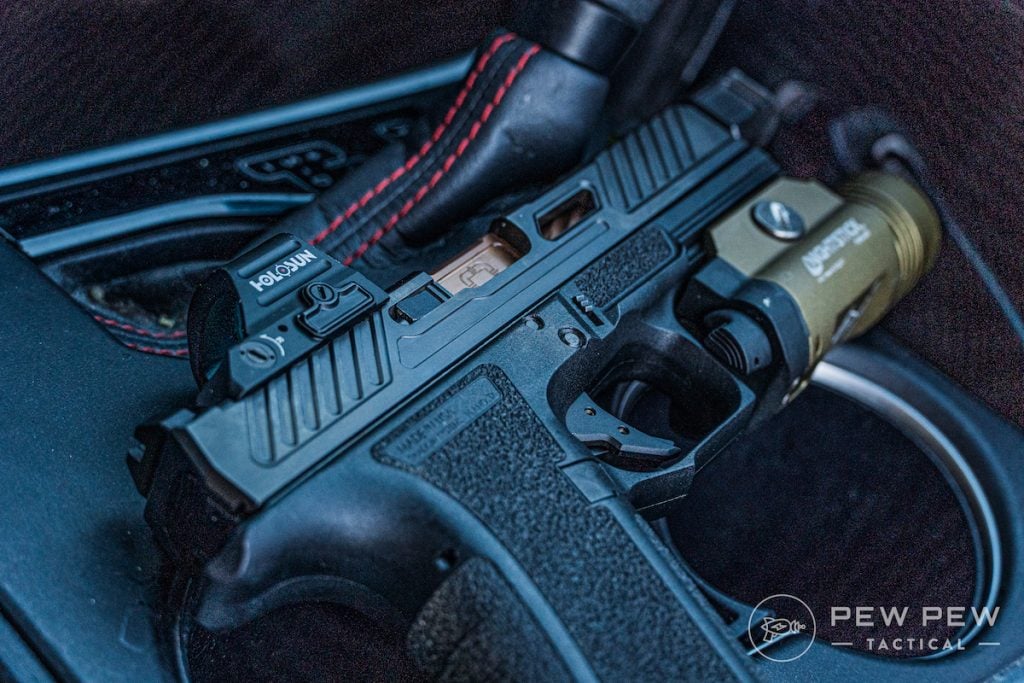 With the Elite Series ranging around $1,000 and the Combat Series coming in at around $800, it makes sense for Shadow Systems to create something for folks who can't wrap their head around paying that much for a Glock clone.
This was the reason the Foundation Series was created…
Who Is It For?
As noted above, the Foundation Series is for people who want to enjoy an improved Glock-style pistol without spending close to a grand to do it.
Shadow Systems accomplished this by leaving out a few things that weren't crucial to overall performance.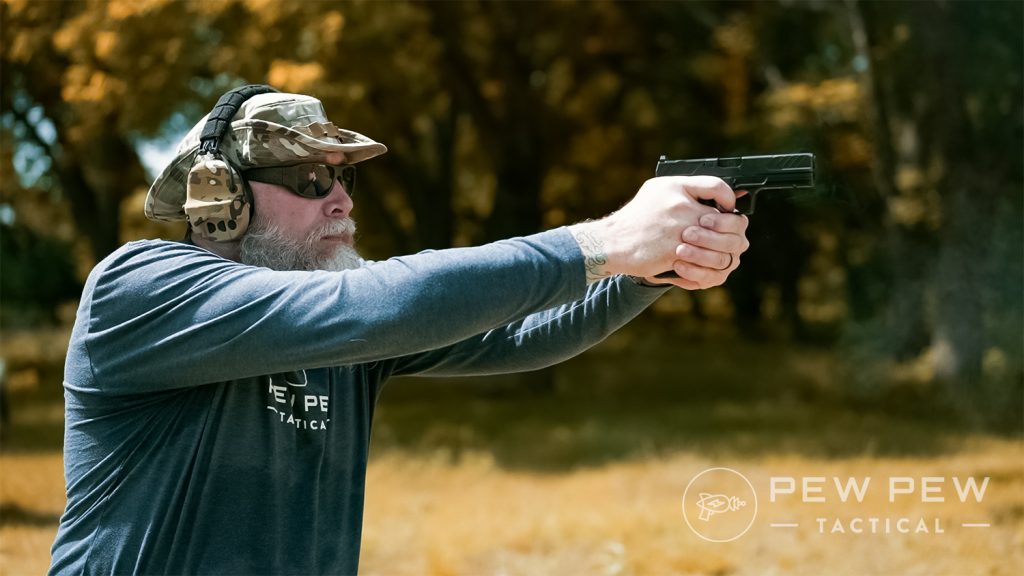 Anyone in the market for a good pistol would appreciate the Foundation Series.
Whether they are employed for home defense or concealed carry, these pistols are reliable (with one noted exception), accurate, and run really well.
Fit & Feel
While the Foundation Series is still essentially upgraded Glocks, they feel a little different in the hand. We tested all three models: the DR920 (similar to a G17), MR920 (similar to a G19), and XR920 (similar to a G19X).
The grip texture is more aggressive, with a solid medium grit. The general shape and angle are very similar to a standard Glock.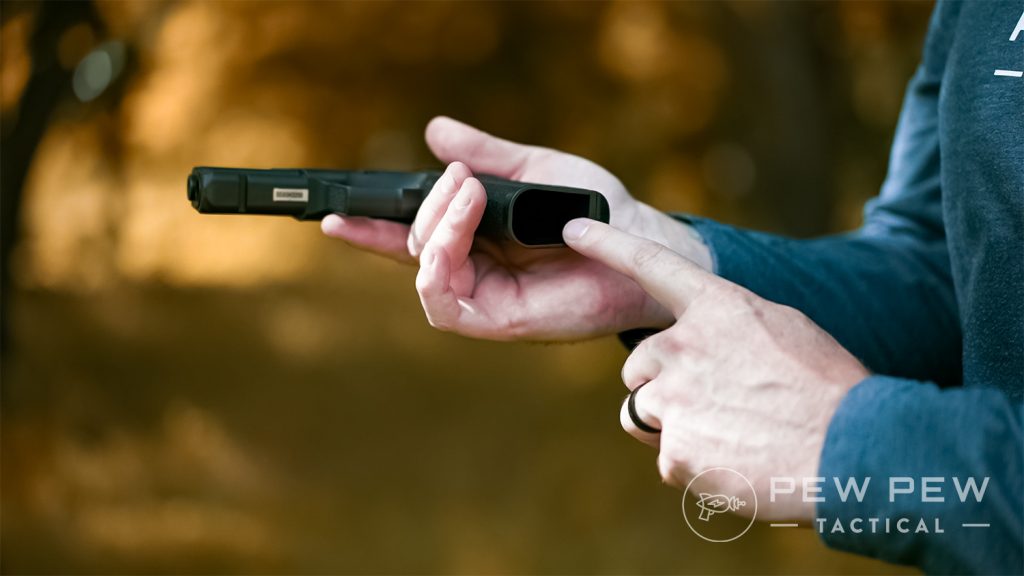 There is no extra magwell at the bottom of the grip, though there are nicely cut angles on the interior that aid with guiding magazines home.
Each gun came with two Magpul Glock magazines.
In addition, the undercut near the trigger guard allows a slightly higher grip, and I didn't have the exposed feeling the web of my hand gets with a stock Glock. The generous beavertail covers this exceedingly well.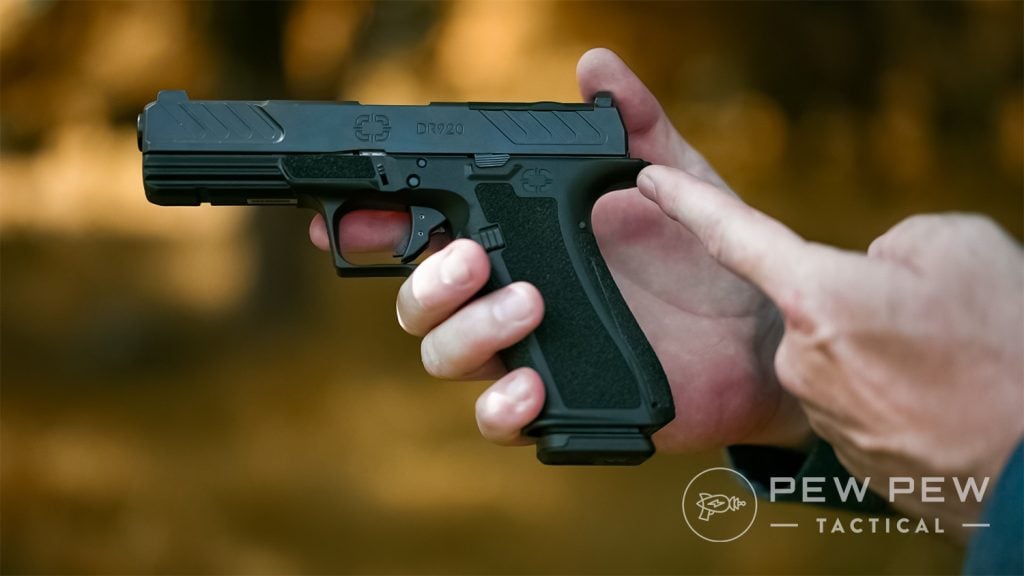 Another upgrade I really appreciated was found forward of the takedown pins on the frame.
On both sides, Shadow Systems installed a textured portion for indexing your trigger finger or providing a little extra support for your thumb.
Closing out the frame, there is even a textured portion on the front of the trigger guard that might assist with braced shooting. Finally, there is also an accessory rail on the front.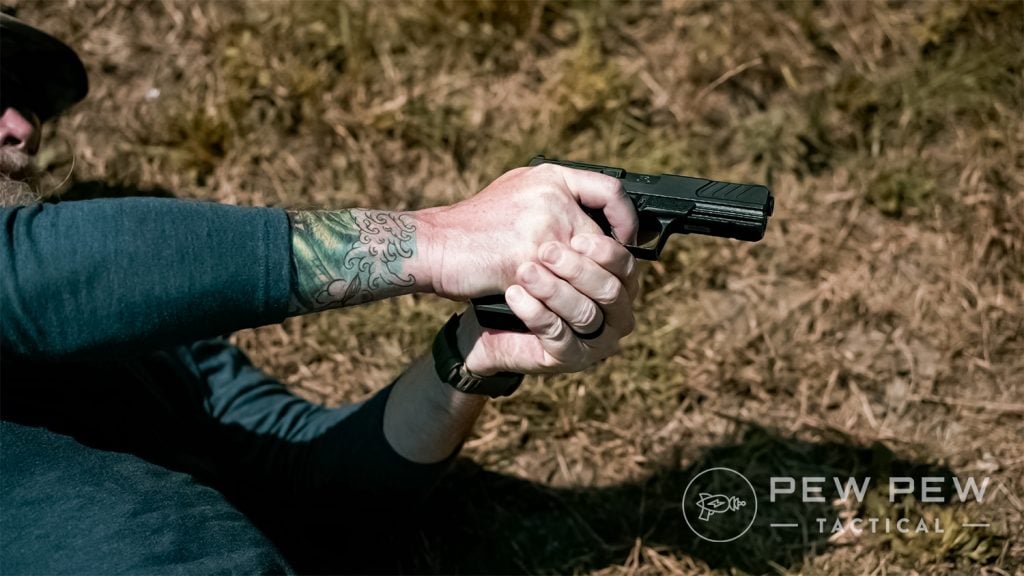 The slide features angled serrations — front and rear — that assist greatly with racking or simple press-checking.
In addition, metal sights are mounted, with a serrated black in the rear and a single, white-dot front post on the muzzle.
The trigger is much improved over the standard Glock, in my opinion. First, the shoe is wider and has a gentle curve that borders on flat.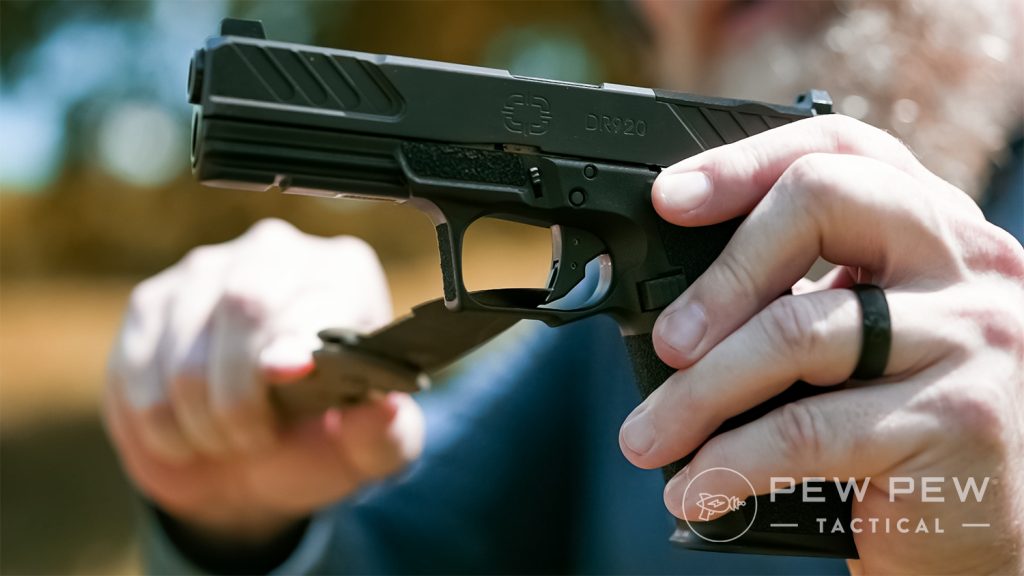 Even the trigger safety is improved because it sits flush with the shoe face when depressed. Pulling back, the trigger reaches a defined wall, then travels a slight bit further before a fairly crisp breaking.
On the Lyman Digital Gauge, the trigger averaged 4 pounds and 10 ounces.
Reset was audible and tactile. The trigger is a good example of what can be accomplished with a striker-fired pistol.
How Does It Shoot?
The combination of the nicely done metal sights and excellent trigger makes these guns accurate.
Although I mounted two Classic Series red dots from Primary Arms, I kept the DR920 stock and focused on the irons.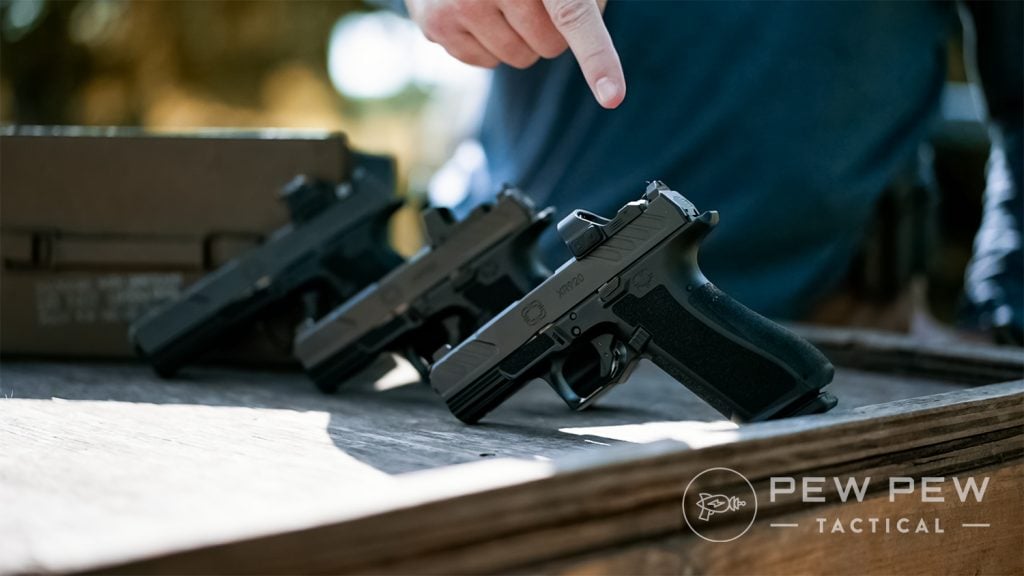 Shooting five shots with each gun from seven yards, I was able to achieve a 1.24-inch group with the DR920, a 1.19-inch group with the MR920, and a 1.48-inch group with the XR920.
The trigger is easy to learn and provides predictable performance you can repeat.
Improved ergonomics and increased grip texture allowed me to speed up shots because I was able to establish sight picture a bit more quickly. With the two guns using red dots, I could ride the dot through recoil.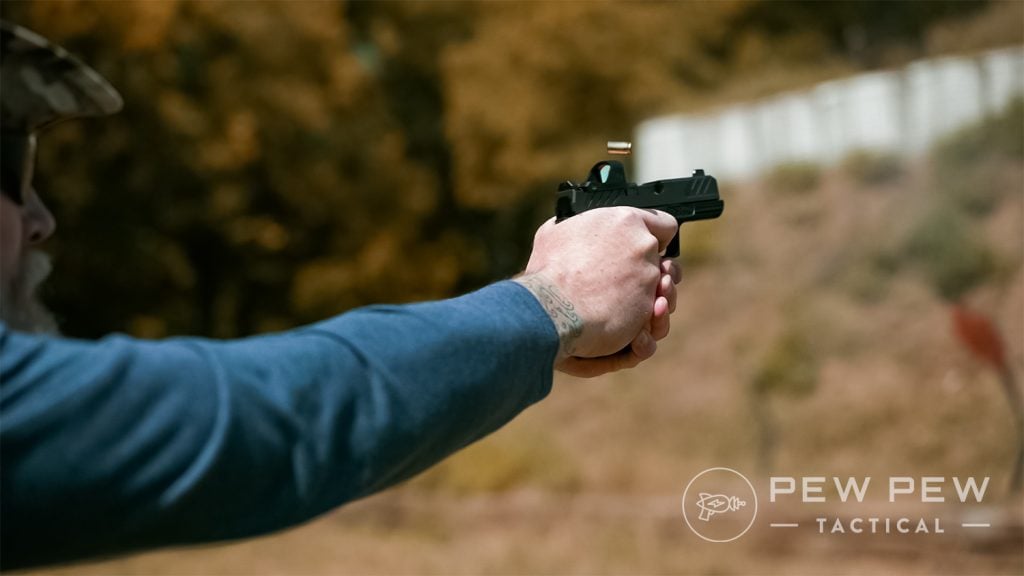 The Magpul magazines fed nicely, and both inserted and dropped easily when called upon to do so. Malfunctions are something I watch keenly for and try to diagnose whenever we're testing firearms.
When we first went to the range with all three guns, the DR920 and MR920 ran like champs.
However, the XR920 would not feed. I tried multiple magazines, even varied ammunition, and I could not get a round to seat in the chamber.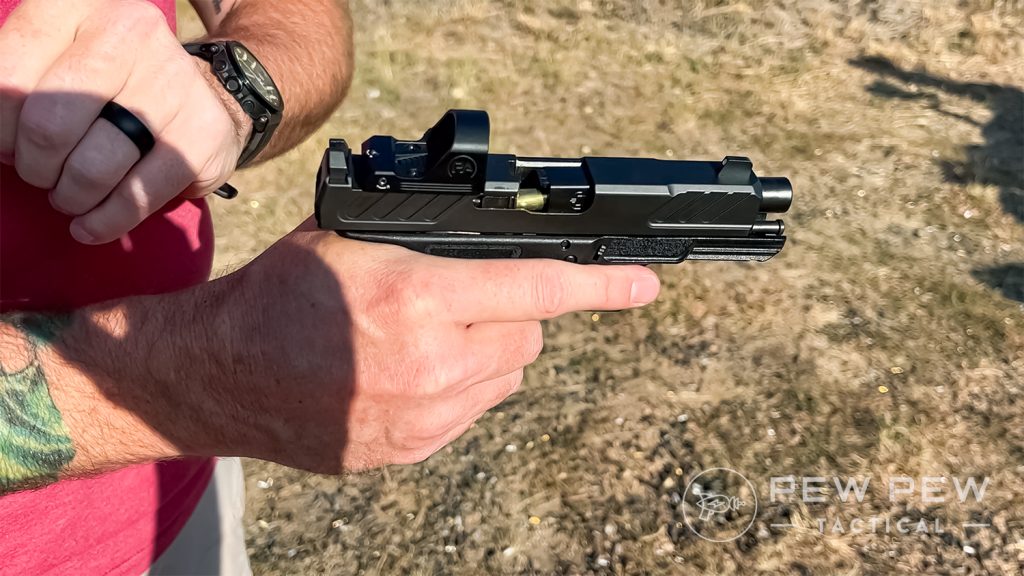 In my mind, the slide was somehow out of spec, possibly the feed ramp, but I couldn't be certain. I contacted Shadow Systems, and they sent me a replacement slide for the XR920.
After we mounted the new slide, there were zero malfunctions with the XR. Over the course of a couple of outings and several hundred rounds through all three guns, there were zero malfunctions.
9mm Ammo in Stock
115gr
$0.28
Free shipping
What Sets it Apart?
There are a number of Glock clones out there, but Shadow Systems has done a great job of improving on the original by improving a number of key interfaces. First, the ergonomics are improved.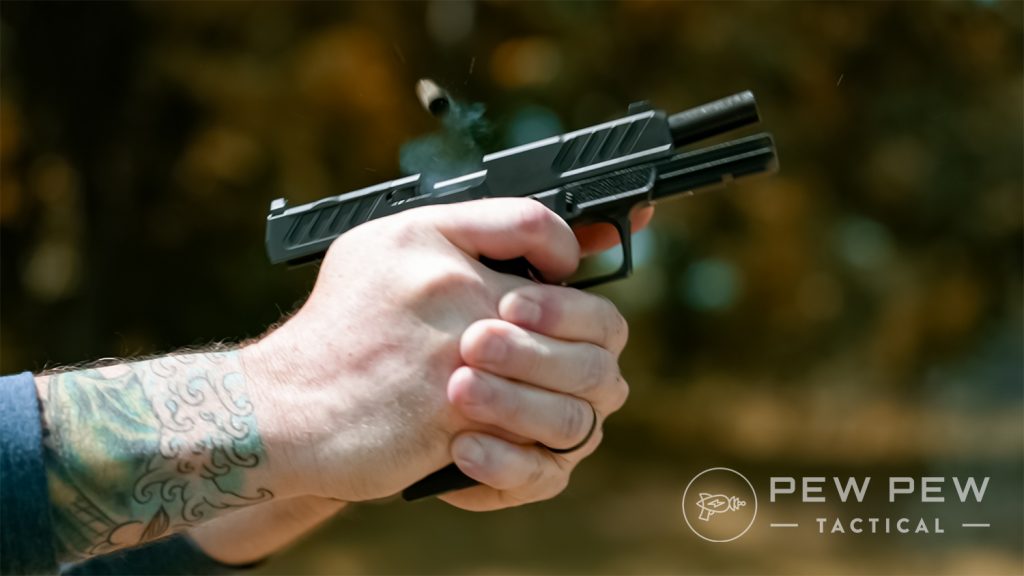 There are many improvements on the frame in general that fall under this category, but the slide serrations also help with manipulations too.
Finally, the trigger is much improved and a welcome addition to the Foundation Series.
By The Numbers
The trigger and ergonomics come together nicely allowing shooters to make accurate shots.
This score simply reflects the first version of the XR we received. Once we replaced the slide there were zero malfunctions and notably, the DR and MR never had any malfunctions over the course of a few hundred rounds each.
Being at its base a Glock, the whole aftermarket world is open to the Foundation Series.
Given the base design is still largely Glock, the ergonomics are much improved on the Foundation Series.
The price for these seems to be locked in a $679 over a few online retailers I reviewed.
Upgrades for Foundation Series
Final Verdict
I had never tried any Shadow Systems guns before this review and, frankly, haven't spent a lot of time with Glock clones. I totally see the appeal now.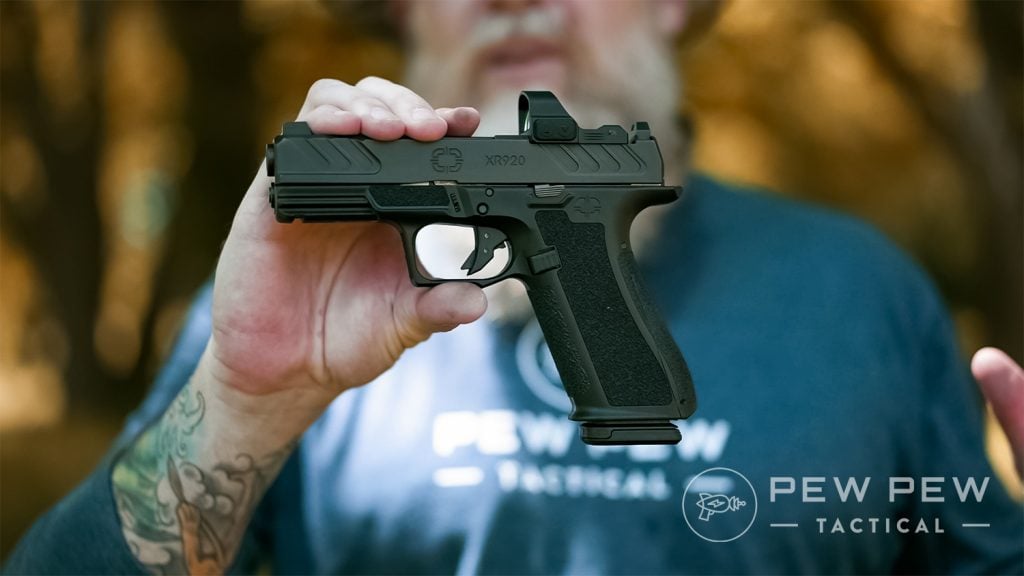 If you imagine what Glock has accomplished and don't get hung up on stopping at "perfection," you enable yourself to seek out and implement improvements.
Shadow Systems has done that without sacrificing key features that affect performance.
662
at GrabAGun
Prices accurate at time of writing
Prices accurate at time of writing
To my way of thinking, these firearms outperform Glocks in many ways. The only comparison left in my mind is long-time durability, and that is going to take some time to test!
Are you considering the Foundation Series? Let us know in the comments below! Need more clones? Head to the 8 Best Custom Glock Clones for more recommendations.
Read the full article here