Tactical
Sig Sauer MCX Spear Review: Best New Battle Rifle?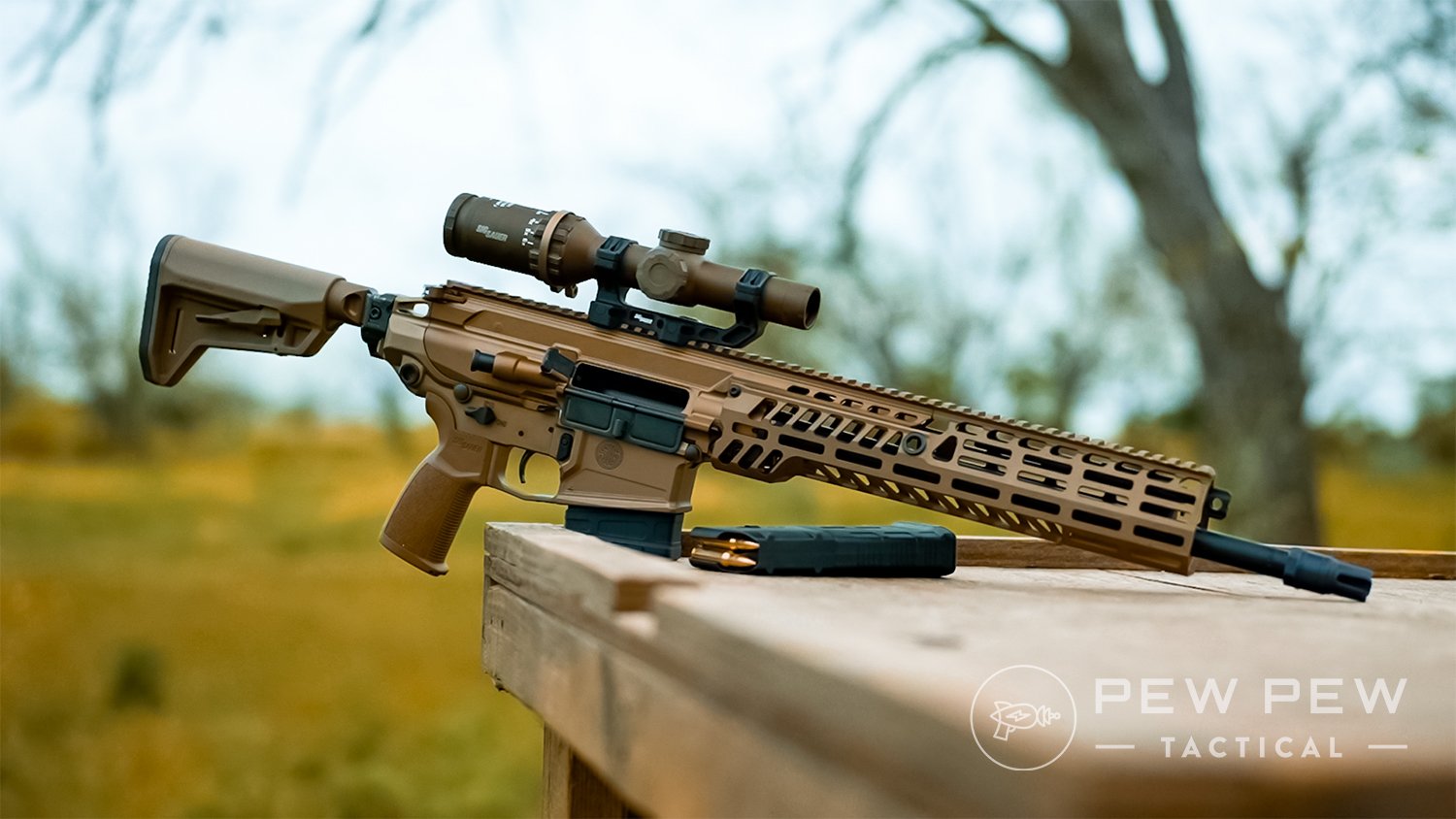 ---
Sig Sauer recently released a new battle rifle from their MCX lineup that has just signed up for service with the U.S. Army under the designation XM7.
Set to replace the M4 carbine, the rifle has some big shoes to fill.
Thankfully, Sig created a civilian version of this new hotness and named it the MCX Spear. We got our hands on one and took it out to the range to test it out.
While our trials were nowhere near as exhaustive as the military's, we got a good idea of how this new rifle will perform for our soldiers.
So keep reading as we walk through the specs, features, pros and cons, as well as how it did on the range.
Table of Contents
Loading…
Sig MCX Spear Review at a Glance
Pros
Fully ambidextrous
Large caliber
Familiar controls
Cons
The Bottom Line
Although the cost of admission is fairly steep by comparison, there really aren't many rifles like the MCX Spear. This feature-rich rifle is accurate, reliable, and packs a punch.
4399
at GrabAGun
Prices accurate at time of writing
Prices accurate at time of writing
MCX Spear Specs & Features
Specs
Caliber: 7.62×51
Action: Semi-automatic
Width: 2.5"
Length: 38.3"
Barrel Length: 16"
Height: 8"
Weight: 9.2 lbs.
Capacity: 20+1
Comes with: Cardboard box, 20-round magazine
Features
Adjustable gas system
Non-reciprocating side charging handle
Caliber convertible
Source: Sig Sauer MCX Spear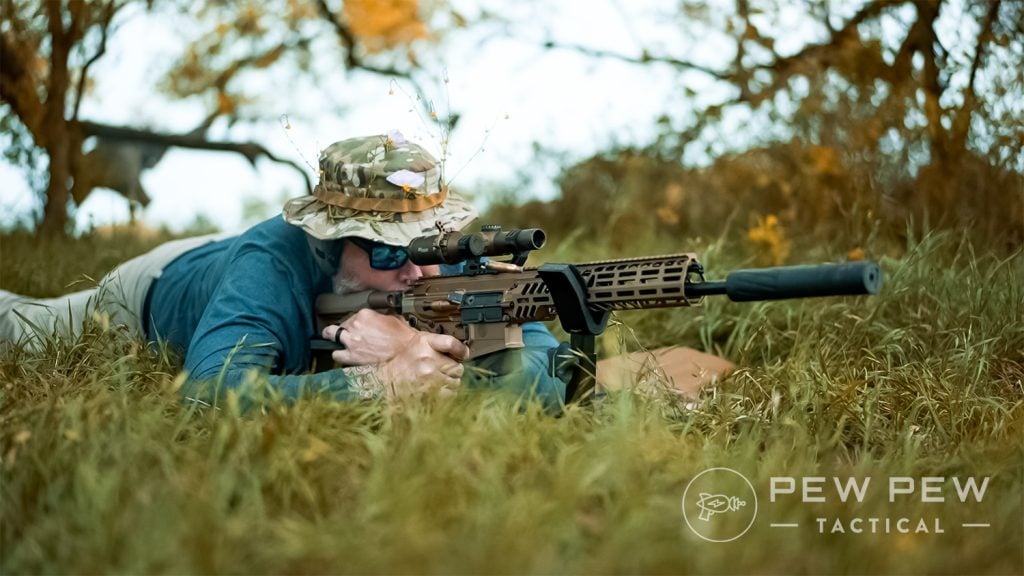 MCX Spear Background
In an effort to replace the M4 carbine, the U.S. Army launched its Next Generation Squad Weapon Program in 2019.
Sig Sauer threw their hat in the ring with the XM5.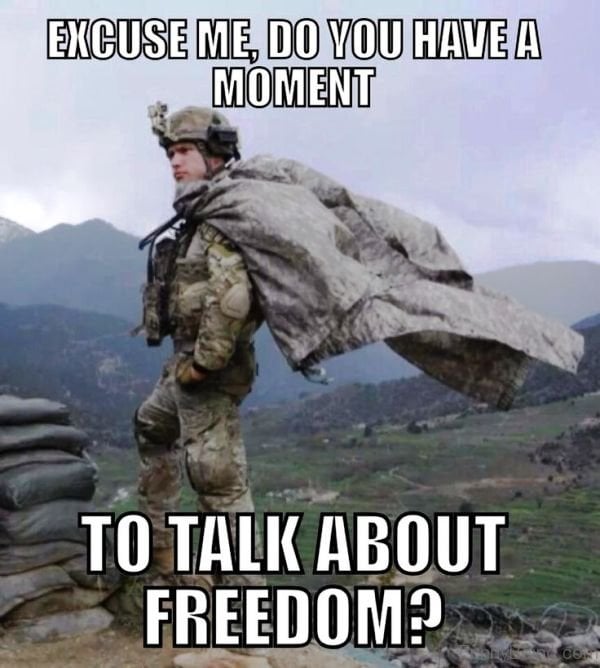 This moniker was later dropped in favor of the XM7 since Colt had already claimed the M5 as the improved version of the M4.
The U.S. Army awarded a 10-year contract to Sig in 2022.
One of the key features the Army was looking for was the ability to defeat body armor, and the XM7, chambered in larger calibers, can do just that. The MCX Spear we tested is the civilian version of the XM7.
Who Is the MCX Spear For?
The XM7 will only be available to those willing to sign up with Uncle Sam but the MCX Spear is within reach to anyone willing to drop the coin.
Currently available in 7.62x51mm with 6.5 Creedmoor and .277 Fury soon being available, the Spear is a true battle rifle.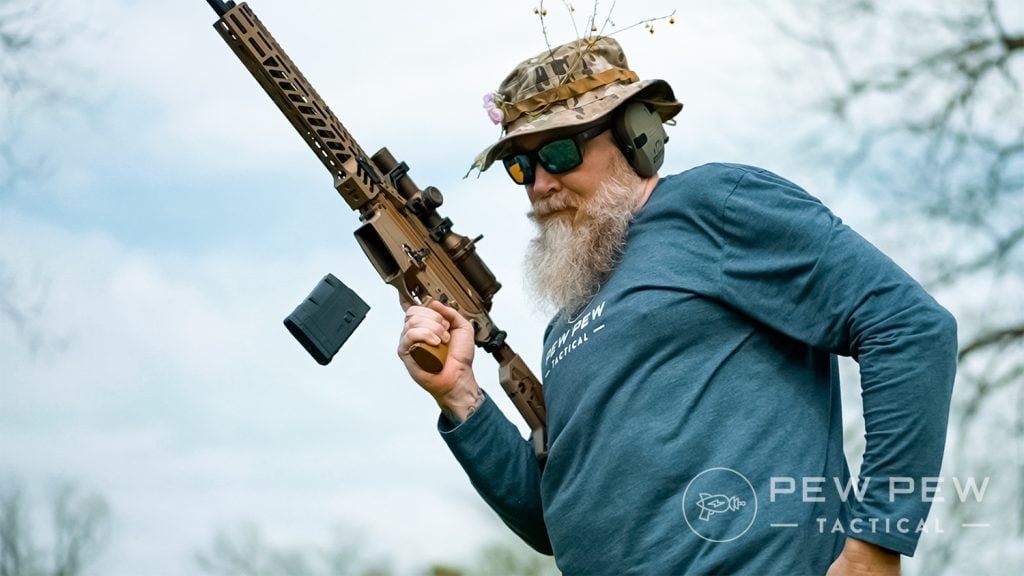 This rifle is a bit much for home defense unless you live in a wooded area or in rural environments with a lot of offset from neighbors.
Anyone wanting a feature-packed battle rifle, or desiring something very similar to what is issued to U.S. soldiers, will appreciate the Spear.
Fit & Feel
Visually, the Spear has much in common with an M4 though it is beefier. With the Tango6T mounted, this rifle tips the scales around 11 pounds.
1339
at OpticsPlanet
Prices accurate at time of writing
Prices accurate at time of writing
From stem to stern, the rifle is various shades of tan, FDE, or bronze, but the finish seems durable. The overall aesthetic is sturdy and utilitarian.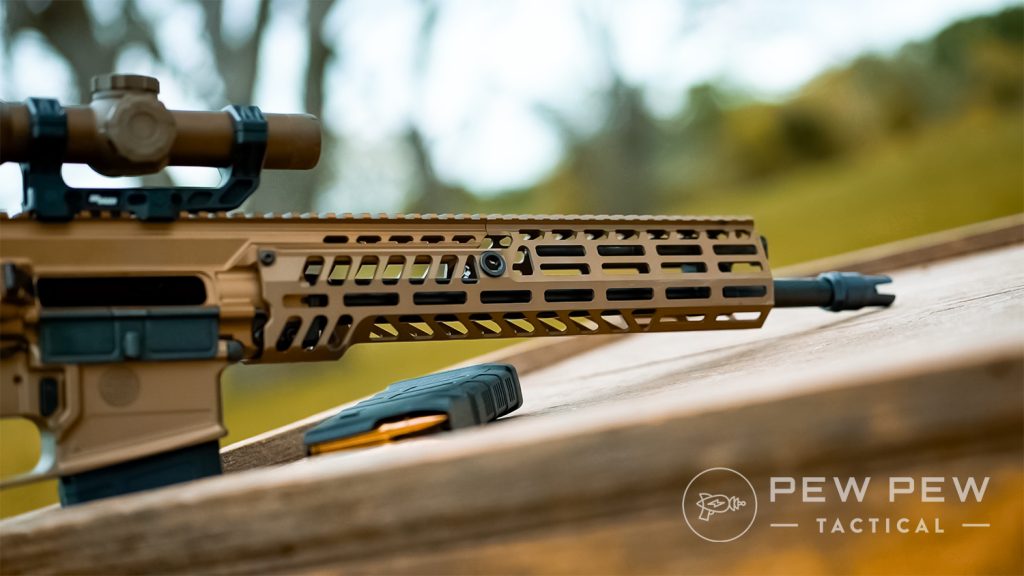 QD points grace the rail and rear of the receiver, but there are sling slots in the receiver and end of the butt stock as well. M-LOK slots can be found on the 3, 6, and 9 positions on the rail, which was mounted securely to the receiver.
Lockup between the upper and lower was solid. The folding stock worked well, and the range of length of pull adjustment (six positions) was impressive.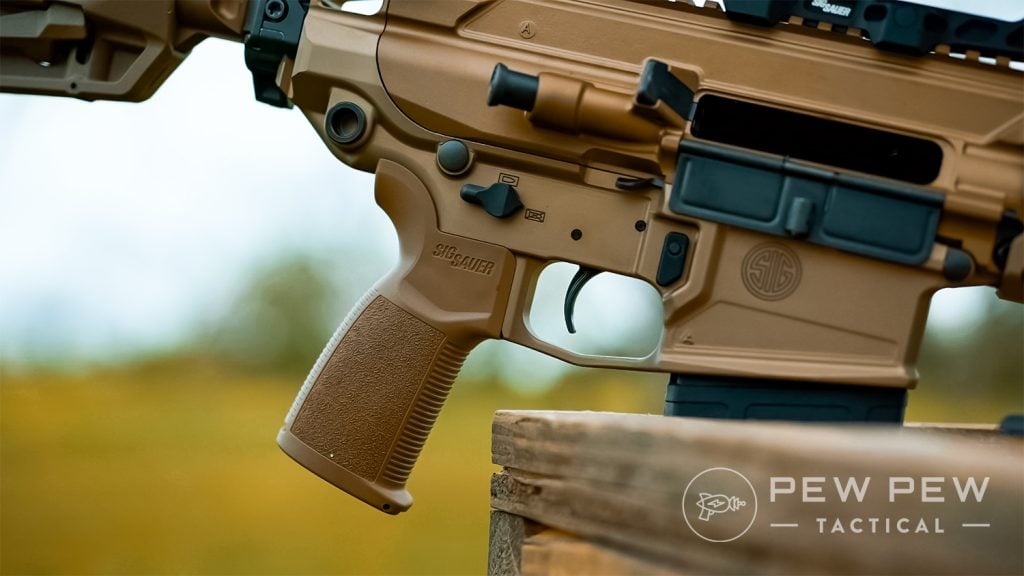 The trigger, a two-stage Matchlite Duo, has a mildly curved bow and pull averaged 4 pounds on a Lyman digital gauge. The first stage was short, and the wall was well-defined.
Break was crisp and reset occurred about halfway along the return distance. Reset was very audible and tactile.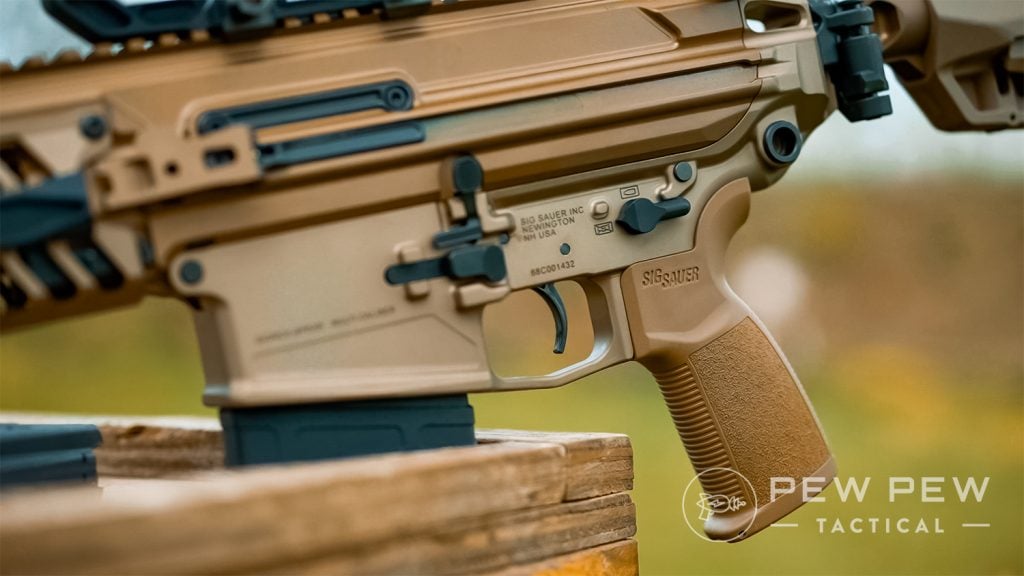 Sig included the Tango6T already mounted on our test rifle, and the optic performed admirably. The glass was clear, and magnification was ample enough for MOA testing and shooting steel at 200 yards.
The included 20-round magazine was a Magpul PMAG in 7.62x51mm, which fed reliably (but for one suppressed exception) loaded easily and dropped free when called upon to do so.
It also locked the bolt back without fail when it ran empty.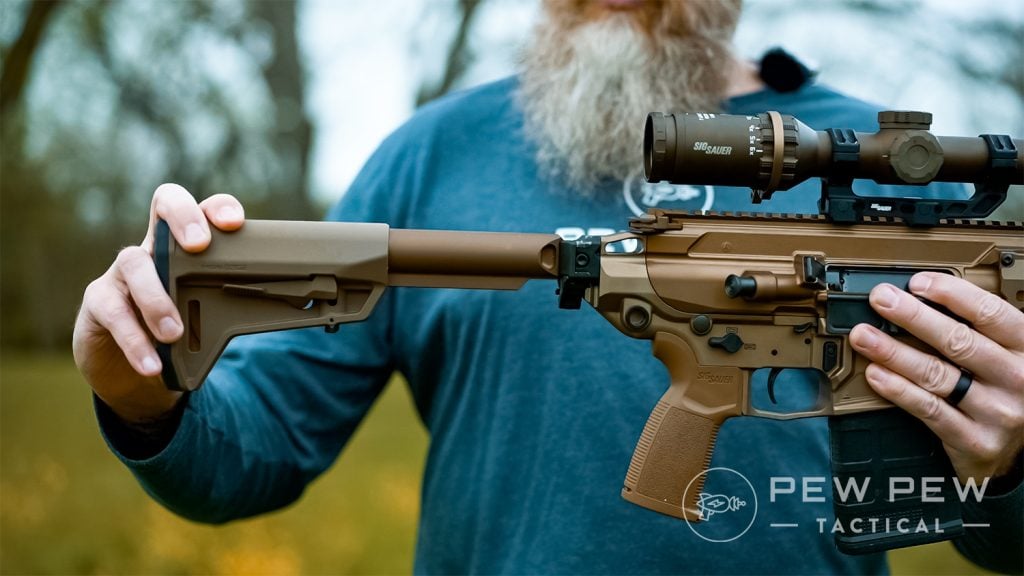 I particularly enjoyed the placement of the controls on both sides of the rifle. The side charging handle was great and made locking the bolt back, without the usual contortions, a breeze.
How Does It Shoot?
Shooting prone from a rest, we tested the MCX Spear for accuracy, shooting 5-shot groups. Starting off with M80, 147-grain from GGG, the Spear grouped at about 2.2 MOA.
Next up was Federal Premium 168-grain, which was much more consistent. The final shot group was approximately 1.1 MOA.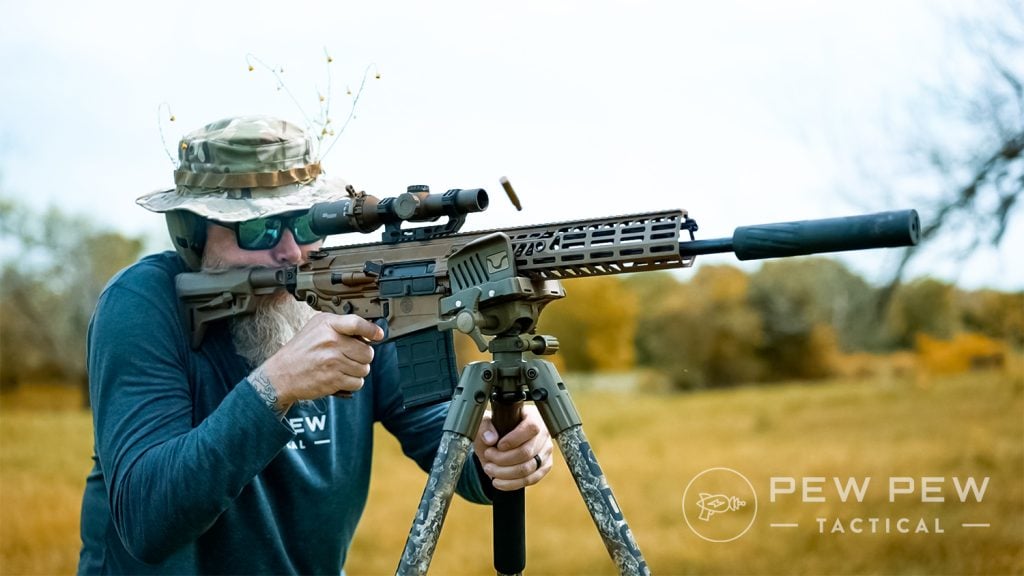 Up next, we shot Federal Premium 175-grain to keep pushing and see how the Spear liked heavier rounds. This weight averaged 1.5 MOA.
Switching brands, we tried Hornady Black at 168-grains. These came together well, around 1.6 MOA.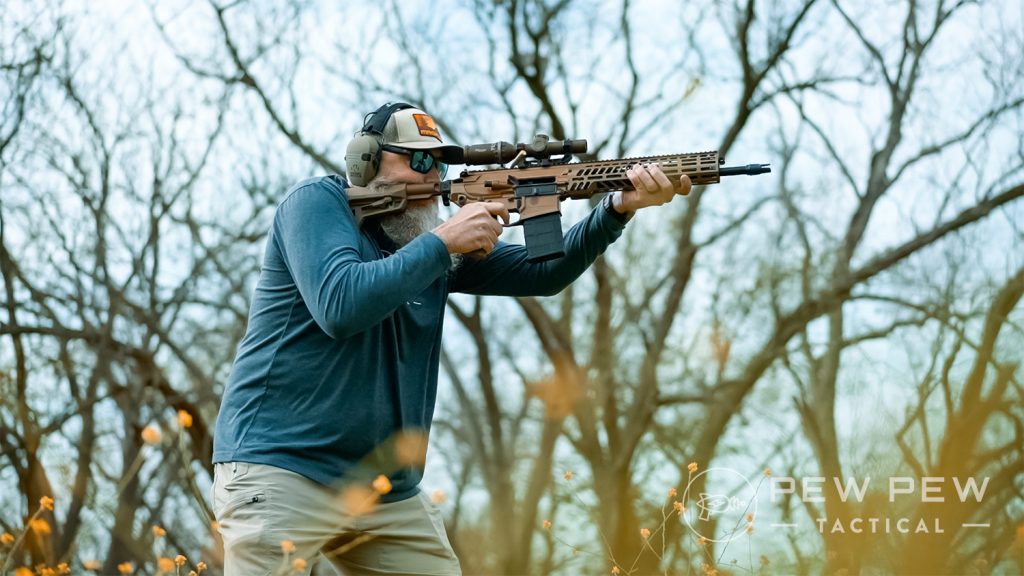 Hornady also sent along some 150-grain American Whitetail for us to try out. All in, these did well, too, grouping around 1.5 MOA.
In short, the Spear is accurate. The combination of the 16-inch barrel (1:10 twist) and a good 2-stage trigger create a great package.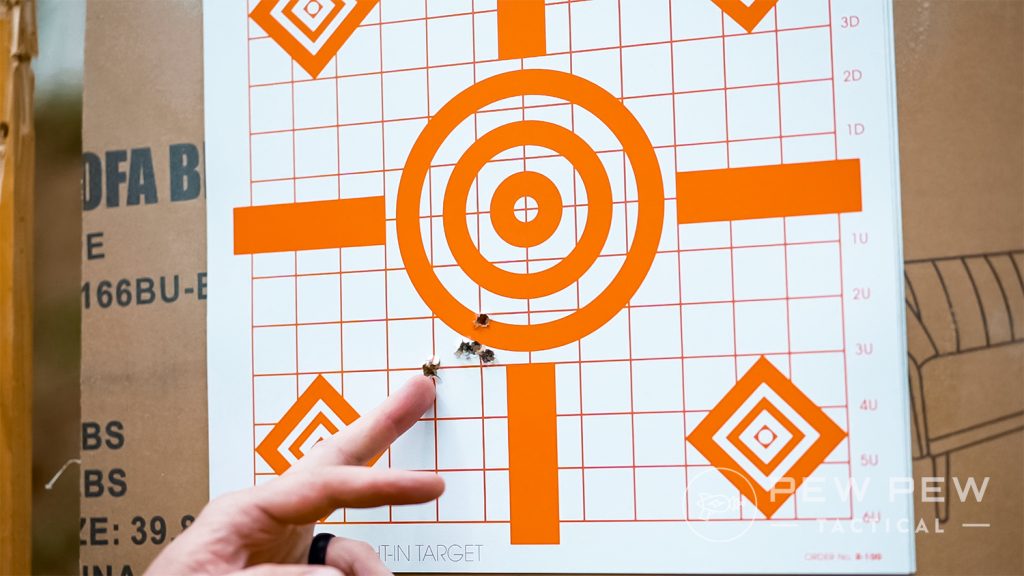 As far as recoil is concerned, the Spear does a good job taming the .308. It's much more significant than an AR-15, but that's simple physics.
Regardless, I was able to engage multiple targets at a pretty rapid rate of fire without having to fight to maintain a good sight picture.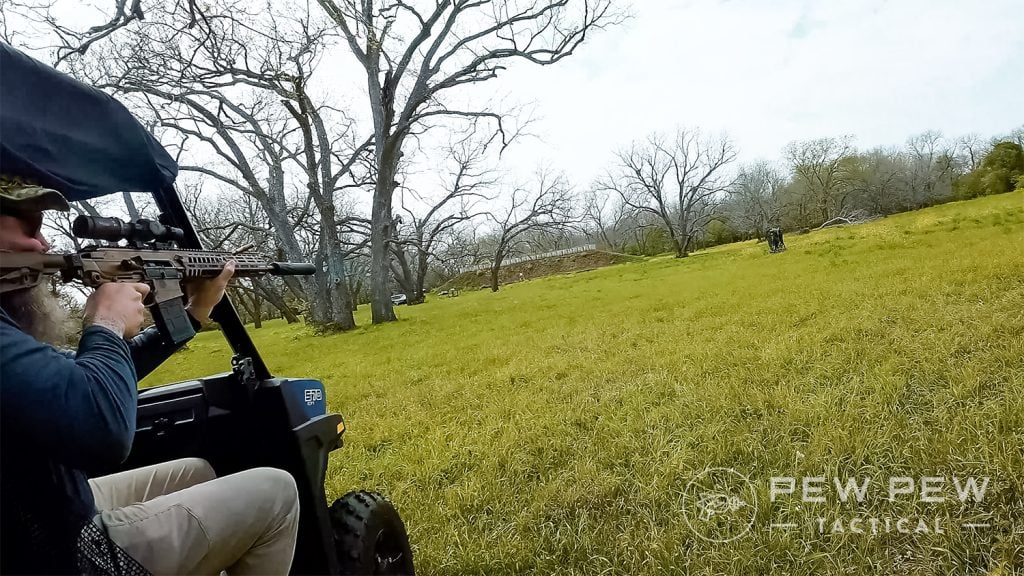 The reliability was very good. I experienced only one malfunction over the course of a couple hundred rounds, and it was a failure to feed.
I was shooting from a moving vehicle with the Spear suppressed, so I could not easily diagnose what contributed to this problem. Regardless, it didn't happen again.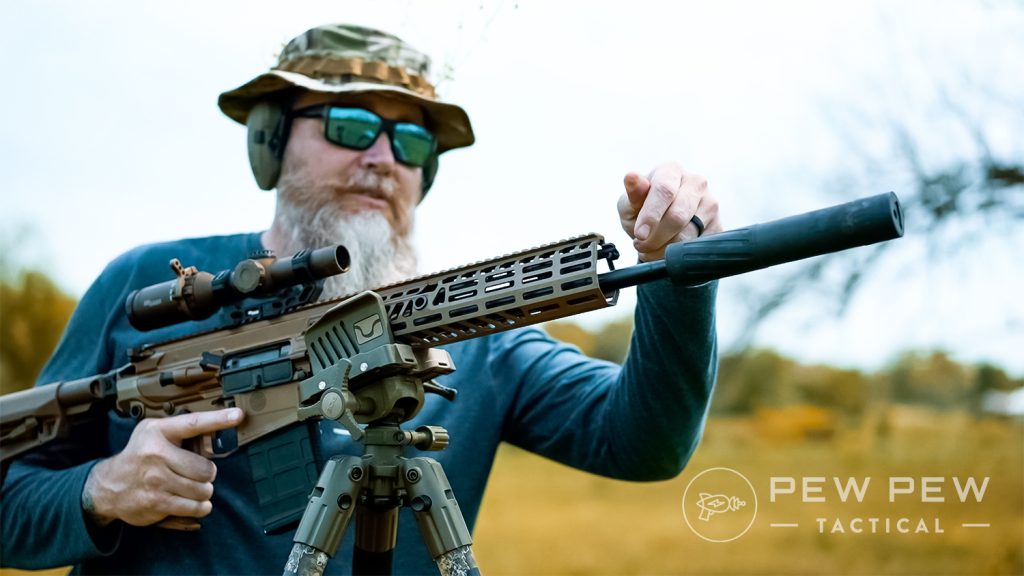 Finally, shooting suppressed was interesting in that we used a Banish 30 Gold and completely removed Sig's muzzle device made for neatly attaching their suppressors.
1699
at Silencer Central
Prices accurate at time of writing
Prices accurate at time of writing
I switched the Spear's gas system over to suppressed, and banged away at some targets from a Bog Hunt tripod.
While standing, the recoil felt reduced, and the sound report was greatly reduced. While I didn't notice it standing when I got behind the gun prone, I got quite a bit of gas back in my face.
What Sets it Apart?
In many ways, this rifle is similar to an AR-10 at its base. But that's where the similarities end.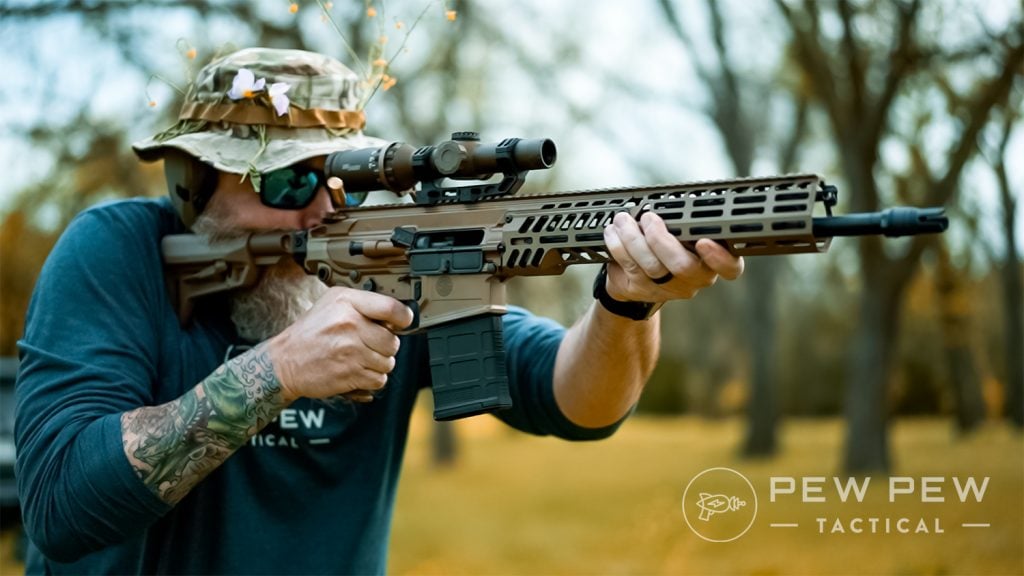 The lack of a buffer tube, side charging handle, adjustable gas system, and fully ambidextrous nature set this rifle apart from anything you might try to compare it with.
In addition, owners of the MCX Spear will soon be able to convert their rifles to 6.5 Creedmoor and/or .277 Fury.
By the Numbers
Reliability: 4/5
Besides the aforementioned failure to feed, I had zero issues with the Spear running a decent variety of brands and weights of ammo.
Ergonomics: 5/5
Sig did a great job making this rifle customizable to a wide range of shooters.
Accuracy: 4/5
Across a variety of brands, styles, and weights of ammo, the Spear averaged just over 1.5 MOA.
Customization: 3/5
This is a brand-new gun, and although it is within an established family of products, it is different because of its caliber. Sig will likely have the swappable barrels coming soon for shooters who want to try it out in different calibers.
Value: 3/5
Compared to an AR-10, the MCX Spear offers a lot more when it comes to features. However, at an MSRP of $4,499, many will have to decide if the juice is worth the squeeze.
Overall: 4/5
4399
at GrabAGun
Prices accurate at time of writing
Prices accurate at time of writing
Upgrades for MCX Spear
Sig Sauer Tango6T
For the purposes of this review, Sig Sauer included their Tango6T and this is a solid optic.
1339
at OpticsPlanet
Prices accurate at time of writing
Prices accurate at time of writing
There is good field of view on the 1x power and sufficient magnification to see your shots at 100 yards.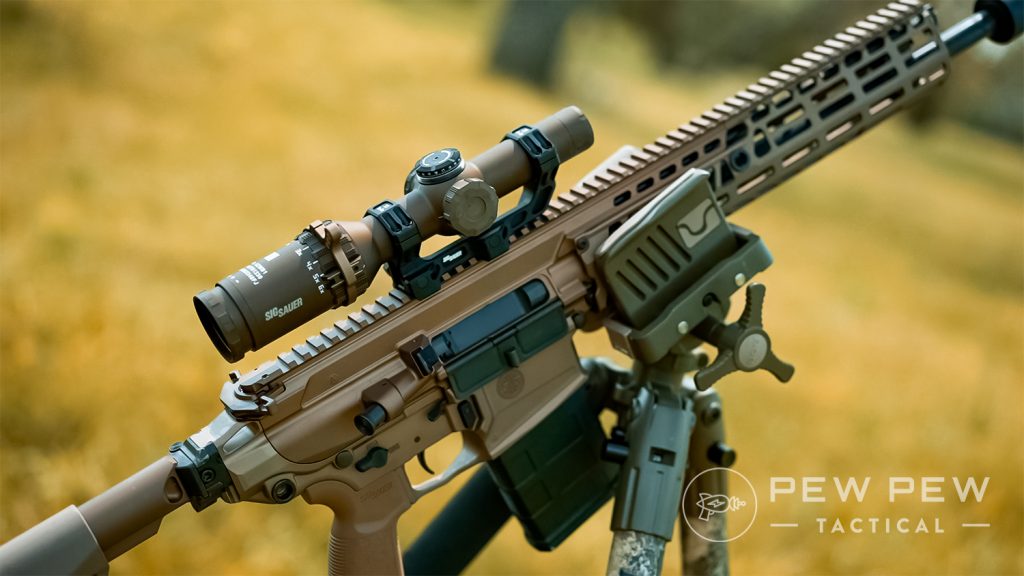 Cloud Defensive Rein 3.0
Coming in at 6.91 oz. the Rein 3.0 from Cloud Defensive is a little heavier than some competitors, but the 100,000 candela more than makes up for it.
399
at Cloud Defensive
Prices accurate at time of writing
Prices accurate at time of writing
Given the reach of the Spear, a light with impressive throw is only fitting.
Tripod
A tripod is highly recommended for any kind of precision shooting and really just to take the load off. As we mentioned, our rifle topped out at 11 pounds.
It's much easier when you have a tripod around to take that weight.
169
at Brownells
Prices accurate at time of writing
Prices accurate at time of writing
Suppressor
If you want to spice things up even further, and you have the extra $200 to do so, throw on a suppressor to the Spear. It's a fun experience and a little quieter.
1699
at Silencer Central
Prices accurate at time of writing
Prices accurate at time of writing
We used the Silencer Central Banish 30 Gold, but we have more recommendations in the Best AR-15 Suppressors.
Final Verdict
I was really pleased with the MCX Spear; it's a great rifle. Accuracy was very good, and reliability was sound.
The diversity of the modern battle rifle has truly evolved from yesteryear, and there is no better example of that than the Spear.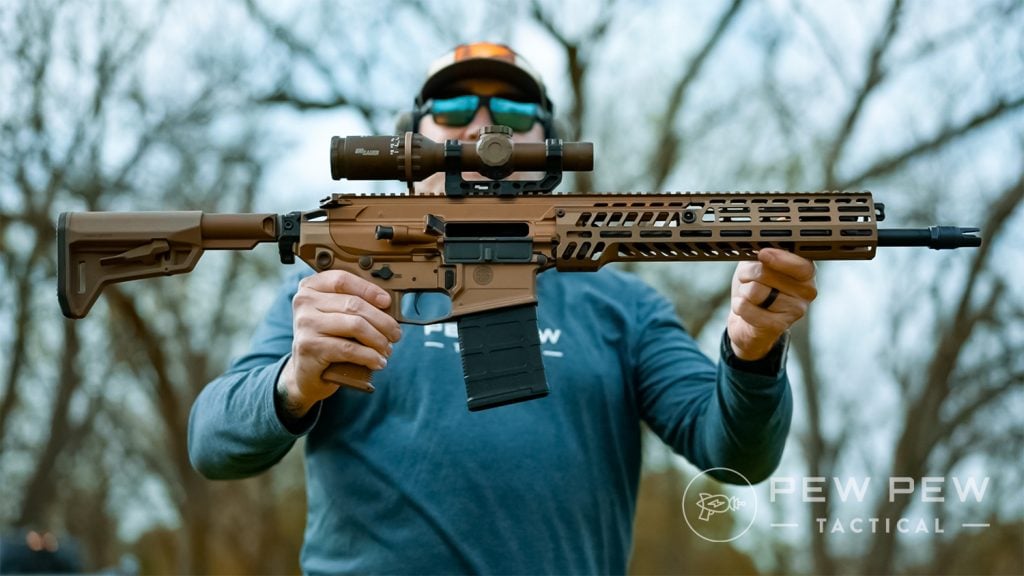 This is a rifle with solid ergonomics capable of fitting a wide variety of individuals, it's capable of multiple calibers for different applications, and I appreciate the fact that Sig included plans for suppressors.
Our modern warfighters are about to have a significant weapon at their fingertips, and the civilian version is very nice, too, if you've got the coin!
Will you be picking up an MCX Spear? Let us know in the comments below! For more big bore love, be sure to check out 6 Best .308/7.62 Semi-Auto Rifles: Battle Ready!
Read the full article here