Tactical
Surefire M640U Scout Light Pro Review: Best Long Gun Light?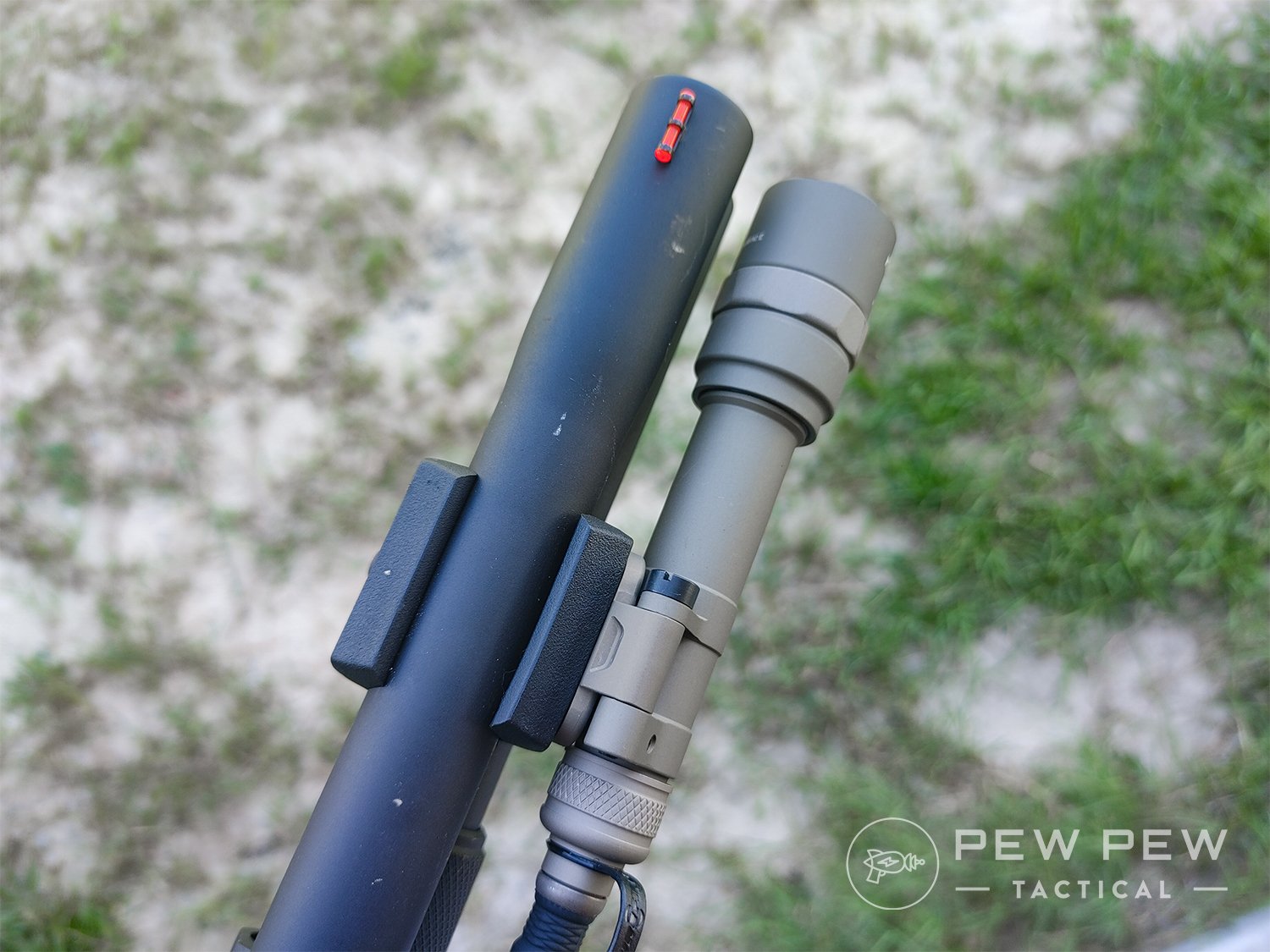 Surefire has set the standard for weapon lights for decades.
They are a big name in modern weapon lights, outfitting police and military forces, including USSOCOM.
The company has recently introduced the Scout Light Pro series — a full-sized rifle light that brings Surefire's classic durability with a bright light and a twist?
Follow along as we take a closer look at the Surefire M640U Pro Series weapon light. We'll evaluate its specs and features and determine if this light is worth picking up for your long gun setup.
Keep reading!
Table of Contents
Loading…
Surefire M640U Scout Light Pro Light Pros & Cons
Pros



Awesome mounting system




Bright & vivid light




Lightweight




Unbeatable durability
Cons



Cloud Defensive Rein 2.0 costs only $50 more
The Bottom Line
The Surefire M640U delivers the quality and durability Surefire is known for. While it seems to lag behind lights like the REIN and Modlite options, it's still plenty powerful and very capable. Its new mounting system is extremely nice and highly functional for modern guns and modern loadouts.
323
at OpticsPlanet
Prices accurate at time of writing
Prices accurate at time of writing
Surefire M640U Scout Light Pro Light Specs & Features
Specs
Bezel Diameter
1.25 inches
Features

Removable and interchangeable swivel mount

Picatinny rail and M-LOK mounting options

Slim, all-metal design

TIR lens
Surefire Scout Series History
The Surefire Scout light series goes back a long way. How far? It's a fact lost to science.
My earliest memory of a Surefire Scout is while serving in Afghanistan in 2009. They were the defining light of the Global War on Terror and appeared everywhere. That trial by fire proved that these lights were nearly indestructible.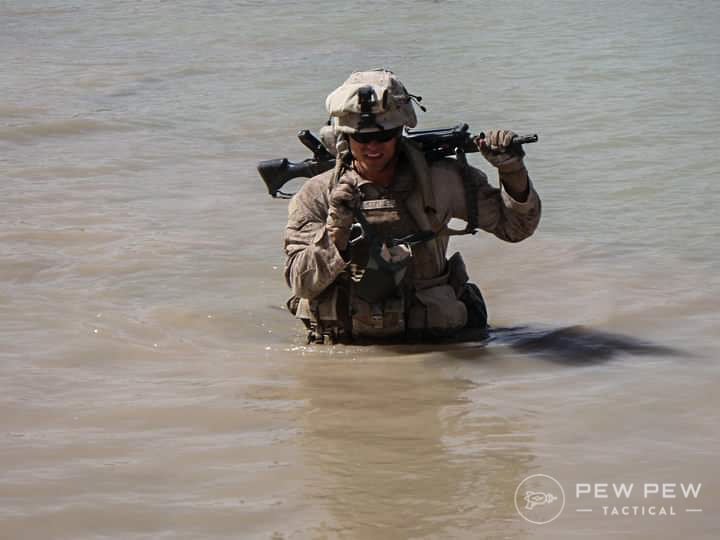 Surefire is right to build on that name since it's one of the most proven lights in the world.
While Cloud Defensive and Modlite have pushed light technology ahead, Surefire is the brand you 100% know you can trust regardless of how permissive an environment is or is not.
While the GWOT lived and died by the Picatinny rail, the red dot, and the PEQ15, the world has changed.
Now it's M-LOK, LPVOs, and MAWLs. These modern accouterments deserve a modern light to go along with them.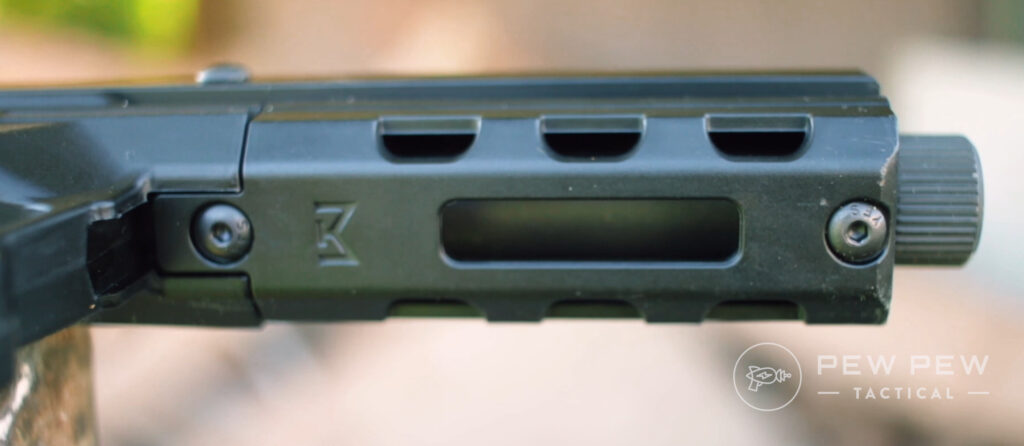 The M640U Pro Series offers a modern mounting system to put the light where you need it and maximize your ergonomics when utilizing a laser alongside your light.
It also forms a slimmer overall profile to prevent snags and catches. Overall, it's more modular, and modularity is the name of the game with modern firearms.
Who Is This For?
The Surefire M640U Pro Series light is designed for anyone who needs a serious weapon light for serious use.
It's a weapon light designed for establishing positive identification of a threat. With that in mind, the Surefire M640U Pro Series light is for police officers, military members, and home defenders.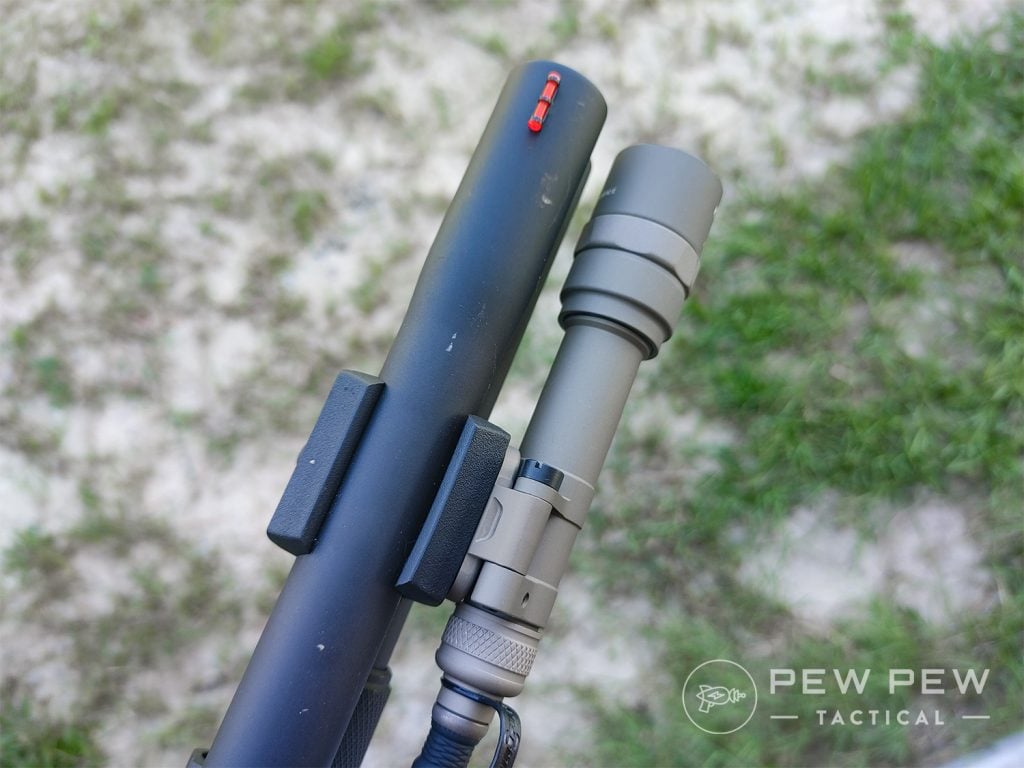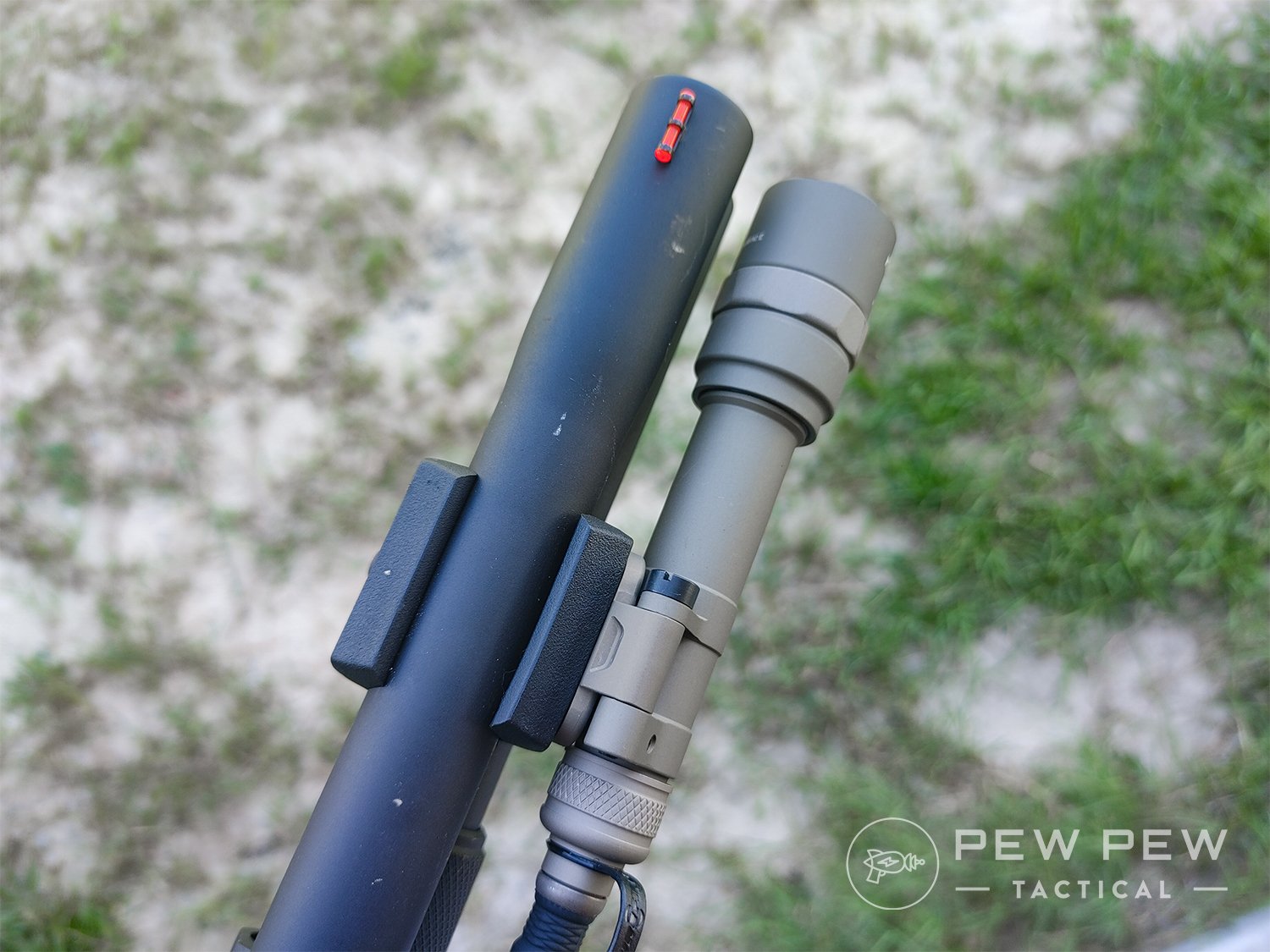 It's not a cheap light, and it's one designed to be used in extremely rugged environments. The M640U doesn't have to be exposed to those environments, but it certainly doesn't mind hardship.
This light can withstand tons and tons of recoil and keep on ticking.
From intermediate rifles to full-powered 12-gauge shotguns, the Surefire M640U can take whatever you can throw at it. It will last nearly forever and certainly won't fail.
Fit & Feel
The M640U offers a refined mounting system with a swivel mount that allows you to pick the angle at which the light sits. This makes it easy to get the light very close to the handguard.
The swivel mount is also removable and interchangeable.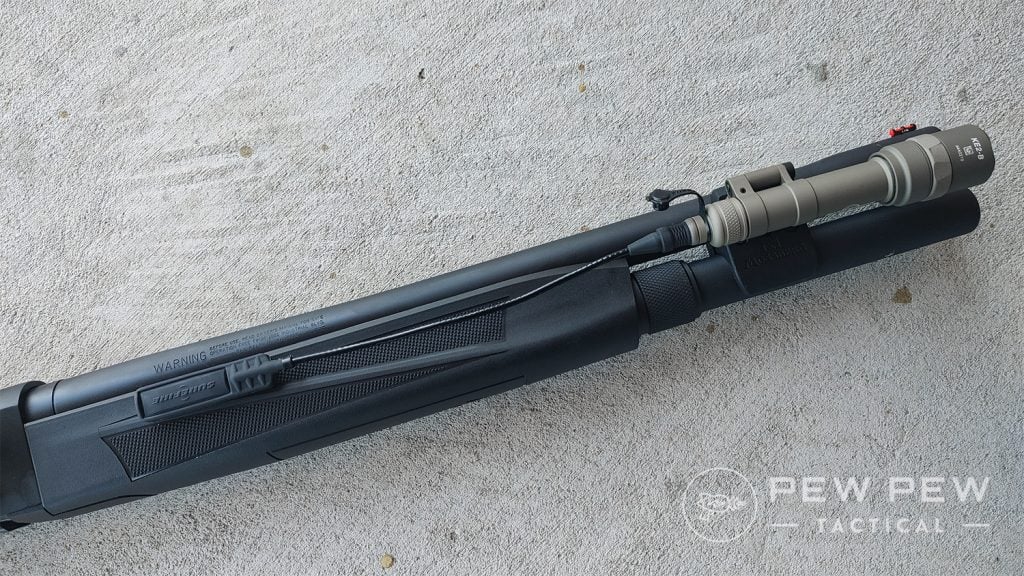 Surefire includes a Picatinny rail mount and an M-LOK option with the M640U, making it easy to mount the light to most modern rifles.
You can also flip the mount to ensure the light works just as easily for left and right-handed shooters.
Beyond the mounting system, this is a classic Surefire 600 series Scout light. You get a slim and lithe body with a powerful output and a rather lightweight design.
You can use all the standard Surefire pressure pads, and the light comes with an integrated button with a protective bezel.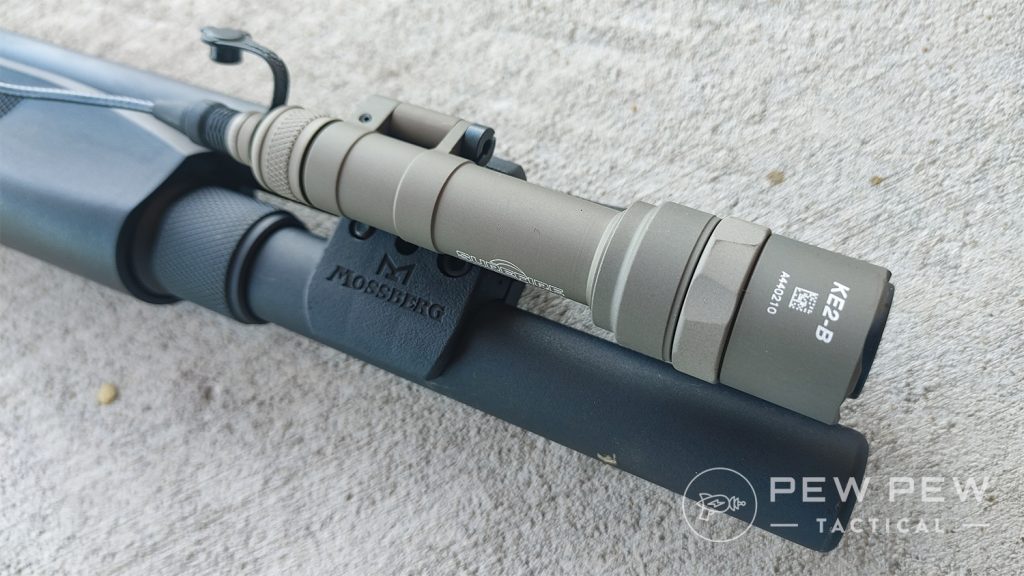 Like all Surefire products, the M640U series is precision machined. Care is taken to provide an even and tough anodized finish throughout the entire product.
It looks and feels fantastic in hand. The rear button is well-protected, and the rubberized cap provides a nice texture.
You'll get tactile and audible feedback when pressing the button, and it delivers an instant on-and-off reaction.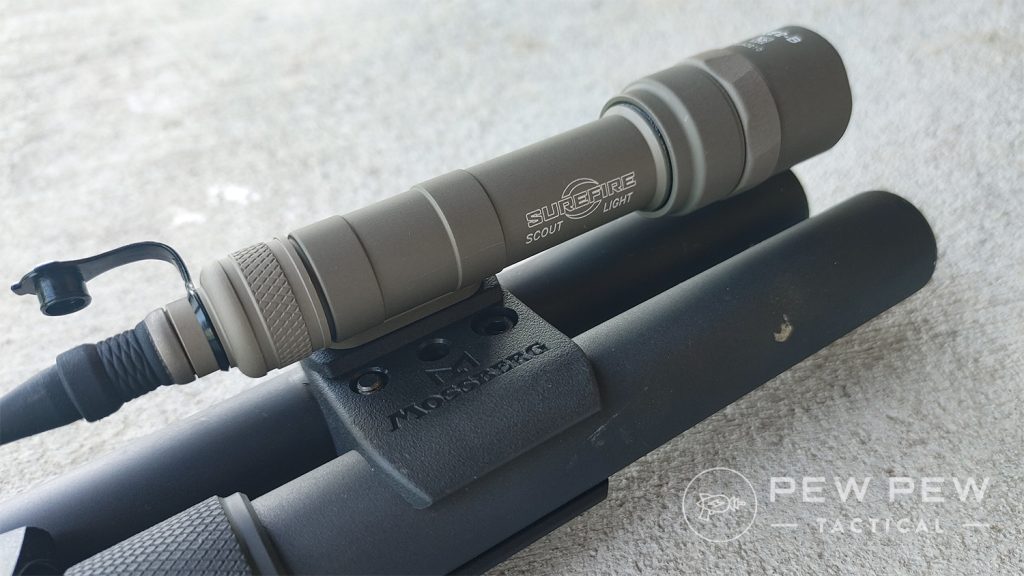 The star of the show is the mounting system, and it's easy to use and apply to your chosen platform.
Setting the right angle and attaching the light isn't tough, and having control of the light makes it easy to put it where you need it.
Surefire's brand has long been one of top quality, and the Pro Series isn't changing that.
Durability
The M640U features an all-metal body designed with that unbeatable, unbreakable quality in mind.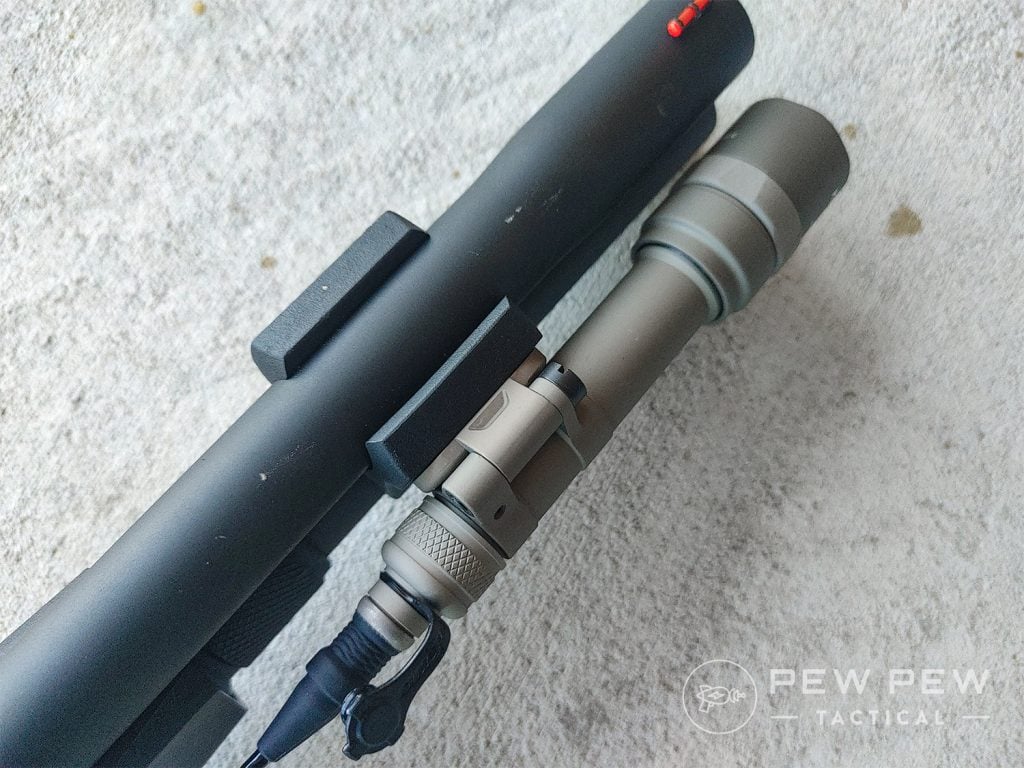 Outside of the aluminum body and the hard coat anodized finish, it provides a tempered window that sits deep in the bezel for maximum protection.
To put it to the test, I paired the Surefire M640U with my Mossberg 940 Pro Tactical. I intended to give it the ride of its life.
1099
at GrabAGun
Prices accurate at time of writing
Prices accurate at time of writing
A mere 5.56 round wouldn't provide many challenges to a mighty shotgun, so why even try?
With the light equipped with the M-LOK clamp, I hit the ground running.
My first test was pure durability. How far can I take the light in the realm of recoil until it fails?
Since it's a Surefire, I knew the game was rigged from the start. After 200 rounds of full-powered buckshot, the only thing wrong with the light was the carbon buildup. A wipe from my t-shirt fixed that.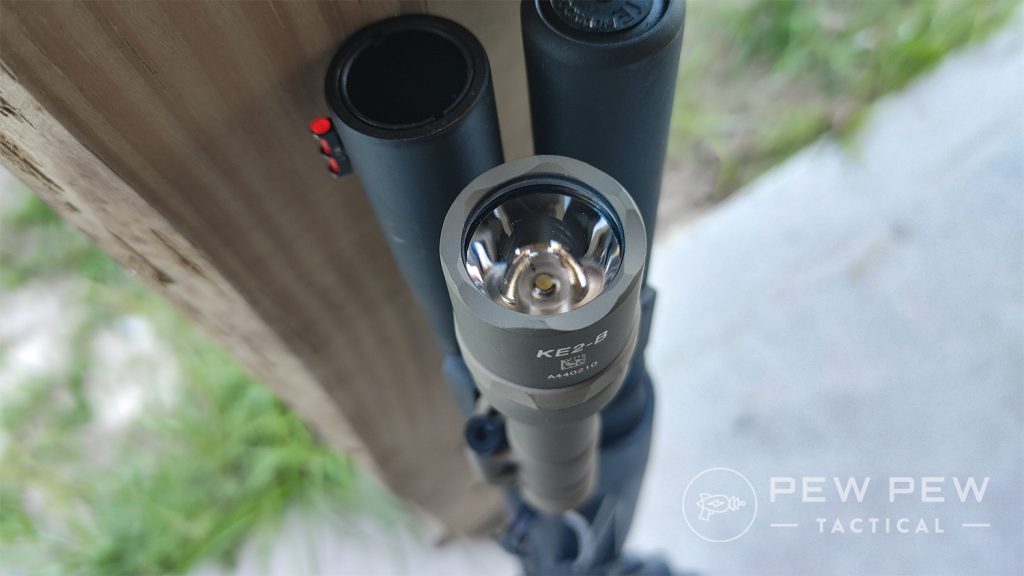 I shot with the light on and off and constantly tested the function every 10 rounds. When the light was left on, it never failed or flickered under recoil. With the light off, it never failed to come back on.
After the initial test of 200 rounds, it rode shotgun (literally) during an optic test, ate up the recoil from slug after slug, and never faltered.
Twenty-five full-powered slugs and a few hundred rounds of birdshot did nothing to burst its bubble. Heck, even the finish wasn't challenged knocking around in my gun safe for a month. That's the place where wood stocks go to die.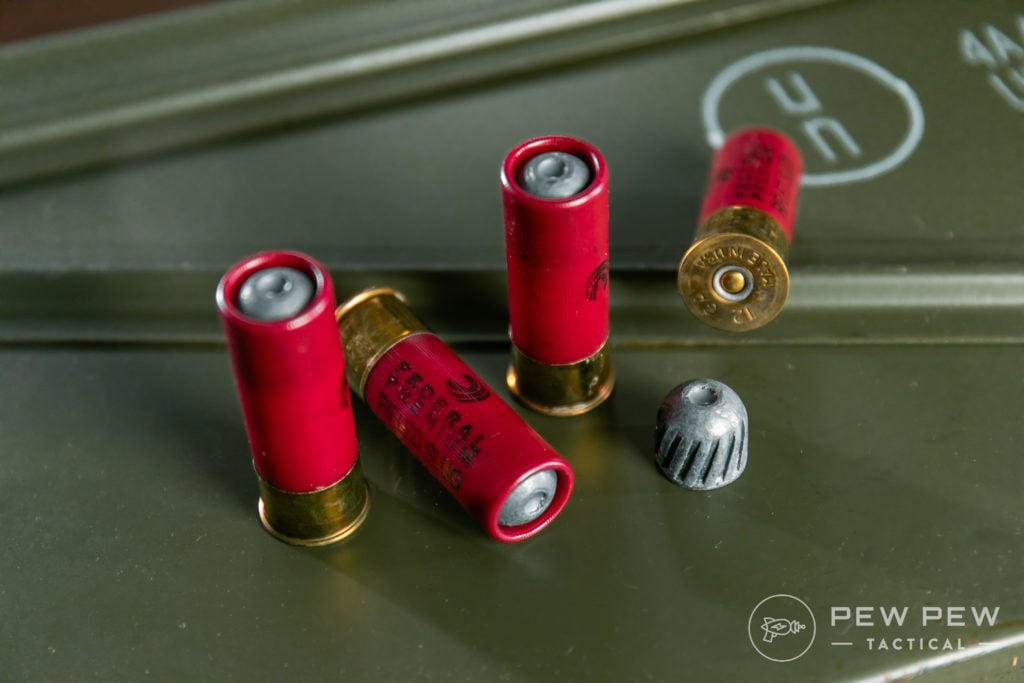 I took it out several times while it was raining to challenge its IPX7 rating and test its ability to cut through light barriers.
It poured on me, my poor Mossberg, and my Surefire. The rain did nothing to hamper the function of the light.
Lumens: Light It Up
Surefire's TIR lens provides a hybrid beam pattern with a bright hotspot in the center and a decent amount of spill.
The goal is to provide shooters with a light capable of both close-quarter's use and medium-range power…and it does just that.
The beam of light is impressive. I was reminded of how impressed I was when I saw the power of my first Scout light.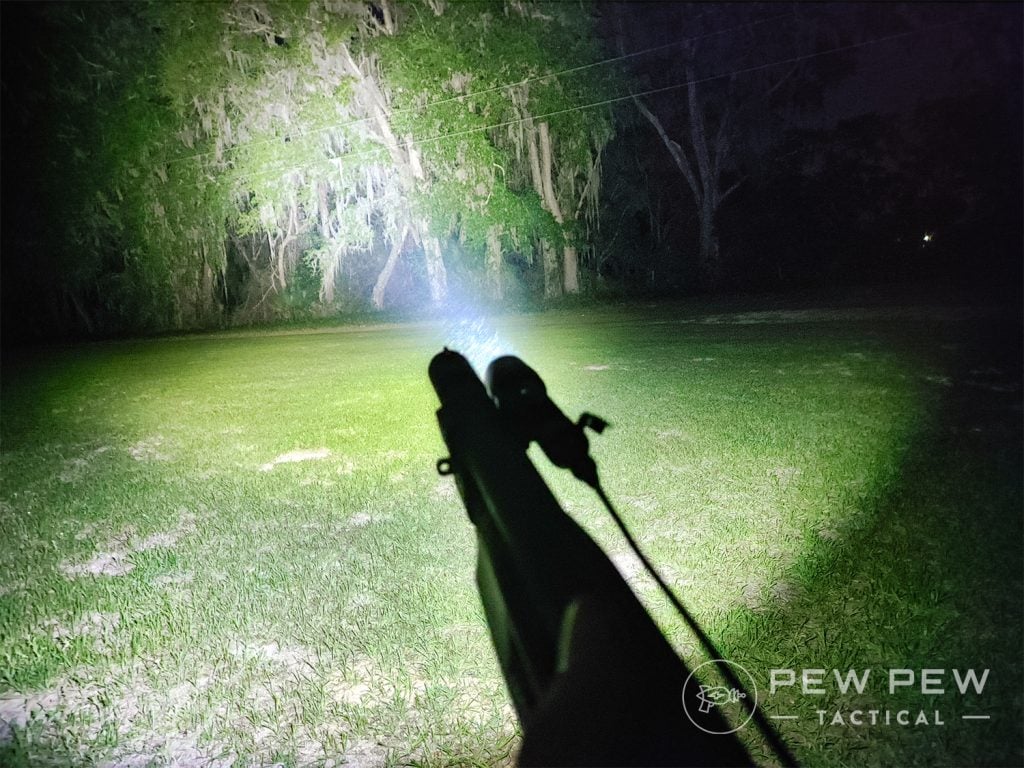 This beam is clear and leans to the cooler side of the power spectrum. Its bluish and the hybrid beam pattern make it versatile.
It goes out far enough to easily identify threats at 50 yards, and beyond that, it might be a little trickier, depending on the situation.
Out to 50 yards, I'm talking about the ability to see a handgun in a waistband. At 100 yards, you might need an optic to make out if the target matches a threat description or not.
The beam also fills your vision with its very wide design that works very well at close range.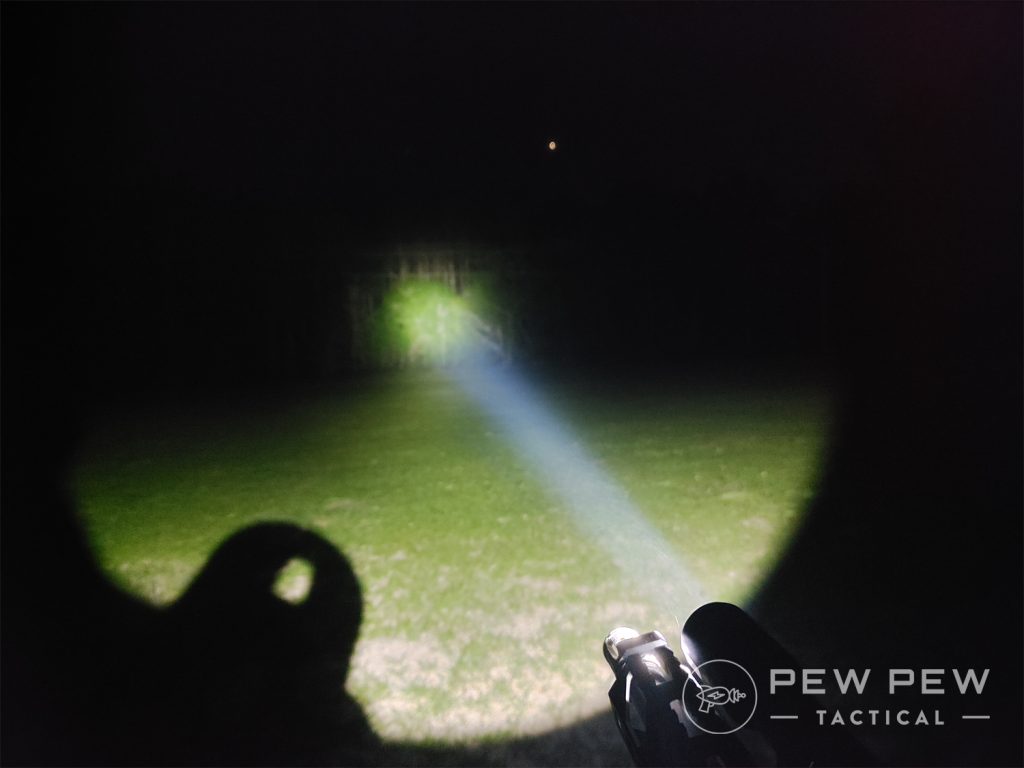 Inside a home, it lights up an entire room. I can bounce light off the floor and roof to avoid pointing the gun everywhere or potentially flagging a loved one.
The 1,000 lumens backed by 11,300 candela is enough light to overcome the most common photonic barriers at close range.
 With those 50 yards of power, you can defeat a streetlamp, a flashlight, or even the high beams of most common cars. It cut through the rain to provide a crystal-clear view.
What Sets It Apart
The biggest advantage of the Surefire M640U is the new mounting system. It's an ingenious system that delivers a modular light that can be mounted exactly how you want it.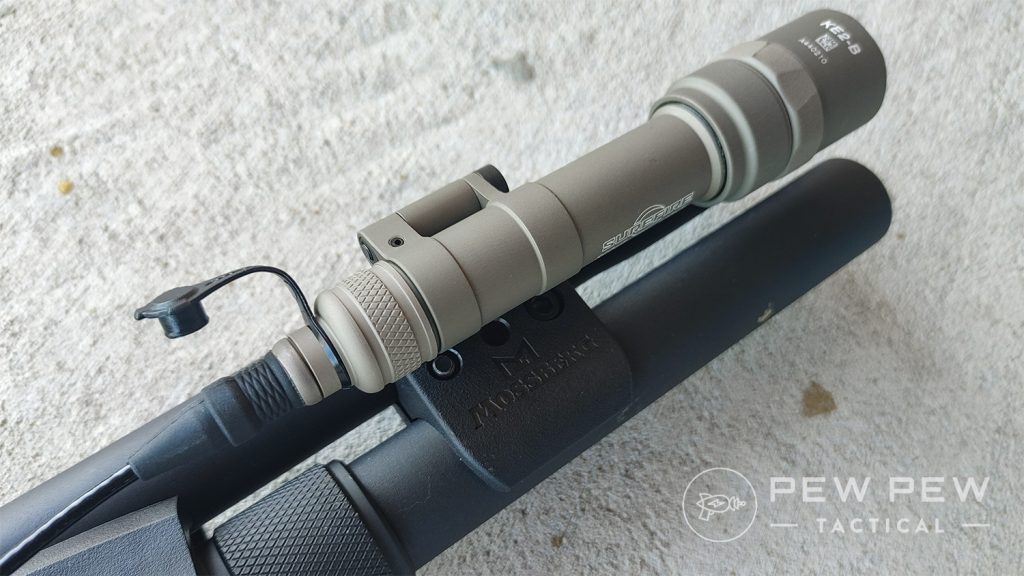 Aside from that, Surefire's attention to detail, functionality, and quality is unbeatable. When you purchase a Surefire light, you get a rock-solid, well-made, and bright light system.
By the Numbers
Power: 4/5
The Surefire M640U's 1,000 lumens and 11,300 candela are enough to get the job done and will be enough for most users. It doesn't reach Cloud Defensive, Modlite, or even Surefire turbo levels, though.
Reliability: 5/5
Surefire makes bombproof lights, and this is no exception. It eats up recoil, water, and a trip to the hell space that is my T&E safe.
It's one of those lights designed for a hard life of duty. It's designed for sandstorms and police cruisers, so it's fairly safe in the home defense role.
Ergonomics: 5/5
For a contained system, it's quite impressive, and it gets even better when you add a common pressure switch to the design.
The light is fairly short and nice and lightweight. Its clicky button is rock solid and provides both tactile and audible feedback.
Overall: 4.5/5
323
at OpticsPlanet
Prices accurate at time of writing
Prices accurate at time of writing
Final Verdict
Surefire remains one of the kings of weapon lights, although outside of the Turbo series, it's easy to argue they are losing a little ground on the power front.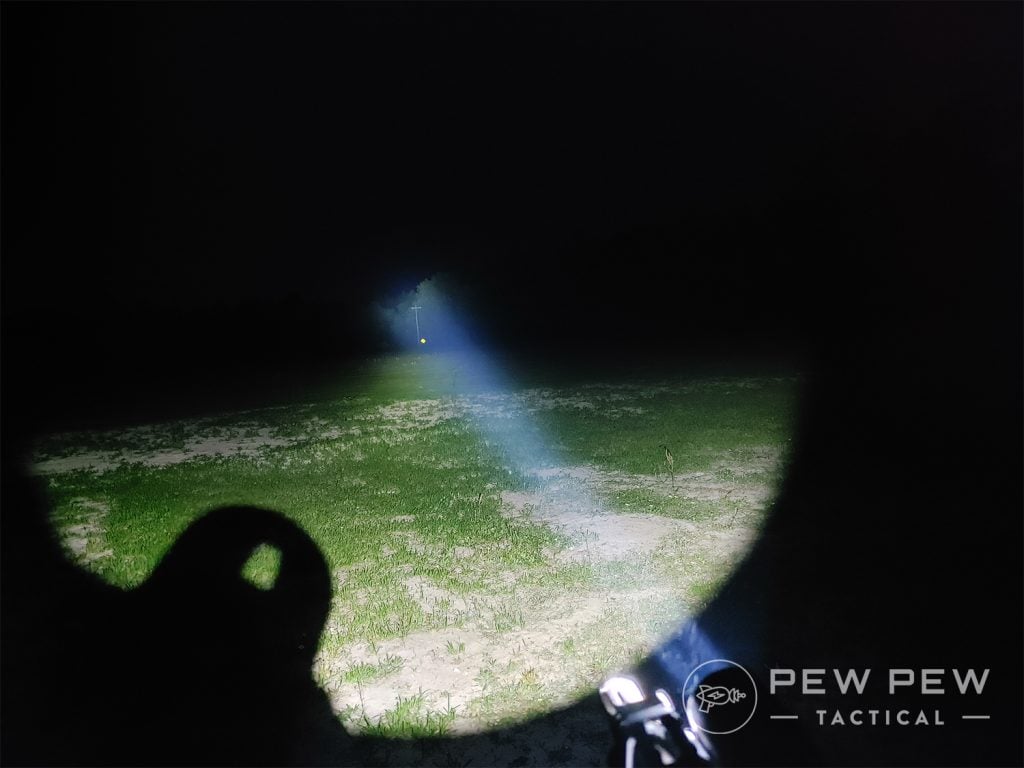 The M640U's mounting system is a fantastic and versatile option for modern rifles, and it's a welcome addition to the Surefire family.
What do you think of Surefire's lights? Let us know in the comments below. Need more options? We got you covered with the Best AR-15 Flashlights.
Read the full article here